DONUT 1 - FOREWARD:
We're not scoffing at the
Dallas Mavericks
' relative overall confidence going into Friday's home meeting with Utah. Some of it is part-and-parcel of the been-there/done-that attiude earned when you win a title, hug a Larry and wear a $40,000 ring.
So when Dirk previewed this game -- and the rest of this season -- with his "we're not scared'' pronouncement? Well, he's king of the mountain. No scoffing allowed.
"I still like our team, all the things we've got going,''
Dirk Nowitzki
said. "I haven't seen one team in the West that I'm scared of. I really haven't. I think we can compete with all of them. Oklahoma City has probably the best record, but I think we've played them well every time we've seen them and everybody else has been up and down. All we have to do is keep working and hopefully keep everyone healthy and be there when it counts and in the playoffs.''
This is a continuation of Dallas' "Get to the Tournament'' mantra. Once there, the Mavs certainly have nothing to be frightened of.
But Dirk's words largely go unchallenged in one regard (and leave it to us to do the challenging): While Dallas isn't "scared'' of Team X, Team X isn't scared of Dallas, either.
Well, except for maybe Utah. And if you didn't watch this one closely enough?
That's OK. That's what DB.com's All-Access Pass is here for. ... Let's start with the NBA's highlight reel:
DONUT 2 - OLD CHUMS:
Some old friends were once again in town, though there were no championship celebrations to escort them back (thankfully for the Mavs). Two members of the '06 Finals squad were in the house as Devin Harris and Josh Howard took the court wearing the opposing uniform, but it was a couple of younger or newer faces that took over the game.
Roddy Beaubois may have had his best game ... EVER ... and Lamar Odom did his best to suffocate the memory of his 2-of-14 shooting performance from Wednesday night by having his finest game as a Mav.
Despite missing 60-percent of their starting unit (after Jason Kidd headed to the locker room with a strained calf only two minutes in), the Mavs put away the Jazz 116-101, running away from them with a 28-9 run spanning the last of the third and beginning of the fourth quarters ... sparked by a Jason Terry 3-ball, and carried on by Roddy B, Odom and company.
Let's begin with the wealth of good.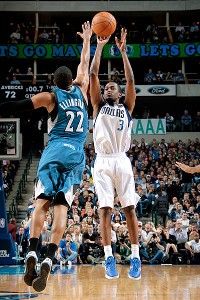 DONUT 3 - FREE AT LAST:
With Delonte West missing the game due to hamstring issues (he hopes to return to the practice court Saturday and to play Sunday against the Spurs) and Jason Kidd straining his right calf after only two minutes on the court, the Mavs had little choice but to free Roddy B, who got the start in West's place, for extended minutes ... and Beaubois made sure they wouldn't regret the decision forced upon them.
There's no denying the sparkle around Roddy B's 40-point game versus Golden State during his rookie campaign, but when one pulls back to include more contextual information, it's hard to find a better all-around performance from him over the course of his young career than what was on display against the Jazz on Friday night.
First, the raw numbers: 22 points, 9-of-15 field goals, seven assists, six rebounds, four blocks and one steal.
Put another way: season high in points, ties his season high in rebounds, career high in assists and career high in blocks. ("God gave me long arms,'' Roddy B said.)
Both on a personal and league level, this was an outstanding game from Beaubois, who must salivate at the sight of Devin Harris and the Jazz, who he is now averaging 19.5 points against in two matchups this season while shooting 62.5 percent.
Beyond the impressive numbers littered with season or career highs were the more subtle signs of a player that may be nearing the point of embracing the nuances of the game. Due to his elite level of athleticism, Roddy B is always going to gamble, meaning there will always be those mistakes that leave you shaking your head from time to time, but Friday night he also made the "smart" passes/plays.
He saw the lanes in the court that come from understanding. He penetrated and crisply found those cutting through the paint around him, leading to easy finishes and smooth offensive possessions. He took advantage of what the defense gave, rather than relying solely on his physical gifts, while also being aggressive and effective on defense without committing silly fouls. We were especially fond of his BBIQ reads on the pick-and-roll and the like.
This was a glimpse of the player we've all wanted him to become.
Though we'll let our excitement grow, we'll keep it tethered to the realization that this is only one game. It comes on the back of subtle other successes, but stands as only a beginning. Next, we must see consistency.
"I thought (Roddy B) played the point position as well as he's ever played it," Carlisle said, "in terms of running the team, making reads. His defense was terrific, and yet he didn't foul ... He made important plays time and time again."
Many players can flash hot for a night here and there, far fewer can do so over the course of a month, season ... career.
"I know that I can do it," Beaubois said. "My teammates and coaches trust me, so I just have to keep working and getting it every day."
DONUT 4 - ODOM PLAYS FOR DALLAS?!:
Clearly, Rick Carlisle was getting tired of the questions that felt like accusations in regards to the play of
Lamar Odom
. Carlisle's become extremely hesitant to dig too deep into the idea of "resting" Odom in a manner similar to what Dirk Nowitzki is currently going through. The coach has been clear in labeling them as different situations, and attempted to point out some of the positives Lamar has brought to the court ... and the potential for the vast wealth of talents he can bring, and a few that may be being overlooked.
An example we'll provide: Odom has scored in double digits four of the last five games. Remove Wednesday's 2-of-14 night (we know, it's impossible to forget) and the four games around it he is averaging 14.3 points and shooting 51.2 percent.
As Roddy B was unleashing arguable the best game of his career, Odom was enjoying his best as a Dallas Maverick. By his second shot attempt, he had matched his makes from the first half of the Minnesota game with one ... that's not saying much, but from humble beginnings come the hopes for more.
"Odom played his best game of the year," Carlisle said.
The numbers: 19 points (season high) on 7-of-12 shooting, and five rebounds.
The impact: Speaking of only this game, we caught another peak at how good, how different, this team can be -- even as Dirk Nowitzki, Jason Kidd and Delonte West watched from the bench -- when Odom plays at or near the levels he is capable of. His versatility is a game changer that acts as a dynamic shift to the face of this team.
The all-important psychology: "When your coach let's you know that he's got your back, it's important,'' said Odom. ""The city of Dallas has made the transition comfortable. I'm proud to be a Maverick."
Due to the depth around him, Dallas doesn't need LO to be at his best every night ... but they need him to become a consistent contributor capable of stepping up when the need is there, as it was Friday night.
Speaking with unabashed optimism, could this Friday night mark the moment when two players turned a corner in a Mavs uniform? Roddy B came face to face with maturity as Odom came face to face with his former?
It's too early to declare this as the case ... but it sure feels better than knowing it isn't ... right?
DONUT 5 - VINSANITY:
: After missing five games with an injured foot, Vince Carter returned to action, and took the court quicker than expected, replacing Kidd when he went down after two minutes.
Just as quickly, VC showed us there was no rust on his shot as he sank 4-of-5 for eight points in the first quarter. Carter went on to be one of six Mavs to score over 10 points, making sure to play his part in improving Dallas to 3-1 in the four games Dirk Nowitzki has missed.
The list of Mavs to score over 10 points: Roddy (22), Odom (19), Jason Terry (18), Shawn Marion (who continued his excellent play with 16), Haywood (12) and Carter (12). Six of 'em? That's a season-best.
That, Dear Reader, is depth.
This was the first time this season Dallas had six players score in double digits. ... And having Vince play 28 minutes in which he participated without hesitation (he certainly didn't hesistate to shoot!) is encouraging.
"I felt,'' Vince said, "like a kid in a candy store.''
'Trix was in that mix as well, in terms of double-figures. Underappreciated? Not by DB.com. We always give Marion his room on stage ...
DONUT 6 - BIG WOOD!:
It's a nightly happening in this space. Yes, we're back to throw some praise Brendan Haywood's way ... again.
The numbers: 26 minutes for 12 points (season high), 12 rebounds (ties a season high, and his first double-double), including an impressive seven on the offensive end, two blocks and a steal ... and he was 4-of-6 at the free-throw line.
Carlisle called Haywood a "force inside," and we have little choice but to agree with him. Even as Ian Mahinmi was relatively quiet (five points, seven rebounds), the Dallas centers combined for 17 points and 19 rebounds in a duo-performance that becoming consistently familiar from these two.
For those who fell asleep early last season and just woke up, they player they see in Big Wood could appear nearly unrecognizable. He's active, emotionally involved in the game ... you had to love the ear-to-ear grin he leapt from the bench with to celebrate a big dunk from Yi Jianlian ... and reminding us all of why the Mavs didn't hesitate to sign him as their starter last season, prior to the acquisition of Tyson Chandler.
What was once feared to be a weakness in the wake of Chandler's departure, the center position is quickly being accepted as a strength.
In other Mavs center news, we had an extended visit with Ian Mahinmi. He loves the nickname "The Ianimal.'' And he is working with us on a "The Ianimal'' DB.com Mavs t-shirt for the DB.com Store. Stay tuned!
DONUT 7 - THE EEEEE! NETWORK:
His performance may have been overshadowed by Roddy and Odom, but Yi Jianlian quietly had a nice game acting as the primary big off the bench beside Ian Mahinmi.
He showed us his range, some tough interior defense and the aforementioned baseline-dunk that brought a cheering Haywood off the bench. Most likely a symptom of the match up (dealing with the muscle Al Jefferson and Millsap play with), Yi got all of the minutes that had been being split between him and Brandan Wright the last few games. Wright didn't take the court until the final three minutes when the game was out of reach.
And, we continue to enjoy the reaction of the crowd anytime Yi touches the ball on offense, gets a rebounds or makes a defensive play.
Yi matched his season high with eight points and added five rebounds and a steal.
DONUT 8 - THE BAD NEWS:
You never like to hear about any muscle strains in the leg, and can't ever feel good when a player heads almost instantly to the locker room after exiting a game. Both of these describe what happened to Jason Kidd, who left the game with a strained right calf.
It seems the lockout is far from done casting its influence on this abbreviated season. From Dirk's ramping-up routine to Odom's conditioning to the general toll it takes on the bodies of all players ... the lockout is here for the duration.
We can't yet know the full impact of this injury, but must hope Kidd is able to find both recovery and additional rest ... and that those who must fill his minutes are able to continue to step up and take advantage of the opportunities there.
DONUT 9 - STATE OF THE UNION:
Rick with praise for all:
DONUT 10 - MAVSELLANEOUS:
Carlisle remained noncommittal on whether or not Dirk Nowitzki would play Sunday against the Spurs. While it has been the target return date since Dirk sat, Carlisle was clear that the sabbatical away from games would not be forced, and only ended when the situation was right and Dirk was ready. ... "I thought everybody on the team played well,'' Carlisle said. "Jason went out early with a calf strain and all of a sudden a lot of things changed for us.'' ... Dallas flashed its depth as Dominique Jones played 13 solid minutes ... Roddy B, where'd you get those blue shoes, son? ... 28 points or more in all four quarters? That's been a long time coming. ... Good heavens, didn't you used to be Devin Harris? Somehow, "Milkface'' looks like a shadow of the kid we knew ... Don't rip Yi for his shot selection; we're told he's doing exactly as he's told. Remember what Del Harris told DB.com: Yi needs to feel like he belongs. The Mavs' freedom given is their hug. ... Dallas has won eight of nine at home. ... Before the game, Delonte West revealed to DB.com that he's undergone an MRI on his hamstring but that the reports came back negative. He also worked in a hyperbaric chamber in an attempt to ready himself. Instead, he said, he'll be ready to be back on the practice court on Saturday. And when other reporters came around? He downplayed the whole thing. "Ya'll don't have to write a whole page on it,'' West said sweetly. ... Yessir, Coach Ortegel got a ring. ...
It's a DB.com Mavs tradition: Who Deserves 'The Dirkie'?
You vote! ... Michael Dugat, Kevin Brolan and Chuck Perry all contributed to this report.
DONUT 11 - THE NUMBERS GAME:
The Big Calculator ...
• Battle for the Paint: The Jazz score 48 points per in the paint (second in NBA) while the Mavericks allow 35 points in paint (fewest in the NBA). In this one, Utah finished with 52 in the key while Dallas registered 48 points.
• Points in transition: The Jazz are eighth in points in transition on offense and seveth in points in transition on defense. Here, Utah registered 19 on the break while Dallas was held to 15.
• Jazz Offense: Utah is eighth in points in transition, and here they would finish with 19. ... They came into the night 8th in FG% at 45.4% and shot 46.4% tonight. ... Utah is 27th in 3FG% 28.1%, but tonight they would shoot 41.7% on 5-of-12 attempts from the arc. ... The Jazz are also sixth in A/TO ratio at 1.51 per game, and here they finished with 20 assists and nine turnovers, good for a ratio of 2.22.
• Jazz Defense: Utah is sixth in the NBA at 3FG at 31.5%, and in this game the Mavs would shoot nearly 58% on 11-of-19 from deep, with Odom, Terry and Roddy making three each. ... The Jazz are also fourth in blocked shots at 6.13 per and finished tonight with eight, with Al Jefferson accounting for three of those. ... Utah is also strong on the boards, averaging 43.5 a game, good for 6th in the league. However, here they would only register 33 boards.
• Bench Battle: Jazz average 47 points per game from the pine, and the Mavs are best in the league. Tonight, Utah finished with 36 points from their reserves, while Dallas finished with 47. Big victory there.
• Roddy B's blocks: He's second in blocks per minute for a guard in the league. He would finish with a game-high four blocks in nearly 36 minutes. Weirdly, he would also finish tied with a Mavs-low minus-four while on the floor.
DONUT 12 - THE FINAL WORD:
Any time a team is missing 60 percent of its starting lineup, the possibility of a win is pressed down to remote at best. When you consider the talent left off the court in the case of Dallas, it's hard not to celebrate the outcome of this game, where the Mavs did more than just manage to scrape by; they ran away with it by scoring the most in a game this season.
Obviously, the shadow of Kidd's injury hangs over the victory, but that shouldn't completely steal the importance of it. Gradually, Dallas is showing signs of once again becoming a team, a united front. (Yes, we're still cautious about "turn -the-corner'' talk.) When players have gone down, others have risen to fill their place in the line, and because of it Dallas is now tied for first place in the Southwest Division at 12-8.
There's worry in the uncertainty of injury, but perhaps we'll look back to this game as the moment Roddy B and Lamar Odom turned the corner on a career and a season.
The Spurs humiliated the Mavs in their last meeting. On Sunday, maybe with Dirk, the Mavs provide the chance to show how much has changed ... or hasn't.
And what's it all about, whether it's injuries or the Spurs or the challenges from the West? If you know Carlisle, you know the two pivotal words.
All these guys have got to stay ready,'' Carlisle said. "This was really a microcosm of what this season is about. You can tear up any rotation sheet. It's going to be seat of our pants, everybody's got to be ready. We trust all our guys and tonight they showed why their trust is earned.''
You got it. Roddy B. Odom. Whomever. "Be Ready.''
If you like this depth of coverage of the World Champion Dallas Mavericks -- the analysis, the numbers, the exclusive Video Visits, the whole experience -- try our Premium Mavs coverage! This is what we do, every day, with 28 years of experience on the beat! It's pennies a day to get All-Access to what the Mavs are doing upstairs, down in the basement, in the locker room and on the court – and it's free to come inside for a 7-day tryout. Now more than ever, there's no reason not to give it a go! Thanks for your support of the site at less than a dime-a-day! Go Mavs and Go Premium!