FOREWARD:
The
Dallas Mavericks
are an old team. There's no use in denying this fact, but there is also no need to necessarily view it as a negative when this roster includes enough depth to counter the added stress of the lockout-compressed season with enough bodies to allow coach Rick Carlisle to spread the points of impact around.
Really, here's the problem with the Mavs' "seasoning'': It's not "age''; it's "accomplishment.''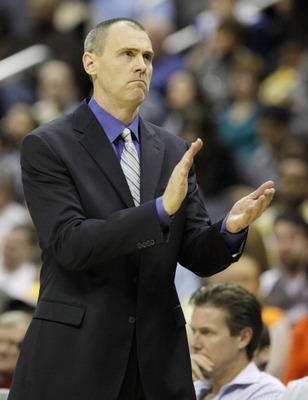 Some guys wear golden shoes and some guys take summers off and some guys need a week of rehab and some guys dye their hair and some guys seem sad that they've changed cities and the one constant is the guy with the box.
We're a franchise that expects to win games,'' Carlisle said Monday after his defending champs crushed the Suns in Phoenix 122-99. "And we place high standards on our play. When we got off to an abysmal start like we did (0-2 and then 1-4), it's painful. But we've climbed out of that. Now we've got understand that just because we're winning and playing well, nothing is guaranteed. Gotta keep working at it.''
That's what Rick does, and it is in the process of rubbing off. You hear it when the players echo the coach's words.
"We wanted to 'hit first,'' Vince Carter said afterwards, and where have we heard "hit first'' before? Yes, Vince is borrowing a slogan often used by coach Carlisle.
What else did Vince say after scoring 21 for the second straight night, this one against the Phoenix franchise that he played for last year (and that is still paying the bulk of his salary)?
"That ring ceremony (newcomer Carter watched last week while carryover Mavs were honored for their 2011 title) really did it,'' he said. "I really put the work in (to rehab from a recent injury.) It made me want one.''
Carlisle got one that night last week. He put it in a box. The box is in his office and the new ring is not alone. His Boston Celtics 1986 championship ring is in there, a keepsake from being a player on those Bird-led champions. Also in the box: Rick's ring from being a player with the 1988 Albany Patroons, a minor-league team that went 48-6 and won a title.
Anyway, the rings are in a box. There is room in the box. It's what drives Carlisle, who -- in a world of golden dye jobs and celebratory bathrobes and reality TV shoes -- is rather a simple man.
Dallas entered Monday night with nine players averaging at least 20 minutes (Milwaukee is the only other team that can match this), and a 10-deep rotation with Roddy Beaubois coming on but only averaging around 17 minutes per game (prior to Monday). Only one team in the NBA has no more than one player averaging 30-plus minutes: Dallas (Dirk hovers around 31 per).
He's got rings. You want one? You want more? Allow yourself to be managed by him. Allow yourself to be driven by him.
Slowly but (we hope surely) these Mavs are allowing themselves to be steered back up that mountain. To conquer the impact of age, the Mavs have employed depth and are now 6-2 on the second night of back-to-backs after their highest scoring night of the season to thoroughly thump the Steve Nash-less Suns.
And none of it happens without Rick Carlisle ... and his drive to further fill that box.
THE NEW TRIPLETS, FOR A NIGHT:
Speaking of that aforementioned depth, three Mavs scored at 20 points or more against the Suns … and neither
Dirk Nowitzki
nor Jason Terry were one of them.
ONE OF THREE: Vince Carter caught a whiff of the O'Brien Trophy when he arrived in Dallas ... and then that banner and then that ring ... and the scent seems to have carried with it the fountain of youth. For those truly paying attention, particularly those in the Metroplex that scoffed at the signing, Carter has set about destroying the perceptions that preceded his arrival. When needed, he has worn the weight of the offense on his shoulders for stretches, but not hijacked it. He has set aside the lusts of the ego and embraced the concept of team.
Getting the start against the team he last played for, the team that paid him to leave (a buyout that pays him more than his Dallas salary this season), Carter matched the season high he set the night before with 21 points … needing only 13 shots to get there, hitting 5-of-7 behind the arc.
He's shown flashes of the highlight finishes at the rim (in this one, though it didn't count, he did toss up a behind-the-back shot that went in), including monster dunks and flashy finishes. He's been the Mavs most consistent 3-point shooter, hitting 47.1 percent of his attempts this season. And, he's done so almost entirely within the flow of the offense.
"We all brought it tonight,'' Vince said, and while that is true, it's an unselfish statement ... the sort of thing we first believed we might here when, rep aside, we visited with him at the very start of the season at Shawn Marion's toy drive. There was no superstar arrogance about him. Just a new teammate trying to fit in.
He fits.
TWO OF THREE:
With Roddy Beaubois again getting the start at point guard as Jason Kidd sits for at least a week with a calf strain Delonte West has moved to the bench … and hasn't missed a beat after quickly returning from a hamstring issue.
Much like Carter, West must be viewed as a pleasant surprise when considering the return versus expectations at the beginning of the season. From the moment he stepped on the court, it was easy to like him. The hustle, the defense, the right kind of edginess on the court and the ability to break down a defense off the dribble; there's a lot to like.
Against the Suns, West also showed his dangerous range and matched his career high with five made 3-pointers, needing only 12 shots to reach a new season-high 25 points.
We have so many playmakers, so many guys who can put the ball in the hole," West said. "We just have to trust each other and that was on display tonight. We didn't have our leader, Jason Kidd out in the mix. He can knock down 3-pointers. We hope we can build on this and get him back as soon as possible and get him back in the flow of things."
THREE OF THREE:
Last, but certainly not least, Shawn Marion continued an offensive resurgence that he'd tell you is nothing more than the product of opportunity. With Dirk not yet at optimum levels, Matrix has seen his role change from that of a third (or lower) option on offense, to that of a primary scorer.
Over this last seven games (including Suns) Marion is averaging 18 points and seven rebounds while hitting 51 percent of his shots, including 44 percent of his threes.
Against the team he spent the bulk of his career with, Matrix scored 20 points by hitting 9-of-15 shots.
For those who take him for granted when the scoring numbers aren't there, this may serve as a wakeup call to his significance on this roster. For the rest, perhaps there's a hint of surprise in seeing him gather points this prolifically, efficiently … but also provides a deeper insight into his versatility and to his overall impact.
We thought it was odd that Phoenix coach Alvin Gentry would answer a pregame question about 'Trix's opportunities from the arc (remember, he made 4 treys and scored 29 against the Suns last time around) by saying Marion would again be allowed to take that same shot.
Does Shawn Marion not deserve a little more respect than that?
THE EMERGENCE CONTINUES, QUIETLY:
Other than a highlight finish on an alley-oop, and the spectacular attempt at another dunk, this was a quiet night for Roddy Beaubois. Yet, it may signify just as much growth as the previous two games … when he was the best point guard on a court that also housed Devin Harris and then Tony Parker.
The final stat line: eight points, seven assists, two rebounds, one steal and one block in 24 minutes.
Quiet ... but a good quiet.
The excellent play of West partially muted Roddy B's contributions by limiting his minutes. Though it may have left a dent on his numbers, it didn't conceal the continued growth on display.
Three games ago, Roddy B set a new career high in assists with seven. He's now matched that total every game since … totaling only four turnovers over the same span. For those three games, he is averaging 14.7 points, 51.3 field-goal percentage, seven assists, 3.7 rebounds and 2.7 blocks.
Consistency can only come with time, and three games are far from enough to gain complete confidence for the games to come. However, the subtle signs of growth continue.
The occasional poor shot choice remains (as it will for almost all players with a scorer's mentality), but Beaubois did not force offense that wasn't there, nor did he stall the flow. He found open players, played reasonable defense without fouling, and did not impede the team around him. This is growth, but it must continue.
On this night, even with the two big dunk attempts, one small play may have epitomized what we saw. Brandan Wright was forced to pass the ball out to Roddy just behind the arc. In one fluid movement, Beaubois flipped the ball to an open Vince Carter in the corner, who then drilled the three.
Simple. Quick. Nothing more than an assist on the stat sheet. Yet, it showed a player aware of his surroundings that did not hesitate to do the right thing. There was no needless dribble. No forced attempt. Just a quick pass to an open teammate … and an easy three points for the Mavs.
Random side note: Roddy has a block in seven straight games.
THE NBA HIGHLIGHT REEL:
And there are a bunch of 'em ...
QUICK NOTE:
You have to like how Rick Carlisle is manipulating the starting lineup with Jason Kidd out. When Kidd is healthy, Delonte West has become entrenched as the starting shooting guard. This allows Kidd to defend the opposing shooting guard, a necessity against most teams, and West to take the point guard.
With Roddy stepping into the starting point guard spot, Vince Carter has been starting at shooting guard. Perhaps this is due to the hamstring issue that caused West to miss a game recently, but it makes a lot of sense. Roddy is more suited to guard point guards, while Carter can handle most shooting guards.
In both lineups (Kidd/West or Roddy/Carter), you have size paired with speed.
Of course, this may also be Carlisle staggering West's minutes knowing that he will be acting as the primary backup at point guard … but, isn't that still a good thing?
Either way, it's worth noting the smart strings Carlisle is pulling.
VINCE BEHIND-THE-BACKER:
Just for kicks ...
THE METAMORPHOSIS:
The offense is coming.
The Mavericks have scored 116, 101 and 122 in their last three games. Dallas shot 55.2 percent overall and 51.9 percent (14-of-27) from beyond the arc in this game, all part of a season-high 66 points in the first half.
And then there was the Bob Ortegel Special: The Mavs closed the first half on a 20-7 run and closed out each of the four quarters with emphasis:
End of First: Lamar Odom -- the clock giving him no time to be contemplative or introspective or to visit with the media about various ailments -- grabbed an offensive rebound that caromed right to him, and he slapped up an all-instinct putback jumper before the buzzer.
End of Second: West scored on a clever inbounds play from under the basket, his lefty baby-hook layup just beating the clock and just eluding the stretch of Gortat.
End of Third: This time a West jumper ...
End of Fourth: Final minute, and a Roddy-Oop to punctuate the evening.
Considering the circumstances of this season ... maybe everyone is allowed at least one.
MAVSELLANEOUS:
Nowitzki continues to round into form, going 4-of-10 for 10 points, four rebounds and four assists in 28 minutes. ... Carlisle said Nash's absence was a big deal, but we don't see it. Phoenix' guards don't guard anybody, with or without Nashie out there. Furthermore, the NBA assists leader is Nash but without him the Suns still got 21 dimes, almost their season average of 20.8 ... The Mavs are now 9-1 in games in which they don't have Kidd or Dirk. ... Center Marcin Gortat (17 points, 10 rebounds, four blocks) was the only Suns player who seemed capable of playing at Dallas' level. And yeah, it still hurts a bit to have been Kicked In The Gortats ... Dallas has beaten Phoenix three times this month and with eight straight wins hasn't lost to the Suns since January 2010. ... Mavs only got 21 points from Dirk and Jason Terry tonight, and still won by 33? ... The Mavs had a 52-35 edge in points in the paint. ... Dallas got exactly 50 percent of their points from their bench. ... DB.com's Chuck Perry contributed to this report. ... Is it possible that we're nearing a point in this "wacky'' season where we don't even bother mentioning the b2b because don't pretty much all of them feel that way?
DIRK'S EVAL OF HIS MAVS:
It's pretty rosy.
"If you would have asked me at Christmas and the day after, I would have said we're in trouble,"
Nowitzki said.
And now?
"I think we've come a long way since the first couple of weeks of the season,'' he said. "I think guys got in better shape. I think guys are learning to play off each other. And I've said this almost feels like last year. We've got a bunch of veterans who want to play and are not selfish, like Vince and Lamar. I really like the setup of the team. I think we were really worried coming into the season, losing Tyson. But the way Haywood has been playing is some of the same stuff Tyson was doing for us, protecting the paint, blocking shots."
THE FINAL WORD:
The Suns aren't the team they once were. Without Steve Nash, they aren't even the team they are now, but that doesn't make this a complete throwaway game.
The Mavs did what they had to do to overcome the absence of their Hall-of-Fame point guard and a less-than-peak-performing Dirk and watched as a handful of players stepped up to ensure this would be a blowout win.
At 14-8 Dallas sits in sole possession of first place in the Southwest Division, has a three-game winning streak, and have risen to the fourth seed in the Western Conference (not that seeding matters quite yet) … and they've yet to fire on all cylinders.
As Rick said, "We're a franchise that expects to win games.''
And they are led by a man who expects to win rings. Because there is still room in that box.