After jumping into the top 100 scorers of all time, how will Jason Eugene Terry be remembered? And just as interesting, how does the
Dallas Mavericks
sixth-man star wish to be remembered?
During the Mavericks' championship ring ceremony, coach Rick Carlisle made sure to point out how Shawn Marion is one of the most underrated players in NBA history. That is no doubt the case; indeed, isn't that the case with most everyone on that title-team roster?
But we argue that it also applies to another on the roster who is one of the greatest Mavericks of all time. ... and that it is this guy who symbolizes the Mavs' underdoggedness.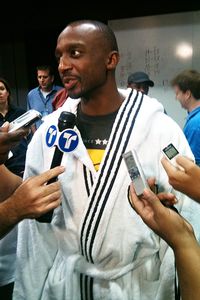 Placed next to a star that has been the face of the franchise since the late 90's,
Jason Terry
has gone on to have a tremendous career in Dallas that has in some regards flown under the radar, so to speak. That's not to say that Terry isn't appreciated in Dallas, especially after his 2011 Finals heroics, but the solid nature of his career doesn't seemed to be fully grasped in the NBA world.
While the Mavericks have seemingly been in a constant state of search for a "second star" to place next to Dirk Nowitzki ever since Steve Nash left town in 2004, Jason Terry has not-so-quietly been that "second star'' -- while also being one of the more polarizing players in Dallas Mavericks history.
Terry was in a tough spot when he arrived in Dallas because he was the perceived replacement for ultimate fan-favorite Nash at point guard. Ever since the Mavericks acquired Terry for Antoine Walker and Tony Delk (yeah, that trade actually happened), all Jet has done is average 16.2 points per game, shoot 46% from the field and 39% from beyond the arc, while playing in 579 of a possible 597 games for Dallas.
Last weekend, Jason Terry moved in at 100th on the all-time scoring list, ahead of players like Walt Frazier, Tim Hardaway, Bill Russell and Alonzo Mourning and within striking distance of Pete Maravich, Tiny Archibald, and Bob Cousy.
To be more specific: Jason Terry is 32 points away from tying Maravich.
"Is that right?'' Jet said today after practice when DB.com's Mike Fisher corraled him for an exclusive interview. "I didn't know that. ... that's pretty impressive, huh?''
If that's not enough of a statement, The Jet also ranks seventh all-time in made three-pointers, 65th in assists, 66th all-time in steals, and 86th in three-point shooting percentage. That's quite a few categories in which Jason Terry places in top 100 all-time, especially considering he's been voted into exactly ZERO All-Star games.
When you take his career in whole, that seems slightly unbelievable.
Jason Terry has built his impressive career by being consistently "good'' or "great'' and, we concede, while also consistently falling short of superstardom. And that's a compliment.
Experiencing two or three explosive years is one thing, and the NBA is overflowing with those guys. Being a cornerstone of a championship-caliber franchise for eight-plus years is quite another.
All of this is without even mentioning how Terry has always done exactly what the team has asked of him. When Avery Johnson requested he come off the bench in 2007 after spending his whole career as a starter, he did it without complaint. He actually took it as a personal challenge. Terry made sure that he would be the best at his job, which he officially was in 2009 when he won the NBA's Sixth Man of the Year Award.
From a non-basketball standpoint, few own a room like The Jet. Terry -- who has occasionally mentioned to us his desire for a future in broadcasting -- plays to the crowd more than anyone as he gets huge responses when he turns to the fans and demands more noise or support. Hearing the noise of a jet engine a dozen times a game to celebrate an AAC accomplishment causes us to hear that sound effect in our sleep.
MFFLs have seen him spread his jet wings and "fly" down the court after big basket time and time again, consequently making fans of the opposing team cringe. He is among the NBA's consummate "love him on your team, hate him on the other team" player -- and he relishes that role.
He plays to the crowd but there is a sincerity in his glee. Terry found out early in his Mavericks career that running his mouth about the San Antonio Spurs would quickly endear him to Mavericks nation. Needless to say, he's stuck to that bit over the years. ... and we believe that history will remember that when he ran his mouth against LeBron James, stating that he didn't think The King could guard him in the NBA Finals ... well, he was right.
There's no question that Jason Terry should go down as one of the best, most-beloved Mavericks ever.
"That's part of what I would want my legacy to be,'' Jet tells Fish. "I think it's important to be a fan favorite. I also think being (top-100) is a testimony to hard work, to the willingness to stick with it. It's mostly about the work.''
So, why is it that Terry has also received so much criticism and questioning during his time in Dallas?
Maybe it's Terry's penchant to take long jump shots in transition before waiting for anyone to set up under the basket for an offensive rebound. It might be Jet's preference to take a short baseline jumper rather than a simple layup. Perhaps, more logically, it was the downward trend of his playoff performances before 2011. Jet loves to talk, but fans love when he makes sure to back it up.
In between Terry's most successful postseasons in 2006 and 2011, his performances left quite a bit to be desired if Jet was to be considered the Mavs' second option. For the most part, his shooting percentage fell every postseason after the 2006 Finals appearance. It all came to a head in 2010 after the Mavericks were knocked out by the San Antonio Spurs in the first round and Terry shot a measly 38% for only 12.7 points per game. Spurs coach Gregg Popovich's commitment to taking Terry out of games in order to put all of the offensive pressure on Dirk was never more evident. As a result, some Mavs fans felt like they had seen enough, like they had seen the best from Terry.
Of course, at other times the Spurs have seen too much of Terry, too. ...
The birth of the Roddy B legend when the kid had 16 points in just 21 minutes during the elimination game against the Spurs had MFFLs clamoring for more Beaubois and less Terry. Indeed, DallasBasketball.com has written more than once that a passing of the baton from Jet to Roddy B must be an inevitability.
Good thing the Mavericks front office didn't listen.
A well-documented foot injury Roddy B kept the window wide open for Jet as the Mavs' Triangle of Trust stuck with the sixth man and saw it pay off in ways Mavs supporters could only dream of.
One thing that must be mentioned about Terry is his incredible clutch-ness that has been taken for granted by Maverick and NBA fans alike. When the Mavericks have needed an important bucket over the last decade, it's very likely that the Nowitzki/Terry two-man game was employed and one of the two took the shot. Today as much as ever, it is often Terry taking that crucial shot and nearly just as often he makes it. The willingness to take the big shot and the ability to make it has always been a staple of Terry's game and that was never appreciated more than this past summer.
Some dots many fail to connect with those frustrating transition pull-up jumpers and the sometimes questionable shot selection is that's what makes Terry so unique in clutch situations. Wanting to take those shots and have the ball in his hands when it's time to win games is what makes it possible for him to create iconic images in Dallas Mavericks lore.
Dirk learned the skill of how to want the pressure in that situation. Terry was born with it.
Being wired that way is what made it possible to call out LeBron James in the NBA Finals and then follow it up with some of the best performances of his life. His unbridled confidence allows him to do things like unload 26-foot daggers right in front of James' face to end Game 5 of the Finals. His personality is what pushed him to get the Larry O'Brien trophy tattooed on his arm BEFORE his team even won one.
Most importantly of all, his confidence allowed him to alter the course of the Mavericks franchise forever when it needed him the most in Game 6 of the 2011 NBA Finals.
Obviously, Dirk was the main reason the Mavs were in position to win the NBA Finals, but Terry was the deciding factor in the deciding game. We all know the story. Terry had called out LeBron James, built momentum off of that call-out, and then scored 27 in Game 6 to finally rip the heart out of the Heat. Terry was ruthless. Driven by the painful memories from 2006 and, yes, his belief that HE was the one who was going to finally put the Mavericks misery to rest, Terry seemed to effortlessly rip the net with every shot he took. For that, history will look kindly upon Terry and so will Mavericks fans.
While the pinnacle of Terry's Maverick career will most likely be that Game 6 performance, it's not all his legacy should be remembered for. What he has done over such a long period of time with amazing scoring, clutch play, and incredible durability is a very, very hard thing to do and deserves the proper respect. He'll always have his frustrating shooting nights and cold streaks that will no doubt fire up the Terry-bashing for a period of time. That's fine, as long as proper perspective is given to his overall Mavericks career in the end of the day.
With Terry being a free agent this summer and a free-agency period of the unknown on the horizon, The Jet's time as a Maverick is anything but assured. He's already petitioned for a contract extension, a notion so silly that I don't believe DB.com has ever bothered acknowledging it as a "story.''
But whether he's back or not when that time comes, we all need to appreciate what Jason Terry has consistently brought to this franchise with his high character, outstanding play, and the creation of memories we'll all have forever.
The high socks. The headbands. The opponents' uniforms as pajamas. The championship robe. The anti-Lakers, anti-Heat, anti-Spurs, anti-everybody fiestiness. The concept of such a "shoot-first'' guard being a foundation piece of such an unselfish team.
Terry said it himself at the banner celebration when he was asked what's next in his Mavericks career; "Move over, boys!" Terry yelled up to the rafters at the retired numbers of Brad Davis and Rolando Blackman. "There's some new jerseys coming to town!"
Terry is right. His jersey will be up in the AAC rafters some day. Until that time comes, we all need to appreciate and understand what he has contributed to this franchise. Times won't always be this good for the Mavericks and Jason Terry-created times will be missed when they are gone.
Yes, it's a stretch to say no one has done it quite like The Jet. But it's not a stretch to say only 100 guys in NBA history are in Jason Terry's class.
"Well, it's pretty stunning,'' Jet told us. "When it's all said and done, being one of the top 100 scorers ever ... well, you know, you come in to this league knowing that you better be able to specialize in something. You know you'd better either be a great defender, great rebounder, great floor leader or a great scorer. One of those four. And I found my way.
"Most of all, my legacy,'' Jason Terry said, "is that I'm a guy not afraid to take that last shot.''