THE LEAD STORY:
Dallas Mavericks
guard Jason Kidd, out with a strained right calf, did not participate at full-speed with the team today. But in my judgment, he moved without any noticeable discomfort and shot brilliantly at the end of the workout, hitting 3-point shots from the left wing and corner, in particular, with such accuracy that Dirk Nowitzki watched and was grinning from ear-to-ear.
The company line on Kidd playing in Denver on Wednesday remains in place.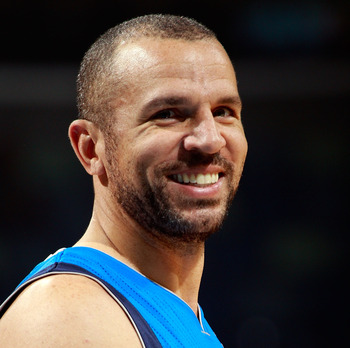 "Day-to-day," Kidd said as he jogged by a media bunch while wearing heavy whiskers and white shoes trimmed in black and gold.
Mavericks coach Rick Carlisle also played things close to the vest, insisting (as is his habit) that he wouldn't be drawn into delivering "daily updates'' on a player's injury status.
"He's doing some stuff, but again I'm not going to get into a daily Kidd update," Carlisle said. "We'll let you know when he's going to play."
Rick was asked if Kidd will travel with the team to Denver.
"I expect him to travel,'' Carlisle said, bristling a bit. "He's part of the team.''
Kidd hasn't practiced in a week, and while the Mavs don't wish to hurry him back, they are in a stretch during which they are 2-3 without him. The Mavs have lost three straight.
We asked
Jason Terry
if Kidd seems close to ready.
"I didn't see it, so that's all I'm going to say," Jet said, joining the company line in revealing nothing but also joining the company line in wishing he'd get back soon.
ALL-STAR-TALK:
I was still in the basement gym when the last three other guys in the joint were Jason Terry (and he and I were finishing up a one-on-one visit), Dirk and Holger.
Earlier, Jet had barked up to a figure sitting on the catwalk, scribbling into a notebook.
"Hey, Holger!'' Jet yelled at the older man wearing his familiar brown plaid shirt. "Get down here! What are you waiting for?''
Holger Geschwindner then descended the stairs to put Dirk through his paces ... with Terry hanging around, too, likely hoping for a rub-off.
Later, Jet informed me that he is planning to go to Orlando for the All-Star Game (he's got a Reebok-related project). He's apparently flying on a private jet, and he invited Dirk to come along so the two of them might participate in the 3-Point Shootout.
"C'mon, Dirk,'' Jet said. "I'm driving.''
Nowitzki laughed and kept shooting, just as he had earlier when Jet told the assembled media that both Mavs standouts deserve to represent Dallas in the All-Star Weekend -- Dirk to make an 11th straight appearance on the team, Jet to reprise his role in the Shootout.
Terry on Nowitzki: "He'll make it, unless he decides to give it up to (LaMarcus) Aldridge. I don't know why he would ever want to do that. ... Dirk has to be there. I think he will be. ... I'd love to see him in the game, just because he's earned it. Some guys are grandfathered in and you've seen that throughout the course of the history of the NBA. Guys like Tim Duncan, primarily his stats aren't always what they were, but just because he's a perennial All-Star, he'll be there. Shaq, same thing."
Terry on Terry: "You just got to look for me in the three-point contest. I'll represent the Mavericks and I'll do that for us. ... And I'll get the tattoo that says I'll win it if they decide to put me in it.''
PAIRING UP:
Always interesting to me to see who is working with whom and who is working on what when coaches and players break into small shooting groups.
*Jet, Kidd and Dirk congregated together for extra shooting.
*Shawn Marion focuses on 3-point shooting and thought he'd ended on a high note when he stroked a shot (if you call that a "stroke'') from the left corner and then sprinting to the staircase to exit in celebration ... "Let's go home!'' he muttered to himself ... but then the ball clanged off the rim, causing him to return to the floor for more shooting.
*Jet was deadly as he worked on the mid-range game, especially from the left baseline. Meanwhile, Yi Jianlian has an obvious favorite spot: From 18 feet, just inside the FT circle.
JET HAS BRACES?!:
There is another cosmetic change for Jason Terry, and maybe this is proof that I cover the Mavs TOO closely: I noticed that Jason Terry is wearing Invisaline braces on his teeth, and he let me get a good look inside his pie hole.
"I gotta get them looking good for my next career, on TV,'' he told me. "Two more weeks and then onto the next stage (of braces).''
I urged Jet to take his time moving in front of the cameras -- in fact, I specifically asked him to take it slow so he wouldn't steal my Fox Sports Southwest job until I'm old and done.
"Oh, Fish, you do a great job,'' he said as I blushed. "I won't take it from you for a couple of years, OK?''
QUOTEBOARD:
A nice assortment from Carlisle:
*"Denver runs the ball right up your ass.'' -- Rick on the Nuggets' pace.
*"He's a positive-vibe type of kid.'' -- On Brandan Wright.
*"We understand the result we want. It's the process of getting there that we have to focus on every day.'' -- Carlisle.
MAVSELLANEOUS:
Jason Terry said he's campaigning with the coaching staff to give
Brandan Wright
more playing time. "I've already put my bid in for Brandan Wright," Terry said. "I've already expressed that he should play every night, whether it's five minutes, 10 minutes, 20 minutes, but he has to play. I mean just because he's an energy guy. For me, off the bench, he's good with that unit that I have.'' ... Overseeing the free-throw shooting of big men Haywood and Wright? Dr. Don Kalkstein, the tea psychologist, and that's probably a smooth move ... Danilo Gallinari is expected to miss Wednesday's game and a month with an ankle problem. Carlisle was careful to note that the Mavs know as well as anybody that an opponent missing a player guarantees nothing ... The next time you see Jet, that "Seahawk'' haircut (a modified Mohawk) will be gone. "Yeah, the Seahawk is going to be extinct,'' he said. ...
THE FINAL WORD:
Late in the day, before it was time to board the plane, Dirk and Roddy B challenged each other to a 3-point contest. It's fun to watch these, not just because of the balls that go in or done, and not just to marvel at hot streaks and the like, but also to see guys trying to kill each other ... all the while with smiles on their faces.
Finally, The UberMan outdueled Roddy B. Beaubois very casually walked over to assistant Terry Stotts and took the ball from his hands. Roddy B then spun around and violently slammed the ball against the basement's brick wall.
"Anger Management!'' Dirk comically yelled in Beaubois' face. "Hey, somebody call Anger Management!''