FOREWARD:
The
Dallas Mavericks
entered Wednesday's visit to the Mile High City concerned about two specific things: 1) The Nuggets run like a track team. 2) The Nuggets depth means that their track team is made up of relay sprinters passing the baton to one another.
"Us and Denver have the two deepest teams in the league,'' Dallas guard
Jason Terry
told DallasBasketball.com before the game.
Added Dallas coach Rick Carlisle in his previewing of the game, "Denver runs the ball right up your ass.''
The depth was tested as two strong teams -- now tied for the No. 4 spot in the West at 15-11 - took the court in Denver minus significant pieces. Jason Kidd missed his sixth game with a strained calf for Dallas (but he'll practice tommorow and wants to play Friday in Minny). And the Nuggets were without their leading scorer, Danilo Gallinari, and center Timofey Mozgov.
Both teams also arrived with three-game losing streaks in tow. One would soon break. The other would be pushed to four.
Behind another strong game from Dirk Nowitzki (25 points, nine rebounds), who climbed another rung on the NBA's All-Time Scoring list, and the ageless go-to guy Vince Carter (17 points, eight assists, five rebounds), Dallas ended the three-game skid, coming away with a 105-95 victory.
THE NBA HIGHLIGHT REEL:
We're thinking this is as sharp as the Mavs have looked all year ...
DIFFERENCE BETWEEN 'WASHED UP' AND 'CLEAN':
When Dirk Nowitzki returned from a four-game hiatus with an alien string of three games that saw him perform far below his expected levels, the doubts began to reach beyond a whisper before being cast into the open by Charles Barkley. Three games later, that sentiment of depreciation rings false.
Over the last three games Dirk has averaged 26.3 points, 61.5 field-goal percentage, 33.3 3-point percentage, eight rebounds, 2.7 assists and one block. Hardly the numbers of a player incapable of leading a team or succumbing to the thieving hands of time. Dirk isn't washed up. He's simply playing the clean, efficient game we've come to expect from him.
"An All-Star performance, don't you think?" Rick Carlisle asked of Dirk's game with his usual dry delivery.
The debate may rage on over whether or not it's in the best interest of the Mavs or the player to participate in the All-Star Game --
DB.com has that angle covered completely here
-- but in a league that has set a vast precedence of honoring players for what they've accomplished over the span of years rather than in the first half of the season at hand, it's hard not to believe that Dirk will be included. That said, we would hope his minutes are light and his routine is allowed to maintain some semblance of normalcy.
In other words, if he really does go to Orlando ... whether he flies there as Jason Terry's Reebok private-plane co-pilot or not -- we hope he does no more than he's done for the last 10 appearances.
Meaning, watch as Kobe takes all the shots for the West.
ANOTHER MILESTONE:
With 3:27 to play in the fourth quarter, Dirk reached 23 points to pull himself into a tie with brief -Mav Adrian Dantley at the 21st spot on the NBA's All-Time Scoring list.
Moments later, with 1:36 left in the game, Dirk would not only put he dagger in any hopes the Nuggets may have been holding by putting Dallas up 103-90, but claim that 21s spot as his alone.
Next up, 155 points away, Robert Parrish sits at 20.
And we'll say it like we said it on the MAVS LIVE postgame show to Coach Ortegel and Dana Larson and Mark Followill and anybody else who stayed up late with Fox Sports Southwest: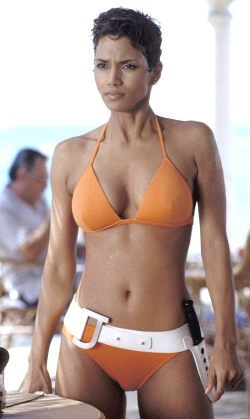 A Dirk shooting slump is like Halle Berry having a pimple on her cheek. It's really nothing to get too upset at her about.
And in the last three games, Dirk has Clearasil'ed the problem away.
IT'S STILL VINSANITY:
Linsanity? Jeremy Lin may be remembered fondly around Dallas for a strong performance on the Mavs Summer League team two years ago, and there's little doubt he's setting the New York-centric universe aflame as he's burst onto the scene with the Knicks, but doesn't it seem a tad premature to hand him the nickname of a player who continues to perform so well?
The New York beat writer Frank Isola actually tweeted last night that Lin is like Steve Nash only with more leaping ability. The hype is ... maddening.
Lin isn't Nash. Lin isn't Vin, either.
Vince Carter hasn't faded into the haze of the sunset, regardless of how close many may have thought he was before this season began. Instead, he's found a comfortable niche in Dallas. There have been the moments of spectacle, but beyond these highlight-devoured delicacies is a player who has slipped into the flow of the Mavs offense, into the identity of their core.
Playing within the construct of the team and contributing what he's able to on defense, Carter has proven to be a significant cog when the gears are best aligned. He's left our expectations to wither and die beneath the truth of what he's brought, which is a team player, both willing and able to do the heavy lifting from time to time.
Against the Nuggets, Carter was second to only Dirk in scoring … not only on the Mavs, but in the game. Two players on Denver matched his 17 points, but none exceeded it. And, rather than chain the burden to Dirk's shoulders for the entire night, the offense leaned heavily on Carter at times, tossing the ball in to him with Visa Problems McGee on his back to create points … and being rewarded for doing so.
There was an emotional side to what Vince did, because it was against Rudy Fernandez, the almost-Mav who was given a job in Dallas before Carter took it away ... which caused a pouting Rudy to claim the dog ate his passport ... and the next thing you know, Dallas dispatched Rudy to Denver in a keep-the-Mavs-powder-dry transaction.
Vince was at least as good as Rudy here. And now Mavs get to despise Fernandez again, so all's right with the world.
And then there was the strategic side of Vince.
Dallas came with a variety of familiar sets, from the Dirk/Jet two-man game to Roddy B setting up on a wing ... but the go-to set featured Vince Carter. And in the clutch, to close this out, Dallas relied on Vinsanity.
"If they don't double-team him, he makes you pay,'' Carlisle said, "with a hard drive to the basket or with a fadeaway shot that's really hard to get to. He's the guy we went to down the stretch all the time.''
Some of that may be due to Jason Terry's hip problem; that's why Jet didn't finish. But the Mavs believe that if they keep Vince's minutes in the 20 range, he'll be fresh enough to fill this role consistently.
And if Dirk, Jet and Vince are all clicking offensively ...
BATTLE OF THE BENCH:
Unfortunately for the Mavs, Jet wasn't clicking this time out. He was just 1-of-9 for five points, and we'll know more Thursday how troublesome that hip is.
But Jason was right-on in one regard: These benches are explosive. Dallas and Denver entered this game with the first- and second-rated scoring benches in the league at 44.2 and 43.5 points respectively.
Dallas finished with 41 from their bench. Denver with 49.
The battle may have been lost, but the war was won. ... especially because the Mavs bench won its war without production from its general.
THE NUMBERS GAME:
Our Chuck Perry breaks 'em down ...
Denver's High-powered offense
• Denver plays at the fastest pace in the league, scoring the most points in transition and the most points in the paint. In fact, they are best in average shot distance at 6.61-feet per shot. Tonight the Mavs held Denver under 100 points and only surrendered 12 fast-break points and 36 points in the paint.
• The Nuggets have also attempted the most free throws in the NBA, but tonight attempted 27, three times as many as the Mavericks, and made 20. An oddity that Dallas would win by 10, given that stat.
• The Nuggets are second in field goal percent at 47.79% and matched that total tonight from the floor, going 33-71 for 47%.
• They are No. 1 in assists per game at 23.4 per and finished with 25 assists on 33 made baskets tonight.
• There are 28th in offensive rebounding percentage 23.6% and only collected eight offensive boards tonight.
• They are 27th in turnovers and tonight had 17, thanks to nine Dallas steals.
• Denver has six players who average over 10 points per (Gallo, Lawson, Harrington, Nene, Miller, Afflalo) and tonight had six players in double-digits.
CERBERUS:
Cerberus is a mythological three-headed dog said to guard the Underworld. Dallas has their own version of the beast guarding the rim, in a center rotation suddenly three deep.
Brendan Haywood stands tall as the starter, though he would go scoreless for the first time since the opening night loss the Heat and be the least effective of the three against the Nuggets … though he did force Nene to work or his points and helped render Chris Andersen a complete nonfactor.
Ian Mahinmi was the first to leave the bench after failing to play at all in the Mavs last game. From the start he appeared to have regained the burst of energy displayed early in the season. Whether it was hitting the offensive glass, keeping balls alive or drawing a charge, his vigor seemed refreshed.
He would play the least amount of minutes of the three centers (11:29), but did finish with seven points, four rebounds and a block. Considering his limited time, these are solid.
Brandan Wright was the last to get a shot, but again did nothing but show us exactly why he's earned the right to be on the court … as well as the demand that he be there from Jason Terry.
In 16 minutes, Wright totaled 10 points, four rebounds, one steal and one block and hit five of his eight shots. Plus/Minus can be an extremely deceiving stat, but it comes as little surprise that he rated the highest of the Mavs bench players with a +8.
"He plays residually off the other guys,'' Carlisle said (which is a cool phrase, by the way.) "We don't run plays for him.''
The raw numbers don't capture the essence of what Wright brings to the court. Not that they come up lacking, but they fail to note the change in feel that often accompanies his presence. While to a lesser degree, it's reminiscent of the shift felt when Tyson Chandler would take the court. It's far too premature to label it anything as significant as what Chandler offered, only vaguely similar in a less-than-tangible way.
Wright's athleticism allows him to cover lots of room on the defensive end, also granting him the ability to fly up to meet many shots or alter the attempts not turned away. He can run the floor and is more than capable with the ball in his hands near the rim. Yes, there are the amazing dunks, a siren song that has so often seduced the eyes of basketball fans to the rocks of misevaluation, of overlooking the faults not shown in a five-second-highlight clip; but again it's more than that.
His energy can change the feel of a game, can alter the course of it. We don't dare equate it directly to what Chandler brought, only relate the texture of it in some way. That's why Jet went to the coaches and asked that B-Wright be a permanent part of the second-wave rotation, whether it's for five or 20 minutes.
"A good-vibe energy guy,'' is what Rick calls B-Wright.
Time will tell what, if any, significance his play carries forward … but, there's plenty to like at the moment. Good vibes, as the centers combined for 17/11. That's not the "3-Headed Monster'' or even the three-headed dog. But it's a factor.
LE BOUNCE BACK:
Roddy Beaubois did not look good against the Cavs, and after a quick start did not play well against the Pacers. Delonte West again got the start at point guard, leaving Roddy B to begin the game on the bench.
In the first half, we again saw the Roddy B who had shown promise of rounding a corner from inexperienced youth to a player that was beginning to grasp the game before him. At halftime, Roddy led the Mavs in scoring with 13 after hitting 5-of-7 shots.
He would not take another shot, adding few numbers in the second half. There were struggles, but this was still a nice bounce-back after a pair of poor performances. Or "lousy,'' as Derek Harper put it on our postgame show.
Roddy B's final numbers were 13 points, 5-of-7 field goals, three rebounds, two assists, one block and two turnovers.
Carlisle was positive in his evaluation of Roddy B, saying he needs to continue being a "sponge'' as he learns the game. The coach was even more effusive about Delonte.
"This was one of Delonte's better games,'' Rick said. "Running the club, moving the ball, reading situations ... terrific.''
MAVSELLANEOUS:
Rick on Dirk: "He's getting back into the groove offensively and he's looking like his old self as he moves around the court. So, lots of positives.'' ... Denver is 5-10 against teams .500 or better. ... "I'm exasperated from losing," said Nugs coach George Karl. "The weight of losing is definitely in our locker room." ... Twelve Dallas turnovers instead of 21? Yeah, that'll work. ... We see where someone is criticizing the Dallas defense for being "too active.'' We would suggest that someone is being "too critical'' -- and a little fake-deep in trying to analyze figments of their imaginations ... Oh, and while we're ripping the critics: Where are those idiots who said the Mavs are "too small''? This is, as we all knew, an exceedingly long team and furthermore, when Vince is at the 2 or when Marion's at the 3 or when Kidd is playing, the post-up options are endless. ... The Mavericks have been outscored 140-105 in the second half in their previous three games and tonight were outscored 42-41 after halftime. ... The Mavs scored less in each quarter than the one before, going 33-31-23-18 in quarters 1-4.
THIS TEST:
Denver, even without Gallinari, is a tough team to pull a win out of thin air against. Dallas leapt from the gate with their biggest first quarter of the season, 33 points, and headed into the locker room with an 11-point halftime lead. They would push that lead to as much as 17 points, thus ensuring them the cushion to hold the Nuggets at bay.
The second half wasn't an example of peak offensive production, scoring only 41 points, but it was an example of playing with a fair level of efficiency, hitting 46.3 percent of their shots. In turn, they also managed to hold Denver to only 37.1 percent of their attempts and never relinquish the lead.
The Mavs used their practices and even shootarounds to work on two specific issues.
One was the problem with second-half collapses, an issue in three straight games. Solution? Dallas simulated "halftimes'' at practice in the last few days.
Two was the concern about Denver's running game. "Denver runs the ball right up your ass,'' remember? Solution: At the Wednesday morning shootaround -- often a casual event -- the Mavs used the unusual tool of focusing on transition defense with specific drills.
"We worked hard the last three games in our preparation, trying to keep them out of the lane, trying not to let them get into transition,'' Dirk said. "I liked some of the stuff that we did. We rebounded the ball well. We outrebounded them (46-38) on the road, and that is definitely a plus when we do that."
Halftimes during practices. Fast-break defensive drills during shootarounds. Running at runners so Denver ends up with 14 fastbreak points but Dallas gets 12. That, Dear Premium Mavs Fan, is
coaching.
With a tough stretch in the scheduled approaching, this wasn't the perfect performance, but it was a nice win to set forth on the right foot towards the All-Star Break. And it was achieved in a very "right'' way.
THE FINAL WORD:
Right about now, shouldn't Charles Barkley be phoning the hotline of any DFW radio station willing to bother so he can air his apology?