The Star Spangled Banner:
Here's The NY Times obit on Whitney Houston
, and yeah, Mavs people in the locker room of a certain age were a little stunned by it all. And here's her most iconic sports-related moment, followed by Whitney-inspired themes throughout our extensive coverage of the Mavs' 17th win in 28 outings:
So Emotional:
The Anthem is a good way to start.
Dirk Nowitzki
's five-step to victory celebrating is a good way to essentially finish a
Dallas Mavericks
' 97-94 double-OT victory over the visiting Blazers on Saturday.
The five steps:
1) Go with the One-Legged Euro Leanback with Aldridge drapped all over him and make it with 16.5 seconds left to put Dallas up four in the second and final overtime.
2) Strut to the bench while wildly and awkwardly and angrily waving clenched fists into the air. ... and then punch some nasty Germanglish cuss words into the air, too.
3) Absorb a congratulatory forearm from Delonte West, right across The UberChest, and yes, that'll leave a mark.
4) And a first: Spit on the floor of the AAC. That right. Dirk expectorated in celebration.
5) Shut it down. Let's go home.
Something in Common:
It wasn't easy. At times is was ugly. But what it largely was was Dirk and LaMarcus Aldridge ... All-Stars both.
LaMarcus, the DFW kid with the house in Las Colinas featuring an elevator (no, we never tire of telling that story) assured us all that the is a worthy All-Star by scoring 33 points, including scoring the final points of regulation and the first overtime to tie the game each time, and grabbing 12 rebounds.
Dirk Nowitzki couldn't buy a shot in the second half, hitting 2-of-12 before finally reaching back, finding that final dagger, and placing it securely in any hopes for victory lingering in the minds of the Portland Trail Blazers -- an example of "third time's a charm" ... though Dirk apparently lost could and noted that a foe can't let him try that same shot twice and think he's going to miss.
Two. Three. Who's counting, as long as the big one goes in?
Though hope may have breathed on for a moment longer, Delonte West's strong defense on Jamal Crawford's desperation 3-point attempt as time expired closed the door for good and sealed the 97-94 victory for Dallas.
It may have been ugly ... but an ugly win is better than an ugly loss. And LA might not yet be Dirk (same as we said Friday in Minny of Kevin Love). But ... something in common, indeed.
I Learned from the Best:
After the first overtime, with his minutes having crawled just north of 30, Jason Kidd headed to the bench in what ended up being another prime example of Rick Carlisle pressing the right button at the correct time ... and adhering to his own pre-game conditions, as Carlisle noted that Kidd had reached his "minute ceiling."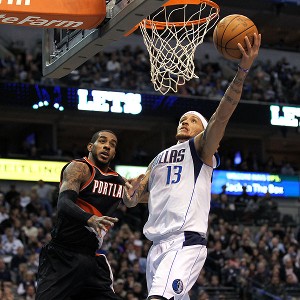 Delonte West replaced Kidd, and instantly made it apparent that he was the lone man on the court with one precious commodity: fresh legs.
Moving a step faster than those around him, West -- as if fueled by his straight-from-the-bottle hot sause -- burst from the double-overtime gate to score the first six points for the Mavs, setting the tone and making a strong grab for the win that was soon to follow.
The first play was drawn up for Delonte. After that, he was simply feelin' it. West finished with 10 points (six coming in the second overtime), two rebounds, four assists, four steals and three turnovers.
"The guy stays ready,'' Rick said of West. "He's a money player. He's had that reputation since he's been in the league, really."
Carlisle understood the situation. Jason Kidd was playing on the second night of back-to-back games after having missed six due to injury, and had already played a complete overtime period. Delonte West was fresh, and offered both protection for Kidd's health and a revival of energy to throw on the court.
It worked.
It also helped that Delonte had
Jason Kidd
in his ear. That's learning from the best. And Delonte revealed after the game that he was also inspired by a guest.
"J-Kidd told me to go out there and be aggressive,'' West said. "The way they were playing Dirk, he saw it before I got out there. He said I'd be able to turn the corner and get the shot off. As soon as I turned that corner, it was wide-open.
Also, Delonte said, "I thought about Lyndon Baty. He was at the game and I thought about his strength and character and what would he do? He kind of propelled me.''
Baty, 16, was born with a kidney disorder and underwent a transplant at an early age. Complications have eliminated his immune system. The young man was West's guest at the game ... and his inspiration for the win.
Here's the Lyndon Baty story:
Saving All My Love for You:
Yes, you, LamLam.
Lamar Odom looked much more aggressive than he has .... maybe since joining the Mavs. His energy level looked high, and he drove fairly consistently. In 22:34 he scored 10 points by hitting 4-of-5 shots and grabbed five rebounds.
Hate to say we told you so ...
but if you read NBA scout Kyle Leath's Advance Scouting Report on this game, you knew that Odom's particular talents and the Blazers' personnel called for him to play a role.
Hey, we don't do the Advance Scouting Report with a real NBA scout for our health, you know!
Anyway, perhaps LO's work is a sign of his health returning to him. If so, is it possible a man many have allowed to slip from their hopes to become the impact player we all assumed he would be upon arrival?
While too early to say, we did at least momentarily shelve our new drinking game that had one simple rule: every time Odom is the last player to cross halfcourt, sip.
Well, it was "sip'' early in the season. It's wobbled over into "guzzle'' territory of late.
Odom continues to defer to teammates a little too much, often appearing to hesitate in or pass out of very good looks, but we also find hope in what we saw here. It will be interesting to see if he can build upon this game.
"I thought Lamar Odom played one of his best games of the year tonight," Carlisle said. "He had great energy, he was attacking; he was into the game."
Whatchulookinat:
Mark Followill is a DB.com correspondent and we marvel at what he does. He noted before the Blazers game that two Portland guys have numbers in the 80's, and it reminded us of the volumes of studying done by Mark and by Chuck Cooperstein, also a DB.com correspondent who is marvelous. So how does Chuck keep track of everything? A DB.com VideoVisit exclusive with the radio voice of the Mavs!
Step by Step:
Are you new to Premium Mavs Coverage? It's easy to join!
If you like this level of insight into the World Champion Dallas Mavericks ... Well, this is what we do, every day, with 28 years of experience on the beat! It's pennies a day to get All-Access to what the Mavs are doing upstairs, down in the basement, in the locker room and on the court – and it's free to come inside for
a 7-day tryout. Now more than ever, there's no reason not to give it a go! Thanks for your support of the site at less than a dime-a-day! Go Mavs and Go Premium!
One Moment in Time:
Actually, it's a moment that happens after every game ... and after every game, DB.com is there to chronicle it: Carlisle's postgame presser, no filters, no intermediaries, no reporters' biases ... just Rick:
It's Not Right but It's Okay:
Dirk Nowitkzi couldn't buy a basket in the second half and beyond. He began the game well enough with 12 points on 4-of-7 shooting in the first half ... and then the wheels fell off.
He kicked off the third quarter by air-balling back-to-back shots -- in other news, scientist digging deep beneath the arctic ice discovered a previously unknown breed of pigs with large, feathered wings that surely granted them flight, dug a little further and found a red man holding a trident in a cavernous world completely swallowed by ice, frozen over -- Dirk would miss his first six attempts after the intermission, making only 1-of-9 in entire second half.
The one make? It came on a pretty pass from Jason Kidd as Dirk cut hard to the basket and finished.
One of the misses? After LaMarcus Aldridge had tied the game with 12.9 second to play in regulation with a turnaround fadeaway. We then saw what we all expected to see. Dirk Nowitzki setup at the top of the key, allowed the clock to wind down, and rose above Aldridge with a fadeaway of his own ... from where we sat in the cushy DB.com seats on the AAC press row, it looked perfect.
It wasn't, as it bounced off the back of the rim and the game did not end.
Enter overtime.
Dirk would hit one of his two attempts, but the miss again came on the final offensive possession after Aldridge had again tied the game, this time with a driving hook shot.
Rather than settling on his usual location at the top of the key, Kidd held the ball to bleed the clock before Dirk curled baseline around a pair of picks and caught the ball on the left wing. Once more, he rose over the defender and missed a shot most in the arena never doubted as it flew through the air.
Enter double-overtime ... and a third chance.
West had set the table with his six-point burst, and the hustle of Shawn Marion and Brendan Haywood erased a point-blank Marion miss as the duo both got a hand on a rebound that would bounce back up and in (officially, the basket went to Haywood) to put the Mavs up 95-93.
This time, Aldridge missed his shot and Dirk made him pay. With 16.9 seconds to play, Dirk again rose ... and drilled the 15-footer, pushing the lead to four and finally sending the game towards a conclusion.
It was an off-night for The UberMan after the first half, and it may have taken three tries ... but, in the end, he got it done
His shot wasn't right. But it's okay.
Ain't No Way:
Nate McMillan tried to explain it, with all sorts of fake-deep coach-speak gibberish. But we still don't understand:
Why didn't Portland feed LaMarcus on literally every possession in the final two mini-periods?
All The Man That I Need:
Yes, even the Mavs occupied themselves this weekend with some Jeremy Lin talk.
Remember when Jeremy Lin was a Mav? We do. We were there. Here's what DB.com said about him at the time.
(We're smarties!)
Didn't We Almost Have It All:
Well, yeah ... or, at least, three minutes of it:
I Wanna Dance with Somebody:
Ah, but who did Rick Carlisle want to dance with on Saturday?
Carlisle has his guys he'll turn to in any situation. The guys he trusts regardless of what the opponent may view as a favorable matchup. Those guys will play as much as Carlisle feels they physically can, while keeping in mind the future effects the accumulation of minutes may cause.
They are, in some cases, the "Coaching Security Blankets.'' They all have them, or don't you remember Avery's affection for Devean George ... who never did much to win games but also never did much to lose them?
The rest of the fellas? Rick's been clear with his mantra. "Be Ready.'' Be ready when injuries hit. Be ready when fouls build up. Be ready when the situation demands. Be ready to capitalize on any chance provided to you.
For the second consecutive game, on the second night of a back-to-back that happened to head into double overtime (though you obviously can't plan ahead for that), Roddy Beaubois did not see the court.
It would appear the return of Jason Kidd has set Roddy B's spot in the depth chart ... and that spot isn't among those who will receive regular minutes. At least not for now.
On to the centers.
Brandan Wright, who's become a darling in the eyes of many -- we won't deny our own smitten opinions -- would play only six minutes. In one of our first brief glimpses of him we may have seen why. Aldridge instantly muscled through him, pushed him deep into the paint and scored easily.
Wright brings a lot to like to the table, but dominating strength is not one of those things. In this matchup, he wasn't an ideal defender to throw at Aldridge, and likely because of it, he didn't see the court much ... as Aldridge played a whopping 52 minutes.
Ian Mahinmi only played 14 minutes and didn't exactly look bad, though he didn't have the eye-catching impact he often did earlier this season. But, again, this wasn't about Mahinmi as much as it may have been about the matchup.
Brendan Haywood was the defender Carlisle singled out as the best suited to slow Aldridge, which is why Haywood played 37:37, more than Wright and Mahinmi combined.
"Haywood,'' Rick said, "had a great game. Even though Aldridge had all the points, there really wasn't one easy basket he had all night. He was having to put in difficult shots on a body with a hand up, but that's why the guy's an All-Star. He finally missed a couple in the second overtime, and Brendan being there all night long plays a part in that.''
Big Wood pulled down 10 boards to go along with his seven points and two blocks. Dallas is now 5-1 when Haywood grabs 10-plus rebounds.
If you look at Aldridge's stats, you may question that decision ... but you must consider the alternatives. LaMarcus looked to have little trouble regardless of who was on him. Haywood made him work. On a night when LA made improbable and important thoughts, that's all Dallas could hope for.
Hold Me:
"Me'' being the ball.
Jason Kidd played almost 31 minutes and reminded us once more of why he is Jason Kidd when the game reached it's crucial late moments, throwing a pair of beautiful passes to created easy baskets at the rim for Dirk Nowitzki and Jason Terry.
He finished with five points, eight rebounds, eight assists, one steal and two turnovers. ... and the "minutes cap.''
One other thing: It's J-Kidd's responsibility to fix this turnover problem, OK?
"Right now we have to do better with the turnovers,'' Carlisle said. "Right now we are doing some things that are just uncharacteristically weird out there."
What was it 18 on Friday and 23 here? Weird.
I Look to You:
Carlisle says Marion is among the most versatile players in the game's history. And what does 'Trix say?
How Will I Know:
Well, not until the final buzzer sounds.
Dallas was up by as much as 18 in this game. Portland did not hold a lead until they hit the first shot of the first overtime period, and never led by more than four.
Dallas looked both superb and dangerously sloppy at times, giving away 23 turnovers (16 came in the second and third periods combined). In the end, they did what they had to do to pull a win from a double-overtime slugfest. As bad as things may have appeared at times, the win helps conceal the bruise.
"Portland got down 18 or whatever it was,'' Carlisle said, "and they just kept chipping away, chipping away, chipping away. They kept their concentration even after they got down. You have to give them some credit.''
I Believe in You and Me:
Jason Terry couldn't stop himself from being honest about Dallas' late-game decision to set up The UberMan for potential game-winner after potential game-winner ... especially because they didn't go down.
Until the end of the second OT, of course.
"I told the coaches 'Gimme the ball,'' Jet relayed after the game. "I'm serious. How long we gonna keep this thing going?"
Should we question why the ball went through Dirk on the final plays despite his off-night shooting? We'll make it simple and concise. No.
Nothing about this opinion is a slight on Jason Terry and the mass of clutch makes he has amassed as a Maverick. Nor does it harbor doubt for anyone else on the roster. There's simply this: unless Dirk is for some reason incapable of having the play run through him, whether it be fatigue, an inability to create space to receive the ball, or something else Dirk deems significant enough to inhibit him; he is Dirk.
He is the best player on the team and one that has earned the right to have those moments filter through him. More often than most, he comes through. If he reads the defense and feeds the shot to a teammate, than so be it ... but it must start with him.
To answer our own question, we do not question the decision to hand Dirk those attempts.
I Have Nothing:
LaMarcus is an All-Star without a second star ... and on this night, lacking in a third helper, a fourth helper, a fifth helper.
Toss together Felton, Crawford and Matthews as shooters. They gave Portland a 13-of-50 (26 percent) from the floor. Thirty-five of those shots were of the perimeter variety and they made just six (17 percent) of those.
So ... Why didn't the Mavs double Aldridge to get the ball out of his hands? Crawford was the only Blazer who seemed capable of hurting the Mavs, and he was 6-of-23 on the way to his 19 points.
Raymond Felton was 4-of-17 from the floor, though he did hit a huge 3-pointer to tie the game with 4:57 to play in the fourth quarter. Wesley Matthews shot 3-of-10. Nicolas Batum went 5-of-11.
Those were all of the players to take at least 10 shot attempts. Do you see a theme in those numbers?
Throw in Gerald Wallace, who was kept quiet with only 10 points, and you have the Blazers' top five scorers for the season behind Aldridge all forced into struggles.
How do those numbers change if their defenders leave them open to double Aldridge? Is it enough to swing a win to a loss? We think the Mavs believe that Aldridge alone -- which is kind of what is is -- isn't enough to beat them on most nights.
Why Does It Hurt So Bad:
Maybe because Delonte tried to chop y'all's head off (video from BlazersEdge):
I Know Him So Well:
Dallas has now played in eight games decided by three points or fewer. That's the most in the NBA. Dallas is 4-4 in those games.
Does it help the Mavs in the long run to have tight-game experience?
"It would be better to win them by more and not get into overtime,'' Carlisle said. (But) sometimes that's just how it goes.''
A learning experience, a point-differential-defying Mavs victory AND a Blazers loss?
Somewhere, John Trollinger weeps. Thrice.
Where Do Broken Hearts Go:
To Mavsellaneous, of course ...
Portland's 14 points in the first quarter were its low opening quarter this season. ... Marcus Camby took a charge from Lamar Odom in the second quarter and left with an ankle injury ... Dallas outscored Portland 4-1 in the final 45.3 seconds of double-overtime ... Dallas improved to 2-0 in overtime games this season ... Shawn Marion posted his fourth double-double of the season (396th career) with 14 points and a season-high-tying 12 rebounds in 40 minutes. The Mavericks improved to 11-1 this season when Marion scores 13-plus points in a game. ... Jason Terry (19), Delonte West (10) and Lamar Odom (10) all scored in double figures off the Mavericks' bench. Dallas improved to 4-1 when it has at least three reserves in double-digts. ... Gerald Wallace recorded his third double-double of the season with 10 points and 10 rebounds. ... The Mavericks outshot the Blazers 50 percent (18-of-36) to 33.3 percent (15-of-45) from the field in the first half and led by 11 (43-32) at the half. ... The Blazers made eight of their final 10 shots in regulation to tie the game at 81 and force overtime. ... Portland is 15-13, Dallas is 17-11. ... The Mavs are taking Sunday off. ...
Wanna talk Mavs? Join thousands of Mavs fans and do it here in DB.com Boards … and vote for the Player of the Game … a DB.com tradition called "The Dirkie''!
I Didn't Know My Own Strength:
Gerald Wallace speaking to the Portland media:
"Those guys over there in the other locker room were NBA champions last year," Wallace said. "We just came into their house, took their best punches ... gave them our best punches and they barely squeaked a out a win. We feel like we were the better team tonight, they were just able to get a win some kind of way."
Sounds good. 'Cept the Mavericks have now won 22 of the last 29 regular-season matchups with the Blazers. And we know what happened last spring in the playoffs.
Exhale (Shoop Shoop):
From Jason Terry, tweeting late into the night:
RIP Whitney Houston. Wow.
Follow @fishsports
Follow @kevinbrolan
Follow @mdug