FOREWARD:
The Nuggets came to Dallas on the tail end of a back-to-back without Nene or Danilo Gallinari ... and it showed. At the same time, the Dallas Mavericks were so dominant here that it might not have mattered if the Nuggets showed up with Dan Issel, David Thompson, Carmelo Anthony and Dikembe Mutombo.
Shawn Marion did everything (16 points, 10 rebounds, 6 assists), Lamar Odom may have had his best game as a Maverick, Jason Kidd set a new season-high in scoring with 13 points, including 4-of-6 behind the arc, and only the tragic news of the passing of Roddy Beaubois' father and the crummy news of Delonte West's dislocated/fractured right ring finger could dampen an otherwise pristine evening.
Thanks to a 102-84 win on "70's Night" in the AAC, the
Dallas Mavericks
now hold a five-game winning streak and put away their third-quarter struggles by outscoring Denver 32-15 in the period.
"It's an important win," Mavericks coach Rick Carlisle said. "We obviously have some upheaval now with the roster — guys with injuries and personal situations. It's a bit of a scramble, but we've got a good scramble team. We're gonna just have to piece it together here."
How does our coverage lean?
"Dallas has turned into an incredibly good defensive team,'' Nuggets coach George Karl said ... and our coverage leans that way ...
WELCOME TO THE WORLD OF THE MATRIX:
Is there a more under-appreciated player than Shawn Marion, or possibly under-recognized, if you prefer ... particularly at the defensive end of the court?
He can guard anyone from Dirk Nowitzki (you remember those frustrating days) to Chris Paul or Ty Lawson. He can single handedly change the face of a defense. He can score, and is an erstwhile threat behind the arc. His release may elicit more cringes to basketball purists than closeups of his hard "r" shaped right pinky, but the results are those of a scorer.
Yet, for all his defensive prowess, he's never made an NBA All-Defensive unit, either as first or second team. The 75-Member Staff spent part of the in-game activity researching that ... double-checking it ... could it be?
He's only a four-time All Star, a number that feels low and far too dependent on his scoring numbers while ignoring his complete contributions to the game.
DB.com went one-on-one with 'Trix to ask him about this. Is he even aware of being thusly slighted over the course of his fine career?
"I made some All-NBA teams!'' Shawn said to us, defiantly, forcing us to reiterate the point: We're not talking about third-team All-NBA. We're talking about the fact he's never made an All-NBA Defensive squad, first- or second-team.
"Yeah, yeah,'' I know that, he told us, and then he turned around toward his locker stall and glanced at the TV, where SportsCenter was running some NBA highlights. "They don't really know what they're talking about, do they?''
We're unsure whether the SportsCenter remark was meant to be knotted with our All-NBA Defense questions. But … they do fit nicely together, don't they?
Before the Minny game we wondered about 'Trix on Rubio. We liked it because our scout, Kyle Leath, had noted that Rubio isn't a lightning-fast player; stopping him is about skill, and Marion has that.
Before the Clippers game we wondered aloud if the request of 'Trix to defend Chris Paul wasn't a step beyond reasonable. On paper, Marion shouldn't have had a chance. Yet, as the Mavs pulled out their fourth straight win, there was Chris Paul with a season-high five turnovers and a performance that felt almost servile when compared to his history against Dallas.
Against the Nuggets, though Ty Lawson isn't a player to the level of Paul, he may be quicker. That quickness should have rendered the implausible task of guarding a point guard just plain impossible.
The result: Lawson – who's recently been an automatic 20-point guy -- set a new season low with only three points, a season-low 12.5 field-goal percentage (12.5), and tied a season low with just two assists. Around these parts, that's essentially hog-tying a player and leaving him to be cleaned up by the rodeo clowns.
In a vacuum, maybe the Lawson game is a fluke, the happenstance of a player on the second night of a back-to-back playing without two key teammates.
But this isn't a vacuum. We saw what Marion did to Rubio and to Paul. He may have not been able to stay in front of him at all times, be he always stayed close enough to allow his length to impact the play. Beyond Rubio, Paul or Lawson … and beyond Durant, LeBron and Kobe … we have a career of defensive excellence to look back upon as further evidence.
"I'm just doing what I do every game," Marion said later to the media at large. "Y'all are just not paying attention to me."
But we are paying attention, and so should everyone else.
Dallas fans saw what 'Trix left on the court in their championship-playoff run. He had help, but he was as good or better than anyone. We place emphasis on his defense here, but his impact reaches beyond one end of the court.
Mark Cuban has taken to campaigning for Marion to get a Defensive Player of the Year award, and every passing day seems to take another step towards further justification of just that. The fact that he's never been on an All-Defensive Team, whether it be first or second team, is a joke.
Kobe Bryant, Kevin Durant, LeBron James,
Dirk Nowitzki
, Tim Duncan, Chris Paul and now Ty Lawson, among many others, have seen their offense falter in the face of Marion ... maybe it's about time the outside recognition found its way in as well.
Against the Nuggets, it wasn't just defense ... it was everything ... as he finished with a game-high 16 points on 8-of-14 shooting, 10 rebounds and six assists in only 26:40 of action.
"It feels good and I'm doing what I can to help my team win games," Marion said.
All of the NBA is living in the Matrix ... and Shawn Marion can unplug anyone anytime he is asked or wants to.
MEET MONTE MATHIS:
The Nuggets entered the game averaging a league-best 104.1 points per game. They were held to 84 points on a season-low 35.7 percent shooting.
That's personnel? Philosophy? "Principles,'' the word so often used but rarely discussed openly?
Let's discuss all of that, a one-on-one DB.com Video Visit with Mavs defensive coordinator Monte Mathis:
We appreciate the time, and the insight, from Monte. He's a good one.
TROLLINGER'S TAKE:
So ESPN's John Hollinger checks the Mavs score and tweets:
"Looks like I won't have to write any articles about Dallas's point differential this year.''
That would be wise, as the Mavs have so frequently established how insipid John's obsession with point-differential is.
Except ...
John ALREADY PENNED THIS YEAR'S WRITE-OFF OF THE MAVS DUE TO A POINT-DIFFERENTIAL ISSUE. AND HE DID SO AFTER TWO GAMES!!
LO IS HIGH:
Against Portland we saw a more assertive, more aggressive Lamar Odom resulting in 10 points on only five shots. Against the Nuggets, we again saw this version of Odom that's been predominantly absent from his time in Dallas.
He took shots without hesitation and drove into the paint with conviction when the lane opened before him. A few inconsequential misses late may dirty the final stats, but not what we saw when the game remained in the process of being decided.
Odom finished with 14 points on 6-of-12 shooting, three rebounds, two assists, one steal and one block.
Depth, said Odom, "is the strength of our team. Tonight, it just so happened to be that the depth was in scoring. Everybody kind of felt comfortable and we're deep in so many different ways."
More than the raw numbers, with LO this time it was the style of play. We won't go as far as to say remnants of his ... we'll call it "slowness" ... were entirely gone, but we also can't deny the visible improvement. He was "handsy'' on the interior of the Dallas defense, and played unusually "big'' in there, too.
Also visible: LO still hasn't enough arc on his jumper. But the line drives are correctable, and we're optimistic there.
Only time will tell if this is a pseudo prophecy, as we've caught glimpses of previously in the season, or the first tangible signs of a player rounding a corner. If nothing else, there is justification for hope.
Of course, the big question with Odom, as
addressed exclusively by our David Lord, is how long he'll be around here to keep rounding that corner.
LAMAR ON TV:
Odom's family-focused presser ...
THE BAD NEWS:
With 7:14 to play in the second quarter, fighting for a ball after a Chris Andersen offensive rebound, Delonte West squatted on the floor holding his right hand tight against his waist. While other players began to mill around, waiting for the next play to begin, West did not move.
Just as the referees were about to blow the whistle to initiate the Denver inbounds pass, someone finally noticed West, still squatted, his body almost wrapped around his damaged hand. A moment later, displayed prominently on the AAC's big screens, we saw why.
West's right ring finger was distorted, twisted and facing a direction the human finger was never meant to face ... unless you're Shawn Marion's right pinky.
The official word is that West has a fracture/dislocation of the right ring finger and will be out indefinitely.
MORE BAD NEWS:
Jason Terry
missed Wednesday's game with what Carlisle deemed a "mild" right quad strain. Carlisle also noted that Terry would not take part in Friday's game against Philadelphia for personal reasons.
The hope is that Terry will be ready to go for New York this Sunday to face Tyson Chandler and some guy named Jeremy Lin.
And more hope: By the time Jet doesn't play on a Wednesday, takes a break from the team, say, Thursday, Friday and Saturday, and is back in time for Sunday's matinee, maybe that serves as the Dirk-Out WorkOut-style break that seems to have benefitted fellow vets Nowitzki and Kidd.
THE WORST NEWS:
Life is bigger than basketball. In our Mavs-centric universe that may appear to get lost at times, until something comes crashing down to remind us of the world outside the lines of the court.
Prior to the game, DallasBasketball.com confirmed with multiple sources that Roddy Beaubois' father had passed away. Understandably, Roddy B was not with the team Wednesday night and his return date is not yet known.
For the moment, basketball takes its rightful place behind life as we send our sympathies to Roddy B and his family.
MAVSELLANEOUS:
Pictured right there is a VC wraparound pass that went all the way to the corner for an Odom jumper that didn't go. But gosh the pass was Vinsane ... Dirk Nowitzki only scored 12 points, but this was as much a product of need as it was anything to do with his quality of play. He was once again without the knee brace, moved well, and took another step towards burying any lingering concerns about his physical well being. … Carter now ranks 33rd in NBA history with 20,794 points, jumping over David Robinson ... Jason Kidd was only needed for 22 minutes, but managed to score a season high 13 points by hitting 4-of-6 attempts behind the arc. He also added three rebounds, three assists and three steals. … Dallas was short-handed enough at game's end that The Custodian essentially lined up as a mop-up 2-guard …
Who Deserves The Dirkie? Cast your vote!
... Marion recorded his fifth double-double of the season. The rest of the Mavs' roster has three double-doubles all together ... How to survive on offense without Jet? Keep relying on Vince, who actually earned double-teams while shooting 5-of-10 for 15. Doubles on VC means you-know-what for Dirk. ... Kevin Brolan contributed to this report.
COREY'S CEREMONY:
Corey Brewer got his ring and then he got the start for Denver.
Brewer -- salary-dumped to the Nuggets along with Rudy during camp -- finished with nine points, seven rebounds, five steals and four assists, and was 3-of-15 from the field.
"I was really happy to come back not only to get my ring, but to come back to the city of Dallas,'' Brewer said. "It's a great city. When you win championships it's always good to come back.''
Neat moment at game's end, as Dirk whizzed through the crowd of bodies to seek out Corey and give him one more thing: A hug.
DOJO'S TURN:
The problems at guard mean DoJo is going to be asked to step up. He did so Wednesday, failing to score on six shots but battling his way to six assists, four rebounds and only one turnover while registering 31 minutes, many of them at the point.
"It's probably in many ways a more natural position for him than 2, because he's very good with the ball," Carlisle said. "He sees things, has a good feel for passing and he causes problems with his penetration. This is an opportunity for him."
DoJo has, in the past, gone a little cocky on us when we ask him about his perimeter shooting, which had never quite come around for the former first-round pick. But he uses the word "humble'' when discussing his present situation.
"I think I have a lot to learn at both postions, 1 and 2, so I'm real humble when it comes to that, real open-minded when it comes to learning,'' he said. "But I'm pretty comfortable playing the 1."
DIRK'S STATE OF THE MAVS:
The UberMan on the issues:
"We've got a lot of great opponents coming up, we've got four games on national TV, so it's gonna be a fun four games," Nowitzki said. "A lot of challenges and we've just got to play. But I like where the team is. Unfortunately, we've got some injuries and some personal issues, but hopefully we'll be OK and fight through some of this stuff."
THE CENTERS:
Have we mentioned that we may like what we've seen from Brandan Wright? We have ... ok, good. Now, we'll say it again.
With no Nene (left calf strain) or Mozgov, the Nuggets didn't really throw out a center beyond Kosta Koufos, who isn't a big bruiser of a five. As a result, Wright likely held a matchup advantage over Brendan Haywood and Ian Mahinmi ... though it's only an advantage if Wright capitalizes on it.
Haywood and Mahinmi combined to play 23 minutes and scored six points (all on garbage-time free throws from Mahinmi), seven reboounds and one steal.
In 25 minutes, Wright totaled 10 points on 5-of-7 shooting, seven rebounds and a steal ... and got the bulk of the meaningful minutes.
Did we mention we like what we've seen from Wright?
THE NBA HIGHLIGHT REEL:
If you're a Nuggets guy ... skip this part ...
IN SUMMARY:
Perhaps this could be labeled a "schedule win" with Denver playing on the second night of a back-to-back, or an injury win, as the Nuggets were without Nene, Gallinari and Mozgov; but regardless of what you call it, the final word is "win."
You don't condemn a team for doing what it's supposed to do. For good teams, you hand them a playoff win if they do so consistently. The Mavs are a good team, and what was essentially a 30-point win -- even if the final margin was 18 -- is not an accomplishment to be dismissed.
Dallas didn't merely do what they were supposed to without Jason Terry, Roddy Beaubois, and very little of Delonte West. They ran away with the game, rested their core, and now stand at 19-11 ... with a five-gam winning streak.
"(The 76ers) home floor is a very tough place to play," Carlisle said after the game. "We're going to have to carry some momentum from tonight into Friday, but that's going to be a tough game."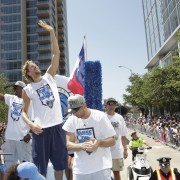 Tough, but not insurmountable. Not with the way this team is coached defensively from the bench, and not with the way this team is led defensively on the floor.
THE FINAL WORD:
Mavericks owner Mark Cuban stepped in to save the annual St. Patrick's Day parade down on Greenville Ave. Word is he wrote a $40,000 check to ensure the parade that has been held since 1979 goes on.
"I figured I had lost enough brain cells there, everybody else should get that opportunity, too," Cuban joked.
And we do know how Tony Cubes and his Mavs love those parades.