DONUT 1 - FOREWARD:
The
Dallas Mavericks
caught a personnel break on Monday.
The
Boston Celtics
arrived in Dallas at 15-15 and without
Rajon Rondo
or
Kevin Garnett
. (KG has a personal matter and Rondo's got a temper problem.) Still ... They may not drag the force of recent years in tow, particularly without two of their best players, but they remain a team you must respect. If you play the game the wrong way, Boston can still make you pay.
Dallas suffered no let down, once more displaying the ability to do what they are "supposed" to do and put away a team they should, handling the wounded Celtics 89-73 … and they did so while reaching several individual milestones.
DONUT 2 - THE UBERMAN COMETH … STILL:
Charles Barkley, working the TNT studio gig, would not back down from his now infamous (at least in Dallas) comments on "Dirk is Done'' before the game. By halftime, Dirk had already amassed 21 points and 10 rebounds … while almost single-handedly carrying the Mavs to a 10-point lead.
You may point to the fact that Kevin Garnett wasn't on the court as the reason for The UberMan's success, and you may be partially correct … though Garnett hasn't really earned a reputation as a "Dirk Stopper." Since joining Boston, Garnett has faced
Dirk Nowitzki
eight times and allowed him to average 25 points while hitting 47.2 percent of his shots.
The final boxscore may show that Dirk hit only 10-of-24 shots from the floor, leading one to justifiably question his efficiency, but the raw numbers fail to tell the story. Nowitzki was getting whatever he wanted, when he wanted it. The Celtics were helpless to stop him, and Dallas rode this dominance until they no longer needed to, building a lead as large as 26 points.
This is the player we expected to see from the beginning of the season, the player the lockout managed to lock away from us … temporarily. Within the burden of the compressed scheduled there are sure to be dips (a trait far from unique to Dirk, or to those of the "washed up" variety). Yet, the reports of Mr. Nowitzki's demise were premature at best.
In the 10 games since Barkley's proclamation, the Mavs are 7-3 and Dirk Nowitzki is averaging 25 points, 49.5 percent on FGs, 41 percent from the arc, eight rebounds, .9 blocks, .8 steals and 2.1 turnovers.
Other than a slight rise in scoring, these numbers very closely mirror his career averages.
So since healthy-Dirk's numbers are so familiar ... Maybe Dirk's been washed up for a long time and we're all just too stupid to have noticed, fooled by the MVP trophies (one in the regular season, one in the Finals), the 11 All-Star appearances and the consistent excellence?
"I feel good now,'' said Dirk, before adding two resonating words. "I'm back."
DONUT 3 - 'MATRIX AT THE MOVIES':
It's a DB.com favorite ... Shawn Marion, who seems to watch about 700 films a year, guides us to the Multiplex ... this time with his review of "Safehouse,'' starring Denzel Washington and Ryan Reynolds.
Oh, and Trix also talks about basketball, Whitney Houston, and the Whitney-Denzel movie "The Preacher's Wife,'' which Fish insists sucks because it's too sappy but which Trix and DoJo adore.
More "Matrix at the Movies''? Check out Shawn's DB.com collaborations as he reviews
"Hall Pass,''
"Limitless''
and
"Thor.''
DONUT 4 - FISH AND THE MAVS TWITTERVERSE:
Follow the Mavs with the help of Fish and the Mavs Twitterverse!
Follow @fishsports
Follow @thechuckperry
Follow @coopmavs
Follow @kevinbrolan
Follow @mfollowill
Follow @mdug
Want to get a Mavs Championship DVD? Follow Fish for your chance to win!
DONUT 5 - A 1-ON-1 VIDEO VISIT WITH BRANDAN WRIGHT:
He's an "energy big,'' and he bounced back from a crummy outing in NY to help Dallas overcome "The Wounded Tiger Theory'':
Our only problem with Brandan's night? Once again, he was fed an alley-oop pass that was crazily off-target.
But he still managed to convert. So adroitly that given the poor pass from Jet, Wright's catch should almost count as a steal.
We'll have another 1-on-1 Video Visit for you on Wednesday, when the Mavs prep for the Lakers and B-Wright talks with us about combating LA's length with the Mavs' stable of the same.
DONUT 6 - HOME SWEET HOME:
After the Knicks game, we noted the discrepancy between
Jason Terry
's numbers at home and on the road. You need look no further than boxscore to make a strong guess as to where Monday night's contest took place.
Terry finished with 16 points, 6-of-11 field goals, 4-of-7 behind the arc, six assists, five rebounds and no turnovers.
"It's definitely a comfort zone for me here at home,'' Jet conceded. "On the road, again, just got to get more opportunities; more opportunities to be effective and I think it will come. It'll come for me. I'm not even worried about it because big games come in the playoffs and hopefully I'm saving them for then."
Fed by Terry's performance, the Mavs bench returned to the form that's become familiar this season, and to a level that's been absent since Jet was grounded (missing two games before returning Sunday against the Knicks). Not coincidently, for the first time since they faced the Clippers (Terry's last game before missing), the Mavs bench outscored that of the opponent: 37-24.
The bench struggles were not solely due to the unavailability of Terry, but to the lack of Delonte West and Roddy Beaubois as well. In the last two contests – the first two complete games without West, the first of which also unfolded without Terry -- the bench had averaged only 24 points and been outscored by an average of 10.5 points by their opposite.
Even as West (hand surgery) and Roddy B (the death of his father) continue to be absent, the bounce-back performance of Terry fueled the unit's to return to respectability … though they failed to maintain or build upon leads as a group.
With West likely out at least another month, Terry may have to once more take reigns of the second team if the starters are to continue to be granted the relief of lesser minutes, while maintaining the chance to gather victories.
Notably, Jet wanted to spend some postgame time talking about the Dallas defense, as stout as there is when it comes to opponents' FG percentage.
"It's all about your foundation,'' Jet said of the Mavs defense, which crushed Boston by allowing it 15, 19 and 19 points, respectively, in the first three quarters. "When Rick Carlisle became coach he emphasized defense from Day One. "He put up the numbers of the past teams that have won championships, and they were all in the top five in the defensive categories. We set that as a goal from Day One and I think we've been able to, for the most part, maintain it.''
DONUT 7 - THE NUMBERS GAME:
Our Chuck Perry pulls out the Big Calculator:
*These are the top two teams in the league in FG defense. Dallas opponents are shooting 41.6% while Boston is holding teams to 41.61%. Dallas shot 43% before putting in reserves while Boston shot 39% for the game.
*The Boston offense, when operating on all cylinders, is 7th in the league in FG% at .456 and 5th in 3FG% .384. However here they only shot 7-of-24, 29%, from deep. This ironically matched the Mavs' total from downtown until a late heave by "The Custodian.''
*Boston shot only 9-of-25 in the paint tonight, while Dallas had 32 points there.
*Usually, Boston is tops in the league in opponent's turnover totals, but tonight Dallas managed 26 assists on 36 made baskets. Kidd, Terry and Dojo accounted for 19 of those between them.
*The Mavs' top six players finished at least +9, while no one else was greater than zero.
*This is the third time in Dirk's career he's had 16-plus rebounds vs. the Celtics.
DONUT 8 - GO MAVS! GO PREMIUM!:
If you like this depth of coverage of the World Champion Dallas Mavericks -- the analysis, the numbers, the exclusive Video Visits, the whole experience -- try our Premium Mavs coverage! This is what we do, every day, with 28 years of experience on the beat! It's pennies a day to get All-Access to what the Mavs are doing upstairs, down in the basement, in the locker room and on the court – and it's free to come inside for
a 7-day tryout. Now more than ever, there's no reason not to give it a go! Thanks for your support of the site at less than a dime-a-day! Go Mavs and Go Premium!
DONUT 9 - MAVSELLANEOUS:
Boston has lost four in a row, and six of seven. ... Carlisle ALWAYS insists he doesn't live in the past. But he broke his own policy in the postgame Monday when he reflected back on a Sunday 104-97 loss to the Knicks that obviously haunts him a bit. "We can't give up 17-0 runs and 12-1 runs, stuff like that,'' Carlisle said after the win over the Celtics. "There were too many peaks and valleys in that game. That's not the kind of consistency you need to have to be a real contending team. (Monday) we were much better.'' ... Ex-Mav Brandon Bass (knee) wasn't able to go. ... The Mavs were up by as much as 24 ... Thumbs-up to a very active pick-and-roll defender Big Wood ... DoJo swears to us that he hasn't been working to improve his drive-and-kick skills, but whatever. They are vastly improved, and we'll talk about that more with him later this week ... The Mavs are taking Tuesday off ... Dallas' defensive philosophy here: Trap the ball. And because the Celtics don't employ Steve Novak, it worked ... Boston never quite solved the Dirk pick-and-pop, and the wrinkle of Jet running it was made more complex when Vince ran it with Dirk on the opposite side of the floor. ... Who Deserves "The Dirkie'' for the win over the Celtics?
It's the Player of the Game selection process and you can vote!
... The Mavs -- winners of seven of eight -- are at the halfway point of the season and are 21-12. That's a 61-percent clip, putting them on a percentage-wise pace to match their past 11 seasons of 50-plus wins.
DONUT 10 - THE MILESTONES:
With 5:55 to play in the first quarter, Dirk Nowitzki took the contact from Chris Wilcox, drained his jumper and then finished the and-1 at the free-throw line. In doing so he passed Robert Parish to move into sole possession of the 20th spot on the NBA's All-Time Scoring list.
Next up, either Kevin Garnett (19th, currently holding a 365-point lead on Dirk) or Charles Barkley (18th, now only 403 points away), depending on Garnett's scoring rate.
Maybe Barkley's insistence on Dirk's erosion was merely wishful thinking with an eye on the record books?
With 9:30 remaining in the first quarter, Dirk Nowitzki recorded block number 1,000, making him on the third player in league history to have both a 1,000 blocks and a 1,000 made three-pointers, joining Cliff Robinson and Rasheed Wallace. Of the three, only Dirk also has surpassed 20,000 points.
With 5:59 left on the clock in the second quarter,
Jason Kidd
picked off a pass and moved ahead of Michael Jordan into second place on the NBA's All-Time Steals list. John Stockton sits 748 away in the first spot … likely out of reach.
"Just being able to pass (Jordan) at something is an honor in itself,'' said the humble Kidd, adding, "(I've) just been at the right place at the right time."
Added Carlisle: "It's staggering ... Every week we're going to have records broken with the guys we have on the team. It's like a 'legends team' we have here."
DONUT 11 - THE STATE OF THE MAVS:
The Celtics are now a sub-.500 team at 15-16, and were without two key starters. This won't go down as one of the biggest wins of the season, but that doesn't leave it without significance. Beyond the milestones of Kidd and Dirk, the sour aftertaste of a game that got away in New York was thinned.
Only the Lakers stand between the Mavs and the All-Star Break, and the first step was taken to head into the weekend off on a positive note. One loss was not allowed to bleed into two or three. There is nothing wrong with accomplishing what you're supposed to, and by separating themselves from this watered-down version of the Celtics, the Mavs did just that: accomplished what they were supposed to, as you'll see here:
Manu Ginobili has once more been sidelined, this time with an oblique injury, yet the Spurs pushed their winning streak to 11 games … and only managed to put 2.5 games in the standings between them and the Mavs. And in the West, it's starting to look like Spurs, Thunder, Clippers and Mavs and then a line of delineation.
That makes the 21-12 Mavs a contender ... again.
Doing what they are supposed to has minimized what could have been massive damages, now Dallas must finish with a win over the Lakers and head into the break poised to push through the rest of the season.
"I think we're good,'' Marion said. "We want to go into the break feeling good. For the most part, we're in a good position."
DONUT 12: THEY ARE PEOPLE, TOO:
Lamar Odom had what may have been his poorest showing as a Maverick against the Knicks on Sunday night. Fans clamored to toss their daggers via social media, to vent their displeasure as quickly as possible. A day later, the Mavs were back home … and the AAC faithful got their chance to either support or chastise a man who endured much emotional strain over the offseason and had recently given glimpses of rounding into form.
Unfortunately, Odom did not forge the best path towards redemption, towards silencing the smattering of boo's that first escorted him to the court. He would remain scoreless until 8:48 remained in the fourth quarter, missing his first five shots, prompting boo's to stack higher and higher on the back of each miss.
Rick Carlisle has refused to turn his back on Odom, taking every chance to handle him publicly with patience, trust and support.
Rick before the game: "We're not going to dropkick a guy to the curb because he has one bad game.''
Rick after the game, allowing himself to be slightly more critical of one of LO's problems: "If we're looking for a guy that's going to dazzle on a night-in, night-out basis with gaudy stats and a bunch of fancy stuff, that's not who he is as a player and that's not who he's been as a player."
In other words: Quit attempting meaningless behind-the-back dribbles, OK?
We must note that there is still time and the foundation of his personal history for Odom to find his footing and become the player we all expected him to be. At the same time, we must note the rising difficulty in holding close the patience to wait his struggles out.
If Odom is to step up to the expectations he's used a career to construct, the time couldn't be better than the immediate future … as Delonte allows his injury to heal, as Carlisle will attempt to continue to manage the starter's minutes.
This isn't a rookie, a raw physical talent struggling to learn the game, to find how the puzzle of his abilities will come together within the league. It's a prime contributor to two championship teams, the reigning Sixth Man of the Year. As difficult as the compressed scheduled may be the game hasn't mysteriously shifted rendering his bountiful skills outdated and useless.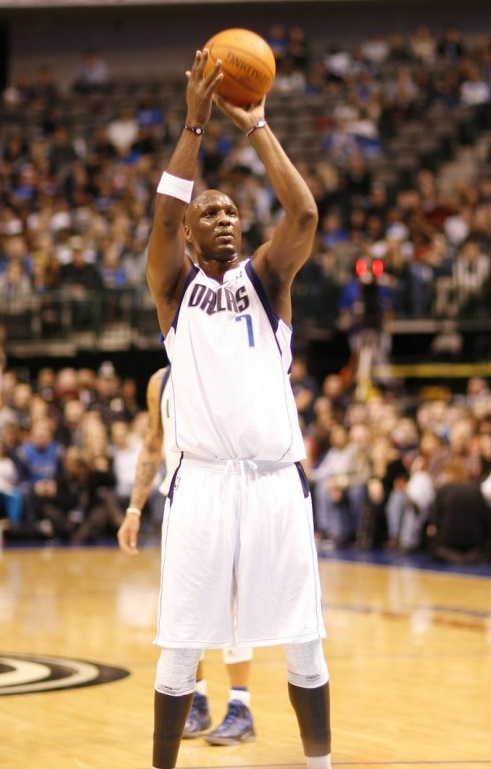 Housed within Odom are the tools to be everything we want of him on the court. It is this fact that feeds the growing frustration of fans, of us. As he sits on a bike he's ridden for thousands of miles, seeming befuddled by the presence of pedals, we must continue to display patience … if for no other reason than there is no other beneficial course while he wears a Mavs uniform, for as brief or as long as that may be.
So we wait. We hope. We watch him shoot 2-of-8 and wonder how close that might become to 4-of-8. We understand the boos cast his way … but we will refrain from our own, even as the doubts threaten to grow from specter to undeniable living flesh. That doesn't mean we'll smiley-glad-hand his performances, but we will continue to harbor the faintest of hopes. Because … why not? As long as he's here, what's wrong with hope?
What he's capable of bringing is worth at least that.
There is an Asset Management issue here ... and then there is a very human issue here as well.
The Asset Management Issue: The greatest way to get full value from Lamar Odom is to coerce him into playing well ... and then buying him out in the summer to free up more 3D Blueprint room. That doesn't preclude a deadline deal. But who will want to give Dallas an expiring to take on the LO expiring while he's playing like this?
Additionally, staying on the good side of the LO camp has value, since the LO camp's agent is Jeff Schwartz, who is also the agent in the Dwight Howard camp.
The Very Human Issue:
It might be incorrect to insist that Lamar "wants to be here.'' We know he didn't want to be in New Orleans and we know he felt jilted enough by the Lakers to no longer want to be there, but our belief that his love of Dallas faded quickly when he realized that the Mavs' plans for him are short-term (and they still haven't opened up that DASH Boutique here, have they?). But it is certain incorrect to insist that he doesn't want to contribute and doesn't want to win.
That cannot be true. For if it was, Carlisle would know it better than you know it and he would send the dude on home to the W Hotel.
If he was Tariq Abdul-Wahad, they'd treat him like Tariq Abdul-Wahad.
Listen to LO for yourself:
"We've got a chance to be a championship contender,'' Odom said. "As a team, that's where you really want to be."
We spoke to two people last night who could be considered "close'' to Odom. Both people separately used terms like "in a funk'' and "needs to flip a switch'' and "must feel validated.''
And that's where Asset Management becomes The Very Human Issue.
After halftime, we had the opportunity to observe Brian Cardinal trotting up the tunnel but then stopping at the security rope to mete out two hugs and two pieces of gum to a pair of little ones wearing tiny CARDINAL 35 jerseys.
They were his children, in town to see Daddy. And while the rest of us might treat Cardinal and other Mavs and other professional athletes, Odom included, as if they are cartoon characters, Wile E. Coyotes falling off cliffs for our viewing pleasure ... the reality is that they are humans, who right in the middle of their very important jobs, simply must pause to be ... human.
"The kids are in town and they love when I bring them locker-room gum,'' Cardinal told DB.com after the game.
But of course, the little Cardinals don't really care about the chewing gum. That's not the draw and that's not the connection. They want to be close to a certain Maverick, and not because he's a TV celebrity but rather because he's a person.
Because he's their daddy.
You can boo; it's your money that buys you the ticket that buys you the right. And you can call us "soft'' (when in fact we are quite complex!) But we do let ourselves be reminded of the fact that they're all somebody's husband, somebody's son, somebody's daddy.