DONUT 1:
You are a
Dallas Mavericks
fan thinking of visiting DFW to see the sites?
Want some tips from Dirk? Here are his top six DFW hotspots
(see his video in German here)
:
*American Airlines Center (to see his Mavs, of course)
*JFK Exhibit
*Bob's Steak and Chop House
*The Loon
*Cowboys Stadium
*The Galleria
DONUT 2:
"I'm just doing what I do every game,'' says
Shawn Marion
Y'all are just not paying attention.''
Cuban has trumpeted 'Trix' candidacy for All-NBA Defense and in my way, here on DB.com and on TV at Fox Sports Southwest, I've done the same. Frankly, I thought the job was done. And the next time Marion gave me one of those "Nobody respects me'' quotes, I was going to fire an eyeroll and an "Oh, Shawn!'' back at him.
But then ...
Sports Illustrated lists the top defenders of the first-half NBA season.
And "Oh, Shawn!'' becomes "Oh, sh--!''
SI's staff tosses maybe a dozen names into the article ... And Trix doesn't even get a mention?
DONUT 3:
Congratulations to whomever won this year's Slam-Dunk Contest at the All-Star Weekend. I didn't pay much attention as I was obsessing over the best-ever performance in a contest. No offense to our buddy Spud or to Dr. J from the FT line, but ... Vinsanity in 2000 remains, start-to-finish, pretty much impossible to top:
DONUT 4:
What was that "family matter'' that prevented Lamar Odom from jetting to LA instead of playing against the Lakers last week?
His dad had a stomach virus, as Dad Odom explains on camera.
Um ... oh.
I'm going to consume this news for a bit before I allow it to consume me.
DONUT 5:
I visited at lunch this week with Roger Staubach, and while he told me before the Super Bowl that his wife was urging him to slow down ... nah.
"Well, I'm not wearing a tie today,'' Roger said to me, as if to suggest that "casual day'' is his version of retirement.
DONUT 6:
Please click on the links to DB.com Mavs sponsors like
MavCowTickets
,
Esparza's Restaurant
,
Classic of Carrollton
,
Game Havens
,
McKinneyDentist.com
and
Red Rock Bar & Grill
, where we're planning a Mavs DB.com Get-Together soon!
Give my sponsors a click, please. They keep DB.com crankin' and they will do you right!
DONUT 7:
So we've got our 12 finalists for the 2012 class of the Naismith Memorial Basketball Hall of Fame. And Nellie is in there, as well he should be.
Here's the list of people Don Nelson is competiting with for a berth: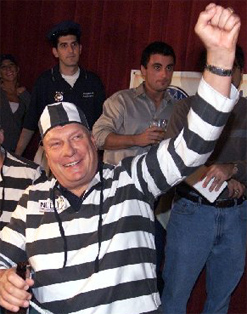 Reggie Miller, a five-time All-Star; five-time NCAA Final Four coach Rick Pitino, former NBA coach Bill Fitch, Maurice Cheeks, Bernard King, ex-Mavs coach Dick Motta, Hank Nichols, Ralph Sampson, Jamaal Wilkes, two-time Olympic gold medalist Katrina McClain, the All-American Red Heads ... and Nellie.
Every year, when Nellie doesn't make it, I joke that he once again was beaten out by some girls junior-high basketball coach from Brazil.
And here we go again: Don Nelson, a champion as a player, a legend as a coach and an iconic basketball personality in an endless number of ways, might not make it into his sport's Hall of Fame because of "the female version of the Harlem Globetrotters''?
That would be fitting. Because the voting is, on a regular basis, a clown show.
DONUT 8:
Stay in touch with Fish and the Mavs on
DB.com Boards
and on
Facebook
and at
FishSports on Twitter
!
DONUT 9:
I see a lot of people who misunderstand the purpose of the NFL Scouting Combine, or think it lacks purpose altogether, so let me allow what Robert Griffin III just did to explain.
The Baylor QB just ran am eye-popping 4.38 40 in Indianapolis.
NFL scouts and their teams are in the information-gathering business right now. Ask a scout: They'd like to have a Scouting Combine every week! Now, media being what it is, things have changed since, oh, say, 1991, when reporters we're allowed into the Indy Dome (and, if you will excuse my boasting, the Cowboys snuck me in, making me the first reporter to ever watch the Indy Combine. Yeah, seriously.)
But even with the information overload of today: A quarterback who can also throw and who can also think just ran a 4.38 40. Maybe that establishes things for some observers and only re-establishes them for others. But that those 4.38 seconds are worth multi-millions ... and they make the Combine worth all the time, money and hype.
DONUT 10:
Every day. Every angle. Every Mav.
That's how DB.com has covered the Dallas Mavericks for 13 years now. In 2011, DallasBasketball.com was read by 500,000 people. ... stunning, really. Knowing you are reading this ... and hearing your feedback ... enriches the experience for The 75-Member Staff.
We're excited to be able to offer you, for pennies a day, all the analysis, the numbers, the exclusive Video Visits, the whole experience. Please try our Premium Mavs coverage!
This is what we do, every day, with 28 years of experience on the beat! You get All-Access to what the Mavs are doing upstairs, down in the basement, in the locker room and on the court – and it's free to come inside for
a 7-day tryout. Now more than ever, there's no reason not to give it a go! Thanks for your support of the site at less than a dime-a-day! Go Mavs and Go Premium!
DONUT 11:
Happy birthday on this Sunday to DB.com columnist Mark Followill, who as the TV voice of the world champions represents the Mavs with untoppable passion and craftsmanship.
DONUT 12:
Dirk Nowitzki
isn't just an All-Star. He's also a Honey Badger. (Full disclosure: They played this video at the Mavs game the other night and with 20,000 the building, 19,999 laughed. I scratched my head, not in on the joke. I've since looked up "Honey Badger.'' Now I get it. I think.