DONUT 1: The 3D Blueprint, Deron Williams Edition
How much do the Mavs need to woo him? How much does he want to come home? Does everyone see the logic of
The 3D Blueprint
? After Deron helped the crummy visitors to a win,
we chronicled our thoughts and then his thoughts here in our First Impressions.
One thing we came away with: Kidd is now joining us in saying it out loud. But everyone is getting it. It's the "3D Blueprint.'' And it's a "thing'' now.
What we're working on next in that regard: A Mavs Summer of 2012 Cheat Sheet ... all the dollars and all the sense of Dallas' Asset Management to come. Stay tuned!
DONUT 2: The Schedule
The
Dallas Mavericks
started this second half of the season with nine games in 12 days and they won't get too long to catch their breath after this. Overall they face 32 games in 59 days, or a game every 1.8 days. To put that into perspective, last season there was a game every 2.1 days.
It's a basketball junkie's dream, but a potentially tired team's nightmare. How to keep all the elder statesmen upright before the real season, the playoffs begin?
In three straight losses, we haven't seen the way.
DONUT 3: Minutes Management
Aside from resting veterans like
Dirk Nowitzki
in this compressed schedule, Carlisle faces a familiar task of having more quality players than available minutes. Indeed, with the emergence of serviceable players like Brandan Wright and Ian Mahinmi, there are now more mouths to feed than ever. How will Carlisle manage this balance the rest of the season while keeping Dallas in contention and veteran's rested will be a delicate balance the rest of the way, but one he's walked before.
No Lamar tonight in N.O. (Frisco will have to be close enough.) No Delonte, either. Dirk says he'll give it a go despite his bad back. Who can jump up and make a difference?
We'll get to that.
DONUT 4: The Odom Conundrum
How to best walk the razor's edge between motivating a delicate persona with a pat on the back or a swift kick just a little lower?
Odom's recent tumultuous history is well-documented, and thanks to DB.com coverage, so is his need to feel wanted (and the recent absence of that feeling, however misguided.) However, in the world of sports, only results matter.
Fictional sports agent Ari Gold once said, "There are no asterisks in this life, only scoreboards," and thus far, Odom has been an unmitigated disappointment. No asterisks.
His talent is considerable and unlocking his mental block could be the key to raising the Mavericks from just another contender to truly elite. However, will he be lovingly supported and encouraged through his poor play? His willingness to spend the weekend working with the Texas Legends in Frisco suggests a feeling of acceptance from him ...
But get this wrong and Odom could tank the rest of the season and become a drag on the locker room.
Get it right and the Mavericks could be playing into June for a second consecutive season. And LO can be a supplemental contributor who helps them get there.
If you are a Mavs Premium Member, you already know
The Odom Saga Story of the Week: Mavs leaders aren't letting him "drag'' them. Instead, he's being policed by them.
For about nine cents a day ... you really need to read this exclusive story.
DONUT 5: Follow Fish and the Mavs on Twitter!
Follow @fishsports
Follow @thechuckperry
Follow @coopmavs
Follow @kevinbrolan
Follow @mfollowill
Follow @mdug
DONUT 6: Can Marion keep it up?
It's no secret that Shawn is on a bit of a defensive tear. He's defending four positions on the floor, including opposing point guards, and has recently started making three-pointers again. In fact, he's already made more three's this season than in his prior four combined. Can he maintain this when he looked certifiably exhausted at the Break?
Hate to keep bringing it back to Odom, but ... if Dirk can't go big minutes at the 4, guess who might have to absorb some time there?
Trix is Swiss. Swiss Army Knife, that is. But you hate to see this blade get dulled.
DONUT 7: Fish on TV tonight!
Back on the tube tonight, we do Fox Sports Southwest alongside Bob Ortegel as we hand it over to Followill and Harper. The whole show starts at 6:30, Mavs at New Orleans ... join us!
Also, coming up later today on DB.com: NBA scout Kyle Leath's "Advance Scouting Report'' on the Hornets. It's inside stuff and you can only get it here!
DONUT 8: The Perpetual Tease of Roddy B.
At some point, 'potential' must become 'reality.'
Similar to Odom, Roddy B's flashes must become more consistent if he wants to be a part of the playoff rotation. Otherwise, he risks becoming an afterthought for a second consecutive postseason. Also similar to Odom, the realization of his potential could elevate Dallas to the same echelon of the elite. He has one more year remaining on his contract, and there's no guarantee that he sees the end of that in Dallas. DB.com has reported that he's not being shopped. Still, his play in the upcoming months will likely determine his role with the team going forward.
Hey, Dallas is now kinda forced to play Roddy B. ... just like what would be happening if he played for a lesser team. And if Roddy B played for a lesser team, don't you think he'd be developed enough by now to be a productive asset?
So, he gets to play tonight for a non-lesser team. (Minus Delonte and Lamar, of course.) We bet he'll be productive, too.
DONUT 9: The Upcoming Trade Deadline
In the Cuban Era, this has been one of the most exciting times of the year for Mavericks fans. However, the game is different now with the new CBA. Also, there's a new plan in place. Cuban is on record as saying that he will exceed the cap (read: take on long-term commitments) if it greatly improves the team. However, in what's becoming the worst-kept secret in the NBA, the 3D Blueprint (and the various offshoots and backup plans) is a real and increasingly imminent "thing.'' To fully realize this goal, still more salary must be shed.
Thankfully, Dallas has multiple ways to do this. Conventional wisdom holds that Dallas will seek to make salary-cutting trades over the summer, however there's no guarantee this will be the way Cuban and Donnie opt to go. (Especially because certain dominoes must be tumbled at the right time and in the right sequence.) Indeed, rarely has the word "conventional" resided in a sentence describing Cuban.
Furthermore, the Mavericks are a unique species in the SuperTeam Era: they have talent to spare. Not elite-level talent, but there isn't much drop off from the seventh man on this roster to the 12th and nearly all are on reasonably-priced contracts.
Know this: Between now and March 15, they will field calls from teams inquiring about their depth. A wide-open concept: If the Mavericks can increase their flexibility for the coming offseason, while getting comparable return, should we be surprised if the Mavs consider looking like "sellers;; at the deadline despite that their place in the standings would suggest they'd be "buyers''?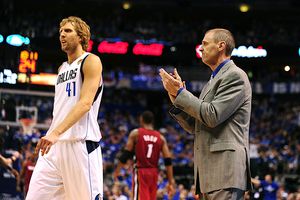 Best thing about the Mavs at the deadline? "Trade Rumor Traffic.'' Check it. Every important scoop and rumor covered in one spot
... 24 hours a day, from now right to the March 15 deadline. If you aren't "in,'' you aren't informed!
DONUT 10: Dirk's Prediction
He said it back in training camp, and has not been shy in reiterating in postgame media huddles since and he's being proven right. As this veteran-laden club learns to play together, the cohesiveness and chemistry that last year's squad relied upon will begin to show itself more and more.
A glance at the Mavericks record by month suggests it is already underway. In December, Dallas had a 25% winning percentage. In January, it was 72.2%, and in February it returned to an only-solid 58.3%. If Dallas can average a percentage somewhere between January's and February's, they will finish with either 42 or 43 wins on the season. ... An amazing achievement given how poorly this year started for the defending champs. Furthermore, the improvement has already arrived on defense. If only it could arrive to the same degree on the other end.
Unfortunately, March is coming in like a lamb so far.
DONUT 11: The Return of Delonte
His loss has been more difficult than anticipated for Dallas. Since Delonte's injury, Kidd has been the only one capable of facilitating the offense as a point guard. Though Kidd sits a paltry -26 on the season, his presence has always extended beyond metrics. When he is on the bench, there is a noticeable drag and on already sluggish Mavericks offense. With Delonte, that effect is mitigated and West brings it on the defensive end like few others can.
Hopefully we're just a few weeks from West recovering fully from the hand/finger surgery.
DONUT 12: Can the pieces come together?
As you may have noticed, this list contains many pieces that have yet to fully adhere. Whether because of injury, personal reasons, or the effects of a compressed schedule, the Mavericks -- even more than halfway in -- are far from a finished product. The realization of their goals will require the team to unify, at least for a time. If they can, they are in play to contend for another Larry O'Brien in June.
Every day. Every angle. Every Mav.

That's how DB.com has covered the Dallas Mavericks for 13 years now. In 2011, DallasBasketball.com was read by 500,000 people. ... stunning, really. Knowing you are reading this ... and hearing your feedback ... enriches the experience for The 75-Member Staff.

We're excited to be able to offer you, for pennies a day, all the analysis, the numbers, the exclusive Video Visits, the whole experience. Please try our Premium Mavs coverage!

This is what we do, every day, with 28 years of experience on the beat! You get All-Access to what the Mavs are doing upstairs, down in the basement, in the locker room and on the court – and it's free to come inside for a 7-day tryout. Now more than ever, there's no reason not to give it a go! Thanks for your support of the site at less than a dime-a-day! Go Mavs and Go Premium!