It is at this moment wishful thinking to include the Dallas Mavericks among Dwight Howard's "final'' suitors. Yes, he may still consider the Mavs part of his "wish list,'' but only if he is forced to "wish'' for bridesmaids. Oh, assorted reports stick the Lakers (offering Bynum) in there. Somebody mentioned the Celtics. But I'm with Marc Stein, whose report on Howard focuses on New Jersey as the prime potential trade partner and deep in his story cites Houston's desire to involve itself in what I might call a "rent-to-own.'' But Dallas? Not even the Mavs-centric Stein bothers to include a mention of Dallas.
The nuts and bolts of Howard's leaving the Magic have become clear: Orlando officials confirmed Wednesday that Howard declined to waive his right to become a free agent – a Wednesday reversal of what he'd publically promised the day before -- thus keeping his options open for next season.
That gives him options. It gives Orlando precious few.
The worst-case for the Magic would be for Howard to depart next summer and leave Orlando with nothing in exchange when he opts out of his contract. That's no guarantee; with this kid, the only guarantees you get are in regularly dominant on-the-court numbers. But the circumstance leaves Orlando, should it opt to take his advice to "roll the dice,'' set to look silly and stripped of its lone star.
There are reasons for Howard to wish to avoid a trade before Thursday's 2 p.m. deadline. If he instead departs via free agency in the summer, his new team (say, the Nets) won't have to strip down the roster to get him. So it's Dwight joining Deron Williams and a full (if not brilliantly stunning) team.
And, free agency is fun! There will be a courtship and drama and kid-in-a-candy-store excitement. And by the way, yes, sure, the Mavs would be back in the mix if this occurs. Maybe still a bridesmaid, but at least with a chance to interrupt the Brooklyn wedding.
But my understanding is that the Nets are no longer fiddling around with lowball offers. Brook Lopez and a couple of No. 1 picks and you don't get overly concerned about sacrificing a MarShon Brooks if it means to get a Dwight and it means to get to keep a Deron. (Oh, and Howard's now well-established flakiness should have the Nets convinced that the longer it waits, the more he might flip and flop and flip again.)
Yes, the Nets would have to strip down, just as the Mavs would if Orlando decided to grab their "kitchen sink.'' But again, let's also be frank about what we believe the Nets and Mavs can and will offer in trade:
The Nets' package is prettier.
Lopez and Brooks and two first-round picks and Orlando wants the Nets to also absorb the baggage of Hedo Turkoglu and Chris Duhon? Done. Get a third team involved. Done.
Would the Magic rather rebuild with Lopez and Brooks than with Haywood and Beaubois? Certainly. Would bringing in young bigs like Mahinmi and Wright help? Ehh. How about a winning veteran like Shawn Marion? Hmmm. How about some buyout/expirings to help with future room? Well ...
New Jersey's offer looks better.
However ...
Some have written that this is "all up to Orlando,'' but that is not so. Dwight's leverage exists in the form of which prospective team he promises to re-sign with. Would be promise to re-sign with Dallas? Almost certainly, if Deron Williams whispered to him that he also wants to come home to DFW. Would he promise to re-sign with Brooklyn? Well, only in conjunction with Deron wanting to stay there ... and that, while not yet a foregone conclusion, is assumed in this scenario.
(Two sidenotes ... One, Dwight and Deron aren't obliged to remain in New Jersey this summer. That won't be done until it's done. Two, the Lakers truly could get involved here and steal Dwight. If that happens, Deron is theoretically back on Dallas' target list.)
Now, Deron can influence Dwight's thinking here.
And here's the pitch, if Deron wants to make it, the pitch that Cuban and Donnie Nelson must make to agent Dan Fegan, with whom they are friendly:
New Jersey would have Dwight + Deron ... but a stripped-down roster and no picks ... but the supposed lure of big-market New York and the endorsement power that comes with it. Dallas would have Dwight + Deron ... with a similarly stripped-down roster and maybe no picks ... and the argument that "global icons'' don't have to be headquartered in New York. ... that "global sports icons'' exist in Indianapolis and Denver and Green Bay ... and of course, in Dallas. Which does happen to be the No. 7 media market in America, for what it's worth.
It's been written that adidas will give Dwight a $200-million deal if he lands in New York. I find it difficult to believe that if he lands in Dallas, adidas is going to screw him financially because he'll be so "off the map.'' What, they'll make him play barefoot?
The Mavs' 3D Blueprint seems a longer shot than ever. The Dallas package isn't as attractive as the Nets, and while there are other arguments to be made (Cuban would involve Dwight as a decision-making leader, the Nets owner is absent, New Jersey has no recent track record of excellence, Brooklyn will be trying to emerge from Miami's dominant East shadow), that can be Orlando's bottom line.
But Dwight's bottom line can be something more.
In either city, Howard can have Deron and he can have his marquee. In LA he can have Kobe and the marquee.
But only in Dallas can Dwight Howard have Deron Williams AND Dirk Nowitzki.
That is the deadline part of what this NBA saga the Mavs' 3D Blueprint essentially comes down to, and it is The Last Great Dwight Hope:. So, hey, Dwight Howard, do you want to play with Dirk Nowitzki?
IS THE 3D SKY FALLING? OR DID THE CLOUDS JUST BREAK? By Chuck Perry and Fish, 430p march 14
Watch and see how we take you in a circle ...
The Latest on Dwight. Maybe.
After his controversial comments last night,
where he said he wanted the Magic to 'roll the dice,'
it now appears he may want to stay at least one more year. According to multiple outlets, Dwight has told teammates that he's planning NOT to opt out of his deal after this season to remain a Magic. However, Howard nor his agent have signed papers agreeing to this as of yet. Further, this is now refuted by Adrian Wojnarowski, who tweets that "Three Magic players tell Y! Sports (2 to @SpearsNBAYahoo) and one to me that Dwight Howard did not tell them he was opting in for next year." He followed that with another tweet saying, "Said one Magic player on Howard meeting: "Next year was not even mentioned in meeting...He told us he was "all-in" for this season."
As of 3:55 pm Chris Mannix of SI tweeted "Magic continuing to explore Dwight Howard deals, league sources tell SI. No indication anything DH has said today changing that."
Broussard mentions that the Magic would now be interested in trading for the Knicks 'Melo and Chandler, a rumor that was previously shot down. Wouldn't it be just a little ironic if Chandler was ultimately moved in a deal for Dwight when he wasn't willing to be a part of such a move here?
And now this, from David Aldridge: The Magic have given Dwight Howard a deadline to submit the needed "opt-in" paperwork to league offices Wednesday or they will trade him before Thursday's 3 p.m. deadline.
Aldridge suggests the Magic are skeptical that Howard will sign on for the elimination of the ETO.
If indeed Dwight does opt in for another year, do the odds increase that the Nets seek to trade Deron? Or does it become more likely that he signs with Dallas in the offseason? Also, don't rule out the Lakers, who need a point guard and are still dangling Pau Gasol.
We're working on those angles as you read this … All of them based on the assumption (very dangerous with Dwight!) that he is indeed opting in. ... Again, wait for the circle to close ...
D'Antoni wanted to trade Melo for Deron Williams
Buried amidst the news that Mike D'Antoni has resigned today as the Knicks coach,
is this report that D'Antoni advocated trading Carmelo Anothony for Deron Williams.
You can see where D'Antoni might be coming from, since Linsanity was built during Melo's absence and the Knicks have struggled since his return, now on a 6-game losing streak. Apparently, D'Antoni envisioned Williams' arrival as a means to ease the burden on Jeremy Lin and would employ both Williams and Lin in a three-guard rotation.
But the biggest Mavs-related angle to that rumor is this: If the Knicks were having in-house discussions about acquiring Deron, that suggests that Deron, on some level, might be available.
Deron? Nets? Mavs? It's y'all's move.
Now, when can that move come?
If the Mavs make a bid to do it now, they can attempt to put NJ over a barrel. Dallas can offer its kitchen sink ... the Nets can feel underwhelmed by it ... but might consider it because something (now) is better than nothing (in the summer). And yes, there will be other competitors bidding ... but none of them with the hopeful advantage Dallas has of believing Deron will re-up in the summer.
Our David Lord is working on the deep analysis of the names and numbers for an eventual deal. (It's too early to do so now as it relates to summer plans.) Meanwhile, DB.com has a couple key conversations planned for tonight. But for now, while Deron to Dallas in the summer is an even stronger possibility now. ... Deron NOW is worth exploring.
And that's what we -- and the Mavs - are doing at this moment.
Trade Rumor Traffic: Nash Source Tells DB.com 'No Deal.' So What About To Mavs This Summer? - By Fish and Lord 817p march 13 2012
A source close to Steve Nash tells DB.com that Phoenix is not listening to deadline trade offers for him. So while all involve conjure up other deadline thoughts, how about a Dirk and Nash reunion in Dallas? We've got the scoop and we've got the research that gives us the answer in 'Trade Rumor Traffic':
First off, forget the notion of two-time MVP Steve Nash being reunited with Dirk Nowitzki and the Dallas Mavericks in time to beat this week's NBA trade deadline. A source close to Nash tells me that the Suns "aren't even listening to offers'' for the face of their franchise and suggests that Nash and Phoenix owner Robert Sarver have an agreement to gracefully create a face-saving plan in the summer, when Nash is a free agent.
That could keep him in Phoenix, where his ex-wife and children live. Or he could return to Canada, where he is a national hero and will eventually head up the country's men's international basketball program. Or he could land in a variety of other spots, including near his offseason pad in New York and …
Dallas, of course.
Over the years at the deadline, Dallas has perennially engaged in some level of contact with the Suns … sort of an annual "if-you-ever-wanna-dump-him'' conversation. A year ago, Suns GM Lon Babby called Nash "the sun, the moon and the stars'' of the franchise.
So they don't EVER "wanna dump him.''
There are obviously reasons for the Mavs to eventually pursue Nash, no matter what the rest of the roster looks like. Nash on the same team with Deron Williams? Fine. Nash on the same team with Jason Kidd? Less fine, but still compelling. Nash as the 3D Blueprint stand-in for Deron Williams?
The best save of all. But there is a dollars-and-sense problem.
If the Mavs are fortunate enough to pry Dwight Howard away from Orlando at the deadline – as unlikely as that might be, considering all the reports from Magic HQ that they lean away from moving their center, the reports from Nets-friendly media that says he's leaning there and Dwight's comments Tuesday about "rolling the dice'' on spending the spring in Orlando – that might mean Dallas has to also take on Hedo's bloated $11-million-plus. The Hedo Headache would leave no room to eventually acquire Deron to team with Dwight (and Dirk).
The Mavs have problems enough in deciding if one in the hand is worth two in the bush. That is, if a) getting Dwight Howard now is a powerful-enough move to make never getting Deron acceptable … or, if b) they should pass on Dwight now while hoping to get him in the summer – while trying to get Deron, too.
Or, the way it looks at this moment, neither?!
If Dallas can make "A'' happen – again, challenging enough – then maybe there is a summer consolation prize to be had in the wake of not getting Deron. Maybe you are able to replace him in your master plan and in your Dwight-and-Dirk-led lineup with summer free agent Steve Nash.
Dreamy, right?
Yeah, probably too pipedreamy.
There is no indication that Nash is done looking for a paycheck – maybe even a giant one. He can argue that he's not a 38-year-old guy looking for one last desperation shot, but rather that he's a marvel who was All-Star worthy: He leads the NBA in assists at 11.0 per game, is averaging 13.6 points, is shooting 54.4 percent from the field (which ranks No. 7 in the NBA) and is the only guard in the top 16 in that category and also has 20 double-doubles, and is the only guard in the top 10.
The minimum for Nash? There's little justification for him to settle for that.
What could the D+D Mavs afford? Our David Lord finds many ways to run the numbers that offer a variety of results. But in general, the Mavs on all the scenarios would at best end up with MLE-ish money.
UPDATE for CLARIFICATION: Dirk (21M), Dwight (19M), Turkoglu (12M) and cap holds for empty roster slots (3.5M) would put the Mavs at 55.5M, leaving room for an MLE-only offer for Nash. So the unlikelihood of a Nash fit is in the event Dallas gets Dwight now and has to take Hedo to do so.
The MLE for Nash? There's a real-life issue that gets in the way of the fantasy: Steve's recent divorce – if it's like virtually every other divorce we're aware of, celebrity or not -- means he and his family are in some ways starting over financially. This summer is Steve Nash's one shot at a monster nest egg before he retires, one shot at incredible financial security for his children, one shot at finding a great team AND a great payday.
We're told that's not happening anywhere at the deadline.
And logic tells us that's not happening this summer with a Dirk-and-Dwight-led Mavs team if Dwight is acquired now along with the Hedo Headache.
'Tradeable Trix And Dwight to Nets a Done Deal? By Fish 11am march 13 2012
The Mavs plow to the trade deadline having expressed no sense of urgency to make moves to gain additional cap room for the summer. 'Trix for Nocioni now? Dumping Odom now? Nope. No urgency. If the Mavs are to have any chance at creating The 3D Blueprint, are they taking a big risk by keeping these assets in the bank? Chris Sheridan has his thoughts. Marc Stein has his. And we have ours. So let's compare notes, starting with the Tradeability of 'Trix:
As the Mavs head to the trade deadline, they have expressed no sense of urgency to make moves to gain additional cap room for the summer. 'Trix for Nocioni now? Dumping Odom now? Nope. No urgency. If the Mavs are to have any chance at creating The 3D Blueprint, are they taking a big risk by keeping these assets in the bank?
According to one very knowledgeable NBA connection with inside sources everywhere, the definitive answer is "Absolutely not."
Mark Cuban issued some acidic digs at media professing to know for certain the future of Dwight Howard, chastising one outlet for pretending to 'be in Orlando's locker room and the front office' and sarcastically referring to another reporter as 'The Gospel.' Later, he got more specific with DB.com regarding the rumors, contact with a player in Howard's position, and the 'cumulative knowledge' that allows him to make his Mavs' deadline-day prediction. Some Cuban 1-on-1: In Dallas Mavericks owner Mark Cuban's traditional pregame weight-room visit with the media on Tuesday, he spoke at length about his belief that his team, as presently constructed, will rebound from the recent stretch of nine games in 12 nights which produced seven losses for the defending champions. He talked about the "unbalanced schedule'' and how during this final stretch of this condensed season, his team will play fewer games than any other West club. "Hopefully,'' Cuban told the group, "that will work in our favor. Hopefully we'll run into some tired teams like they ran into us." There is another, greater hope, of course: That Thursday's trade deadline produces some help. … or that whatever else happens at the deadline doesn't prevent the Mavs from seeking the right help in the Summer of 2012. Yes, I'm talking about the likes of Deron Williams and Dwight Howard, the do-able-but-dreamy ideas that would put Dallas in position to be on top of a SuperTeam Era. In the group session, Cuban nodded at the TV screen and chided ESPN for "acting like they're in the Orlando locker room and in their front office.'' "Hopefully going forward we will be able to play our starting lineup more playoff-like and play our second unit more playoff-like," Cuban said. "It will help because we'll get more time together, which will help with late-game situations and late-game confidence and execution." Cuban has beat the drum during this shortened schedule of just make the playoffs. At 23-20, he said it's time for the Mavs to win as many games as possible to make sure that doesn't become an issue in a month from now. "It's very important," he said. "It's not like we have a cushion. We've got to win games." More Cuban notes from Tuesday: * With the trade deadline approaching 2 p.m. CT on Thursday, Cuban reiterated that it's been rather quiet around the AAC offices. With the organizational strategy focused on creating cap space to chase free agents this summer, Cuban said he isn't actively pursuing a major deal to shake things up. "We don't have the practice time to integrate somebody. We don't have the time to integrate the guys we have," Cuban said. "Unless somebody throws us a gimme why would I?" * Rumors continue to swirl about Orlando Magic center Dwight Howard and his future. Howard lists the Mavs as one of his top destinations and obviously, the dream of Mavs fans is to see Howard and The Colony native Deron Williams to come together in Big D. Cuban again said that the Mavs are not fixated on one or two potential blockbuster free agents. "We don't know yet what we're going to do this summer," Cuban said. He can't, at least not yet. The first step is waiting to see if Orlando gives up hope of retaining Howard and pulls the trigger on a deal by Thursday's deadline. A deal to New Jersey would likely all but kill Dallas' chances at either Howard or Williams. As the Mavs are game-planning it, here's how
the 3D Blueprint
would work from here going forward (in an ideal world):
* First, they will get the commitments from Deron Williams and Dwight Howard in early July to sign with Dallas.
* Second, they will clear out the rest of the cap space needed to sign those players, with the key (and most difficult) move being a trade of either Marion or Haywood with no players coming back to Dallas.
It's the second step in that process that has been the subject of debate, as fans and media have questioned whether the Mavs would be able to find a willing trade partner (or two) in July to take Marion or Haywood in such a deal. While we've accepted and promoted the idea as doable based on similar deals this season involving Lamar Odom, Mehmet Okur, and Corey Brewer/Rudy Fernandez, the skeptics have continued to express doubt as to whether either Marion or Haywood would have any appeal to other teams in such a circumstance.
In a Monday conversation on ESPN's Ben-and-Skin show, ace reporter Marc Stein was asked about the possibility of the Mavs finding another team willing to do such a trade, and he had no doubts.
"I've actually run it past a few GMs," Stein said, noting that Marion's trade value has skyrocketed with his play in the Mavs' title run as well as from his incredible defensive work this season. "Someone will be willing to take him on in a deal where the Mavs don't have to take back any salary. Remember there are gonna be a lot of teams with cap space this summer.''
Stein went on to emphasize that his stance isn't based on assurances emanating from the Mavs themselves or his own evaluation, but rather from asking that question of multiple GMs around the league.
We've put ourselves in position to know the numbers. Stein is in a position to know league-wide opinions. But most important to note: if Stein knows this is the climate around the NBA, so do the Mavs. And that helps to explain why Dallas will be more interested this week in deals that might improve the team rather than cap-clearing ones.
That is effectively our shootdown of any rumor of a Dallas dump. (And yes, that includes the dumping of Lamar Odom, as tempting as such a notion might be based on his play and persona.)
Specifically, we can apply this to the Chris Sheridan push for Dallas to "dump'' Marion on the Sixers in exchange for Andres Nocioni.
Chris' logic: If the master plan is to clear enough cap space to make a run at free agents Dwight Howard and Deron Williams, the Mavs need to find a taker for Shawn Marion and the two remaining years on his contract. A straight-up deal for Andres Nocioni (a favorite of Rick Carlisle) makes sense for both teams.
Truth: Nocioni is not more "favorite'' to Carlisle that Marion is. Not for this year's team, for certain. Not even close.
More Important Truth: The Mavs do not "need'' to find a taker for Marion. Not yet.
The Mavs might reach a point in the next few days w Derrick … 3pm. .
Dwight-To-NJ 'Inevitable'? Marion-For-Nocioni? A Change In Mavs Deadline Urgency? - Fish and Lord 205p march 13 2012
As the
Dallas Mavericks
plow toward the 2 p.m. Thursday trade deadline, they have expressed no sense of urgency to make moves to gain additional cap room for the summer. 'Trix for Nocioni now? Dumping Odom now? Nope. No urgency. If the Mavs are to have any chance at creating The 3D Blueprint, are they taking a big risk by keeping these assets in the bank?
According to one very knowledgeable NBA connection with inside sources everywhere, the definitive answer is "Absolutely not."
As the Mavs are game-planning it, here's how
the 3D Blueprint
would work from here going forward (in an ideal world):
* First, they will get the commitments from Deron Williams and Dwight Howard in early July to sign with Dallas. (In a sense,
better to do it all then than to do part of it now, as you can read about in "Deadline Dwight.'')
* Second, they will clear out the rest of the cap space needed to sign those players, with the key (and most difficult) move being a trade of either
Shawn Marion
or Haywood with no players coming back to Dallas.
* Third, they would then sign the players to the agreed-upon deals.
It's the second step in that process that has been the subject of debate, as fans and media have questioned whether the Mavs would be able to find a willing trade partner (or two) in July to take Marion or Haywood in such a deal. While we've accepted and promoted the idea as doable based on similar deals this season involving Lamar Odom, Mehmet Okur, and Corey Brewer/Rudy Fernandez, the skeptics have continued to express doubt as to whether either Marion or Haywood would have any appeal to other teams in such a circumstance.
In a Monday conversation on ESPN's Ben-and-Skin radio show, ace reporter Marc Stein was asked about the possibility of the Mavs finding another team willing to do such a trade, and he had no doubts.
"I've actually run it past a few GMs," Stein said, noting that Marion's trade value has skyrocketed with his play in the Mavs' title run as well as from his incredible defensive work this season. "Someone will be willing to take him on in a deal where the Mavs don't have to take back any salary. Remember there are gonna be a lot of teams with cap space this summer.''
Stein went on to emphasize that his stance isn't based on assurances emanating from the Mavs themselves or his own evaluation, but rather from asking that question of multiple GMs around the league.
We've put ourselves in position to know the numbers. Stein is in a position to know league-wide opinions. But most important to note: if Stein knows this is the climate around the NBA, so do the Mavs. And that helps to explain why Dallas will be more interested this week in deals that might improve the team rather than cap-clearing ones.
That is effectively our shootdown of any rumor of a Dallas dump. (And yes, that includes the dumping of Lamar Odom, as tempting as such a notion might be based on his play and persona.)
Specifically, we can apply this to the Chris Sheridan push for Dallas to "dump'' Marion on the Sixers in exchange for Andres Nocioni.
Chris' logic: If the master plan is to clear enough cap space to make a run at free agents Dwight Howard and Deron Williams, the Mavs need to find a taker for Shawn Marion and the two remaining years on his contract. A straight-up deal for Andres Nocioni (a favorite of Rick Carlisle) makes sense for both teams.
Truth: Nocioni is not more "favorite'' to Carlisle that Marion is. Not for this year's team, for certain. Not even close.
More Important Truth: The Mavs do not "need'' to find a taker for Marion. Not yet.
What changes that? Maybe the gauging of the vericity of
the Yahoo report that states oh-so-matter-of-factly that Dwight Howard is a sure bet to go to the Nets, either now or in the summer.
We can at this point correct Sheridan on what the Mavs are thinking and we can support what Stein is reporting. But we cannot at this point refute or confirm the "automatic'' move of Dwight to the Nets except to wonder about the logic of a player and his representatives narrowing a choice down to one team four months before he is required to do so.
Woj seems quite certain of this, however, tweeting of Dwight Howard: "He's determined to leave the Magic for the Nets, either now or later.''
If Woj is right, it means Deron stays in NJ, too, one might assume. It means The 3D Blueprint is shredded. It means the Mavs go back to the Asset Management drawing board.
And maybe it means a change in deadline urgency, too.
WILL CUBAN BE 'STUBBORN'? FOUR REASONS FOR CARLISLE TO URGE HIM TO STAND PAT - by David Lord and Mike Fisher 602p march 12 2012
Our radio buddy Gavin Dawson poses the question: 'If Cuban doesn't make a Mavs trade, he's either a) 'The NBA Exec of the Year' or b) 'The Most Stubborn Man in Sports.' Which is it, DB.com?'
As we dig into Deadline Week, we offer four reasons Mark Cuban might remain in the running for both titles – four arguments coach Rick Carlisle can make for resisting change. Do the Mavs 'need' a trade?
We are acutely conscious of Thursday's NBA trade deadline 2 p.m., Dallas time, and believe us, The 75-Member Staff is preparing for a week of sleepless nights as we cover the games, cover the locker room and cover the machinations, rumors and serious talks from the front office. We are also aware of the on-court struggles, and the chemistry struggles, too; heck, in the last two weeks, we've about run out of adjectives to paint the dismal picture of the performances.
Do we think a trade is "needed''? Well, here's another thing we're aware of: The Mavs front office frequently approaches the deadline looking not just for an over-the-hump talent boost, but also for injections of things that fill specific needs. Kidd's BBIQ, for instance. Or Caron Butler's tough wing presence. Or Peja's precision shooting.
Hey, that's three critical moves in three years.
That's a track record. And a trend.
But the Mavs don't "need a trade,'' no. They need a GOOD idea, and one that isn't costly enough to upset The 3D Blueprint concept.
So before we delve into a handful of Amateur GM ideas (coming up in the next 48 hours) and before we explore what the Mavs might be/are up to (also coming up, with "Deadline Dwight'' stuff on down), let's take a point of view using that question from Gavin (7-10 p.m. on 105.3 The Fan, where Fish visits with him on game nights) regarding Cuban's potential "stubbornness'' ... expanded to Carlisle's thoughts about his present team.
Four reasons for Cuban and Carlisle and company to be "stubborn'' while trying to win future "NBA Exec of the Year'' and "NBA Coach of the Year'' trophies (and other hardware, of course):
1. It is completely conceivable that when they analyze the market, they will conclude that the best players they can get with their assets – best for on the court now and best for next summer -- are the ones they already have.
Dangling a Jet or a Trix to get Dwight? That's one thing. Flipping a guy who can help this team win now for another "piece'' ... while also utilizing him as a summer asset?
The coach will not vote for that. The coach will not vote for a dismantling of his present team for a chance at being "a little better.''
2. They are sitting on some expiring contracts, yes. But short of the big prize, they are not in a position to use them to any advantage. That is to say, giving up an expiring to get a good player with a longer-term contract would've been fine last year, or the year before, or any other year. But this time, on the eve of the Summer of 2012? No, they will not take back longer-term salary … unless the player they can get is Dwight/Deron-level himself, of course.
3. Maybe Cuban, Donnie and Carlisle go all Pollyanna here, but there is a perfect-storm theme that helps explain the slump: The injury bug bit at the very same time they were engaged in the most brutal schedule period in franchise history (9-in-12 is a never-before-seen quirk) … and that bug bit at center and at at point guard, two spots of vulnerability.
We know for a fact that while Carlisle doesn't like making excuses, he sees this recent slump as being related to issues that have nothing to do with the quality of the guys or with their skills as players.
"It was a murderous stretch,'' Carlisle said on Monay.
You know, this is not a team that can look very good without a traditional center who can play stout defense alongside Dirk. It's been a two-center team that let TY walk … And if anybody is saying "We still have one and two is a luxury," well, that's in conflict with a long-time organizational strategy.
And now we are seeing what happens when you have one real center – truly a requirement on a Dirk team -- and that one gets hurt.
Big Wood's been out. The guy who'd fought to back him up, Wright, has been out with a concussion (and, we still contend as we did from the day he showed up at camp, he's a 4, not a 5). Mahinmi is rather light at center, too, and while he's got potential … he's being asked to do to much.
And at PG? The Mavs are very committed to keeping Kidd's minutes low – so committed that he sat out his homecoming game Saturday at Oakland. Roddy B remains meteoric. Delonte West has been a starter and is therefore almost a "starter off the bench'' in terms of what they need him to do.
So they are missing two of their top seven guys. Maybe three of their top nine. Kidd sits out … Odom checks out … and next thing you know, it looks like Dirk has been plunked into a Las Vegas Summer League game out there.
That perfect storm … or "imperfect'' … and people are wondering why they suck right now?
4. We see frustration over losing. Hey, it's better than apathy over losing, which did seem to poke its head out, too. We see Jet shooting off his silly mouth without having his brain fully engaged. (This is nothing new, of course. But the "we need a change'' meme is why Jason Terry will never be an NBA general manager). We hear Lamar dissing the team's chemistry (pot-meets-kettle) and we know how the overall see effects of LockoutBall and Second-Mountain Climbing drag down a club.
Those are the four reasons for Cuban to be "stubborn'' while trying to win a future "NBA Exec of the Year'' trophy. ... and they represent the same arguments a coach will make when an owner asks, "How are we doing from your perspective?'' Combine all of that with the sincere belief that this Dallas Mavericks team, in the playoffs against any foe, threatens to be a tough out, and you have the logic behind Dallas opting to keep it quiet from now until 2 p.m. Thursday.
Coming up: Reasons for the Dallas Mavericks to not be so quiet. And as we go Amateur GM on you, we promise to be very specific.
Because Cuban is very stubborn in another way: He stubbornly fights for "tinkers'' that can make his franchise better.
MONDAY LUNCHTIME TRADE RUMORS' - by Chuck Perry and Mike Fisher - 1154am march 12 2012
Dwight Killed a trade to Chicago…trade offers thinning for Howard?
Multiple outlets are reporting today that Dwight Howard will not become a Bull. Though the prospect of a Rose/Howard pairing seems tantalizing,
there is "no chance" of it happening.
Howard is not open to signing an extension with the Bulls despite the Magic's emerging preference to consummate a deal with Chicago. According to multiple sources, Howard wants to be viewed as "the Man" on his next team, and Rose has already firmly established himself in that role. It is puzzling though. The other aspect to consider is that of marketing since Rose and Howard are both Adidas clients. Perhaps the shoe company does not want two of its biggest clients on one squad.
The other element of note in this story is that offers for Dwight are coming down. Since it is widely-believed that Dwight will test free agency regardless of where he lands, teams are reluctant to offer the farm for the Orlando Center. The link above mentions that the Nets are lowballing now, refusing to offer their original package of Marshon Brooks and picks.
Though Golden State
offered David Lee and Monta Ellis, Orlando turned them down.
It now seems more and more likely that Dwight will play out this season as a member of the Magic.
Or, as Fish and Lord reported, perhaps one of the Mavericks' possible offers begins to look better by comparison. However, if Howard is destined for free agency anyway, perhaps its best to keep the 3D powder dry and swing for the fences this summer.
Rubio's injury may re-route Crawford to Bobcats
Ricky Rubio's recent ACL tear is adjusting Minnesota's trade plans. As we reported last week, Minnesota was in talks to ship out Luke Ridnour to the Blazers for Jamal Crawford. Now, David Aldridge is reporting that
Jamal Crawford may be heading to Charlotte for D.J. Augustin.
Rondo-for-Gasol resurfaces
This rumor will not go away. It makes too much sense…so naturally it likely won't happen.
According to the Los Angeles Times,
the teams discussed it last week.
In fact one person who has broken Lakers stories in the past indicated that Pau
had already been traded.
Connecting these two dots, perhaps the teams were closer than is now reported. However, sources continue to state that LA is unwilling to part with Pau, yet the Lakers are seeking a top-level point guard. There is either some magical thinking or some very creative wrangling going on in LakerLand these days.
Bird Turned Down Hansbrough and a first-round pick for Ray Allen
Larry Bird told ESPN that he turned down an opportunity to land Ray Allen. According to the 'Worldwide Leader'(which sounds like a rapper's stage name), Bird
denied Danny Ainge's offer of Tyler Hansbrough and a first round pick for Ray Allen.
Perhaps the Celts aren't in blow-it-up mode, at least not at all costs.
Lots and Lots of Cavs Rumors
Cleveland is apparently after everyone, and everyone not named Irving is for sale. One minute the Cavs are
after Eric Gordan
. The next they are willing to pick up Emeka Okafor if New Orleans will include a first round pick. Last week we told you how they are willing to part with Ramon Sessions. This week they < A HREF = "http://www.foxsportsohio.com/03/11/12/Keeping-up-with-the-Cavs-trade-buzz/landing.html?blockID=685462&feedID=8888" > are apparently willing to part with Antawn Jamison, perhaps to acquire Okafor. Still another rumor that has persisted is Cleveland's desire to acquire Marvin Williams from the Hawks.
Now Josh Smith might be on Cleveland's radar and a Sessions and Jamison for Williams and Smith swap could be in the works.
Wizards want to be rid of Blatche…Bogut wants out?
According to Michael Lee,
Andrew Bogut has asked to be traded and the Wizards might be interested…if they can get rid of Andray Blatche.
According to the report, only John Wall is untouchable on the Wizards roster and Washington may even be willing to include Javale McGee in talks if it nets them Bogut.
Other Scuttlebutt
The Bucks might also be willing to let Jennings go ... Dwight for Blake Griffin?! ... DB.com Boards has Odom at the airport. Probably to film a TV episode, we presume, because he was at practice this morning ... No matter how you slice it, a Mavs kitchen sink to Orlando doesn't quite match what they can get for Dwight if they do a deal with New Jersey. There are 100 obstacles for Dallas here, but that is the largest.
MAVS AND MAGIC TALK: CHASING 'DEADLINE DWIGHT' WILL MEAN A 'HEDO HEADACHE' - BECAUSE IT MEANS NO 3D DERON' - by Mike Fisher and David Lord - 1154pm march 11 2012
There is a circumstance under which the
Dallas Mavericks
can, and almost certainly will, make a trio of deadline proposals to Orlando to acquire Dwight Howard. But the Mavs' offers will be delivered along with two challenges. One is obvious: To compete with the offers reportedly being prepared by the Bulls and others. (We have that formula.) Two, and more complicated: Orlando will force the Mavs to compromise in a way that could bring Dwight to Dallas while costing the Mavs their 3D chance at Deron Williams. Trade Rumor Traffic makes it worth your pennies ...
The Orlando Magic remains indecisive about its plans for Howard. Should they keep the NBA's best center for a playoff run this year and hope his disgruntlement fades in the summer – especially because if they do so they can pay him $109.2 million (over five years) while his new team will be limited to $89.1 million (over four) -- but risk losing him for nothing or next to nothing? Or should they give up hope and salvage what they can before Thursday's deadline, trying to benefit from a Dwight bidding war?
Howard also has decisions to make. There are teams he's clearly willing to sign with long-term – and the Nets and the Dallas Mavericks occupy that very short list. But should he be receptive to the Lakers, who might not want to forfeit a monster package and include Bynum? Should he (and the Magic) be receptive to what CBSSports.com is reporting is a possible Chicago offer of Omer Asik, Luol Deng and Carlos Boozer along with a Charlotte No. 1 pick?
There is no indication that Howard will pledge to re-sign with the Bulls, one reason that CBS carefully reports this as an offer they "could provide.'' And if the Magic loved any of the offers presently being dangled, a trade would be on the horizon.
It's not. Yet.
The Dallas Mavericks, however, may find themselves in almost as favorable a position this Thursday as they hope to be next summer in terms of chasing Howard.
Howard needs a team he'll re-sign with. (That gives him this year and then the five-year guarantee that comes with re-upping with his existing team, rather than four years with a new team.) Teams who are just "renting'' him for this spring are unlikely to remain in the bidding, so Orlando needs the same sort of trade partner as Howard wants. (Can Houston join Dallas and New Jersey in being that sort of team?)
Oh, and by the way: You'll go nuts trying to figure out why Chicago, with Rose, wouldn't be instantly acceptable to Dwight. This is his free agency, his call, not the Chicago media's or the national media's.
Similarly, you can guarantee a headache wondering why OKC is reportedly unwilling to part with an Ibaka/Harden package for Dwight. Go ahead. Go nuts. We're busying ourselves not with the others teams' "no's'' but rather with Mavs-related "yesses.''
Again, Orlando needs a return in talent. We think Omer Asik, Luol Deng and Carlos Boozer along with a Charlotte No. 1 pick would keep the Magic in playoff contention. (And we're thinking Noah is eventually tossed into this conversation, too.
But there is a wrinkle to what Chicago and Orlando will discuss, and almost certainly to what Orlando will demand of most any potential partner:
They'll want you to also take the baggage that is Hedo Turkoglu.
Forget whether you like Hedo as a player. (Many Orlando observers think he and Dwight actually play well together, for what that's worth.) Also forget whether you think Hedo is overpaid (and at $11 million, he is.)
A mandated Hedo inclusion would create a headache for Dallas.
Not because it keeps the Mavs from getting Dwight.
But because it keeps the Mavs from
also getting Deron Williams.
The Mavs can create packages that put them arguably in the ballpark of the Chicago idea. A trio of proposals that Orlando can anticipate being asked by Dallas to discuss:
*Orlando gets Brendan Haywood, Brandan Wright (or Ian Mahinmi), Lamar Odom and
Jason Terry
... Dallas gets Howard, Hedo and two other throw-in fillers with small contracts.
*Orlando gets Haywood, Odom, Shawn Marion and Roddy Beaubois ... Dallas gets Howard, Hedo and two small fillers.
*Orlando gets Haywood, Wright, Mahinmi,
Lamar Odom
, Vince Carter, Beaubois and Dominique Jones … Dallas gets Howard, Hedo and four bodies with minimum (or minimal) contracts.
Those are the parameters.
Worth noting: Because of the massive amount of salary needed to match those two Orlando contracts, the third likely proposal – as virtually unheard-of as it is outside of the Carmelo Anthony precedent last spring –is likely the only way the Mavs do such a deal without including either Marion or Terry. Also, that transaction would require the Magic to a) waive a player, or b) involve another team to offload either one of the players traded by Dallas or to take a player from Orlando.
But what Dallas is giving up is not the greatest issue here. Having to take back Hedo and his ongoing contract is the issue. According to our CBA understanding and cap calculations, Hedo's 2012-13 salary of $11.8 million, combined with Dirk's $20.9 million and Dwight's coming $19 million, leaves no room for the Mavs to also get Deron as a free agent from New Jersey.
Magic CEO Alex Martins tells the Orlando Sentinel that the club hasn't yet made a decision on what to do with Dwight Howard.
"We're not at the point where we're ready to answer that question yet," Martins said.
The Dwight Decision has similar reverberations in Dallas. The Mavs ARE at the point where they are ready to answer the question of giving up the farm for Howard. That's an easy call.
But knowing that The 3D Blueprint might make them the NBA's best team, they are NOT at the point where they are ready to answer the question of whether it's worth it to do Dwight now at the risk of never also eventually getting Deron.
That call, they have four days left to make.
THE GOSSIP ON JOSH, RONDO, KAMAN, SESSIONS AND MORE - by Chuck Perry, 120am march 10 2012
Pacers interested in Crawford, Kaman and Mayo
Add the Indiana Pacers to the list of teams interested in this deadline's most-rumored player, Jamal Crawford. According to Chad Ford, they're into Chris Kaman and O.J. Mayo
as well:
"From what I can gather, they're in wait and see mode. They have assets ... most importantly cap space ... and if they can facilitate a deal that nets them a good draft pick or a player that can help they're ready to listen. But I don't think they are actively trying to shake up the team. Kaman and Mayo, however, are both players they're interested in. Jamal Crawford as well."
Cavs Shopping Sessions, only want draft pick in return
With emerging star Kyrie Irving in the fold, the Cavs' need of Ramon Sessions is low. Furthermore, according to HoopsWorld,
the Cavs do not want a player in return, but instead a pick.
The Lakers have consistently been linked to the Cleveland guard, but are correctly prioritizing Rajon Rondo and Dwight Howard above the Cavs' backup. However, the need at point guard in LA is clear and don't be surprised to see at least one move for the Lakers before the March 15th deadline.
Celtics won't get value for Rondo
According to the Sporting News,
Rajon Rondo's difficulty with Celtics management is becoming an issue.
According to one anonymous general manager, "There's no way they're going to get talent-for-talent in a Rondo deal," one general manager told Sporting News. "There's a perception that if Doc Rivers, who's such a player's coach, has had a hard time with him, my coach is going to have a worse time with him."
Josh Smith Wants out of the ATL
It's becoming a poorly-held secret that Josh Smith no longer wants to be a Hawk. According to the Atlanta Journal Constitution
Smith believed he was unfairly criticized last season and this year, is unhappy that the Hawks didn't promote his All-Star credentials.
According to
AWoj, he could become a Celtic since
"Smith has wanted trade for past year, and league sources say Atlanta GM Rick Sund has always been partial to Allen, not Garnett. Atlanta had talks with Minnesota during draft on Smith for No. 2 pick, but Hawks haven't been aggressive in trying to trade Smith."
Assorted Stuff
Capt. Jack is reportedly ready to ditch Milwaukee -- and wants to be a Bull! ... Teammate Andrew Bogut is also the subject of trade rumors. ... "Imminent'' is a tricky word, but respected Lakers people are buzzing about a Pau Gasol trade. ... We're not sure we see the point of Houston or Golden State wanting to trade for Dwight Howard as a rental, but that's the scuttlebutt ...
THE MAVS 3D BLUEPRINT CHEAT SHEET - by David Lord, 1110am march 7 2012
The 3D Blueprint is one of many 2012-13 options for the
Dallas Mavericks
, but it's a most exciting possibility. Two months ago we unveiled the general concept at a time when some Mavs contracts were brand new and when some details were hard to obtain, and there was also a brand new CBA. The ink was barely dry and the rules were still under wraps from those outside the league.
Since then, we've gained access to both the exact salary numbers on those new contracts as well as the completed CBA. Articles are everywhere trumpeting the possibilities. … and in some cases misunderstanding and misinterpreting those. So here's an update, DallasBasketball.com-style, to offer both the precise numbers as well as a look at the variables that can come into play before, during, and after we get to free agency and a chance for 3D in Dallas.
THE 3D BLUEPRINT IN BROAD NUMBERS
ITEM: The basic blueprint is about fitting
Dirk Nowitzki
,
Deron Williams
and
Dwight Howard
into the Mavs' available cap space. In that general scenario, Dirk is the only player retained, and the Mavs offer to split all available cap space between the other two players.
ITEM: Dirk will get $20,907,128. That number is fixed.
ITEM: With 3D (Dirk, Dwight and Deron) and no one else, you would have nine empty roster slots with a cap hold of $473,604 each. The total cap hit would be $4,262,436. That number is also fixed.
ITEM: Deron will probably be limited by a max of $17,177,795, which is 105% of his prior salary. But that limit would be increased to "30% of the cap" (it's not really 30%, it's actually only 28.256592%) if the NBA's 2012-13 salary cap is higher than $60,792,168. Possible.
ITEM: Dwight will almost certainly be limited to a max of $18.996 million (105% of his last year's salary). For "30%" to exceed that amount, the cap would have to exceed $67M. Very unlikely.
ITEM: The cap can be no lower than $58.044M. It can go as high as revenues take it. With the cap at the minimum of $58.044M, you would be able to give Deron and Dwight about $16.44M each.
With the cap at $60.792 million, you could give both Deron and Dwight equal salaries up to the limit on Deron's salary of $17,177,795 each, and there would be $1,267,014 left over to keep other players. Or Deron could get his full max of $17,177,795 and there would be about $18.46M left for Dwight, which is within $536,000 of his full max. Obviously there could be other ways to split it as well.
If the cap is $61,560,948 or higher, you could give both Deron and Dwight a full max salary. With a cap above that $61.561M number, there is spending room left over even if you pay both at their full max.
THE TO-BE-DETERMINED DETAILS THAT WILL MUDDY THOSE NUMBERS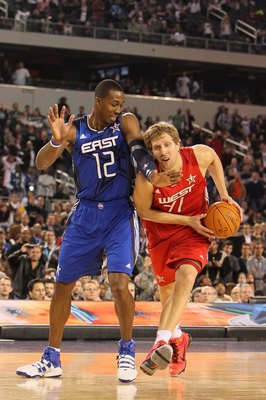 While we all have assumed the Mavs can simply wipe their cap clean apart from Dirk's salary, a few items are still up in the air in order for that to happen. And by the time all is said and done, they will have some choices to make.
ITEM: The big contracts that are currently on the cap for 2012-13 beyond Dirk's are those of Haywood and Marion. At some point those would have to be traded with no 2012-13 salary coming back to Dallas, perhaps in a transaction similar to the one that brought Odom to the Mavs from LA. If needed, the salary of one could be removed via the amnesty process
ITEM: Odom is also on the 2012-13 cap for $8.2M, but he can be waived by June 29 and would receive $2.4M for next season. That $2.4M would be charged to the cap. If the Mavs wanted to avoid the $2.4M cap hit, they could trade Odom to another team along with more than $2.4M, and let that team be the one that waives him while pocketing a profit in cash or other benefit.
In recent days there has been talk of Odom wanting to be bought out by the Mavs. While both sides have denied any interest in said buyout, we'll note that if it were to happen, any amount Odom might receive would be prorated over this and next season. Therefore unless the buyout was for zero dollars, some of it would reduce the Mavs' ability to spend in the summer.
ITEM: Carter is on the 2012-13 books for $3.09M and can be kept for that amount. Or he could be traded in a giveaway, or for cash or a draft pick, and cost the Mavs' cap $0. Or he could be waived by June 30 and cost them exactly $800,000 on next year's cap.
ITEM: The deadlines for making waiver decisions on Odom and Carter are currently near the end of June, but such deadlines are always open to being negotiated to a later date if both player and team feel they have reason to do so.
ITEM: There is also the question of whether the Mavs might want to keep the "rights" to some of their players who are set to become free agents. When a player is your free agent, a team can sometimes sign them to a bigger contract than otherwise possible if they have rights to that player, most often described as Bird rights. In our basic 3D calculations, we used the premise that there were nine empty roster slots, and no rights retained.
But the difference between the cost for an empty roster slot and filling one of those empty roster slots with a player's rights is, in some cases, very small. The cost for Kidd and Jet would be substantial, and for West they would gain nothing in the amount they could pay by retaining his rights. But they might want to keep rights on Mahinmi - which in his case would allow them to pay him up to the MLE after signing 3D - with a cap hold of only $854,389 until he was signed (not that much above the empty roster slot hold of $473,604). They would have similar options of "just a tiny bit more" on Brandan Wright ($992,680) and Sean Williams ($915,852), both of whom can be kept for a year at those numbers if the Mavs wished.
With Mahinmi, there would be no deadline - they could keep his rights until they actually obtain the commitments from 3D and need the space, or until they sign him.
For Wright the deadline for a decision would be June 30, and for Williams it would be August 8. Barring a mutually agreed extension, the Mavs would be committed – with contracts fully guaranteed for another year - if they are not waived by those dates.
ITEM: Roddy B can be kept with a cap hit of $2,227,333, or can be sent away in a trade and the resulting empty roster slot would cost $473,604.
ITEM: The choice on DoJo is $1,276,560 vs $473,604.
ITEM: The Mavs may also have a 2012 draft pick to pay for. Contrary to what was reported at the time, the Mavs will have no choice as to whether it will be their pick or LA's. If it's a pick from 1 to 20, it will belong to the Mavs. If it's from 21 to 30, it goes to LA.
Keeping the pick would bring a cap charge in 2012-13 for the salary scale for that pick. The closer to the top of the draft, the more it would cost their cap, with pick 20 costing $1.13M, and 15 costing $1.44M. If the Mavs had the pick but wanted to avoid the cap hit, they could opt to trade the pick before the draft, or send away the picked player in a trade.
WHERE WILL THE CAP BE?
The simple answer is, "Nobody knows."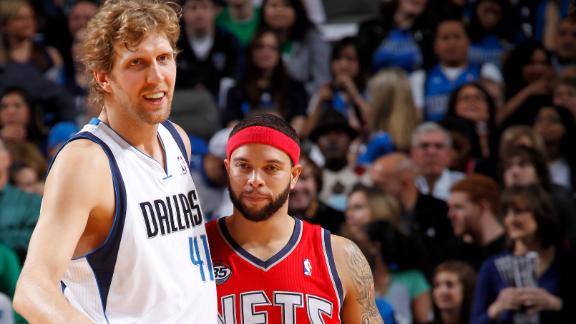 The lazy assumption is that it will simply stay the same. The new CBA's system has a cap that is calculated at 44.74% of BRI (total league revenues) rather than the 51% under the 2005 CBA, which means it's only at 87.7% of what it was previously. And the current cap of $58.044M is a negotiated number that would actually be somewhat lower if using the formula.
ITEM: The 2012-13 cap itself can be higher. Obviously that would affect the amount of spending room the Mavs might have. The lowest it can possibly be is the same $58.044M as in 2012-13.
ITEM: The CBA uses "max salary" minimum figures that have a 5.7%-ish raise built in from 2011-12 to 2012-13. The max salary is based on the cap, and a 5.7% raise would give a cap of $61.3M.
That doesn't mean the cap will necessarily go up to that amount. But when "experts'' try to calculate Dallas' future flexibility using the lowest number of $58.004M … well, that's not necessarily so, either.
ITEM: While the 2011-12 cap was the same as the 2010-11 one, the revenues on which those caps were based actually jumped considerably from one season to the next. But the change in calculation masked the leap in revenues.
ITEM: The cap in 2012-13 will use revenues for 2011-12 as the basis, but they will not be diminished by the shortened season. In fact, they may be increased – and exaggerated?
To reflect the shortened schedule, the league will do their cap calculation for 2012-13 using 82/66 of the actual revenues. But the NBA was able to retain all of its major revenue producers in its shortened season – the Christmas TV schedule (and an enhanced one), the All-Star Game, and the playoffs, and by the time it's all over, they are likely to take in far more than 66/82 of a normal season's revenue. If so, next season's cap will be over-adjusted and will shoot up.
ITEM: Both the sizable New York market and the massive international market in China have been energized by Linsanity …and 82/66 of that resulting revenue gain for the NBA is going to impact next season's cap. (I'll have more info coming on this theme.)
ITEM: Many in the media are simply going with $58.044M as the expected cap for 2012-13 and they may be right.
ITEM: Most teams do their own guesstimates on future cap levels, but for competitive reasons they keep those numbers close to the vest.
ITEM: Using the most reliable source I've found over the last few years in predicting the cap, it is currently projected to be $61.078M for 2012-13.
ITEM: The actual cap for 2012-13 will not be known until the league resumes for business after the 2012 moratorium, which will be no sooner than July 11.
THE BOTTOM LINE
It's easy to get caught up in whether the numbers are "big enough" or not, and as long as the option remains open for Howard and Williams to land in Dallas, we'll continue to see article after article from the NBA Mediaverse explaining their interpretations of the Mavs cap options as we head towards July.
Yet we still think we had the most important item right on the mark when we first wrote about 3D, and it's one that goes overlooked by most.
As we see it, whether Deron and Dwight land in Dallas or not won't really be about the exact numbers. Instead, it will be like we saw with LeBron, Bosh, and Wade all landing in Miami – they will go where they want to go, with a significant part of that as choices being made to win. At the end of the day, just like in Miami, they may forego some possible dollars in favor of creating a team where feel they can win, and keep on winning, through the balance of their career. With Dirk in Dallas, and the Mavs culture of winning, the Mavs might have a large advantage that will trump all the numbers.
But for the Mavs, it all goes beyond Deron and Dwight. The 3D Blueprint is rooted in "flexibility" rather than commitment to a lottery ticket. Maybe at the end of the day they add two stars … maybe they add one …or maybe they keep the core of the team intact and add talent another way. Nothing is set in stone, and anything can happen – and who knows, with the trade deadline looming, the our immediate focus includes seeing of the next time "anything may happen" may be right around the corner rather than in July.
DONNIE ON THE RECORD AND EXCLUSIVELY ON MAVS' DEADLINE PLANS – by Mike Fisher 108am march 5 2012
In order to sound 'cool' or 'inside,' jockworld Woodward-Bernstein wanna-bes often misuse the word and the tool we call "sources.'' Journalism 101 less: It is always preferred (albeit less "cool''-sounding, I guess) to get the quotes on-the-record and for attribution.
Twice this week, the same DFW reporter approached
Dallas Mavericks
subjects (Rick Carlisle one day and Lamar Odom another) and, with me standing two feet away, began his interview by saying, "Hey, speaking completely off the record …''
Problem 1: HEY, JAMES BOND! I AM STANDING RIGHT NEXT TO YOU! How did my colleague not understand that in the unlikely event he was given a juicy answer, that juicy answer is now fair game for me to ask Rick or Lamar about
on the record
… and for me to do so at a later moment when my colleague is not standing within earshot … so that I would therefore break HIS story?
I mean, what are they teaching in Journalism school nowadays?
Problem 2: To BEGIN the questioning session with the offer of off-the-record conversation blocks the possibility that the subject might give you an important answer. The offer of an off-the-record is the last resort, not the first resort. But … "off the record'' sounds so intimate, so inside, so cool!
Same thing with sources.
We aren't support to offer the cloak of anonymity without a damn good reason. Now, it's Trade Rumor Traffic time, and we all tend to get a little more loosey-goosey on stuff; we're not discussioning National Security here, only whether the Celtics wanna dump Rondo – so leeway is permissible, I say.
Nevertheless, a news story about a controversial or important subject that is printed with the help of an involved person who is willing to go on the record? Worth journalistic gold.
Or, if not "gold,'' at least worth today's nine cents.
Which brings me to my conversation with Mavs GM Donnie Nelson.
I ask forthright questions on two subjects:
One, will the next two weeks of on-court play in any way change your thoughts on the Mavs being "buyers'' or "sellers'' at the deadline? You aren't selling now, but what if we get to March 15 and the Mavs don't look like legit contenders?
Two, smart Mavs observers know what
Shawn Marion
's Summer of 2012 destiny might be. And
Brendan Haywood
's, too. And those two guys themselves understand, believe me. So, Donnie, before the rumors start regarding you moving Shawn and/or Brendan now instead of then, will you address the plans?
"Let me put it this way,'' Donnie tells me. "Our approach is that it would be an insult for management to go to any of these players and tell them they can't win. These guys have rings. They CAN win. This is a group of guys who are very devoted to trying to do it again.
"Now,'' Donnie continues, "not all of them were on last year's team. And each guy is cut from different cloth. Let me tell you something about Delonte West: That hand/finger surgery thing, it's supposed to be three more weeks before he comes back. But the kid is about ready to take a hacksaw to his wrist so he can come back out there and be a Dallas Maverick.
"And somebody thinks I should tell him he can't win?''
One more from Nelson in summary: "When Mark (Cuban) uses the word 'opportunistic,' he's not just blowing smoke. Our name of the game is championship contention. So I'm not going to address any specific player. But no, we're not 'dumping' people or doing things like that. If it doesn't have to do with championship contention, we're not doing it.''
I sense some Mavs fans misunderstanding about "dumping'' as it relates to The 3D Blueprint and the summer of 2012. Now, this is me talking, not Donnie. But understand: Trading Marion or Haywood now is not more desirable or more easy than in July as they could in March. They are under no pressure to do so for the future edition of the team, and if they do so they weaken the present edition of the team. Will some NBA team in July want to "help'' the Mavs by acquiring Marion or Haywood? It's not about that. It's about each franchise helping itself, and adding players of their caliber will be helpful for their future teams.
Or …
Marion and Haywood might be helpful to the team they're already on.
The excitement of The 3D Blueprint has caused that aforementioned misunderstandings and lots of assumptions, too. The writers who are telling you they "guarantee'' Deron and Dwight are coming to Dallas? They've done no research. They are slapping on hogwash. The reason the Mavs don't want to trade to clear room now is because they only want to strip down so completely if they acquire BOTH Williams and Howard.
Remember, Dallas can easily find cap room to get one of them.
Now, Mavs owner Mark Cuban may be step-away-from-his-crack-dealering when he
says the following on a Bill Simmons podcast:
"So, Deron Williams, Dwight Howard, all these guys that people talk about are out there, but that might not be the best decision for us. It may be better for us to pay our existing guys, keep our existing guys. It may be better for us to wait another year, because in the third year of the CBA, the new tax kicks in with the big escalators and then that pushes down the price of players, so we might be in a better position waiting for Year 3 or Year 4, just depending on what it is, to go out and get that complement to Dirk or the next Dirk, whatever it may be."
That's not the primary goal, obviously. But it does illustrate how wide-open Dallas' considerations are and should be.
Now, backing away from that crack dealer ...
So this summer, Dallas will first explore the willingness of Howard and Williams to sign in Dallas. Then, if they get two answers in the affirmative, Donnie and Cuban will have two weeks to push the ensuing dominoes. They'll make some transactions as quickly as in a day, as happened in December in two separate deals involving Odom and Rudy/Corey. They'll do it the way Miami did in in the wake of joining LeBron and Bosh with Wade.
And they'll do it with ease, because remember, teams with cap room have to spend that cap room. The Mavs, in the 3D scenario, are going to be willing to give away talented players with very reasonable contracts and will therefore be offering some of the most desirable choices possible in this otherwise-soft 2012 free agency.
But that's then. This is now. And for now, Shawn Marion and Brendan Haywood are starters on a defending champion prepared to be "opportunistic'' in contending again.
That's Premium Mavs information. The facts are straight and the "sources'' are on-the-record.
MAGIC WANT TO KEEP HOWARD AND ADD? – by Chuck Perry 108am march 7 2012
Orlando To Keep Howard and Add at the Deadline….Supposedly
According to
Adrian Wojnarowski,
Rich DeVos, the 85 year-old Magic owner, would rather roll the dice this season on a shot at the title than give up and trade Howard now. Apparently, DeVos is surrounded by 'yes men' and "rival teams believe no one in the organization wants to tell the Magic's 85-year-old owner, Rich DeVos, that they recommend trading him," according to AWoj. Instead of reading the tea-leaves the same way nearly everyone else is, the Magic will instead attempt to acquire talent to pair with Howard. "Orlando has made it clear to everyone that it's a buyer to find help for Howard, not a seller. Yet, most teams believe the Magic will eventually realize they simply don't have the assets to bring back a significant player to join Howard." Indeed, Orlando's most attractive piece, by far, is Ryan Anderson, who has already affirmed his desire to return to the Magic regardless of whether or not Howard does.
Diaw Update
Apparently Boris and his agent are inquiring about a possible buyout.
It seems more and more that the only thing keeping Diaw in a Charlotte uniform is the $9million owed him this season. If he agreed to a buyout, by giving some of that up, he could soon be playing for another team. New York, representing a reunion with Mike D'Antoni or Phoenix, where he still
apparently owns a home.
Jamal Crawford for Ridnour
Rumors have persistently held that Jamal Crawford may be on his way out. They have also held that
Portland wants a point guard and they just might be swinging for the fences (think Nash or Rondo).
However, that remains unlikely unless the Blazers are willing to offer more talent. A backup to that plan might be Luke Ridnour of the Timberwolves, might be available since, according to
Alex Kennedy, the T'Wolves are pursuing Crawford.
Market for Celtics Big Three is thin…would they settle for a lottery pick?
Danny Ainge apparently is having a tough time dealing any of his aging Big Three. Ray Allen and Kevin Garnett are in the final year of their deals but Paul Pierce has two more years and $32.1 million owed him. Perhaps this is part of the reason why few teams are willing to give up significant pieces for any but Allen (and, to a lesser extent, Pierce). Perhaps this is why Boston might just
settle for draft picks.
LATEST GOSSIPPY QUESTIONS: THE DWIGHT FREEZE?, MARION ON WARRIORS' LIST?, WHO NEEDS 'SHEED? - by Chuck Perry, 9pm March 5 2012
League-wide Talks Frozen Until Dwight Howard Situation Solved?
That's the word from Ken Berger of CBS
who reports that teams talking trade as the March 15th deadline approaches are in a holding pattern until the Orlando center's fate is decided. Supposedly Orlando is telling interested teams that they intend to keep Howard beyond the deadline, however, he has not publically affirmed his desire to stay in Orlando beyond this season. Most Mavericks fans are hoping that Orlando does indeed hold off on trading Howard within the next nine days since the foundation of 3D involves signing Howard in the summer.
Will the Thunder be 'Buyers'?
Depending on Thabo Sefolosha's injury,
they could be.
If Sefolosha's injury will sideline him for more than a month, Oklahoma City could be in the market for a defender at the guard position.
Diaw on the Market?
The Bobcats are thin on assets, but apparently Boris Diaw is clashing with Charlotte coach Paul Silas. Richard Walker of the Boston Gazette wouldn't be surprised
if Diaw was traded this season.
He is due to be a free agent in the summer, and so his contract is favorable for teams seeking financial flexibility. If he is not traded, he is a candidate to be bought out.
Heat Looking at Sheed?
According to Brian Windhorst, the journalist who moved from Cleveland to Miami with LeBron James, the Heat are on the prowl for a reserve big man. With Chris Bosh away from the team and the Heat's issues at center apparent to all, there is a clear need for a talented big man in South Beach. Last week, they supposedly
worked out Rasheed Wallace.
Surely they are working the phones as well, but outside of their Big Three, the Heat have few tradable assets.
Chris Kaman to Warriors? Joe Johnson for Monta Ellis? Marion to Warriors?
The San Francisco Chronicle
has published a very comprehensive list of the Warriors potential trade partners.
In it, they pitch that the Warriors front office believes it can obtain Joe Johnson. Also, apparently the Warriors have talked frequently with New Orleans regarding Chris Kaman. Further, supposedly the Warriors "like Dorrell Wright and Brandon Rush more than dealing for Shawn Marion." They then drop the quote from "one Warriors source," who "can't tell what Dallas is doing. I am as confused as anyone else."
DB.com is not confused regarding Marion's availability. Details to come ...
TRADE RUMOR TRAFFIC: BREAKING UP THE CELTICS, A MINOR MAVS MOVE AND A MAJOR MAVS IDEA - By Chuck Perry and Mike Fisher, 655p mar 3 2012
*Word is the price for Kaman is coming down. And if it keep shrinking, the Mavs want in.
A month ago, the Hornets shut down Chris Kaman while awaiting to trade him. At that time, they were seeking a young player and a draft pick (isn't everyone after youth and picks?) as well as an expiring contract,
according to Chris Broussard.
However, his price appears to be coming down coming down and they might be willing to accept "a second-round pick" for the talented big man.
If Kaman receives a buyout or is otherwise available in a giveaway? It's difficult to get even unnamed sources pinned down on the subject of Dallas will be among the bidders for the services of Kaman. Tampering is worth avoiding -- especially when it involves a property who is employed by the team that is owned by the league.
But ... Kaman's an offensive threat at center, he's been discussed by Dallas before and he's a buddy of Dirk Nowitzki.
The two of them dined together at Kaman's home this Thursday before the Mavs-at-Hornets game. Kaman wouldn't be a budget-buster for the Mavs and would help Dallas get more offense from its front court.
The Hornets needn't be in a hurry here. In fact, they are wise to attempt to wait this out until the deadline, during which time they'll deny to teams their willingness to simply buy Kaman out.
But if the opportunity exists and when the time is right? We're here to tell you that Dirk will be a recruiting tool. Until that time as it regards Dallas bigs? Well, with Brandan Wright suffering from a concussion, the Mavs are bringing up to the big club Sean Williams, who will jump from Frisco to join the Mavs in OKC for Monday's game.
*It seems more and more likely that the Celtics' 'Big Three" as well as Rajon Rondo MIGHT soon be playing for new teams.
According to Sam Amick (and other outlets), the Clippers are hot after Ray Allen.
After losing Chauncey Billups and missing out on J.R. Smith, the Clippers have a void at shooting guard. However, their arsenal of tradable assets is a bit thin after the Chris Paul trade.
The Celtics are said to be seeking young talent and a draft pick. Interestingly the Clippers lack the latter because "Their 2012 first-round pick went to Oklahoma City in a deal for point guard Eric Bledsoe, and was then moved to Boston in the trade that sent center Kendrick Perkins to the Thunder. The Clippers also had Minnesota's unprotected 2012 first-rounder, but gave it to New Orleans in the Chris Paul trade."
Celtics GM Danny Ainge has also apparently
offered Kevin Garnett in an attempt to land Josh Smith.
Paul Pierce, the third member of the "Big Three" is apparently sought by the Lakers, Clippers and the Rockets.
*Is Jamal Crawford available? Multiple outlets are reporting that Jamal Crawford, just three months after signing with the Blazers, may be
on the way out.
... Minny's Michael Beasley seems to be the most-discussed name of all ... DeMarcus Cousins insists he doesn't want out of Sacto ... The team most likely to get, um, "plucked'' in a trade? We'll vote Blazers, as they seem in disarray on the court and off.
POINT GUARD GOSSIP: THE LATEST ON DERON, DEVIN, RONDO AND MORE - By Chuck Perry, 655p mar 1 2012
Are the Lakers chasing a point guard? And are there teams in pursuit of PGs that might clog up the Mavs' plans? What PGs are being shopped?
*The Lakers may be chasing several PGs since their failed attempt to land Chris Paul. According to one note,
they may be after Kirk Hinrich.
Last week they seemed to be chasing Raymond Felton.
*Still the one rumor that wont go away
is their interest in the Cavs' Ramon Sessions. As was reported almost a month ago,
the Lakers have a clear need at point guard. In a league increasingly dominated by those at the position, the Lakers have 37 year-old Derek Fisher and Steve Blake. They are so desperate for relief that they've been rumored to be chasing Gilbert Arenas.
So the Lakers are clear 'buyers' in the point guard market. But who might be selling?
*
The Celtics, in the midst of their rebuilding process, are continually reported as "actively shopping" Rajon Rondo.
We're not clear on the logic of dumping a young star on a contract that pays him just over $10 mil a year over the course of three. And the Celtics continue to strongly deny the gossip.
*
Also, the Jazz are said to be interesting in moving former Maverick Devin Harris.
Milkface!! However, it's unclear whether either of these two teams would be interested in what the Lakers have to offer.
*What the Lakers can offer in return is another story, and where these rumors get their Mavs connection. Thanks to the Lamar Odom trade, the Lakers now have an $8.9 million trade exception that they can employ to absorb salary. Also, the Lakers have been said to be willing to move Pau Gasol in the right deal. Would they trade him for Rondo? Those rumors were floated weeks ago but seem to have died down for now. … When new life is breathed into them – and that will happen between now and March 15 – Trade Rumor Traffic is on it.
*Oh, one more Mavs-related PG thing:
Could the Lakers' ambitions for a PG be at odds with the Mavs' ambitions to acquire Deron Williams?
Well, the Lakers will not have the room to sign Deron openly and would be forced to rely on trades. Therefore, they would have to consummate such a deal before DWill hits free agency, which is unlikely given the Nets stated aims. Indeed, they are interested in acquiring Dwight Howard, and are hot on his trail. They wouldn't consider moving Williams until they know 1) They will never land Deron AND 2) Deron would likely sign elsewhere if given the chance.
TRADE RUMOR TRAFFIC: 10 NASH-FOR-ODOM TAKES FROM 'ON THE STREET' - By Fish, Lord and the DB.com Staff .. 1021am mar 1 2012
You could, conceivably, stop reading right here as we tell you that the Nash/Sarver truce is, according to what we've been told this morning, remains in place. But you'll keep reading ... because this stuff is catnip!
Side 1: Technically, a trade of Lamar Odom from Dallas to Phoenix in exchange for Steve Nash cannot be done that simply.
It can't be a one-for-one. Aw, can't we excuse away the original report from a DFW writer via Twitter because he was limited to 140 characters?
Nah. Because he could've used the next tweet to flush out, in 140 more characters, the fact that it would require more bodies. And that ensuing tweet hasn't come.
Truth is, there's no credibility here. There is no "word on the street'' … well, there is now, now that the writer put it on the street himself.
Furthermore, a source tells DB.com this morning that there is no change in the Nash-Sarver CYA dynamic that keeps Steve in Phoenix as the face of the franchise ... and keeps egg off the faces of player and owner.
Nevertheless, it fits somewhere into "Trade Rumor Traffic'' by definition. And because it involves two intriguing Dallas Mavericks-related names, well, it's catnip to The 75-Member Staff.
"Just Odom for Nash I'd do in a heartbeat,'' Michael Dugat says. "There are other guys I'd throw in (think Jones), but I would be hesitant to include any young player or draft pick which may help a sign-and-trade this offseason. Nash is short-term ... whatever may be gained in the offseason is likely long-term. Hate to lose assets for a lesser opportunity now.''
That may be the best one-paragraph summary of what will and won't go on, of why you'd like it and why you wouldn't.
But it's catnip. So David Lord, Chuck Perry, Kevin Brolan, Michael Dugat and Fish all want a piece of this … a piece of how ridiculous it it? In part. A piece of how to nudge it toward reality? Let's try …
Side 2: Dallas' immediate need of a backup 4.
David Lord says "Dallas would miss Odom more than anyone realizes because he's the best backup 4 Dallas has ever had for Dirk.'' And, D-Lord says, "hhe was starting to be used in some very helpful ways, especially while West is out. Hey, look at the Nets game and look at the Grizz game. LO was missed.''
Ah, Fish counters: "You can't miss what you never had. He cannot be "the best backup 4 who's ever played here'' because Lamar Odom doesn't really play here.''
Side 3: But for the Mavs, in general, isn't Nash a better everything than Odom is?
Lord: "If we're just playing 'Fantasy Trade'? Sure, I think Dallas would do some form of that deal. And Nash would help especially as these Mavs struggle way too much on offense.''
Side 4: Why would Phoenix have any interest in giving up their face of a franchise for a guy who doesn't show his face?
Michael Dugat: "If you come to the conclusion that it makes sense for the Mavs to look to move Odom, that's one issue. But it would be hard to imagine his value is as high as Steve Nash right now. At this point, you'd have to imagine most NBA teams who are interested in Odom – if there is indeed any interest -- are simply waiting for him to be bought out ... which may be the primary motivation for Cuban's strong anti-buyout comments.''
Side 5: Why does anybody think Nash is getting traded?
He is the only player who sells them tickets in Phoenix. He is the only player who gives them hope in Phoenix.
"The reasoning behind Phoenix keeping Nash always seems to leak out as his ability to put asses in the seats right now,'' Dugat says. "In one regard, there's no way Odom qualifies for that ... on the court. However, Khloe in the stands likely sells more than a handful of seats that may otherwise sit empty. But short of Sarver putting Khloe on the cover of the media guide, no. It doesn't fit.''
DLord notes the odd dance that Sarver and Nash have long participated in.
"There's a really bizarre "Nash has to say he wants to be traded" hedge that Sarver is using alongside Nash's really bizarre hedge saying "I'll never ask for a trade." I'll tell you what this is: It's neither of them willing to face the wrath of Phoenix fans. Sarver doesn't want to be the guy who couldn't keep Nash and Nash doesn't want to be the traitor who turned his back on the Valley of the Sun.
From Fish: "In fact, you watch what really happens: It'll be this summer. Sarver and Nash will work together to create an escape that leaves them both unscathed publically. Maybe it'll be "Nash really owes it to Canada to play for the Raptors.'' Or "Nash's children spend time in New York and Steve needs to be closer to them.'' Or even, "Stevie deserves a chance at a title so we're letting him go to Dallas.''
"But for now,'' Fish continues, "I'm being told there is no change. The truce remains in place between Nash and Sarver.''
From Dugat: "If the Suns choose to reward Nash for the loyalty he's shown them, maybe they're willing to send him wherever he wants to go. If so, I can imagine Dallas could be high on that list.''
But again … such charity fits best in the summer. Not now.
Side 6: The bidding on Nash.
From D-Lord: "If he is actually traded, there should be plenty of competition and the bids should be strong. Orlando will offer a kitchen sink deal, I bet. And Portland may be aggressive, too. Odom won't get it done. And I'd be disappointed in the Mavs if they got involved in kitchen-sinking for a rent-a-player.
Fish: "And hey, if Nash can go to Orlando and Phoenix can get kitchen sink for him, that truce can be off. Stevie's with a contender and Sarver saves face.''
Side 7: Does Sarver want to do business with Cuban?
We sense underlying issues here. Meanwhile, we sense underlying issues in the Dallas locker room regarding Lamar's absence. Listen, in the NFL, this would be a blip on the team's radar. In the NFL, an injured player or a whacko (unless he's the QB) is "out-of-sight/out-of-mind.'' But as one of 15 guys in the cramped quarters of a locker room, a team bus, the hotel floor, the team plane? "Underlying'' doesn't stay "under'' very long.
And one more "underlying'': While the "word on the street'' reporter has no credibility, ESPN's Marc Stein does. … especially in matters of Steve Nash. There are relationships at play here. Sarver and Cuban … Odom and mates … and Steiny-Mo and Nash. When Marc writes about the idea of Nash coming back to Dallas, we're sure he'd admit openly that he writes it rather wishfully.
So … we all have our underlying issues and our biased motivations.
Side 8: Would this be a form of "salary dump'' for Dallas?
A semantic argument, maybe, based on what the Mavs did with Rudy/Corey. Was that a "salary dump''? If that step was made in December, why can't a similar step be made now?
Perry: "With Carter/Odom in in December and then then Rudy/Corey out, that to me represents a "dump'' in the narrow sense they got nothing back in the trade. But with a larger perspective, it was clearly a "swap" of one set of talent and salary commitments for another set with about the same cost in 2012-13 and taking the same minutes out of the rotation. So haven't the Mavs already shown a willingness to do this? Lord: "Which pieces have they "dumped" so far?
None. The Mavs refused to commit to massive overpayments (in their eyes). But the contract to Carter and the trade for Odom ADDED cap money for next season. That's not a "dump.'' That's a "get.'' They are being selective, trying to be smart in their spending. There's no "ditch-salary-at-all-costs" mode at work.''
Side 9: Dwight Howard implications?
From Chuck Perry: "Thinking in wide-angle: Nabbing Nash now does help solve another issue: It would keep him from Orlando. There have been multiple rumors floated that Otis Smith might be trying to acquire the veteran point guard to pair with Dwight in attempt to placate the big man enough to keep him around. Without Nash, the odds Dwight looks elsewhere (perhaps Dallas) only increase.
Side 10: So … Would a Nash-for-Odom help or hurt the 3D Blueprint?
We answer that question with a question: "Is offseason cap room the name of the game?'
Chuck spitballs: What if instead of waiting until the summer to move, say, Marion, you do it now? What if Marion is part of this deal? Agreed that giving up Marion undoubtedly makes this year's squad worse off. However, offseason cap room is the name of the game. Thats the way forward for the franchise. As constructed, the Mavs are only half-ready for such a plan. Shedding Marion, while undoubtedly painful, makes them nearly completely 3D-ready.
"I think it will only become harder and harder to trade Marion as time goes by. By now, everyone in the league knows what the Mavs plan is, and why would any be willing to help them create another Super Team. If you can dump him now, you do it. For the long-term health of the franchise.''
Counters D-Lord: "I'd argue vehemently that neither their words, their actions, nor the possibilities match this statement. They've said in just about every way imaginable that they do not ascribe to such a philosophy. If you shed your entire talent base for a lottery ticket on D12 and DWill and don't get lucky, you've just thrown the rest of Dirk's tenure in Dallas (including this season when anything can happen and Kidd is the best he will be going forward) in the trash. I'm not interested and I bet they aren't either.''
Fish: "We need to be careful to understand that as much as we talk about the 3D Blueprint and as much as some media members have taken our ball and run with it ith words like 'guaranteed,' you can't blow things up now in anticipation of the summer. Furthermore, you don't need to. If and when Dwight and/or Deron are Dallas-bound, you can make the Marion and Haywood decisions then. This logic is why it was so easy (with the help of Mavs sources) to shoot down ESPN's Roddy B trade rumor. There is no rush to make that move … and no rush to commit to a Summer Plan until the Summer Plan is ready to commit back.''
So, to close … As we continue to explore this, up to the deadline and then all summer, we need to know that the phrase"financial flexibility" was not and is not a synonym for "dumping talent'' but rather an homage to the need to keep the payroll near/under the tax line in the future.
Somebody making up fantasy trades on Twitter creates some fun for us. But it shows a lack of understanding on two fronts:
One, barring a true giveaway of Nash, it shows a lack of understanding of what the Mavs' real plans are.
Two, barring a new gentlemen's agreement between Nash and Sarver, it shows a lack of understanding of what the Suns' real worries are.
TRADE RUMOR TRAFFIC: OUR TRICKY WAY MAVS CAN LET LAMAR 'GO HOME AGAIN' - Fish and Lord, 11p, feb 29 2012
For someone with a life so public that during this period of mourning
his wife just appeared on 'Leno' and 'Conan,'
Lamar Odom
's personal issues are tough to pin down, tough to diagnose, tough to get a straight answer on.
Dallas Mavericks
coach Rick Carlisle says he'll release an Odom update on Thursday, March 1. Fitting, because that day is the beginning of our annual intense coverage of the Mavs and the NBA trade deadline, and an update on the absence of the erstwhile star would be helpful.
Does he want in? Does he want out?
The personal issues involving Lamar Odom and the Dallas Mavericks? We've got you covered.
(Check here for our archive of recent stories on the matter.)
The questions about those issues? We're caring enough and tolerant enough and open-minded enough to consider all sorts of reasons for mourning, and we'll even toss out this one: When Joe Odom tells TMZ that his illness that caused his son to ditch the Mavs turned out to be nothing more than a "stomach virus'' … what if Joe's lying? What if Dad Odom – who has a history of substance abuse – is the one not revealing the truly serious nature of an illness? (A relapse? An alarm-causing scare that Dad was taking a backwards step toward a binge? A stomach issue caused by dumping stuff in it that shouldn't have been in there?) We still don't know with medical certainty what pulled Lamar to southern California.
Frankly, we're not betting that's Dad's health the issue. But we're open to the possibilities.
What we're betting is the issue is Odom's desire to respond to feeling "unloved'' by unloving everybody else right back. Mavs owner Mark Cuban insists that a buyout will not be granted … and then Mark scoffs at the idea that we would ever even think of that as a possibility.
But if it's not a possibility then why does it merit a denial?
It's painful to watch (especially when Dirk goes down as he did in the loss to Memphis and for all we know, Lamar is in Hollywood hanging out in the green room while Khloe visits "Conan''). But the Mavs wish to retain Odom because he is an asset. A cap-saving asset later and, if he deigns being in Dallas for the playoffs, an asset with a championship pedigree when it's time to "flip the switch,'' as one Mavs insider tells DB.com.
But Dallas also wants to pacify Odom because his agent is Jeff Schwartz, who also represents targeted free agent Deron Williams.
Relationships are everything in this racket. … and the Mavs want The Schwartz To Be With Them as they gear up for the 3D Blueprint.
So what can happen with Lamar? Our reading of the new CBA rules is clear:
The rule in the new CBA says:
If a Team trades a player and the assignee Team subsequently places the player on waivers, the assignor Team shall not be permitted to sign the player to a new Contract (or claim the players off of waivers) before the earlier of: (i) one year following the date all conditions to the trade were satisfied; or (ii) the July 1 following the last Season of the player's Player Contract.
The upshot: If Odom is waived (a "buyout'' is a form of a waiver), since his player contract signed with the Lakers covers the 2012-13 season he couldn't sign with the Lakers until a year from his trade to Dallas, mid-December 2012. If he wants to play in LA next season, getting the Mavs to waive him probably kills that possibility, and the Lakers won't have any cap room next year anyhow.
So if it is Lamar's goal to go "home,'' seeking a buyout from Dallas now won't help him do that.
But if the Mavs keep him – and don't just waive him in June in order to reduce their cap impact from $8.2 mil to $2.4 mil -- we've got an idea that will help everyone.
How about a reversal of the transaction that occurred in December, with a trade of Odom back to the Lakers?
By rule this one would have to wait until July. That timing also makes sense for the Mavs as it allows them to have Odom available to do what they acquired him to do, which is to help them compete for a 2012 title.
Once we get to July, the most logical way to do it would be a simple reversal of the December transaction, with the Lakers using the trade exception they acquired in last fall's deal and sending the Mavs a protected No. 1 pick. The Lakers would get back their former player and the Mavs -- after a one-year rental -- would get back their 2012 cap room and pick.
If we're the Mavs, this is the kind of thing we're discussing with Schwartz right now. And to make it maximally advantageous for all parties, we're likely discussing even more.
Right now, Odom has to be waived by June 29 if the Mavs don't want him on their cap for next season. With such a waiver, he receives $2.4 million. But if the Mavs are forced to make that decision by then, how could they trade Odom to the Lakers in July?
We might humbly advise the Mavs to negotiate to get that deadline extended to mid-July. By doing so, the Mavs can wait and see if they need cap room for
The 3D Blueprint
before having to make a decision on Odom ... And that later deadline would also add a trade of Odom back to LA as one of the possibilities should they need to move him off the roster.
Within the discussion, we'd also ask to get the guarantee reduced from $2.4 million down to $0, in exchange for an understanding that the Mavs will try to trade him back to the Lakers at that time if that's what he prefers.
If what Lamar Odom wants is "to go home again,'' we have discovered a way.
Of course, life for the Dallas Mavericks would be so much easier if he'd simply accept that for the next four months, living at the W Hotel, then crossing the street to work at the AAC, then cashing $8 million worth of checks to serve as the eighth man on a championship contender really isn't such a bad temporary "home.''