There are some 2012 numbers that are fixed. Dirk Nowitzki, for instance, will get $20,907,128. That's locked in. There are other numbers that remain fluid. For instance, no matter how many times Sports Illustrated keeps writing that the 2012-13 cap will be $58.044 million, they are wrong – wrong in thinking it's fixed.
The
lowest the cap can be is be $58.044 million. Depending on NBA revenue, it can also be $60 million. Or $61 million. Or whatever. (Using the most reliable source we've found over the last few years in predicting the cap, it is currently projected to be $61.078 million for 2012-13.)

That will have a great deal of influence regarding what the Dallas Mavericks can do if Deron Williams stays in New Jersey today and on July 1 becomes a free agent, open to invitation from his hometown Mavs. But that is a story for another day. Today …

What will Dallas be able to pay Deron Williams?

Chris Sheridan is reporting that number to be "four years and 59 million.'' Chris is so far off that we assume his report to be a typo.

Here are the facts and the true numbers: Deron will probably be limited by a first-year max of $17,177,795, which is 105% of his prior salary. But that limit would be increased to "30% of the cap" (it's not really 30%, it's actually only 28.256592%) if the NBA's 2012-13 salary cap is higher than $60,792,168. Which is possible.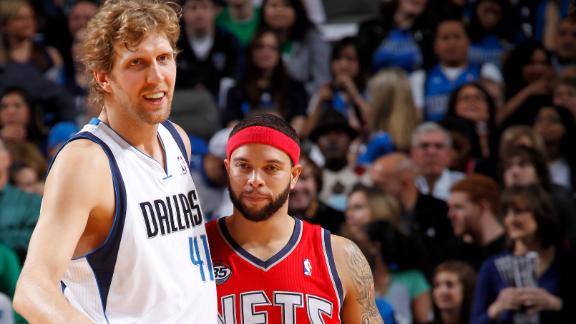 With his raises over the course of the four years, Deron's total contract in Dallas will be at least $73.5 million.

It is obviously true that he can make more by sticking with New Jersey and thus being given a fifth year. But low-ball guesses on his salary and low-ball guesses on what the cap will be are worthy of correction.

Now that you have the numbers straight ... go back to your nail-biting, hoping that Nets moves today aren't enough to convince Deron to stay ... and hoping that July 1 is the start of a shot at the 3D Blueprint.