DONUT 1:
Rick Carlisle on Saturday's 101-99 overtime win over the Rockets: "It was the biggest win of the year for us,'' the
Dallas Mavericks
coach said.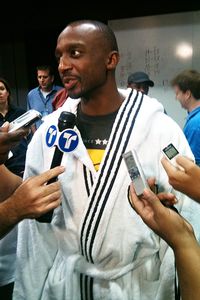 Had the Mavs lost that game, they would have been in the No. 9 spot and out of the playoff picture, however temporarily. That's why the pregame talk in the locker room was all about playoff-style urgency.
"We knew,'' says
Dirk Nowitzki
, "it was going to be on for the rest of the season.''
So the Mavs approached that one as if it was an "early playoff game.'' The atmosphere at the AAC tonight will be the same, especially as it pits the same two teams ... just like a postseaon series.
"Nobody is guaranteed of being in the playoffs,''
Jason Terry
says. "You're a three- or four-game losing streak from being out. So you have to really look at every game and take it serious. ... Hopefully once we get to the playoffs -- if we get there, which I'm optimistic that we are going to be – it's going to turn around for us. ''
Here's your Official Mavs Playoff Race Tracker
… All the contenders in the West, their schedules, and the analysis of who's who!
DONUT 2:
Both
Brendan Haywood
and
Delonte West
were in their practice unis and participated in Monday's working in at least a limited way.
"They're inching closer,'' Rick said of Haywood (sprained knee) and West (fractured right ring finger).
Haywood will be re-eveluated after this morning's shootaround. West is talking about wanting to play in Thursday's game against the Miami Heat but that seems unrealistic.
DB.com has the practice video of a Delonte drill:
"I ain't going to lie to you, that s--- hurts," said West, who seemed to endure whatever pain there was during those extensive right-hand dribbling drills with assistant Darrell Armstrong.
DONUT 3:
My man Hassett notes, "Luis Scola's face is like a Picasso. I look at it and see a face, but all the parts aren't exactly where they are supposed to be.''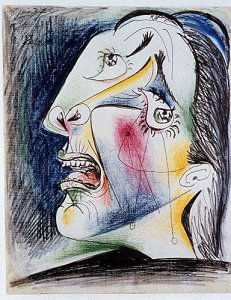 Yup. Dude was a genius.
DONUT 4:
Over the weekend we lost a great character in boxing and beyond and a wonderful and frequent radio guest of mine. RIP, Bert Sugar.
DONUT 5:
I cannot stress enough that while 6-5 swingman Kelenna Azubuike looked healthy enough over the weekend in Frisco, and that while he will eventually get the call down I-75 his real value, his real opportunity to help, might be next year. Dallas has a team option on him, so even if it's far-fetched to think he can accelerate his way into this year's rotation, it's possible that he can be the "steal'' Mark Cuban envisions him to be after a summer of work with the team ... and on a roster that might just need some very affordable support pieces.
DONUT 6:
Please click on the links to DB.com Mavs sponsors like
MavCowTickets
,
Esparza's Restaurant,
Game Havens
and
McKinneyDentist.com
!
Give my sponsors a click, please. They keep DB.com crankin' and they will do you right!
DONUT 7:
"Shoot for the stars,'' Cowboys overachiever Bill Bates used to say, "and even if you fall short, you'll end up on the moon.''
That might be the Mavs PR strategy regarding Shawn Marion, who is having a wonderful season that continued over the weekend when he held Manu to 11 points on Friday and then made the game-saving defensive play on Saturday.
And then on Friday and then on Saturday and then again on Monday his coach stumped and stumped and stumped.
On Friday, Carlisle said: "Marion's probably the Defensive Player of the Year.''
On Saturday, more Carlisle: "He was terrific again. He's guarding the key guy on their team, who was a point guard. He's just really one of the unique guys that I've ever seen. The way he's guarded every position on the floor one of the unique guys that I've ever seen. He's Defensive Player of the Year material.''
On Monday, Carlisle one more time, comparing Trix to non-big-man predecessors Artest and Michael Cooper as do-it-all defenders.
Trix has never even been on the 10-man All-Defensive
TEAM
in his career, as ridiculous as that seems. So to jump from nowhere to the very top? Maybe. But for certain, Trix gets honored at some level after this season.
"Shoot for the stars,'' Cowboys overachiever Bill Bates used to say, "and even if you fall short, you'll end up on the moon.''
DONUT 8:
Stay in touch with Fish and the Mavs on
DB.com Boards
and on
Facebook
and at
FishSports on Twitter
!
DONUT 9:
Perfect retort from Brian Cardinal to Capt. Jack, trying to rip "The Custodian'' for resorting to a rough style because he can't play anymore:
"The thing I take from that is that he thinks I once could play,'' Cardinal says. "I'll take that.''
DONUT 10:
Every day. Every angle. Every Mav.
That's how DB.com has covered the Dallas Mavericks for 13 years now. In 2011, DallasBasketball.com was read by 500,000 people. ... stunning, really. Knowing you are reading this ... and hearing your feedback ... enriches the experience for The 75-Member Staff.
We're excited to be able to offer you, for pennies a day, all the analysis, the numbers, the exclusive Video Visits, the whole experience. Please try our Premium Mavs coverage!
This is what we do, every day, with 28 years of experience on the beat! You get All-Access to what the Mavs are doing upstairs, down in the basement, in the locker room and on the court – and it's free to come inside for
a 7-day tryout. Now more than ever, there's no reason not to give it a go! Thanks for your support of the site at less than a dime-a-day! Go Mavs and Go Premium!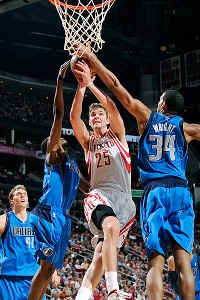 DONUT 11:
I gave props to Brandan Wright on TV on Saturday after his rather dominant effort in the win, with 14 points, six rebounds and seven blocks. My praise wasn't just about his numbers and his presence and his effort, but also about his approach. This is a scrap-heap guy, an LIBB, a former lotto pick trying to start over again. He's making NBA minimum money, and unlike a couple of his teammates, he's not letting the uncertainty of next summer bother him.
Instead, he's using it to inspire him.
He's a physical freak who manages to avoid consistent lapses in judgment common to 24-year-old players trying to forge an identity with a new team. As such, Carlisle had enough trust to leave him on the court when the game was decided.
Six of his points, four blocks and three rebounds came in the fourth quarter and overtime. When the team needed his contribution the most, he stood tall and altered the course of the game.
And when you ask Wright about his accomplishment?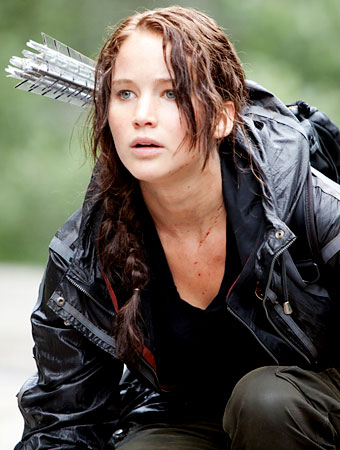 "It was a team effort,'' says the kid after his best game of the year. "Guys did a good job of funneling guys to me. I was there to pick up the slack."
We're not sure what opportunities he gets tonight, given the potential return of Big Wood. We're not sure of the opportunities he gets this summer, either. Big B-Wright is showing BBIQ on the court and a great deal of wisdom off it by controlling what he can control -- his effort -- and having confidence that his rewards will come appropriately.
DONUT 12:
Thank you for all the kind words about my story,
"My Talk With Lamar: I've Buried A Baby, Too. Now, Is The Pain A Shield Or An Inspiration?''
If you haven't had a chance to read it, I believe it's worth your time.
DONUT 13:
I would advise you, Buster, to stay with the times, or in 16 years you're gonna wonder why the hell all the girls your son dates are named "Katniss'' and your son is going to laugh at your ignorance.