"When you're a Jet you're the top cat in town; You're the Gold medal kid with the heavyweight crown!''
Last week we again endured
Jason Terry
mentioning his contractual future with the
Dallas Mavericks
. But is this just the normal back-and-forth by a player anxious for a new contract to be inevitably followed by a deal with Dallas in the summer? Or as we head into April and May, are we watching JET's last runs down the runway in a Dallas uniform? Let's set aside the rhetoric and analyze the real possibilities.
What Jason Terry wants is simply stated. His contract is expiring, and he wants the Mavs to agree to a new one that will pay him lots of money, for as many years as possible. And he wants the deal done yesterday.
Unfortunately his timing for a new contract couldn't be worse, with the Mavs in a quest to have the cap space to add a younger superstar to complement
Dirk Nowitzki
. The 3D plan for landing both Dwight Howard and Deron Williams this summer ended when Howard opted into another year with Orlando, but signing D-Will is still possible.
Our breakdown of Dallas' "3D Blueprint'' is now a poorly-kept NBA secret, made even more obvious when Terry himself said it out loud during the team's recent swing into Florida.
"They didn't want to bring anybody back from last year… (Dallas' front office is) clearing the cap as low as we can and this summer we're going after Dwight Howard, which hasn't happened, and Deron Williams, which they still have an opportunity.''
Well, OK. At least JET understands that part.
But he needs to understand (and accept?) this: If the Mavs sign D-Will, that rules out a big deal for JET. Period. In order for them to have room to offer D-Will a $17.1M max contract, they will have to cut their current player to the bone, reducing the "Other-Than-Dirk" player payroll from this season's $56.5M to about $20M.
New contracts will have to be tiny, not large.
It's not only JET who will get squeezed if the Mavs go this direction. They will also risk losing Kidd, West, and Mahinmi in free agency, and will have to consider waiving or trading talented players like Haywood, Marion, Odom and Carter in order to get the desired cap room.
But for JET, it's not solely a D-Will-versus-JET obstacle. Even if the Mavs don't land D-Will, if they want to take another stab at a superstar in free agency in the summer of 2013, they will need to continue to preserve cap space and forego long-term deals to others. The 2013 class promises the likes of superstars Dwight Howard or Chris Paul, and also holds young big men Andrew Bynum and Serge Ibaka. If the Mavs miss on D-Will in 2012 and want another shot at a difference-maker in 2013, the summer of 2012 will see them making more one-year contract offers, like they did in 2011.
WHAT OFFERS MIGHT JET GET TO STAY IN DALLAS?
Does all that make it impossible for JET to stay in Dallas and get paid the kind of money he might be able to get elsewhere? It's not necessarily impossible. But it would take extra financial flexibility on his part, driven by his desire to be a Mav, not just an NBAer.
In other words ...
Remember JET's remark in Miami? "That jersey has a logo on it,'' he noted. "It says, 'NBA.' No matter what team it is, it doesn't matter."
If that's the way he really thinks, JET-in-Dallas is unlikely to work.
However, "JET being flexible" might look something like this under various scenarios.
IF D-WILL SIGNS WITH DALLAS …
If the Mavs sign D-Will this summer, they will have to first renounce their Bird rights on JET (as well as some others). Bird rights allow a team to go over the cap to sign their own free agent, but there is a charge to a team's cap until the player signs a contract or until those Bird rights are renounced. JET's would cost them almost $17M in cap room, which clearly wouldn't allow enough cap room to sign D-Will.
(Note that those Bird rights don't have to be renounced until the team has a need for the cap room. That means that if they didn't need the cap space, the Mavs would have the ability to sign JET to any max-or-less contract. We'll discuss the "didn't need the space" possibility below.)
But assuming the Mavs signed D-Will, after his signing they would only have left the ability to fill up the balance of the roster with minimum contract signings, plus a player using one MLE exception of $2.575M (it can be split but would likely go to one player).
That provides the theoretical scenario in which JET is so committed to the Mavs and so eager to play a role on their new two-superstar team, that he decides to start taking the minimum (or the smaller MLE) to stay in Dallas.
JET for the minimum ($1.35M), or for $2.575M? We say this lovingly about JET: From what we know about his finances and his CTC ("Cut The Check'') thoughts ... we doubt it.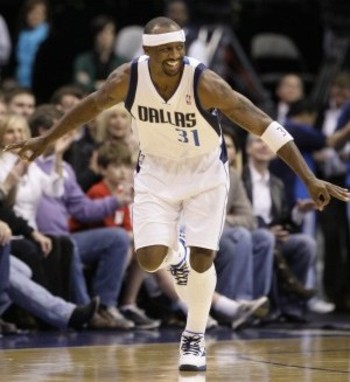 But there's a cap trick that could come into play if both the Mavs and JET feel he simply has to stay a Mav For Life facing that circumstance.
The CBA says when a player's Bird rights are renounced, and he signs with the same team, his waiting period to get full Bird rights again does not start over.
So if JET were to accept a deal that locks him up for only one year with the Mavs, in the summer of 2013 he could be a free agent again with his renounced Bird rights fully restored. At that point he could sign a new deal with the Mavs for any max-or-less amount the two sides agreed on. For example, instead of a new 3-year deal this summer for $6M a year, the Mavs could pay him the same amount over three years using the minimum this season, and then a new 2-year deal at about $8.5M per season in 2013.
Of course most players prefer to have the bottom line set in stone sooner rather than later, and the fact that a deal for 2013 couldn't be put in writing in any way until the summer of 2013 could certainly kill the idea. But if both sides want JET to stay and still get fully paid, that's how it can happen if D-Will is coming to Dallas.
IF D-WILL DOESN'T SIGN WITH DALLAS …
If the Mavs don't sign D-Will or any other big-dollar free agent, then obviously the need to carve out cap space will be nullified. JET's Bird rights will be intact, and the Mavs can sign him to any max-or-less contract they wish.
But in that scenario there will still be a few issues that may get in the way of JET getting the deal he wants with the Mavs.
The primary issue will be contract length. Due to the fact he'll be 35 before next season starts, his advancing age itself (with the natural expectation of a coming decline in play due to age), and the NBA's over-36 contract rule (placing cap penalties on teams that give 4-or-more-season deals to players who will be 35 or older at the start of the season in the first year of the contract), will keep him from getting any offers that exceed 3 seasons.
But that also is likely to motivate him to chase a deal covering the full 3 years, given the likelihood this will be his last big NBA deal.
And that would probably present a challenge for an agreement with Dallas. As we noted earlier, if the Mavs fail to sign D-Will in 2012, they'll likely want to keep their cap room intact for the summer of 2013, when they would try again to sign a superstar to pair with Dirk. That means that if they don't land D-Will in 2012, they're likely to be prioritizing one-year deals, incompatible with JET's desire for 3 years.
Could they get past that obstacle and get JET paid? In a similar way as mentioned earlier, they could get around that issue by doing a one-year deal, although in this scenario the money could be bigger in 2012, then leftovers in 2013, and big again in 2014.
It's not a 3-year deal. But it's doable. Would both sides want a deal badly enough to be that flexible?
BROADER ISSUES THAT MIGHT CAUSE PROBLEMS
Even a willingness to be flexible might not be enough. Other issues might also cause the two sides to go their separate ways.
One biggie - and it's one liable to be overlooked amid the focus on the Mavs self-imposed "chase-a-superstar" limits - will be the amount of annual salary JET might be expecting. His current pay in the last year of a 6-year deal is about $11M. If he's thinking of parlaying the title from 2011 into an even bigger salary -- and we believe that at different times this season that has indeed been Jason's mindset -- the Mavs are unlikely to want him back. In the confines of the new CBA, and with the Mavs salary structure, that big of a deal simply won't work.
If he comes with that sort of demand, we can envision the Mavs pleading cap poverty to spare his feelings and telling him to look elsewhere.
But not only will his salary expectations have to be reasonable, they must also fit into a Mavs budget that will be stopping short of the tax line in 2012. Besides a deal for JET, they will have to consider new deals for Kidd, Mahinmi, and West, and would also have spendable cap exceptions of $5M and $1.96M they might try to squeeze into the mix.
Will JET's expectations fit? It remains to be seen.
IS THERE ANY REASON FOR OPTIMISM THAT JET WILL RETURN?
All those financial issues provide the rationale to think JET might be gone this summer.
But that's not the whole story.
Despite his mouthy advertising for a new contract somewhere else, the simple fact is JET wants to return. He likes playing in Dallas, in a role that's ideal for him, and he's made a positive mark in Dallas off the court as well.
He's not just "auditioning for 29 teams,'' as he says. He's auditioning for 30 of them -- most prominently his present employer.
And from the team's perspective, JET has been a huge contributor to their success over the years. He makes big shots, he talks, he attracts fans, and he carries much of the load in crunch time. If he signs elsewhere, he'll leave a huge hole in Dallas, and the Mavs are very aware of that undesirable fact.
It's easy to imagine that, with some flexibility, they would both find a way for him to return.
SO WILL JET BE A MAV FOR LIFE?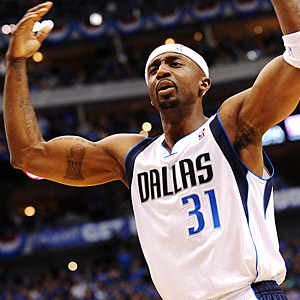 What are the chances that JET stays? On the surface, it looks like his desires and the Mavs' payroll are incompatible. But with a bit of give here, and a bit more there, the two sides could still make something happen. Part of the conversation between the parties, we bet, will involve some financial "intangibles'' involved in staying in Dallas. Are there monetary rewards for not buying another house elsewhere, for keeping JET's big family comfortable in North Dallas, in ending a career in DFW and then transitioning to a post-basketball career in the same city with a JET 31'' banner hanging from the AAC rafters?
My main goal was to come back and retire a Maverick," Terry said. "After no extension this past offseason, I figure it may be time for me to move on. But you never know… I would love to (continue) in a Maverick uniform, don't get me wrong. But we'll see what happens ...''
After all the sweet history made together, both sides are smart to never say "never" … We'll find out whether "finances'' or "flexibility'' is the winner in July.
When you're a Jet you're the swingin'est thing; Little boy, you're a man, Little man you're a king!