DONUT THEORY 1: Jet's Falling Short As A Robin ...
You just can't have your player with the second-most played minutes (1,616 through April 6, second to
Dirk Nowitzki
's 1,677) have a plus/minus of -6.86 and expect to compete for a title ... or at this point, even the playoffs.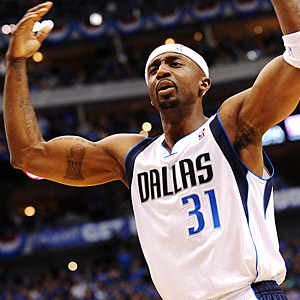 Dirk is currently +9.41 even with his uneven play this year. Odom is the other problem with a -7.50 through 982 minutes played. (And as you might imagine, we'll get to him in a moment.) Even the highly-criticized Roddy is a respectable +1.16.
Dallas Mavericks
coach Rick Carlisle deserves every benefit of the doubt, but as DB.com's Luke Kammrath points out, it can be puzzling when trying to understand why he continually leans on Terry.
Certainly, Rick believes that Terry will eventually come around this year and get back to something like the +3.52 he posted last year. ... Or, because this team lacks better candidates, maybe Jason Terry is simply the best available Robin.
DONUT THEORY 2: All The Stones Have Been Turned ...
And there's nothing left under them.
I visited with Mavs GM Donnie Nelson the other day, and while my question was specific (it regarded the possibility that Odom is dealing with depression and whether the club has addressed that), his answer was wide-angle.
"Fish,'' he said, "you've been around here for 13 years, right? What do you think? Do you think Mark Cuban leaves any option unexplored or any stone unturned?''
That goes for Cuban and Donnie and it goes for Rick Carlisle, too. Guess what the coach did this summer as he explored the marriage of the mind and body and the psychology of positive thinking?
That's right. He walked on fire with Tony Robbins and Oprah.
"I've known Tony for about a year and have become friends with him,'' Rick tells me. "Oprah, I don't know, of course. Except that she's a fascinating woman. She can do anything she sets her mind to doing, I think.''
And so the "stones unturned'' extend all the way to walking on fire with Oprah. But here's the upshoot of the theory: What if the Mavs have simply turned over all these stones ... all these physical and mental stones ... and there's nothing under there?
DONUT 3: Dirk Needs KIDDIRK ...
The old football rule is in play. If a guy can't play for the team, we don't waste our breath talking about him. Rick tried to do that over the weekend with
Jason Kidd
...
"I'm not going to get into Kidd's status because I don't have an updated report on it,'' Rick said of his injured future Hall-of-Fame point guard. "He's doing better, but I'm not going to get into a timetable on it."
Understandable. But you watch this team throw it around the gym (17 turnovers at Memphis is not "playoff-atmosphere basketball'') and you see the need for the quarterback. You watch Dirk throw three Outlet-Passes-To-Nowhere in game-closing situations over the course of Friday and Saturday and you wonder, had J-Kidd been on the floor, if Dirk would've simply handed the ball off to the right guy instead of attempting to UberMan everything himself.
Dirk on Friday after his crummy and costly outlet pass: "That was a brutal play.''
Dirk on Saturday after two more of the same: "Turnovers are hurting us lately. I had two right there in the last minutes. That's tough.''
How many times against Memphis did Dallas revert to its old "rip-and-run'' method following a defensive rebound, with Dirk or Marion grabbing the board and then waving off the guard, opting to bring the ball up the floor themselves? How many times did Jet or another guard lead a break in which the spacing was all wrong? How many times are the Mavs unable to "flow'' on offense because West and Roddy B, for all their abilities, are not Kidd-like?
"The turnovers,'' Jet said, "were our demise."
Maybe Jason Kidd back in control can be the savior.
DONUT THEORY 4: The Season Was Over Before It Started ...
This is an insult that questions the very professionalism of people like Dirk, Kidd, Cuban, Carlisle and Jason Terry.
I find it irrational, because I find those people to be professionals -- professionals enough to have crafted what will be remembered as one of the greatest long-term runs of success in NBA history and one of the grandest underdog title stories in sports history.
Donnie himself finds it to be irrational, too.
"I can tell you that our veteran players are smart guys,'' Donnie says. "They understand the game and they understand the business.''
But this accusation doesn't come only from the outside. It comes from within, from Jason Terry, who invites the negative bandwagon of criticism by saying, "They didn't want to bring anybody back from last year… (Dallas' front office is) clearing the cap as low as we can and this summer we're going after Dwight Howard, which hasn't happened, and Deron Williams, which they still have an opportunity.''
Jet's irresponsible remarks include the insistance that Dallas' acquisition of Deron would mean the dumping of Jet.
Is it really conceivable that Mike Fisher and David Lord and now, DB.com Premium Readers, understand Jet's financial future better than Jet himself?
You can read the entire exclusive story here (it's well worth your nine cents),
but here's a sampler:
Assuming the Mavs sign D-Will, they would only likely have left the ability to fill up the balance of the roster with minimum contract signings, plus a player using one MLE exception of $2.575M.
Jet could be the guy who gets that $2.75M.
Is Jet super-committed to Dallas, so much so that he leaves that money for another guy and signs for the minimum?
Great! Jet for the minimum ($1.35M) and he's a Mav For Life!
Jet and his representatives are as smart as DB.com's David Lord and understands a cap trick that could come into play if both the Mavs and Jet feel he simply has to stay a Mav For Life?
The CBA says when a player's Bird rights are renounced, and he signs with the same team, his waiting period to get full Bird rights again does not start over.
So if Jet were to accept a deal that locks him up for only one year with the Mavs, in the summer of 2013 he could be a free agent again with his renounced Bird rights fully restored. At that point he could sign a new deal with the Mavs for any max-or-less amount the two sides agreed on.
For example, instead of a new three-year deal this summer for $6M a year, the Mavs could pay him the same amount over three years using the minimum this season, and then a new two-year deal at about $8.5M per season in 2013.
That'd be $1.35M next year, $8.5M in 2013, and $8.5M in 2014. Totalling $18.35 million for three years, or $6 million-plus annually.
I can promise you that is well above Jet's market value going forward, all things considered (including his "Mav For Life'' desires.) I can therefore suggest that my man Jet should quit bitching to the media about his contract and start quizzing his agent about options that DallasBasketball.com is aware of ... that Jason Terry should be aware of, too.
Deron Williams this weekend said something about there only being "19 more days'' to his miserable season in New Jersey. His countdown to change is understandable.
If the Mavs are engaging in a similar "countdown to change,'' that is unforgivable.
DONUT THEORY 5: "I'm Not Going To Talk About That Anymore' ...
From David Lord:
Lamar Odom was a bust. It's incredibly disgusting to think he was not invested. The Mavs really needed him to at least be capable of being a worthwhile backup to Dirk, but he was often not playable -- and of course, now he's on ice for the rest of the year. Odom has the skills. Playing with a set of players can't be this hard for a talented player to figure out.

What a waste.

In contrast, the Mavs made a significant commitment, which included going into taxpayer status to have him, and using up one of their three-years-in-five that they can pay tax without the repeater penalty coming into play.

Cuban must've been fuming, but he couldn't say anything lest he jeopardize what little hopes they had for Odom. And now? As Fish pointed out yesterday, there's no need for Cuban/Kidd/Dirk/Carlisle to say anymore. Asking a guy to quit coming to the gym while still paying him says enough.


As I reported on Friday, I stood and watched as Lamar trotted into the AAC in street clothes at 5:59 p.m., hours after some of his teammates had arrived to prepare for an important meeting with Portland.
As I wrote that night on
DB.com Boards:
Here's the issue - and something I'll bet 100 bucks comes oozing out after the season -- even if Dallas DOES accomplish something in the playoffs:

Stuff like showing up at 5:59 for a game drags the fellas down. Makes them roll their eyes. Makes them not trust or feel trusted.

You're in a foxhole with 20 other guys. You find out one of the 20 doesn't have somebody's back? Chain reaction, everything falls apart.

One guy is assigned to stay awake so the other 19 can sleep for a moment ... and then the 19 look up and see the 'guard' is the one sleeping? Now we got 19 guys having to overwork, looking over their shoulders, not sure if all the parts are working parts.
I wrote that before the Portland game in which he was not a factor, before the Memphis game in which Lamar was even less of a factor than that.
And suddenly, we don't have to wait until after the season for me to collect my 100 bucks and to witness the ooze.
"No Lamar questions tonight,'' Carlisle said after the loss in Memphis.
"I'm done talking about that,'' Dirk said when asked a Lamar question a few minutes later.
In the end, it will be as wrongheaded to make Odom the singular scapegoat as it is to insist that keeping Tyson Chandler would've fixed all this. But at the very least, Odom seems destined to go down in Mavs history as a crappy combo of Tariq II and Antoine Walker II -- only with the even more damaging cap ramifications to go along with him.
There is a danger in putting all the blame on Odom. But now that he's gone there is the opportunity to benefit from removing the morose albatross. We'll see tonight against Sacto just what sort of unwanted ballast that guy was to this team's flight.
DONUT THEORY 6: My World-Famous "Second Mountain Theory'' ...
I am the creator of the "Second Mountain Theory,'' something I discussed on the radio dating back to 1995. Once a mountain climber scales Mt. Everest ... how many times does he go back and do that once-in-a-lifetime challenge again?
Congratulations to the 1992 Dallas Cowboys, so incredibly talented and strong-willed that they continued to scale that mountain for four straight years. And to the same-era Buffalo Bills, who lost their footing on an annual basis but nevertheless kept climbing. Oh, and your Texas Rangers, who may be cut of the same cloth.
But it's rare. And the explanation may be as simple as Dirk chugging that bottle, traveling the world, skipping a coupla workouts and getting engaged.
The once-in-a-lifetime accomplishment is to be savored because it doesn't happen twice.
DONUT THEORY 7: Sabotage! They're Failing On Purpose! ...
Often suggested. Easily dismissed.
During Friday's overtime against Portland, I was standing a few feet from the AAC floor. I was in position to see the effort, to hear the communication, to feel the desire.
When Dirk tossed that full-court touchdown pass that, if completed, would've probably won the game but instead wobbled about 20 feet wide of target Shawn Marion, the ball came right at where I was standing.
It just slipped out of his hand and almost into my face. There was no lack of effort, communication or desire.
It just slipped.
Lamar Odom wasn't purposely sabotaging the Mavs while working as a Lakers double-agent (though his behavior and play is almost as absurd as that suspicion). The players aren't flopping on purpose to punish management for its unrequited love.
Jason Terry is in the best physical shape of his life. Shawn Marion is experiencing the finest effort of his career. Delonte West is a warrior. Brandan Wright is giving birth to what just might be a helluva career. Dirk is laughing at Father Time. Cardinal, Roddy B, Dominique, Mahinmi, they're putting in the prep time. Haywood's playing hurt. I've watched Vince purposely work to serve as a chemistry bonding agent. Kidd is Kidd. The coaching staff and support staff sleep too little.
Lose on purpose?! Why, to get into the lottery, where the Mavs would have a .006 chance of getting one of the top three slots?
"Hope'' isn't a plan. The Mavs' odds of playoff success are far superior to .006. (I think.)
DONUT THEORY 8: The Mavs Know How To Read ...
And they are up to their asses in positive press clippings. The clippings are getting a bit yellowed, but ...
Middle of last week, after a home win over Memphis, Jet and Delonte held court in the middle of the Dallas locker room, blabbering crazily confident things about a team that had just climbed to one game over .500 since Feb. 1.
West said, "This team definitely has championship swag. They know what it takes to get to 'the game.'"
Jet said the Mavs can "go forward and make another championship run."
Did these fellas not pay attention to what had happened just 48 hours earlier in an equally huge blowout loss at home against the Clippers?
After last year's title, Carlisle famously noted that once you win a title, you are a "made man.'' It's a colorful reference and a it's a mafia reference and it's true.
But just like in the mafia, being a "made man'' doesn't mean the enemies quit wanting to shoot you in the back of the head.
DONUT THEORY 9: 'Just Get To The Tournament' Is A Bar Set Too Low ...
It's not exactly a rallying cry, is it? I mean, it can be and maybe will be, once (if) they get there. But for three months now, that's been the organization's overall ping-pong back to criticisms and its public self-analysis after losses.
"Just Get To The Tournament.''
It's the core of the Mavs' lack of panic (best evidenced in the "Minutes Limits'' plan, which I've always believed to be bright and ballsy and something only the Mavs and Spurs have really done this year). But maybe it's also the hub of the lack-of-urgency wheel. Maybe it's the planting-in-the-subconscious of the notion that, "Everyone else is working hard but we're working
smart
... and so we're smarter than they are.''
The "Just Get To The Tournament'' philosophy comes with an inherent danger that was not likely considered seriously when Mark Cuban first turned it into a catchphrase:
And what if you don't?
DONUT THEORY 10: We'll Flip A Switch ...
The Mavs are 31-26 and in seventh in the West. Expectations were high ... or, hell, at least they were higher than this.
Or were they?
In a sense, isn't this team living up to its own expectations in the sense that it is "Just Getting To the Tournament''? If the season ended today, they woul be in the tournament. They would play No. 2 San Antonio.
And it'd probably be a helluva series.
As fans of the team that just won the world title, how much more than that -- a helluva series? -- are we demanding?
DONUT 11: If you like this level of insight into the World Champion Dallas Mavericks ...
Try our Premium Mavs coverage! This is what we do, every day, with 28 years of experience on the beat! It's pennies a day to get All-Access to what the Mavs are doing upstairs, down in the basement, in the locker room and on the court – and it's free to come inside for
a 7-day tryout. Now more than ever, there's no reason not to give it a go! Thanks for your support of the site at less than a dime-a-day! Go Mavs and Go Premium!
DONUT 12: Follow The Mavs And DB.com ...
We've got a skillion ways for you to stay in touch. Please come play with thousands of MFFLs on
DB.com Boards
. Say hello to our sponsors who you see on the lower-left-hand corner of the site. Like the
DB.com Mavs Facebook Page
. Follow
Fish on Twitter
.
Thanks for your support of DallasBasketball.com!