DONUT 1: THE CASE FOR VINCE ...
We've made the strongest possible case for Shawn Marion as a DPOY finalist.
And we've expressed some befuddlement over Vince Carter serving as a finisher in 'Trix's stead.
But Vince himself has waged a four-game argument in favor of himself as an offensive weapon deserving of being right behind Dirk and
Jason Terry
on the
Dallas Mavericks
clutch-time totem pole.
On Friday he scored 13 points in the final period against the Warriors. On Saturday he contribured nine fourth-quarter points against the Bulls, hitting four of his five shot attempts.
He's flipped a switch.
Four games ago, Carter had taken more than five free throws only once all season. In these last four, he's taken six, six, eight and seven.
As DB.com's Michael Dugat points out, he's "no longer settling quietly into the Peja Stojakovic role on this offense, steadfastly bound to the perimeter.''
Over the last four games, Carter's averages: 18.8 points, 41.5 field-goal percentage, 31.6 3-point percentage, 6.8 free-throw attempts, 92.6 free-throw percentage, 6.8 rebounds, 2.8 assists and 1 steal.
An average of 13.3 shots being converted it into 18.8 points? It's a effective button being pushed by Carlisle ... and we're going to shut up about Carter vs. Marion because Rick -- and the two players themselves -- have made both buttons work.
In fact, we've done better than that: As part of our
"Coach Em Up'' series, we break down film on Vince Carter to the rim ... a three-part video examination of the X's and O's that make Vince work in this offense.
Premium stuff. Check it!
DONUT 2: THE IMPORTANCE OF BEING 'HOT' ...
Does it matter if you are "hot'' going into the playoffs? David Lord bumps into the research of OKC writer Berry Tramel, with one very basic study that shows how random "late-season success" is as an indicator of getting to the Finals and winning a title.
Looking at the last 12 NBA seasons, Berry notes, "five of the 12 champs played at a winning percentage above .700 in April, two had losing records and five had winning percentages between .500 and .700. Four of the 12 Finals losers played above .700 in April, three had losing records and five had winning percentages between .500 and .700.
So there is a correlation between winning down the stretch and playoff success. But there doesn't seem to be a correlation between winning big down the stretch.
The April records of the finalists the last 12 years:
2011: Dallas 4-3, Miami 6-1.
2010: Lakers 3-4, Boston 3-5.
2009: Lakers 7-1, Orlando 4-5.
2008: Boston 8-1, Lakers 7-1.
2007: San Antonio 6-4, Cleveland 6-3.
2006: Miami 4-7, Dallas 6-3.
2005: San Antonio 6-5, Detroit 10-1.
2004: Detroit 6-1, Lakers 5-3.
2003: San Antonio 7-2, New Jersey 3-5.
2002: Lakers 6-3, New Jersey 5-3.
2001: Lakers 8-1, Philadelphia 6-4.
2000: Lakers 6-3, Indiana 8-2.
Lots of factors go into a small sampling like this. Schedule balance. Injuries. Resting older starters. But still, it's interesting. Sometimes, teams soar into the playoffs and succeed. Other times, teams coast and do the same. In the case of the 2010 Lakers and 2006 Heat, even a winning April record was not necessary. So you never know. Especially in this odd season in which West contenders such as OKC, Dallas, the Lakers, the Clippers and the Grizz are not exactly sizzling at this moment.
Which, again, is why we watch.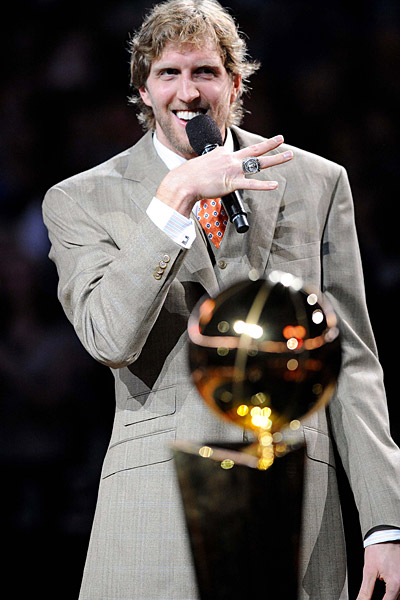 DONUT 3: RICK'S INTENSITY METER ...
How to encourage the guys to maintain their focus no matter the importance of the pre-playoff moment?
"If guys aren't playing with intensity, I'll take them out of the game,'' Rick says. "I think that will solve the problem."
DONUT 4: THE FINAL COUNTDOWN ...
The Mavs are in seventh place. If they lose at Atlanta tonight (again, we start with the 6:30 pregame on FSSouthwest) - or if Denver wins at Minnesota -- Dallas stays in seventh and will open the playoffs at OKC (quite likely on Saturday night).
It doesn't seem likely at this moment, but the Mavs can jump to No. 6 and open at the Lakers (likely a 2:30 Sunday top) if Dallas wins and Denver loses.
DONUT 5: MAVS ON TWITTER ...
Follow the game on Twitter with the Mavs Twitterverse ... The 75-Member Staff! ...
Follow @fishsports
Follow @thechuckperry
Follow @coopmavs
Follow @kevinbrolan
Follow @mfollowill
Follow @mdug
DONUT 6: RED ROCK! ...
RED ROCK Bar & Grill
gives you the Mavs on the 200-inch screen - the biggest TV in Texas!
Red Rock is at the corner of Frankford & Midway, Just off the Tollway, at 18110 Midway Rd Dallas, TX 75287 .. (972) 733-3683. ... and we're proud to have Red Rock Bar & Grill as a partner at DB.com!
DONUT 7: CHEATERS SOMETIMES PROSPER ...
Otherwise, they wouldn't cheat.
As with Belichick before him, I'm hearing lots of loopy attempts at justification for Saints GM Mickey Loomis' alleged techno-cheating. (He's accused of being able to sit in his press-box level suite and eavesdrop electronically on opposing coaches' sideline conversations.)
"What's the big deal?'' some ask. "What advantage was really gained?''
This is the argument-ender to why Belichick illegally filmed opponents' practices and it's the argument-ender here: If there wasn't a benefit to filming, to eavesdropping and to cheating, nobody would film, eavesdrop or cheat.
The end.
DONUT 8: LARRY BROWN IS THE TALK OF THE TOWN ...
If you're a Mavs Premium Fan, that means you also have access to hundreds of other team sites,
including SMU, where Larry Brown is the talk of the town. Go get it!
DONUT 9: CUBAN VS. THE OLYMPICS. AGAIN. ...
How ancient is Dallas Mavericks owner Mark Cuban's opposition to the risk of NBA players participating in the Olympics? It predates Dirk Nowitzki's early-season conditioning concerns. It predates this decade. It predates Rodrigue Beaubois' international injury issue. Heck, the subject is so time-worn that when Cuban first broached it, Roddy B was 14 years old. It's been around so long that Don Nelson once said Cuban's belief shows he is unpatriotic.
"Why are we giving our most valuable manpower to a huge business, the Olympics, so they can try to take revenue away from the NBA and our partners?'' Cuban protested. "Where is the logic in any of this?''
When did Cuban tell us that? In 2004.
The Mavs owner touched on the subject again this week and created yet another wave of discussion regarding whether highly-paid pros should be eligible for the Olympics, which can put them at injury risk and hurt them as assets to the franchises that pay them.
Nelson, after he'd left the Mavs employ and was embroiled in a legal dispute with Cuban, responded to his former boss' view in 2008 by telling the Dallas Morning News, ""I couldn't disagree more. It's not about the money. There is pride in these athletes. He ought to have more respect for his country. Everybody in the NBA makes plenty of money. It's not too much to ask that every four years you give something back to your country."
Again, incendiary stuff. … but maybe missing the point that is better framed every time we discuss the topic with Dallas GM Donnie Nelson, Don's son and Cuban's right-hand with the Mavs.
"I will say this about 'national pride,'' Donnie Nelson tells us. "The beauty of America is that we all get to think and feel and speak however we wish. If you want to participate, you can. If you don't, that's acceptable, too. My view is, that's what America and being an American is all about. Specific to what Mark feels, I think he makes good points. He's allowed to feel the way he does. That's what it's all about.''
When did Donnie issue that statement to DallasBasketball.com?
You guessed it – 2004.
There is an important issue here regarding the Olympics and the profits that come from them.
On another level, there is an issue that is sort of comical: How often is the media going to keep "breaking'' the "news'' of Cuban's views?
DONUT 10: THE DEEPEST MAVS COVERAGE ANYWHERE! ...
Try our Premium Mavs coverage! This is what we do, every day, with 28 years of experience on the beat! It's pennies a day to get All-Access to what the Mavs are doing upstairs, down in the basement, in the locker room and on the court – and it's free to come inside for
a 7-day tryout. Now more than ever, there's no reason not to give it a go! Thanks for your support of the site at less than a dime-a-day! Go Mavs and Go Premium!
DONUT 11: THE WILDCATS VS. THE BOBCATS...
Do I think the question of whether a college team could beat an NBA team is ridiculously insulting? I do. The five best players at Kentucky are boys who are "prospects''; the roster of the Charlotte Bobcats is 15 deep in terms of men who have matured beyond the "prospect'' stage and who have made it.
Virtually everybody on the Bobcats roster was once a hotshot fully capable of starting at Kentucky.
So could Kentucky beat an NBA team? No. But the seven-win Charlotte Bobcats make the question less ridiculous than it's ever been.
DONUT 12: THE FINAL WORD ...
It's playoff time; will the boss promise to zip his lip again, as he did a season ago?
"It depends on where my superstition takes me,'' Mark Cuban says. "That's the only reason I shut up before."