William Wesley is not an agent, exactly, though he works with CAA. What Wesley -- better known as "World Wide Wes" -- is a facilitator. Sports Illustrated suggests he's "the most powerful man in sports.'' Jalen Rose, the ex-NBA star now with ESPN, says the league's players view him as "Uncle Wes,'' a benevolent caretaker of their wishes.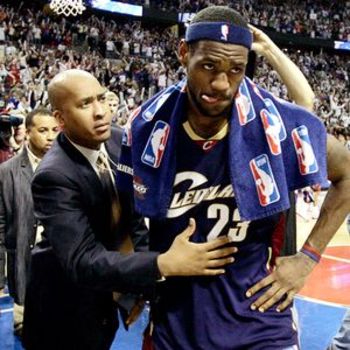 A source tells
DallasBasketball.com
and
105.3 The Fan
that the
Deron Williams
camp has engaged William Wesley as a "facilitator'' in the area of "marketing.''
That alone is a major story in the NBA world.
Now, let's chase those dots …
When certain high school stars land at certain college programs, Wesley is reputedly often the man who made the connection. Frequently, that program seems to be the one John Calipari is in charge of, and voila!, Dajuan Wagner, Derrick Rose, and Tyreke Evans end up playing for Coach Cal's Memphis teams, and then, voila! again, a kid like Anthony Davis (destined to be the top pick in this year's NBA Draft) lands at Kentucky when Calipari is at Kentucky. In the last two years, the Wildcats have had nine players taken in the Draft. The pattern will continue next year.
Calipari is a fine coach.
Wesley is a fine friend.
Wesley's most famous dot connection, of course, involves LeBron James. "World Wide Wes'' was reportedly deeply involved in "The Decision.'' In fact, you'll recall that before James left Cleveland for Miami, the Cavs worked on the notion of firing Mike Brown and hiring a coach that might be to LeBron's liking.
Who was that candidate?
John Calipari.
Wesley isn't Deron Williams' agent; Jeff Schwartz won that job last July, Williams choosing a representative who also happens to serve his pal Jason Kidd (and Tyson Chandler and Lamar Odom, among other players with Mavs connections). Indeed, this part of the NBA business is a "big little town'' where everybody knows everybody.
Jerrance Howard is a new assistant basketball coach at SMU, which is a bit unusual because despite his fine credentials (especially as a recruiter), he does not seem to have deep ties with the new head coach, long-time NBA boss Larry Brown. What Howard does seem to have, however, is college ties to two programs:
Calipari's Kentucky program.
And Deron Williams' Illinois program.
Sources tell us that Calipari and Wesley were both very much involved in the SMU placement of Howard, who has worked at Illinois (where he once served as Deron's backup and point guard and became close friends with the star) and who also was at Kentucky for a brief time during his career. Howard has received multiple interviews for vacancies at Kentucky, but is now a top assistant for an admittedly struggling SMU program that is suddenly more high-profile due to the hiring of Brown.
And more high-profile, too, because of the name
Julius Randle
.
SMU has come from nowhere to being on the short list of Randle, the Prestonwood Christian Academy (Texas) star who enters his senior year as arguably the finest prospect in the nation. How, and why, has Randle allowed the lowly
SMU
Mustangs to join the ranks of North Carolina, Kansas and Duke on his short list?
Connect the dots.
Says a source: "I wouldn't be surprised if (the Mavs) haven't already called Jerrance because this is how it works. They connect the dots and see Wes got those guys in Dallas, so now it's, 'How do we all work together to get Deron here?'''
As we all know, Williams is from The Colony, Texas, a Dallas suburb. His family is here, and now one of his closest friends is here, too. (Deron serves on Howard's foundation board of directors. http://www.jerrancehowardfoundation.org/.) The Mavs have their many dealings with agent Schwartz, have dealings with Wes, too (though as always those are "shadowed ties'') and the SMU involvement – along with Wesley's "marketing'' skill – might theoretically seal a deal for Dallas.
It's worth noting that Williams, who becomes a free agent on July 1, can officially sign a new deal after July 11 but wishes to come to an agreement before he goes to camp with USA Basketball in Las Vegas on July 5).
"A lot of stuff is going to happen,'' Williams says. "I'll just take my time. But I don't want to take too much time. I want to try to have something done by the Olympics. I don't want to play in the Olympics without a contract."
Also important: Deron can get a larger contract by remaining with the Nets. Numerous national outlets have reported a variety of numbers here. We've consulted two media authorities on the CBA, Larry Coon and DB.com's own David Lord, and here are the dollars we come up with:
Rules allow Deron to re-up with his present organization for five years and about $98.77 million. With the Mavs, it can be a four-year deal worth about $73.5 million.
This is the Nets' advantage. Put whatever stock you wish in Deron's trip to Turkey, where he did or didn't visit with Nets execs. The Nets' edge is money. And this is where William Wesley -- if he decides Dallas' dots are worth connecting -- can be helpful.
Deron's
off-court finances
are not restricted by the salary cap. That can be about "marketing,'' and about connections and about money-making and money-saving opportunities.
While re-upping with the Nets would also be an off-court financial bonanza (Brooklyn isn't New York, but it's close enough), many of Dallas' money players have SMU connections. Dallas isn't Brooklyn, but the people who pull the strings can attempt to close the financial gap.
"I never said I wasn't re-signing with the Nets and that's still remains the same," Deron says, adding, "I want to win. That's first and foremost. I want to go where I feel we have the best chance to win. I know we might not win a championship in the first year or two, but hopefully there's the chance of building something special and having flexibility, somewhere where I believe they're headed in the right direction. … It's just where I feel the most comfortable at the end of the day, where I feel I have the best chance to win and enjoy the city and my family's comfortable."
Connect the dots. Jerrance Howard (pictured at right with Deron). Jason Kidd. Julius Randle. John Calipari. "World Wide Wes.''
And Deron Williams.
As with any hope or with any plan, none of this comes with guarantees. But these are Dallas' dots, potentially connecting together to make Deron Williams "comfortable.''