THE 2011-12 SEASON
We'll start with grading the
Dallas Mavericks
season itself.
It began with the difficult decisions that allowed Chandler, Barea, Butler,and Stevenson to leave in free agency. Next there were players who showed up out of shape, lockout ball, an impossible schedule, the chaos and apathy brought by Odom, and (unsurprisingly) inconsistent play. And it ended with a first-round sweep out of the playoffs, an inglorious post-season opposite of the title-winning run last season.
We have to take into consideration that the CBA brought new rules to consider, and Odom's total collapse as a player was one that no one saw coming.
Grade: D Minus.
We base our grade on three different issues:
1.
The stated goal was to "make the playoffs healthy and see what happens." And to their credit, they did that.
But the basis for that approach was the idea that all that really matters is the playoffs, with the expectation that by employing such an outlook, they would be formidable in the post-season.
Playoff results? 0-4. In the wake of a title in the prior playoffs, that's a massive disappointment.
2.
The Mavs banked their hopes - and even wasted a tax-paying year - on Lamar Odom. In hindsight, everyone knows that was a colossal mistake, as Odom was nowhere near the player he had been in LA. And who could have predicted that he would lack the professional pride to play well?
However, part of the blame for that failure belongs to the Mavs front office. It was a Jerry Jones-like move to grab a big name just because he's available and wants to play in Dallas.
It did seem like a home run at the time. Something for nothing! But will he fit? Apparently no one bothered to check, simply assuming that Odom had a versatile skill set and would find a way to blend in somehow.
However the stats for Odom's years in LA show that he was not the multi-positional player we expected, but instead his value came from the difficulties other teams found in countering him playing PF in a versatile manner. And his value was ONLY at that position, with his production at other positions being incredibly mediocre.
In Dallas, the minutes at PF were of course reserved for Dirk, who also didn't excel at other positions. That left Odom a very limited opportunity to showcase his talents.
To be fair, in Dallas Odom's play wasn't any better when he was playing PF. But given the fact that this is a PF-only guy, the Mavs wasted a taxpaying year and one of the remaining Dirk Era years on a failed attempt to fit a square peg in a round hole ...with predictable results.
3.
Under the new CBA, teams can only be taxpayers in 3 years out of 5. If they exceed that, they pay a "repeater" tax. As a result, using a "taxpayer year" is a valued asset that needs to be considered carefully.
In 2011-12 the Mavs used a taxpayer chip to get Odom. They ended up with a first-round playoff sweep as their reward. We see that as a failed outcome - they gained little-to-nothing for their choice, and will pay for it later.
THE 2011 FREE-AGENT DECISIONS
In December the Mavs chose to pass on the opportunity to keep some core free agents from their title team (Chandler, Barea, Butler,and Stevenson). While those choices have been linked in discussions to the success or failure of the season itself, they are actually a separate issue with a separate grade.
Would the Mavs have been better in 2011-12 by keeping those four? Of course. While we can't be sure how much better they might have been (or how much farther they might have gone in the playoffs), it was obvious that the team missed some of the talent and production that was lost.
Ah, if only everyone involved could've bought into a concept of "shared sarifice.''
But we can't evaluate fairly on the basis on this season only, because the Mavs weren't given a one-year-only choice. Those decisions impacted multiple seasons, and have to be evaluated in that light.
The Mavs made their choice for several reasons. They cited the new tax rules, which would penalize taxpayers like never before, and they pointed to the aging of the roster.
In addition, those choices were intertwined with the potential pursuits of superstar free agents such as
Deron Williams
and Dwight Howard, which confuses the issue even more.
So how do we evaluate that crossroads and the road they took? Here's how we see it.
Before we begin, a disclaimer. My personal opinion - stated often in discussions in our forums - is that I would have kept Chandler and let the others walk.
I understand the Mavs thinking. We've explained it for Premium readers in great detail. I agree that Chandler was somewhat overpaid by NY. He had limits offensively, and injury question marks. What he was paid was beyond the Mavs working salary structure with the rest of the team. And because of his limits offensively, he can never be the next superstar to be the team's centerpiece.
With new punitive tax rules in place, it's easy to see why the Mavs said "no.'' It's a defendable position.
But I would have said "yes,'' overpaid if necessary, broken the team salary structure, and risked the injury of the future. Why? In my view, he was the ideal fit alongside Dirk, and I felt the prime consideration needed to be "How do you maximize Dirk and his chance to win titles, while you still have him?"
Chandler meant more to Dallas than he did to other teams. His defensive prowess and mobility made other Mavs defensively better by making it less desirable to get into the lane, and on offense he could keep the opponents big men honest with his ability to convert on lobs and put-backs, which made it easier to get space on the perimeter.
While Barea, Butler, and Stevenson all have talent, I didn't have much problem with losing them, because I think they can be more easily replaced. But Chandler was the one with the most impact, and because the right center is so hard to find, the most irreplaceable as well.
One other thing colored my thinking on this matter. The Mavs were a title team, and while it's hard to stay on top, there is value to the team and fans for staying there as long as you can. It was a long road up the ladder. Why rush to the bottom? I say that when the door is open, it's a desirable time to take an extra risk or two to try to stay there and do it again.
We do know that part of the Mavs' motivation was the desire to chase a superstar in free agency. But in my opinion, letting proven talent go for the CHANCE to chase a superstar is a questionable choice, and I would taken the bird in the hand and signed TY while I had the chance.
But again, I understand why the Mavs chose as they did. They want to reserve superstar money for superstars, and have to play for the future. They didn't want to take the risk. They think they have a better way to the future. And they wanted cap space to chase bigger fish in the coming "SuperTeam Era.''
It is Donnie Nelson's stated evaluation that this team, without TY, wouldn't have beaten OKC.
That we will never know. And regarding the future, they may turn out to be 100% right, so let's give them a fair shake here in our evaluation.
The Mavs chose a path to part with Chandler and the others. The longest and most expensive contract any of them received was for 4 years. So let's look at it like they said we should - over those 4 years, and at the end of it, what did they gain by letting Chandler and perhaps others go? Are they better or worse off in year 1, year 2, year 3, year 4, and at the end of year 4? How did their decision change their cap, their roster, and their potential?
Year 1 - round 1 of this five-round contest - is now in the books, and we can see what they gained by their choice.
Nothing. In fact, they lost a lot. Based on what we've seen to this point, they made a big mistake in December 2011.
If they had kept Chandler, Odom would have ended up somewhere else (yippee!), and the financial difference would only have been about $4M in payroll. What they chose,and what they didn't choose, made them taxpayers either way. Quite possibly, despite Donnie's position, a more confident Mavs team (due to TY's re-signing) would have done much better in the playoffs. Chandler would've served as a more effective lane presence on both ends. And as they headed to the off-season, they would NOT have that huge question mark of where they can get a center.
With TY on the books, would they still be able to chase a superstar in the summer of 2012? My calculations say it would seem so.
In April they felt they could have found a way to clear space for both Howard and Williams as needed in the summer. Given the fact that TY makes $5M less than they would have needed for Howard, if they had TY on board they could still find room for D-Will.
If Howard ends up on the trade block, which is the only way he could change teams in 2012, a Mavs package including TY and other talent would seem to be far ahead of anything they now possess.
Round 1 says the Mavs chose the wrong direction in December. But it's only one round of 5, and we'll have to wait a while before we can say for sure whether the Mavs made the right choice or not.
THE ROAD AHEAD
After flaming out quickly in the playoffs, the Mavs future is murky at best.
Dirk's return is the only given. There are huge question marks everywhere else.
At center, the playoffs proved the Mavs only have one legit big man (Haywood) who can't handle the position alone, at times didn't handle it well, and may become a cap casualty on the amnesty list which would leave the Mavs with no legit center.
At point guard,
Jason Kidd
and West are both free agents, and Roddy and Dojo have merited little-to-no playoff time.
At the wings, Jet was the only consistent scorer and is a free agent looking for more money than the Mavs may have to offer.
Marion played well but may be sacrificed for cap space. Wright showed lots of athleticism but was abused in the playoffs. Carter made several highlight-reel dunks but overall provided more name than game.
All in all, half the roster will be free agents, others might also be gone by being traded, waived, or amnestied, and needs are everywhere. For a team that won a title less than a year ago, it unraveled quickly. The summer of 2012 will be filled with lots of decisions that may impact their future for years.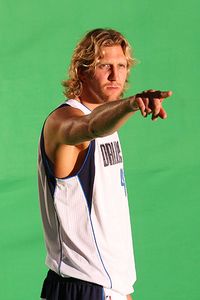 Complicating the process will be the fact that 2011-12 gave a weird read on players. Many showed up out of shape, and the schedule was impossible on bodies. Injuries were everywhere. How do you accurately measure the play we saw?
Our early guess as to how the Mavs will try to clean up the mess?
We think their first priority will be to chase D-Will with big money
, and if unsuccessful may take a look at a few others (Nash? Garnett?). If they don't land those, we wouldn't be surprised if they kept most of their players, while staying under the tax line, and added some new blood on one-year deals (or perhaps via trade) ...all with an eye to a free agent superstar or two in the summer of 2013.
While we take educated-guesses at the future and issue harsh grades for the Mavs' defense of their title, it might be instrumental to remember the training-camp words of Dirk Nowitzki and Rick Carlisle.
Said Dirk: "Donnie has the knowledge and Cuban always has got some stuff (up his sleeve). He finds ways to get around the rules. ... We'll have to wait and see.''
Said Rick: "Mark and Donnie, they make things happen. Time and time again they make things happen. At this time of the year I don't think of another owner or GM I'd want in the foxhole trying to put a team together.''
Discuss this story on DB.com Boards!