DONUT 1: The Mavs' free-agency magic number ...
The
Dallas Mavericks
find themselves being compared in a variety of ways to the Nets as it relates to the pursuit of
Deron Williams
.
There seems to be one area where confusion and misinformation are twin kings.
I'm seeing local and national outlets toss around some wild numbers regarding what Dallas can pay Deron vs. what the Nets can pay him. One national writer is reporting the Dallas number to be "four years and $59 million.'' The NY papers keep writing that Dallas can pay him $81 million. One local writer says Dallas can pay Deron $86 million.
Until someone corrects me (and shows me their math work!) here are what DB.com believes to be the facts and the true numbers: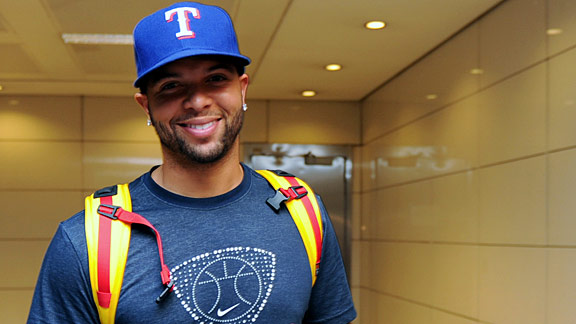 Deron will probably be limited by a first-year max of $17,177,795, which is 105% of his prior salary. But that limit would be increased to "30% of the cap" (it's not really 30%, it's actually only 28.256592%) if the NBA's 2012-13 salary cap is higher than $60,792,168. Which is possible.
With his raises over the course of the four years, Deron's four-year total will be $73.35 million.
That's obviously a big-pay year less than his existing team can spend (the Nets can offer him five years). And there are a dozen other sidebar arguments to be made regarding endorsements, state income tax, cost of living and the rest. (Also, this involves leaving Dwight out of the equation, of course.)
But until someone shows us our calculations are off (and math ain't my strength so I'm open to correction: In terms of an actual contract and an actual salary, Dallas' offer on July 1 to Deron Williams will be four years total and $73.35 million.
Oh, and the Nets' offer? It's not $106 million (again, if an until someone can offer me a bigger calculator than the one being used by DB.com's David Lord).
If you use the CBA formula and add a fifth year for the Nets, it equals $98,772,321.
The calculations are exhausting and the numbers are mind-boggling but to me, they are important to get right. So until further notice, there you go: $73.35 mil for four years in Dallas, $98.77 for five years in Brooklyn.
DONUT 2: Guns ablazin' ...
This isn't really a story about Thunder fans.
Just a story about people who are young, stupid and armed.
DONUT 3: Rootin' and hootin' ...
If America can't root for the Mavs right now, they have the next best thing: They can hoot at Miami.
The pleasure we take in watching Dwyane Wade call out Indy for celebrating a Game 2 and then backing up his words with a 2-of-13 shooting effort for five points in Game 3 is deep.
Does it take away from Wade's greatness? This season, he had the third-best PER in NBA, the second-best FG percentage of his of career and the lowest turnovers per game of his career. Suggestions that he's slipped physically are greatly exaggerated, I think. So are the excuses his habitually makes; I'm fully prepared for Wade to complain at any time that he missed a ball because the sun was in his eyes.
I've seen people write of his "undisclosed injury.'' With Wade, that's an oxymoron. Not even his non-injuries go undisclosed.
No, he's a brilliant talent. And he's a whiny drama queen capable of such depths in that area that there are moments when LeBron seems almost likeable by comparison.
I said "almost.''
DONUT 4: Fish on 105.3 The Fan's RAGE all week! ...
With Greggo taking a short leave from RAGE (2-to-7 daily on 105.3 The Fan), he and Richie Whitt and the gang have asked me to sit in for a week or so.
We'll do it all week, 2 p.m. to 7 p.m., and
I'd love to have you join us and to listen live here!
... Or heck, come see us do the show live at
Starpower in Uptown!
DONUT 5: Game Havens and The Bay Audio Speaker Special! - ...
We all love those new "Thin" TVs – those super bright LED TVs hanging in our family rooms, game rooms and even our master bedrooms. Unfortunately the audio from these new super sleek TVs is really crappy. No impact – no umppfff – no clarity – just crappy audio.
Think of a Texas Rangers homerun that sounds more like a wiffle ball than a deep crack off the bat.
No worries. Our very own Game Havens has got game – and has got this year's hottest selling ticket: the Bay Audio Thin Bar a custom LCR speaker bar that perfectly matches any new or old TV hanging on your wall, your fireplace or floating in your cabinet. And in coordination with DB.com, Game Havens is doing something special – and discounting all Bay Audio speaker products 25%! That's unheard of -- especially for the "Beamer" of the speaker industry.
So
check out Game Haven's show promotions
and check out Game Havens, where they will design your own game room, media room, family room or even outdoor patio entertainment system!
Oh, one more thing for you: My man David Teel -- the King of the Techno-Ninjas -- has the very popular Hitachi 22-inch Ultra-Thin TV/Monitor, perfect for your office, home office, kitchen or bathroom. Super thin – super bright – and we took off $50 for the promotion: $249 (regular $299).
If you need to update that super old computer monitor or just want a really small and ultra-thin TV in the perfect spot, David has his hands on 10 of these TVs! He'll give you the DB.com discount and free delivery!
Call David Teel at (214) 636-1984 and get techno'd up!
DONUT 6: The Mavs, Deron and 'World Wide Wes'? ...
Yup. It's a story. An exclusive. Connecting the Dots between Deron and Dallas ... a powerful national story for Premium readers.
Read the story of Deron, Dallas and "World Wide Wes'' exclusively here at DallasBasketball.com!
DONUT 7: Is the model broken? ...
Opinions change depending on that evening's playoff-game outcome. But the idea of assembling a Big 3 seems valid at this moment when you consider that the Celtics, Heat, Spurs and Thunder -- all top-heavy with "name'' talent -- remain alive and favored to remain that way for a while.
DONUT 8: Catch the Mavs and the DB.com Staff on Twitter! ...
Follow @fishsports
Follow @thechuckperry
Follow @coopmavs
Follow @kevinbrolan
Follow @mfollowill
Follow @mdug
DONUT 9: Changes in Orlando ...
First blush: Now that Otis and Van Gundy have been ousted in Orlando, Dwight is all good. Right?
Wrong.
We've combined the facts with our educated guesses to give you
the very latest on Dwight, the Magic and the Mavs.
Dwight may have called all the shots in the departure of his bosses, and now Dwight is also subject to departing. In this story, we've got all the dollars involved, and the obstacles involved, too, including The Hedo Headache.
Want to be fully informed on the Mavs issues of the day, of this summer, of next season and beyond? As has long been the case, this is THE place to accomplish that.
DONUT 10: Best in the Business ...
Try our Premium Mavs coverage! This is what we do, every day, with 28 years of experience on the beat! It's pennies a day to get All-Access to what the Mavs are doing upstairs, down in the basement, in the locker room and on the court – and it's free to come inside for
a 7-day tryout. Now more than ever, there's every reason to give it a go! Thanks for your support of the site at less than a dime-a-day! Go Mavs and Go Premium!
DONUT 11: Nonsensical Rumor Season ...
Hey, how about Phil Jackson and Dwight Howard rumored to be planning a team-up with the Nets?
Read this "news story'' and explain to me, please, besides being a headline-grabber, what substance is there that allows this tale to be making the rounds?
DONUT 12: The Final Word ...
One sweet offshoot of Pacers reserve guard Lance Stephenson issuing an apology for making a choking gesture toward LeBron after LeBron missed free throws? Consider that James didn't even know Stephenson had done so. Consider that the world in general neber before heard of Lance Stephenson and has little if any knowledge of LeBron's FT problems.
Now, apology issued, the world knows. And maybe LeBron's FT rim shrinks just a little bit more.