DONUT 1: Deron's little brother ...
On February 28, Brandon George of the Dallas Morning News wrote the following note:
New Jersey Nets point guard and local product Deron Williams is in town tonight to play the Mavericks. The Colony graduate will be one of the NBA's top free agents in the offseason and everyone wants to know where he'll land and if he'll come back home to play for the Mavericks.

I talked to Williams' younger brother Friday. Kendall Jones is a senior starting guard for The Colony's boys basketball team, which will play in the Class 4A Region I quarterfinals tonight. I asked the talented Jones where he will play college basketball next season and found his answer interesting as it relates to what Williams might do come the offseason.


Jones said he will attend a prep school in New Jersey next season "and I'll see where it goes from there."

Jones said that Williams has only been able to attend one of his high school games in four years because of his busy NBA schedule.

"He wants me to be closer to him so he can help me and watch some of my games," Jones said.

Of course if Williams changes teams in the offseason, Jones could always change schools, too. But as of now, he plans to attend a prep school in New Jersey next season to be closer to his famous older brother.

Now, fast-forward to now.
We analyze everything Deron said in his Tuesday presser here
but as it relates to young Kendall (and with a hattip to reader 'Audiosway'), here's the key point revealed by Deron:
Deron said his younger brother is not planning on attending prep school in New Jersey this fall, as has been reported.
I've already heard from some Nets types on this, claiming that this is our The
Dallas Mavericks
bias and totally insignificant. But consider this:
If it was significant when Kendall was going to move to New Jersey to play near his brother, how can it not be significant when the family's plan changes?
DONUT 2: Dirk's Big-Balls Dance Video ...
Exclusive DB.com stuff. Premium stuff. A classic, inside of a Mavs shootaround, it's
Dirk Nowitzki
's Big-Balls Dance:
DONUT 3: The 200-inch TV - Biggest in Texas! ...
Red Rock Bar and Grill is an official hangout of the DB.com gang
and one of the reasons why is that incredible 200-inch TV screen ... the biggest in Texas!
This weekend we've got everything from UFC fights to live music featuring Random Axis ... thanks to Red Rock for all it does for Mavs fans!
DONUT 4: Get caught up on your Mavs news right now! ...
"LIKE"
DallasBasketball.com on Facebook
Follow @fishsports
And talk about it all on DB.com Boards!
DONUT 5: Mixed-up Magic ...
On Monday the Orlando Magic - under the Dallas microscope because of the Mavs' interest in disgruntled center Dwight Howard - reportedly "fired" coach Stan Van Gundy while also "agreeing to part ways" with GM Otis Smith.
Weird wording. What are they trying to tell us?
In an interview Tuesday, Orlando senior vice-president Pat Williams explained what happened. The Magic upper management made the decision to fire Van Gundy, and Otis Smith essentially gave them an ultimatum: you are only firing him if you fire me too, because I'm the GM here and I don't support that decision.
So they fired Smith too.
On Tuesday we heard that Howard still wants out of Orlando despite the cleaning house.
We say this with Mavs-colored glasses, and from a position obviously far from "inside'' the Magic.
But in Dwight's defense: With a franchise so fractured, with so many chiefs, it's not hard to understand why he might be disillusioned.
DONUT 6: Vacancy at the top ...
Incredibly, today is the one-year anniversary of the Blazers not having a GM. Is there a void? Does it cause the organization a problem? If you argue that it does not, heck, why ever hire a GM? Why have one?
DONUT 7: "S.O.F.T.'' ...
That's what Indy boss Larry Bird is calling his Pacers after last night flagrant-marred Miami win. I'm assuming Larry Legend is trying to inspire the troops, because the Pacers' failure to respond one more time to Miami's series of flagrant cheap shots might've been in anticipation of the referees actually doing their jobs in such a way that S.O.F.T. wouldn't be the issue ... because B.A.S.K.E.T.B.A.L.L. is.
This is a Haslem blow to the face:
This is a Pittman blow to the face:
"S.O.F.T.''? Yup. "Soft,'' because if Miami is allowed to get away with this, that -- "soft'' -- is the only sort of food Pacers players will be able to chew.
DONUT 8: How did Calipari get all those guys to go to Memphis? ...
And then to Kentucky? And how is it top national prospect Julius Randle of Prestonwood Christian Academy here in town is suddenly considering SMU? And how is it Larry Brown has a Mustangs assistant who isn't a Brown guy but who is a Deron Williams guy?
The short answer? "World Wide Wes.''
The more detailed answer, with exclusive reporting from DallasBasketball.com?
Read the story of Deron, Dallas and "World Wide Wes'' here.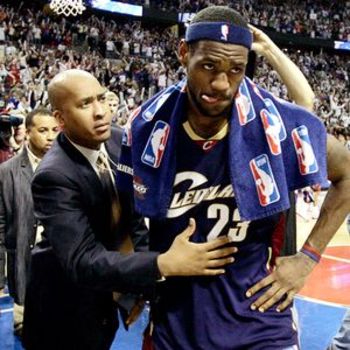 DONUT 9: Team ABC ...
It is difficult for me to grasp the notion that two of the three very best ex-NBA'ers (this side of Barkley) able to communicate and entertain on a network level are Magic Johnson and Jon Barry.
In a studio just down the street from theirs, getting ready to do NFL stuff soon, are Terry Bradshaw, Jimmy Johnson and Howie Long (I'm leaving Strahan out on purpose). Bradshow/Johnson/Long seem infinitely more interested and interesting, more funny and more insightful, and most of all, more polished as communicators.
Why is that?
DONUT 10: Best in the Business ...
Try our Premium Mavs coverage! This is what we do, every day, with 28 years of experience on the beat! It's pennies a day to get All-Access to what the Mavs are doing upstairs, down in the basement, in the locker room and on the court – and it's free to come inside for
a 7-day tryout. Now more than ever, there's every reason to give it a go! Thanks for your support of the site at less than a dime-a-day! Go Mavs and Go Premium!
DONUT 11: Fish on 105.3 The Fan's RAGE all week! ...
With Greggo taking a short leave from RAGE (2-to-7 daily on 105.3 The Fan), he and Richie Whitt and the gang have asked me to sit in for a week or so.
We'll do it all week, 2 p.m. to 7 p.m., and
I'd love to have you join us and to listen live here!
Or ...
Join us at Duke's in Addison where we do RAGE live today!
DONUT 12: The Final Word ...
I wish the advancement in film technology would allow me to see "Rock Of Ages'' while getting to watch the Alec Baldwin parts but not the Tom Cruise parts.