In the final year of his current deal and the option to opt out of his contract after this season was concluded,
Dwight Howard
did not have a graceful potential final season in Orlando. For the majority of this compressed, wacky season, Dwight Howard acted like the world revolved around him, which of course, for the better part of three months, it did. With all due respect to
Deron Williams
, the looming potential of the best soon-to-be free agent in the league held the NBA world in rapt attention.
For the third consecutive season, the biggest subplot in the NBA was how and when one of the league's top superstars would leave his team. Like Carmelo and LeBron before him, Howard struggled under the glare of that attention.
The glare intensified. "Superman'' blinked.
Though he would play unofficial host to the All-Star festivities that took place in Orlando, his behavior towards his current Magic franchise was far less gracious. More than a few times the word "hostage" was used in the national sphere to describe the position in which Howard held the Magic franchise. He began the year by asking for a trade and declaring that he would only sign an extension with three franchises, the Lakers, the Nets and the
Dallas Mavericks
.
This move seemed to signal a clear desire to leave the Magic and follow in the footsteps of Anthony by manipulating the trade process and force the hand of the Orlando front office. Over the next few months, whenever questioned, he would often refuse to talk further about his plans. Not only publicly, but behind closed doors he would often waffle to Magic officials between a desire to stay or to be traded. His antics soon wore on NBA beat writers and the public sentiment began to turn against Howard – long a popular figure due to his magnificent talent and his (possibly well-crafted) fun-loving persona.
As the trade deadline approached after months of acrimony, the Magic front office tired of Howard's act and made plans to trade him to avoid the risk of losing him for nothing should he decide to exercise his Early Termination Option. It is our understanding that he was mere hours away from being traded to the Nets.
He feuded privately with coach Stan Van Gundy and allegedly demanded the front office to fire the coach. Then when confronted with these allegations, Howard acted smug and gave us one of the most awkward coach-superstar-media interactions ever.
Then, as if by Disney Magic, Howard opted to stay. All season he didn't want to be a member of the Magic, then suddenly, when the tide of public sentiment was turning against him, he balked.
The picture that emerges is one of a coddled superstar whose desire to be liked conflicts with his self-interested aims to play where he wants, team-first concerns be damned. His behavior paralyzed the Orlando front office and surely had to have affected his teammates who watched him put his own desires above the goals of the team. Though never going 'full
Lamar Odom
' and tanking to force his way out, his actions were undeniably detrimental to the Magic this past season.
Such is the power of one of the most talented superstars in the game today that teams will be bend to his will in order to keep him and such power is easily abused.
One of those bendable teams is the Mavs.
SheridanHoops is reporting
that even with Van Gundy and GM Otis Smith booted – moves presumed by many to be made by the DeVos ownership family in order to pacify Howard – Dwight nevertheless wants out of Orlando.
Insubordinate. Selfish. Entitled. Immature. Is that someone the Dallas Mavericks, or any other franchise for that matter, really want as the centerpiece on their roster?
Lets look at the numbers from this season, in which he missed the final 12 games due to back injury:


Category NBA rank
FG%: .573 2nd
FTA: 572 1st
FTM: 281 11th
Off Reb: 200 11th
Def Reb: 585 1st
Total Reb: 785 1st
Blocks: 116 T-6th
MPG: 38.3 5th
BPG: 2.1 3rd
PER: 24.2 6th (for comparison, Dirk was 18th at 21.7)
Prior to this season, he was the three-time defending Defensive Player of the Year and has been a fixture on the All-NBA and All-Defensive first teams. He's the consensus best center on the planet and may be the most unstoppable force in the league this side of James. Furthermore, he is only 26 and should just be entering his prime as historically, big men peak a bit later than their counterparts on the perimeter. He's more than worthy of a max contract and breaking the bank (or luxury tax threshold) for.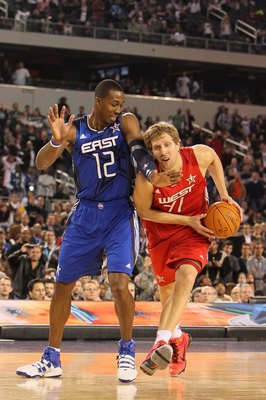 His defense is as good or better than
Tyson Chandler
's with a vastly more complete offensive game. He is that good, and may get even better. There is no reason to surrender a player as valuable as Chandler was to Dallas without a bigger fish in mind (or a supreme belief in the necessity of financial flexibility) and Howard is as big as they come.
That's what
The 3D Blueprint was always about. It's what The 3D Blueprint is still about.
Yet it is fair to wonder if Howard's baggage outweighs his talent. The situation in Orlando is obviously toxic – and Otis Smith and Stan Van Gundy aren't the ones who made it so. Once a franchise bends to the whims of a superstar, it risks an inmates-running-the-asylum setup. Oh, and there's this: You can't reel in a player who already has that kind of power. There is therefore a very short list of new Orlando hires who could roll into town and reaffirm a proper chain of command.
And Phil JackZen ain't walkin' through that door.
With the GM and coach gone, the Orlando situation looks eerily similar to the LeBron exit from Cleveland when GM
Danny Ferry
and coach Mike Brown were fired in a futile attempt to placate the superstar.
We all know how that one ended. The difference is that Howard is under contract for one more season. Will the Magic really subject itself to another circus like the one it endured last year? We view it as unlikely. Even if Dwight is pacified this year, what about next season? And the next?
"The decision is up to Dwight now," Magic CEO Alex Martins said Monday after announcing the firings of the other suits. "Dwight needs to decide where his future lies. It's been well-documented what our desires are. Now Dwight needs to decide what his are."
What Howard thinks he needs is a voice in organizational matters. (Note that he's publically complimented Mark Cuban on how he has that sort of relationship with
Dirk Nowitzki
in Dallas.) But what Howard also needs is structure, stability and discipline – features that, interestingly, this Mavericks franchise does have.
Though Van Gundy is widely regarded as one of the best coaches in the game, his coaching style has been grating to star players in the past. Rick Carlisle, who admits himself that he's grown as a communicator, has no such problems. Otis Smith was looked upon as a genius by some a few years ago when he "swindled poor Donnie Nelson'' out of
Marcin Gortat
and
Brandon Bass
. Since that time, however, he has made one baffling move after another as the Magic have gotten incrementally worse each year.
Meanwhile, Donnie is an architect of one of the greatest franchise turnarounds in sports history, has his 12 straight playoff seasons, his ring and his unbreakable bond with the owner.
And maybe it's the presence of Cuban and Nelson and Carlisle and Dirk (and maybe Kidd, and ideally, Deron) who can guide Dwight Howard into a time of personal growth.
Dallas' bottom line will be this: Despite personal concerns, Howard's talent is simply too compelling, especially when paired with Dirk. If Ryan Anderson (no disrespect to him) can put up the numbers he did this season, imagine what Nowitzki can accomplish while never being double-teamed again?
What to give up in trade? The kitchen sink. What to be weighed: Is taking on the Hedo Headache ($23 million of salary ballast) worth it? Maybe not, because it essentially blocks you from also fitting in Deron. Oh, and can you guarantee that when Dwight comes (with a contract that expires next summer) he re-ups long-term?
By the way, we've alreay worked it to make the 3D salaries fit previous to this summer:
* Dirk will get $20,907,128. That number is fixed.
*With 3D (Dirk, Dwight and Deron) and no one else, you would have nine empty roster slots with a cap hold of $473,604 each. The total cap hit would be $4,262,436. That number is also fixed.
*Deron will probably be limited by a max of $17,177,795.
*update from D-Lord regarding the increasingly tight squeeze of 3D:
3D is cap-possible at this point. Whether it is likely is a much different matter.
The biggest impediment is the Mavs' available assets. Their most valuable "asset" for a trade with Orlando would be the willingness and ability to take Turkoglu or other unwanted side salary - which means in the same move to make Howard possible, they have to make Deron impossible. It's a 3D catch-22, because they could eliminate those side assets to make 3D work capwise - but then they'd probably fall by the wayside in the value of the trade offer with Orlando.
Ultimately, odds are, it becomes an either-or situation, at least if we're talking about the summer of 2012, because of that catch-22.
So 3D is a longshot. Heck, 2D might be, too. But it's a longshot worth taking. Right?
It's Howard's nearly unstoppable talent (short of late-game free throws) that will allow teams to overlook his past indiscretions and the other sidebar and take a risk on him. Coach-killing and team-wrecking stars are astonishingly common in the NBA, a league where talent almost always wins out. Remember Deron Williams' dysfunctional relationship with Jerry Sloan? It was cited as a reason for the legendary coach's retirement, so yes, even our precious Deron can be found guilty in this department.
But the Mavs are not second-guessing themselves in their belief that Deron provides a powerful answer to questions about the franchise's future. And now as Dwight places himself back on the "for sale'' shelf, you can bet the Mavs are willing to consider him a "benevolent knucklehead'' ready to achieve yet another level in his brilliant career.
Yes, the Mavs and Dwight are ready to visit. Again. (As are the Nets, as dreamily hopeful of a Deron-Dwight pairing as the Mavs are.) And yes, we should all understand that in attempting to compete in the SuperTeam Era, you might have to make a deal with the devil … or at least, to coach the devil out of some guys.