1. THE LOTTO RESULTS
For the first time in Ever, the Mavs received positive news in the annual NBA draft lottery.
The Nets stayed at No. 6 (where their ping-pong balls said mathematically they should be). Therefore they get that pick in the Draft and must ship it to Portland to complete the Gerald Wallace. (New Orleans beat some odds by jumping from fourth-best chance to the No. 1 pick and a chance at Kentucky's Anthony Davis.)
That means no grand asset for the Nets as they attempt to keep Deron Williams (or to use to lure Dwight Howard to join him).
And that fact keeps the Mavs' Deron Dream alive.
2. THE MAVS VISITORS SCOOP
DB.com has learned that while the Mavs will obviously attend all the scouting combines and will therefore know plenty about
Kentucky
's Anthony Davis and the rest, there is such a focus on the use of the slots at 17 and 55 that the Mavs plan on inviting to town only those players likely to fall in certain sections of the draft.
Therefore … Don't expect the top five to seven players to visit the AAC for private workouts. DB.com has been told that the team will bring to town players expected to be available from 10-to-20 or so, and those expected to be available with that second pick at 55.
What is to be gathered from this? They don't see a real shot at moving way up. They do maybe harbor a willingness to examine moving up slightly. And they are taking seriously the value that can be had in their existing slots in what is said to be a deep draft.
3. THE REALITIES OF DALLAS' DRAFTS IN THIS ERA
For all of the impressive moves made by a front office led by Donnie Nelson and Mark Cuban of the
Dallas Mavericks
, moves that acquired players like
Shawn Marion
and
Tyson Chandler
for pennies on the dollar, moves that continue to include gems buried in the final years of contracts (such as
Erick Dampier
's now well-known DUST Chip), one area of success has continued to elude them: the draft.
Going all the way back to 2001, the summer after 11 consecutive years of 50-plus wins began, through 2011 you'll see a remarkable Mavs trend … and we don't say that in a positive manner.
Remove all trades and Dallas was handed 22 picks over this span by the league: one pick in the 1st and 2nd round each. A plethora of trades were made, including deals that brought in the fifth overall pick
Devin Harris
in 2004 and Roddy Beaubois. Unfortunately, over this 11-year span, those two names likely represent two-thirds of the consequential names procured through the draft; with the other being
Josh Howard
.
After these three, you're littered with names the average fan has likely never heard of, or heard of for all the wrong reasons. Perhaps it's too soon to turn the page on
Dominique Jones
, but there's been little proof over his first two seasons that he's primed to make a significant push even if the hope remains.
There are a couple of players yet to play in the NBA who may or may not prove to be worth more than currently believed.
Nick Calathes
and Petteri Koponen have shown flashes of talent overseas. Maybe someday they'll get their chance to impress Mavs thinkers and fans, though Coop alerts us that Koponen just signed three-year deal to remain overseas.
Beyond this, when you look at a near complete draft history since 2001 for the Mavs (we say "near complete" as there may be a draft-day deal left out here and there, though we likely didn't omit any names that improve the return shown below), you come away with a resource that's been left almost entirely untapped.
You may counter with what has proven to be the value added in the
Jason Kidd
deal, which included the Mavs 1st Round picks from 2008 and 2010, as a positive … but little else.
MAVS DRAFT HISTORY SINCE 2001

2011

1st (26) and 2nd:
Dealt for
Rudy Fernandez
and former late 1st rounder Petteri Koponen 6-4 combo guard)
2010

1st: None
(included in Jason Kidd trade – Mavs bought rights to Dominique Jones at 25))
2nd: Solomon Alabi
(traded rights to Toronto for conditional 2013 2nd Round pick and cash considerations)
2009

1st (25): Roddy Beaubois
(traded away 24th pick
B.J. Mullens
for Roddy and pick that became Solomon Alabi)
2nd: Ahmad Nivins
Also dealt 2010 2nd round pick from Portland to Minnesota to take Nick Calathes #45
2008

1st: None
(Jason Kidd trade)
2nd: Shan Foster

2007

1st: None

2nd: Nick Fazekas

2nd: Renaldas Seibutis

2nd: Milovan Rakovic
(traded with cash for #44 pick, Reshawn Terry)
2006

1st (28): Maurice Ager

2nd: J.R. Pinnock
(traded on draft day to Lakers for Miami's 2007 2nd round pick)
2005

1st: None
(Previously traded to Utah for 2004 1st rounder Pavel Podkolzine #21)
2nd: None

2004

1st: None
(separately traded
Antawn Jamison
for #5 pick (Devin Harris), Christian Laettner and
Jerry Stackhouse
)
2nd: Vassilis Spanoulis
#50 (traded to Rockets for rights to #55 Luis Flores and cash)
2003

1st (29): Josh Howard

2nd: Xue Yuyang
(traded to Denver for 2004 2nd round pick)
Added
Marquis Daniels
as an unsigned rookie free agent
2002

1st: None

2nd: Mladen Sekularac

2001

1st: None
(traded in 2000 for deal that brought in
Courtney Alexander
#13, who played 38 games as a Mav before being dealt to Washington in deal that brought in
Juwan Howard
)
2nd: Kyle Hill

2nd: Kenny Satterfield
Browsing this list you come away with a lot more Shan Fosters than Josh Howards, and remember this is an 11-year window, ample time to have more than three names of significance stand out, and we're including Roddy Beaubois as one of those.
For all intents and purposes, it would appear the Mavs view the draft as poker chips meant to sweeten or center trades on rather than a well to draw young talent from. And, perhaps that's not been a horrible strategy for a team regularly constrained by picking late in the first round, completely lacking in lottery picks not acquired via trade (Devin Harris and 13th overall pick Courtney Alexander in 2000, using their 2001 1st rounder were gained via trade).
Dallas has shown a knack for picking out players like
Brandon Bass
,
Brandan Wright
,
Delonte West
, JJ Barea, and/or Marquis Daniels that were either passed up in the draft or by the league after years of service – that's finding treasure in what others mistakenly may have labeled trash. However, the draft itself remains a mystery unsolved and untapped for a team so clearly in need of inexpensive talent (players capable of outperforming their cost) and youth: two traits found in abundance draft night.
Contrast this with a team like the suddenly rejuvenated Spurs, and you're left wondering what could have been. The Spurs have held onto their 1st round pick (at least until draft night) in all but one year since 2001 when, in 2009, they stole
DeJuan Blair
at the beginning of the 2nd round, who proved to be a significant contributor before slipping down the depth chart this season (in large part to another "stashed" pick that began to pay off:
Tiago Splitter
). Over this same span, the Mavs have gone without a 1st round selection six times (though you can move that to four by adding acquisitions of Devin Harris and Dominique Jones).
Due to draft day trades, these numbers can fluctuate depending on the standards applied, as briefly notated above, but they also bring forth another observation. Directly through the draft since 2001, with no selections in the top 20 until they traded
George Hill
(taken 26th in the 2008 draft, by the way) for fifteenth-pick
Kawhi Leonard
in 2011, the Spurs have found multiple contributors of a significant weight, even if a few did so for other teams.
Looking back, you'll see names like: Parker, Barbosa (traded to Phoenix for future 1st Rounder), Scola (traded to Houston because they didn't have space for him at the time), Udrih, Mahinmi, Splitter, George Hill, Dragic (traded to Phoenix), and Blair … and they may still hold hopes for
James Anderson
.
Looking at the supporting cast of their current playoff run and you'll see several names figuring in prominently from the list above, such as Parker, Splitter and the player they dealt George Hill for, Kawhi Leonard.
There's little doubt that a three-man core should be easier to build around that a single star, but you must also note that Parker (28th overall) and Ginobili (57th overall) were added via the draft.
It's hard to argue against a team that is fresh off of 11 straight 50-win seasons, two trips to The Finals and one championship … and these feats of success must be factored in (if not the dominant point of rating) … but that doesn't mean a group of decision makers that has a resounding history of success is without weakness.
Now, as the Dallas team is so thirsty for youth, for contributors worth more than the dollars counted towards them and counted against the cap, for an infusion of talent capable of supporting its leaders, it's difficult not to view much, if not most, of the last 11 years of returns from the draft as wanting.
4. THE CHANCE FOR PHILOSOPHICAL CHANGE
Our David Lord said it quite powerfully in Donuts:
They've chosen to treat draft picks as "junk,'' and the selection process itself as a "crapshoot'' to be avoided, and it's become a self-fulfilling negative as they've consistently been baffled by the market inefficiencies of the draft.

The draft is where you get guaranteed-to-be-underpaid players if you find the right ones, and you can tie them up at below market for four years. And if you hit a true homerun, you can tie up your prize for as long as nine years.

Dallas' approach to the draft has worked in the sense that the Mavs often use picks as "throw-ins'' ... and those throw-ins help deals get done ... and those deals have meant 12 years of success built around Dirk Nowitzki.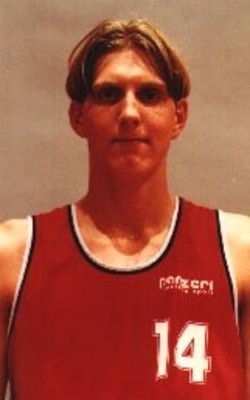 But it says here that rather than sucking at drafting low, the Mavs should better learn to mine that gold. That's the NBA's inefficient market ... and the idea that "it's just a crapshoot" is an acceptance of failure and a give up, rather than working to create an advantage.
For all of their brilliance elsewhere, is it too greedy to wish for a little more draft success to go along with Wednesday's lottery selection good news? All for a team that didn't even win the lottery in the two back-to-back '90's years when Dallas was by far basketball's poorest club?
No … not too greedy … we don't think, because the same ingenuity that has used picks as weapons to do deals can be applied to using picks for actually draftees who can play.