DONUT 1: Well, yes, the Mavs are shopping veterans ...
Around here, this is yesterday's news (or in the case of Odom and the Clippers and a three-way, two-days-ago's news) but at the risk of chasing our tail on our own stories, here goes:
First to the "breaking news'' of the "
Dallas Mavericks
shopping veterans.''
I can be even more specific than that.
The veteran who is being shopped is the veteran who isn't moving his deadline. That's Vince, as we told you earlier this week.
DB.com learned from NBA sources on Monday that the Mavs are very unlikely to work a deadline change with Carter. With his $3 million salary level compared to his production this past season, they've accepting Vince's decision to decline their invitation to shift his deadline.
The Mavs have deduced that players like Carter are likely to be the best bargains under the new CBA – and they'd rather not poison that well.
But as we wrote Monday:
If it became necessary, even without a deadline change, Carter could still be included in a July trade, as part of a sign-and-trade for
Deron Williams
, and/or he could be waived with minimal cap after-effect (the 2012-13 cap cost to waive him would be $1.2M in July or after, rather than $0.8M in June).
So they are keeping his contract as it is. And they might keep him beyond that ... with an eye towards flipping him ... but only AFTER it's determined they need the room.
DONUT 2: Now to Odom shopping himself ...
From DB.com's Tuesday coverage:
As we first reported weeks ago, the Mavs approached Odom with an idea based on the unorthodox nature of his contractual situation. Odom is on the books for $8.2 million next season. The Mavs want no part of that, so they work to ensure that he ends up with another team, one way or another.
One way: His contract contains a provision that he can be waived, wiping out that final year, with a buyout of $2.4 million. That transaction would need to occur by June 29. It would be the cleanest way rid themselves of him. But doing so means the $2.4 million would be charged to the 2012-13 cap and reduce their available spending room for the summer.
Another: A simple trade of Odom to a team with 2011-12 cap space. That team can keep or waive him. The Mavs could pitch in something in trade for the other team's trouble. (Toronto and Sacramento are eligible to do something like this.)
But there is a third way: The Mavs can morph that instantly-expiring contract, which can shrink from $8.2 million to $2.4 million, into a trade asset.
But they need time to do that. And knowledge must be gathered by both sides.
So here's what's happening:
Sources tell DB.com that Odom agent Jeff Schwartz is testing the market for Odom as a free agent. (Sources tell us Odom has permission to shop himself, and is doing so with the Clippers and others.) If a rich market exists, Odom will be less inclined to move his deadline. He will happily allow Dallas to provide him his freedom and collect a big payday elsewhere.
If a rich market does not exist? Odom plays ball with the Mavs. He moves the deadline (we're told Schwartz and the Mavs have already tentatively talked about July 11-16.) And the Mavs seek room from there.
Read more from our exclusive coverage on how Dallas is trying to benefit from Odom's unorthodox situation here.
DONUT 3: Scouting Quincy Acy as a Round-2 pick ...
DB.com contributor Mike Bacsik scouts another Baylor Bear:
I'm not crazy about taking a Baylor Bear with the 17th pick,
(see my Perry Jones take here)
but I'd love to take a Baylor Bear in the second round.
Quincy Acy is an undersized big man at 6-7 but gives every amount of effort possible on the court. Acy's height is small for a power forward but his standing reach is 8-11 with a 7-3 wingspan. The standing reach of Anthony Davis is only an inch better.
If Quincy Acy was three inches taller he'd be a strong candidate for the first round but he isn't. He doesn't have much of an offensive game but we are talking about a middle- to late-second-round pick. There are going to be major flaws. What Acy does well: defense and rebounding.
In the regular season the Mavericks ranked 21st in rebound differential with a -1.1. As a Dallas fan, I hated Malik Rose and I hate Reggie Evans because I'm always afraid those type of players are going to hurt my Mavs. They're described as "energy guys'' or "hatchet men'' and while I don't like them playing against the Mavs, I like them playing for the Mavericks.
In this era of Mavs basketball, Eddie Najera provided that spark off the bench with his energy and relentlessness to get a board or guard anybody coach told him to defend. I believe Acy can guard multiple positions and in switch situations when a big has to guard a little, Acy will be able to keep that guy in front of him long enough to disrupt the supposed mismatch.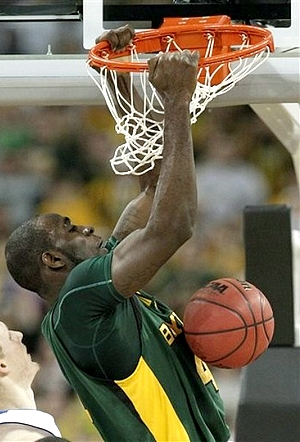 The 21-year-old senior from Mesquite was the basket protector for the Bears, averaging 12 points, 7.4 rebounds and 1.8 blocks this season. He also averaged 3.1 fouls a game and he doesn't pick up too many cheapies. He plays the game as physically as the refs will allow and then pushes it a little bit further. Most of his points come on dunks and putbacks but he doesn't have a horrible shot and might be able to develop a 15- to 18-foot jumper.
Guys like Reggie Evans and Kenneth Faried had impacts in this year's playoffs. In short spurts I really believe Quincy Acy can provide the type of energy teams are looking for off the bench. He's the type a player coaches fall in love with and put me down for believing Carlisle will be no different if the Mavs get there hands on Quincy Acy with the 55th pick.
DONUT 4: Wait a minute. Did you say 'Sign-and-Trade for Deron? ...
People close to the Deron situation tell me they are convinced the Nets "won't be in the mood'' to sign-and-trade Deron to the Mavs. Because of the weaponry that is David Lord, DB.com is just well-prepared on the subject enough to believe those people, the Nets, and any Mavs people who work under that same assumption are wrong.
What if I can show you a way for the Nets to sign-and-trade-away Deron (assuming he wants to come to Dallas, of course) ... but it means no taking on of ballast for Brooklyn, no eating up of cap room for Brooklyn, and increased room and a usuable asset to boot?
Stay tuned.
DONUT 5: Remember our Nash-Garnett Plan B? ...
(UPDATE: Garnett is out. He's announcing his retirement this week.)
You'll also notice that our continuing belief that whichever team wins Nash (and he's always represented a serious Dallas target should Deron not work) will not get a hometown or home-country discount.
That goes for Toronto, where he would be a national hero as a Raptor ... and it goes for Dallas, which needs to get this message as stated by Nashie himself this week in a NY media interview:
I definitely feel I want to be validated monetarily to an extent,'' Nash said. "It's still very important. I think money in many ways represents respect. For example, if you sign with a team and take half or less money, six months later they trade you. It has to be one of the factors. It's not everything but it is important and will be one of the factors involved.''
Mark my words: Man with children going through a divorce. Still playing at an All-Star level. Doing his very last NBA contract.
There will be no discount. This will also not be a short-term deal. If Dallas doesn't get Deron at $17 mil a year, it'll still end up spending if if wants to pull off this version of Plan B.
DONUT 6: Thanks to Ryan at MavCowTickets! ...
This happens hundreds of times over the course of Mavs season, Rangers season, Cowboys season: I get a call wondering where a guy can get a game ticket at the last minute. It happened this week, a reader wanting two tickets to the NBA Finals in OKC. How to get it done? Call Ryan at
MavCowTickets
... and it's done.
Personal service. Middle-man costs eliminated. A relationship with Ryan, who knows and loves the local teams just like you do. Thanks to the Ryan for the partnership and friendship with Mavs fans and DB.com!
DONUT 7: Follow Fish and the Mavs on Twitter! ...
Follow @fishsports
DONUT 8: "Troops on the ground'' ...
I am told that the Mavs intend to have "troops on the ground'' in free agency and that not only will Deron be targeted, but
Brandon Roy
and others will be courted as well.
More on this today as Mavs GM Donnie Nelson conducts a pre-draft press conference at the AAC this morning.
Expect him to say things like "troops on the ground'' and "We Love Our Boys In Blue'' and stuff like that.
DONUT 9: All the Mavs news that's fit to print ...
Is
right here in the DB.com Archives. So much front-page news this week ... and more coming ...
but how can I fit it all on the front page? Click the link and dig in! Exclusive interviews with Mavs players ... Videos from inside practice ... Workouts with draft candidates ... Information about the Mavs you get FIRST!
Thanks for reading and supporting DallasBasketball.com!
DONUT 10: The 200-Inch TV screen! ...
The gang at Red Rock Bar & Grill
know how to throw a party, that's all I'm sayin'. Live music, sports on the big-big-big screen, and crazy love for the Mavs. What more do you want?
DONUT 11: The Mavs "fear'' what?! ...
The CBS story claiming there are NBA execs who sense in their conversations with the Mavs that Mavs execs "fear'' losing Deron is ... well, rather embarrassing. The Mavs "fear'' of not getting Deron is at about the same level as the Nets' "fear'' of same. It's not accurate to write that Obama "fears'' losing the election unless you also note that Romney has the same "fear.''
Besides, why would Cuban and Donnie expose their "fear'' over the telephone to other NBA execs? And how does one sense such anxiety? Can somebody in Charlotte or Portland actually hear it when a sweat droplet falls from Mark Cuban's fearful forehead?
DONUT 12: The Final Word ...
It bears repeating (and not just because my Twitter name is included in Deron's retweet, though that's always fun:
"I guess none of these clowns pay any attention to what DWill says,''
tweets Deron
, "and that is he doesn't even know yet.''