The
Dallas Mavericks
continue to put the pieces in place to best make room for the hoped-for free-agent acquisition of
Deron Williams
. Before that pursuit can officially begin on July 1, another benchmark date looms:
Friday, June 29, is when
Lamar Odom
will make up his mind in a way that hopefully is best in helping both him and his former club.
As we first reported weeks ago, the Mavs approached Odom with an idea based on the unorthodox nature of his contractual situation. Odom is on the books for $8.2 million next season. The Mavs want no part of that, so they work to ensure that he ends up with another team, one way or another.
One way: His contract contains a provision that he can be waived, wiping out that final year, with a buyout of $2.4 million. That transaction would need to occur by June 29. It would be the cleanest way rid themselves of him. But doing so means the $2.4 million would be charged to the 2012-13 cap and reduce their available spending room for the summer.
Another: A simple trade of Odom to a team with 2011-12 cap space. That team can keep or waive him. The Mavs could pitch in something in trade for the other team's trouble. (Toronto and Sacramento are eligible to do something like this.)
But there is a third way: The Mavs can morph that instantly-expiring contract, which can shrink from $8.2 million to $2.4 million, into a trade asset.
But they need time to do that. And knowledge must be gathered by both sides.
So here's what's happening:
Sources tell DB.com that Odom agent Jeff Schwartz is testing the market for Odom as a free agent. (Sources tell us Odom has permission to shop himself, and is doing so with the Clippers and others.) If a rich market exists, Odom will be less inclined to move his deadline. He will happily allow Dallas to provide him his freedom and collect a big payday elsewhere.
If a rich market does not exist? Odom plays ball with the Mavs. He moves the deadline (we're told Schwartz and the Mavs have already tentatively talked about July 11-16.)
When will he move the deadline? Why, at the deadline, of course. This has to be agreed upon by Friday. But the Odom camp is in no hurry. It can all happen in conjuction, too, with the Mavs' pursuit of Deron, as he is also repped by Schwartz.
The Odom deadline date is key. The Deron FA date is key. And Schwartz is the hub of a busy wheel as he tries to juggle the desires of both clients.
If Odom opts to not move the deadline, it's not crushing as it relates to Deron Williams. Deron can still want to come to Dallas, and would hopefully do so even in the wake of the Mavs trading Odom in a way that opens cap room for later and forces the Mavs to strip down a bit.
There is room for Deron as soon as Dallas takes the steps of removing of Odom and possibly using amnesty.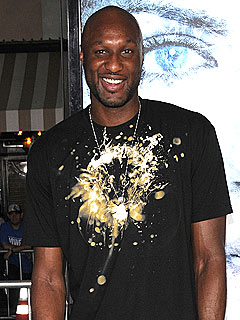 Again, that's not optimal for a Dallas-bound-Deron. So agent Schwartz won't want to force that on the Mavs. Instead, he'll want to negotiate landing spots for both his clients.
Put it this way: On Friday, June 29, Schwartz will have a very good feel for Odom's market value and might have a decent handle on a feel for Deron's July wishes as well. Maybe there will be two completely independent choices bein made ... and maybe there won't. If he agrees to a deadline move for one client (Odom), we might have our hint as to the future of another client (Deron).
It adds anxiety, but when is the deadline for the change of deadline? Well, it's at the deadline.