DONUT 1: Source: Mavs talked Monday night with Magic about Dwight ...
The
Dallas Mavericks
do not believe they are the "leaders'' in the race to Dwight Howard, a source tells DB.com ...
In part because they do not think there is a leader at all.
As we reported Monday night, the Mavs and Magic have visited on the subject of a Howard trade. Dallas remains on Howard's wishlist, one of the few places he has promised he would re-sign with to skip free agency next summer.
Do the Mavs have the best offer (which has always been centered largely on cap room and a willingness to take on The Hedo Headache - all of this assuming Deron falls through)? Probably not. But the Mavs don't think
Brooklyn's junky and clunky offer
is near enough.
I will suggest to you that Orlando will be talking to the Lakers about Andrew Bynum and to Atlanta (Dwight's hometown, where buddy Josh Smith plays) about Al Horford.
Nobody is in first place in this race. Remember, the trade deadline is in February. This can change in an instant, but as I write this, there is no first place in the race because the race has barely started.
DONUT 2: Do you really want Dwight? ...
He feuded privately with coach Stan Van Gundy and allegedly demanded the front office to fire the coach. Then when confronted with these allegations, Howard acted smug and gave us one of the most awkward coach-superstar-media interactions ever.
Shortly thereafter, Van Gundy was indeed fired. And Dwight was ... well, still dissatisfied.
The picture that emerges is one of a coddled superstar whose desire to be liked conflicts with his self-interested aims to play where he wants, team-first concerns be damned. Not quite as troubling is the image some have of DFW native Deron as a "troll'' who is "teasing'' his two suitors.
What they are actually doing, of course, is conducting business as if they are the centers of the universe. And hey, as guys poised to make upwards of $18 mil a year for the rest of their basketball lives, maybe they are.
Just as Mavs GM Donnie Nelson will tell you that Deron is "the right quarterback to put us right back in the saddle'' of championship contention, Dwight is the right superstar to be "saddled.'' There is no player quite like him.
DONUT 3: Dwight by the numbers ...
Lets look at the numbers from this season, in which Dwight missed the final 12 games due to back injury:


Category NBA rank
FG%: .573 2nd
FTA: 572 1st
FTM: 281 11th
Off Reb: 200 11th
Def Reb: 585 1st
Total Reb: 785 1st
Blocks: 116 T-6th
MPG: 38.3 5th
BPG: 2.1 3rd
PER: 24.2 6th (for comparison, Dirk was 18th at 21.7)
Prior to this season, he was the three-time defending Defensive Player of the Year and has been a fixture on the All-NBA and All-Defensive first teams. He's the consensus best center on the planet and may be the most unstoppable force in the league this side of LeBron. Furthermore, he is only 26 and should just be entering his prime as historically, big men peak a bit later than their counterparts on the perimeter. He's more than worthy of a max contract and breaking the bank for.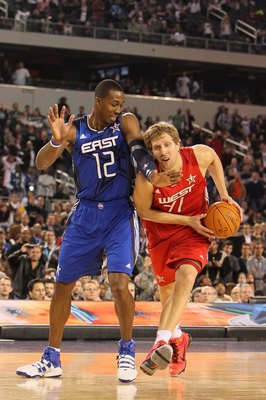 His defense is as good or better than
Tyson Chandler
's with a vastly more complete offensive game. He is that good, and may get even better. There is no reason to surrender a player as valuable as Chandler was to Dallas without a bigger fish in mind (or a supreme belief in the necessity of financial flexibility) and Howard is as big as they come.
That's part of what
The 3D Blueprint was always about.
For now, though, the Mavs simply need a second "D.'' With Deron, it's about out-recruiting the Nets. With Dwight, it might have to be about the impediment of the Mavs' available assets. Their most valuable "asset" for a trade with Orlando would be the willingness and ability to take Turkoglu or other unwanted side salary. What's to be weighed: Is taking on the Hedo Headache ($23 million of salary ballast) worth it?
How many teams can, and will, do so? If you are looking for a percentage prediction, you got the wrong guy. I'm just relaying to you what is going on (facts) and the opinions that matter (Mavs opinions).
Interestingly, Howard's bad rep could be bunched with Deron's coach-killing rep. Remember Deron Williams' dysfunctional relationship with Jerry Sloan? It was cited as a reason for the legendary coach's retirement, so yes, even our precious Deron can be found guilty in this department.
The deals with the Devil are as much in play as any possible deals with the Nets or the Magic.
DONUT 4: Who wants to go to Hawaiian Falls! ...
A NJ paper actually adds support to the concept of Kris Humphries and Brook Lopez going along with the Dwight-Nets-Orlando idea because Hump has a home (somewhere) in Florida and because Brook really, really likes Disneyworld.
Seriously.
So I'll tell you what: Let's hook up with a long-time Mavs-supporting DB.com-supporting friend at
McKinneyDentist.com!
Go see Dr. Berlin and the best in the business for a cleaning during the month of July and enter for your chance to win four tickets to Hawaiian Falls! Call 'em today to schedule your appointment at (972) 547-6453.
DONUT 5: Nash to Toronto? ...
If Stevie takes the Raptors' three-year, $36-mil deal there, it's not because he's a point guard.
It's because they need him to be a point
God
.
Knicks beat writer Alan Hahn says that if Nashie goes to NY, he'll be bigger than Regis Philbin. As I countered to Alan on Twitter, if Nash goes home to Canada, he'll be bigger than Pierre Trudeau.
DONUT 6: Marcus and Marco ...
Add two more names to the looooong list of Mavs maybes: Veteran center Marcus Camby, who is 38 but does fit Dirk's vision of a mobile two-way helper.
And then there is the idea of Marco Belinelli, the gigantically long perimeter guy whose name appears on Donnie's big whiteboard in a photo you can see on DB.com Premium Boards. I think the whiteboard names there are in alphabetical order, but put Marco on your "maybe'' list nevertheless.
DONUT 7: Follow Fish and the Mavs on tonight on Twitter! ...
Follow @fishsports
DONUT 8: I don't care what SportsCenter says ...
... Or how many times they say it: As of 11:18 p.m Monday night, a source close to Deron told me that there is no done deal. (Contrary to an ESPN TV report.)
Now here we are 24-plus hours later and ... nope. No done deal.
Deron will have a decision this week. He's earned the right to consider this as deeply as possible. Meanwhile, the same logic pretty much applies to Dwight and the Magic, too. The trade deadline on him is February, you know. Not today.
No matter how many times your TV insinuates otherwise.
Mavs fans, thanks for becoming a Premium Member, where you get info like this and so much more. DB.com and the FOXSports Network also allows you inside your favorite NFL, MLB and college teams. And make sure you look around
DallasBasketball.com's Archives
and
DB.com Boards.
There's gold in there ... Go Mavs and Go Premium!
DONUT 9: DB.com on the radio this week ...
I'll join Elf on 105.3 The Fan on Wednesday, Thursday and Friday of this week ... 10-to-2, middays, bringing you all the Mavs and Cowboys goods as stuff happens. Join us!
DONUT 10: The 200-Inch TV screen! ...
The gang at Red Rock Bar & Grill
know how to throw a party, that's all I'm sayin'. Live music, sports on the big-big-big screen, and crazy love for the Mavs. What more do you want?
DONUT 11: The latest on Mavs amnesty ...
The Mavs wont make any moves to clear space, such as amnesty, renouncing of exceptions, and the like -- until into July. And even then, the transactions will come only after knowing that they will need to do in order to create room for somebody like, say,
Deron Williams
.
There is nothing gained by doing it before the moment that you need the cap space.
Furthermore, the more we study and the more we ask around, the more we believe an amnestying of somebody like Haywood might not be needed.
Yes, a move-out of him is needed for Deron room. But why not a get-nothing-back trade of Big Wood? If Omer Asik is worthy of Houston's three-year offer sheet worth $24.2 million, mightn't a team be interested in acquiring Big Wood for nothing?
DONUT 12: The Final Word ...
There is no "Sky Is Falling'' here. There is no "Do Something Or Bust.'' There is Deron ... there is Dwight ... And there is overreacting to the "news'' that Deron is working out today at the Nets facility, which anyone who covers jocks should know is the most natural thing in the professional sports world.
Hey, guess where Dwight is right now? He's in LA. You know what that means, don't you?
Nothing. It means nothing.
The Mavs will talk to Nash. They will talk to Jeremy Lin. They will talk to everybody. As they should.
If all else fails, they will also consider the dissatisfying-but-maybe-wise option we like to call "Plan Keep Your Powder Dry'' that Mavs management knows you don't want to have to deal with.
For the moment, they don't want to deal with it, either. They'd rather deal with Deron or Dwight.
And deal with all the Devils that go along with that.