A: Asset Management ...
The Nets seemed to spend Sunday in a wild-ass frenzy trying to find pieces that might convince Deron they are serious about building, trying to convince him that they know what they are doing. So they gave Gerald Wallace a monster deal ($40 mil for four years) despite him having no other suitors. They keep discussing taking on the worst contract in the NBA, Joe Johnson and his $90 mil of ballast. They scrambled for backup plans (nothing wrong with that) and they poised themselves to have no shot at Dwight (despite his desire to land in Brooklyn.)
Meanwhile, the Plan A outlined by the
Dallas Mavericks
in-house ... and details to some degree on this pages ... and discussed in mid-week conversations between Dirk and Deron (and presumably all weekend long between Kidd and Deron) ... it's essentially unchanged.
It's about "Asset Management.''
It's about 12 straight playoff berths. It's about 50 W's a year. It's about WCF's. It's about The Finals. It's about championships.
Says Mavs GM Donnie Nelson: "They understand that we got a guy like Dirk Nowitzki and all the other veteran players that have come through here and have had terrific experiences, winning experiences, Finals experiences, championship experiences,'' he said. "And the quality of life. I would think that we would rank high on a lot of free-agent lists. The tax-free (state), the warm weather ...
"Ain't no place like Texas.''
B: Brooklyn bad-mouthing ...
DallasBasketball.com has learned that the Mavs will very specifically not mention the Nets' history of winning half as many games per year as Dallas wins in the last decade ... will not criticize the owner as being absent ... will not point out that the Nets are destined to be the Knicks' forever redheaded stepbrother ... are coached by Avery Johnson, who is not expert in the care and feeding of point guards.
We can say it. They will not.
It's a classic and classy sales technique: Don't even acknowledge the other widget salesman. Just sell the greatness of your own widgets.
C: Carlisle, Richard Preston ...
We can assume Richard Preston Carlisle, with a name like that, knows his way around a place like The Hamptons. We also know players from "the other side of the tracks'' like Delonte publically endorse Carlisle, and have done so, to Delonte, on Twitter.
Donnie's on the trip, too. So is Michael Finley, fascinatingly, and I'll get to him below.
But Rick as the point man has a history of working. The last time the Mavs wanted a big shot to sign on the dotted line, it was Marcin Gortat. He signed his offer sheet. The point man on that doorstep?
Richard Preston Carlisle.
"(I) can most definitely see why players like and play well for him,'' CJ Miles tweeted late Sunday after having dinner with Rick. (See "M.'')
Now, it's easy to understand why Delonte is stumping for Rick. Why do you think CJ Miles is?
D: Dirk Nowitzi's Non-Dog-And-Pony Show ...
"We as the Mavericks,'' Dirk says, "we don't look at ourselves as a rebounding organzation. We always compete at the highest level.''
How much more does Dirk need to say to his friend Deron?
Oh, he said more. Here, look for yourself:
Here's Dirk's full five-minute presser on baseball, the draft and Deron:
"I think he's still undecided," Nowitzki said. "I really think he's torn. He's got two great owners, two great organizations. And obviously, I think Jersey, with the move to Brooklyn is even more appealing.
Nowitki is now DFW's adopted son, and favorite son. He says Deron-to-Dallas would be "very special for the city.''
"It's a tough decision'' said Dirk of Williams, who is from The Colony/Carrollton area, as is his wife. (Most of their relatives also still live here). We're going to keep recruiting and hopefully we'll get some good news this week."
Nowitzki says he doesn't believe a "hard sell'' is necessary.
"Obviously, I know him," Nowitzki said. "We've played in multiple All-Star games together. We can talk amongst players. But I don't feel I need to pitch much. He knows the organization. He knows what we have here. He knows what the city's like. He grew up here. I think he knows what he has here.''
ESPN says Dirk first called Deron at 12:01 a.m. Sunday. That is incorrect. They were in phone contact all week. (It's so funny to hear national media people report that Deron had dinner with this Nets person or had a birthday party with that person ... when all the while, Dirk was also on the phone with him, and barely anybody -- except, you know, YOU -- knows it.)
E: Education ...
Cuban's got daughters. Carlisle's got a daughter. They live in the same upscale neighborhood about eight minutes from the AAC, and all the girls go to the prestigious Hockaday School.
Deron's little angels would fit right in.
F: Finley, Michael ...
We noted a couple of weeks ago that ex-Mav Michael Finley was conspicuous in his presence at the backyard birthday party Cuban threw for Mrs. Cuban ... which featured Bon Jovi on stage.
Makes you wonder who, along with Kidd, was Deron's favorite Mav while growing up in The Colony. Makes you wonder whether FinDog is about to get hired as a Mavs exec (I bet he will if he helps pull off this coup!) Makes you wonder if Finley will remind Deron how this organization treats its fellas ...
... Even with billboards in Atlanta complaining when one of them doesn't make the All-Star Game.
G: Golf in The Hamptons ...
ESPN reported that Jason Kidd "recently'' purchased a home in The Hamptons, leaving the reader to assume the purchase was somehow tied to the end of the season, to his free agency, and maybe to Deron and Kidd plotting a "Thelma & Louise'' cliff dive away from Dallas.
The part about Kidd owning a home in The Hamptons? We wrote that on Dec. 8. It's a two-acre, $6-million estate. The Hamptons are where people who live in places like Brooklyn go to escape. That's where Deron has been hanging out all weekend ... and while we can only guess that Kidd is doing the Mavs' bidding there as they play daily rounds of expensive golf (or is Kidd a traitor!!) ... there are plenty of reasons to see this arrangement as being Mavs-friendly.
But for certain, Kidd's old-news-made-new-again purchase of the home is not an anti-Mavs sign.
H: Hometown hassles?! ...
Kidd says he had that "everybody-wants-tickets'' problems when he was a young NBA star and the fellas in Oakland asked for favors. So, it's a problem, right?
No. How? Kidd never played for the Warriors! He had hometown requests as a VISITOR back home!
Vince Carter told me this weekend that he never had an issue with this when he played for his hometown Magic in Orlando. Never.
This much-ballyhooed non-issue (which in fairness has been broached even by Deron's own mom) is foolishness. You give the man an AAC suite. You assign a secretary to field the requests. This isn't complicated ... or, at least, it isn't more complicated than if he plays in Brooklyn.
NBATV predicts that Deron will sign with the Nets because he'll be "The King of New York.'' That's nonsense, too, but let's play along:
You think "The King of New York'' isn't going to be bothered with favor requests from his royal subjects?
From the very first week Dirk came to town some 13 years ago, the Mavs organization assigned him a "mom.'' She handled his mail, helped him with errands, found him German beer, whatever.
I think the Mavs can handle a few ticket requests.
I: Income tax ...
In New York, it's 8.6 percent. In Texas, it's zero. That might not be as notable if not for the fact that in the beginning of this season, Deron himself mentioned it.
NYC's cost of living is also 44 percent higher than Dallas'. It doesn't take an accountant to figure out that this should be figured in.
J: Jerrance Howard ...
Who is Jerrance Howard? Why is he in Dallas? And why is he tweeting that he "knows'' where Deron is going?
See below. ... under "W.''
K: Kidd ...
So J-Kidd is a double-agent? He's going to sit there over dinner with Rick and Donnie and Fin, with Cuban and maybe Dirk dialed in by phone, and tell Deron NOT to believe them?
If Jason Kidd is indeed a tandem with Deron, and Kidd ends up playing for Avery in Brooklyn, it is the FA Upset of the Summer.
L: Los Angeles, Mark Cuban's recruiting base ...
That's where the agents hang out. So that's where Cuban is hanging out. (If you think his reason for being West Coast right now is only to film an episode of "Shark Tank,'' you are badly misreading the man's priorities. ... though he does have a TV-lovin' ego.)
Listen, this man sold Hefty bags door-to-door at age 11. Shortly after that he took advantage of a newspaper strike in his hometown of Pittsburgh by getting an pre-dawn ride to Cleveland, where he gobbled up newspapers on a daily basis and then sold them on the streets at a profit back in Steel Town.
By the time he was a student at Indiana University he owned a bar ... even though he was barely legally old enough to drink in it.
This is sales. You really think Cuban doesn't know sales?
M: Miles, CJ ...
DFW native C.J. Miles -
who told The 75-Member staff that he's "hopeful'' of a Deron/Dirk teamming in his hometown (and wants to come to play in Dallas, too)
-- is spending Sunday night in NYC dining with Rick Carlisle at Atlantic Grill.
"The sushi is amazing!'' CJ tweets. "Get the Sweet and Spicy roll!''
N: Nash, Steve ...
He's the Mavs' sensible Plan B. For the Nets? He's being told that they'd like to recruit and sign him AND Deron. Oh, AND Kidd, too. AND Joe Johnson. AND all this after having given Wallace his $10M a year.
They're telling Nash that maybe Deron and Steve could start together in the same backcourt.
The Mavs aren't BS'ing Nash. He knows he's Plan B. "Truth'' might be wise when dealing with a player who is wise.
One of these days, Steve Nash is going to run his own basketball program. I bet he doesn't run it the way the Nets are running this.
O: Odious Odom ...
The Mavs received an $8.9M trade exception from the dumping of the Odious Odom. How will that help them?
(Yes, it's an $8.9M TE, not $8.2M as has been widely reported.)
A trade exception gives a team an "amount plus $100,000" ability to take back a player in a later trade, without sending matching salary the other way. It expires in a year if not already used. Part of it can be used, with the remainder still available, until it's either all used up or the year is over. It can never be used in combination with anything to take back a salary bigger than the "trade exception plus $100,000" amount, so the limit of this one would be a player with a salary of $9M or less.
Will the Mavs be able to use it for their benefit? Maybe not. It could not be used as part of the trade-matching for a sign-and-trade acquisition of Deron Williams (whose starting salary should be around $17.2M). If the Mavs sign D-Will outright, it would get thrown in the trash to help clear the needed cap space, because a trade exception eats up cap space (in this case, $8.9M of it). The same would occur if the Mavs missed out on D-Will but decided to sign a different over-the-MLE free agent - it would get trashed.
There are some scenarios under which the TE could help. If the Mavs were able to acquire D-Will and work a sign-and-trade to do so, this TE could be retained since cap space wouldn't have to be cleared. Or if the Mavs are unable to land D-Will or another over-the-MLE free agent, the TE would remain available for use by the Mavs.
I know conventional widsom SWEARS the Nets will never sign-and-trade Deron away. We'll see.
P: Papers ...
As in "newspapers.'' Especially the NY ones. "Guarantees'' of percentages and nonsensical sourcing and words like "leaning toward'' that mean nothing.
I've been a newspaper guy for 28 years. I'm not pleased.
Q: "The right quarterback'' ...
I can say this now, with no fear of tampering worries for friend-of-DB.com Donnie Nelson: What he was terming "The Big Fish'' in press conferences (almost certainly referring to Deron) he was calling "Big D'' in our conversations.
Calling Deron "Big D'' can't get any of us in trouble, can it?
"The right quarterback,'' Donnie says, "will put us right back in the (championship-caliber) saddle.''
"The right quarterback'' can, conceivably, be somebody else. There is Nash and Dragic and Lowry and whomever. But all along, Donnie's been talking about Deron while being so careful as to nickname him "Big D.''
R: Recruiting ...
So why didn't Deron simply tell Brooklyn before this process began that he was going to stay there? Woulda saved them a lot of trouble, you know. For that matter, doing so would've saved Dallas a lot of effort, too.
Oh, he's "torn.'' I believe that. But there's something else: Deron wasn't heavily recruited out of The Colony High School. Great player, yeah. And Illinois landed him and he became a star. But he was always the third- or fourth wheel in town as a high-schooler.
I believe he WANTS the thrill of being wined, dined and recruited. That, of course, is his right.
S: Shawn Marion ...
He's hanging out in Toronto tonight, and no, I do not know why. (He's a citizen of the planet, for sure). He's also a name that might pop up here if Deron says yes to Dallas and Brooklyn says no to a S&T.
What would Dallas do if the Nets said no to a sign-and-trade?
One big step: get rid of the salary for Haywood or Marion via amnesty or via a trade to a team with cap room and no salary coming back. They'd also renounce their exceptions and cap holds, getting them under the cap. ... but the Marion/Haywood dump would be the big decision.
Asik just got how much from Houston? I bet somebody will trade for Haywood at a cost of nothing.
Then 'Trix stays here. Which I like.
T: Trading down ...
For the first time in the Cuban Era, the Mavs didn't trade down in the Draft because they de-valued the prospects.
This time, they traded down for DeronQuest.
Oh, they still need the three kids. I bet at least two of 'em make the varsity. But the trade-down was about slicing $934,905 from the cap. That's 934,905 exactly, right down to the penny. Check out our
"Why'd They Do That'' story
and you see very specifically what Dallas intended to accomplish in the draft.
The precision is needed to acquire Deron. The precision might even impress Deron.
U: University, Southern Methodist ...
You are but two letters away from the payoff here regarding how new SMU coach Larry Brown hired an assistant coach that he didn't hire.
V: Victory Plaza ...
Where we all envision a statue someday being erected that depicts Dirk doing the "One-Legged Euro LeanBack.''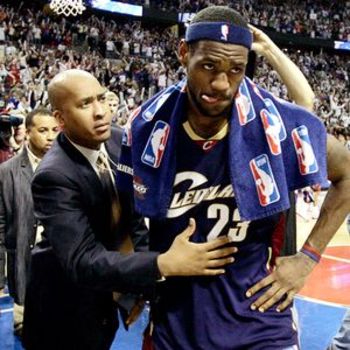 Why can't there eventually be two bronze figures out there ... the second one, with a No. 8 carved into its chest, in the motion of passing a bronze ball to the No. 41 statue?
W: World Wide Wes ...
On May 20, a source told DallasBasketball.com that the Deron Williams camp has engaged William Wesley as a "facilitator'' in the area of "marketing.''
That alone is a major story in the NBA world. Only YOU knew about it.
Now, let's chase those dots …
When certain high school stars land at certain college programs, Wesley is reputedly often the man who made the connection. Frequently, that program seems to be the one John Calipari is in charge of, and voila!, Dajuan Wagner, Derrick Rose, and Tyreke Evans end up playing for Coach Cal's Memphis teams, and then, voila! again, a kid like Anthony Davis (destined to be the top pick in this year's NBA Draft) lands at Kentucky when Calipari is at Kentucky. In the last two years, the Wildcats have had nine players taken in the Draft. The pattern will continue next year.
Calipari is a fine coach.
Wesley is a fine friend.
Wesley's most famous dot connection, of course, involves LeBron James. "World Wide Wes'' was reportedly deeply involved in "The Decision.'' In fact, you'll recall that before James left Cleveland for Miami, the Cavs worked on the notion of firing Mike Brown and hiring a coach that might be to LeBron's liking.
Who was that candidate?
John Calipari.
Wesley isn't Deron Williams' agent; Jeff Schwartz won that job last July, Williams choosing a representative who also happens to serve his pal Jason Kidd (and Tyson Chandler and Lamar Odom, among other players with Mavs connections). Indeed, this part of the NBA business is a "big little town'' where everybody knows everybody.
Jerrance Howard is a new assistant basketball coach at SMU, which is a bit unusual because despite his fine credentials (especially as a recruiter), he does not seem to have deep ties with the new head coach, long-time NBA boss Larry Brown. What Howard does seem to have, however, is college ties to two programs:
Calipari's Kentucky program.
And Deron Williams' Illinois program.
Sources tell us that Calipari and Wesley were both very much involved in the SMU placement of Howard, who has worked at Illinois (where he once served as Deron's backup and point guard and became close friends with the star) and who also was at Kentucky for a brief time during his career. Howard has received multiple interviews for vacancies at Kentucky, but is now a top assistant for an admittedly struggling SMU program.
Why did Wes place Deron Williams' best friend in Dallas, of all places ... at SMU, of all places?
X: The X-Factor is agent Jeff Schwartz ...
What hidden-yet-crucial factor might work to ensure all the key pieces happen in the Mavs' entire plan?
The role of player agent Jeff Schwartz in everything the Mavs are hoping to do this summer can't be emphasized enough. He is the agent for
Lamar Odom
. (That didn't work out perfectly.) He is the agent for Deron Williams. He is the agent for
Jason Kidd
. (Those two can still work out.)
I asked Donnie Nelson about Schwartz.
"I consider him a very good friend,'' the Mavs GM said, and good.
The Mavs could use a friend right now.
This is the agent that, when Lakers "star'' Lamar Odom wanted out of LA, steered him straight to Dallas for next to nothing.
He was in the middle of J-Kidd's trade to Dallas, and knows how Kidd has enjoyed his tenure with the Mavs.
He's a friend of the organization, because he knows it helps his guys.
Make no mistake – I'm not theorizing that he would sacrifice his clients' interests in favor of catering to Dallas. Instead, what I know is that he is in position to orchestrate things where both his clients and Dallas win.
An agent can push buttons and open doors that team execs cannot, and he can gain cooperation from teams by the sheer fact that sometime in the future he might be advising a key free agent on which team to choose.
Jeff Schwartz is a Mavs friend. The Mavs could use a friend right now.
Y: Youth ...
People talk by rote about the Mavs "needing youth.'' Even Dirk does it -- maybe because at 34, not being youthful is on his mind.
Dallas doesn't need to acquire a bunch of youthful players. Oh, Brandon Roy and CJ Miles aren't yet 30, and of course the three draftees represent "youth.''
But no, the Mavs don't need to be "young.'' They need to be "good.'' Deron Williams just turned 28 this week. That's youth enough. That's good enough.
Z: Zero Hour...
It comes Monday. The Mavs have the first meeting with
Deron Williams
. The Nets have the second. The order, I'm told, is not significant.
Because, of course, all that matters is that the Mavs get the
last
meeting with him.