At 6:14 p.m. Tuesday, July 3, 2012, a plague spilled from the Twitter feed of
Deron Williams
. A vision of a Dallas sports apocalypse framed in black and white swept across the Metroplex and we were drowned in a level of hurt generally saved for a crushing Finals series loss. Or worse. Maybe a root-canal-by-sledgehammer or something. Enveloped by alternating waves of sadness and anger, there was little room for reason, for understanding.
And we've earned that. We won a title 12 months ago. We aimed our lens at Deron shortly after that. All the eggs in a basket and once we cracked open the shell, inside was only feces.
And we – or rather, they, because while we're all in it together at the parade when the Mavs win, those dickheads Cuban and Donnie and Carlisle and Dirk are on their own when they botch something like this – THEY … blew it.
Still caught in that caustic embrace, we're forced to bask in the fires, marvel at the blisters raised from the flame's tongue and curse the course that's allowed us to be left here.
"
Tyson Chandler
was allowed to leave for this!?"
Don't tell us the sky isn't falling when prying a blade of splintered blue from the top of our bloodied heads. Don't tell us the sun will rise tomorrow if we're both staring at our freshly ripped-out hearts suffering the dying of their rhythm on the floor before us, knowing we won't be there to see the dawn. Don't tell me 'everything's going to be OK' when still shoveling the loose earth back into the grave … down into the hole we've been shoved into.
Don't speak of Plan B as we warm our hands over the funeral pyre of Plan A, coughing as the smoke scratches its way through our tender lungs. Trade for
Dwight Howard
? He was featured in that recent "Three Stooges'' movie, so at least he has that in common with Cuban, Donnie and Rick. Ingenuity to craft something out of nothing? Yeah, sure, like that overhyped DUST Chip? The next best available point guard behind Deron, a Nash, a Dragic, a Lin? Ah … too old, too unproven and too Stanford. Who needs 'em?
Seriously, we're told Dallas is already hitting on Nash but we all know Canada is prepared to give him $12 mil a year and name him "Point God.'' There are some in the Mavs organization who don't think Dragic is worth the $10 mil a year he's reportedly asking for. And Lin, hell, we already blew it with him. Yeah, Dallas likes him. Too bad it didn't like him enough when they coulda stashed him here years ago and owned that little traitor.
"Plan Keep Our Powder Dry''? Woj mentions something like that in the wake of the Deron departure … and it's something DB.com wrote two months ago … and he looks as duped as we feel. Dwight would come here? CP3 would come here? Who among us wants to really live in North Texas, seriously?
For all of our need to wallow in this place of pain, to torture ourselves with what could have been … perhaps what should have been in the horrible land of "What If" … are we gonna allow another truth to slowly slither its way in … that we're still alive.
This isn't what was hoped for, but … should we tell ourselves that the sky hasn't tumbled down, not completely. The heart, though wounded, is still caged beneath our ribs. Maybe everything won't be OK, and maybe there's a gem buried in the shadows of this thick darkness, concealed in a trade exception, in a the talents of another – aged or new – or lying in wait concealed within the realm of the unknown as a soothing aloe that may do just enough to ease the depth of this burn.
Can we purge the misperception we're trying so hard to cling to, that free agents never come to Dallas by acknowledging Cuban Era is now 0-for-1 in those chases when the appropriate cap space was in place?
Can we deny the desire to pretend we're saddled to an atrocious management group only a day ago we praised as a primary advantage the Mavs held over the Nets … and a majority of the league? Rationally, what they were yesterday, they are today: a group that has put together a team that's been to 12 straight playoffs, including two Finals appearances and one championship.
Maybe it's too soon to forgive, but haven't they earned the right to see what comes next?
In this moment, emotionally … hells naw.
The MBT gambled … and failed. In this moment, that is the truth. Perhaps that changes, but right now … there's failure. And our beloved Jet (not so beloved yesterday but beloved today) is slipping away to Boston. And now what shall we do with Kidd? How ever can we survive without the courted Ian?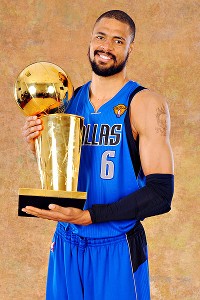 Cuban can stay in LA for all we care. Go film another damn "Shark Tank.'' Donnie, we'd like to shove your Lucchese boots right up your ass. Carlisle, you went from recruiting point man to dunce-cap wearing failure. Oh, and Dirk: Hope you enjoyed Wimbeldon while your
Dallas Mavericks
were getting strawberries-and-creamed.
Even after we take a second breath (and a third beer) we wonder: Perhaps the loss is too severe, too large to overcome before the end of Dirk Nowitzki's gradually dimming light can be saved. Isn't this where our hearts eventually land? Dirk, save yourself! Run, Dirk, run!
When your internet connection seemed to crawl, yielding an eternity for a picture attached to Deron's tweet to load as the web breathed in your hopes, then chewed them up and spit them back in your face behind that simpleton Nets emblem … isn't Dirk where the ache sent screaming through your veins eventually came to rest?
Dirk deserved his chance to defend what he'd earned. Should Donnie and Mark not find a way to lead the brightest star that's anchored their skies for so long back to that horizon where the shore of contention rests … there, squarely on Dirk's shoulders, the true weight of the loss will land. They screwed him! They screwed all of us!
"Financial flexibility''? "Cap is king''? "Mavs Cap Room''? When is the press conference for "Mavs Cap Room''? Show yourself, you lying sonofabitch!
We don't want to hear about financial flexibility if there is to be no reward … well, other than that championship banner that hasn't had time to begin to fade. But while logic may dictate we might want to give them more than one swing with this new weapon before condemning the world as dead … it damn sure seems like the Mavs traveled to NYC with their CBA pocket protectors while the Nets bosses showed up with suitcases full of money and suitcases beat pocket protectors.
And speaking of "pocket protectors,'' don't even start us on capologist David Lord. If we get ahold of him, he's gonna need a "protector,'' alright ...
So here we sit. Torches lit. Pitchforks sharpened. The window of the franchise may not directly align with Dirk's career arc, but are we going to let them force us to watch the greatest player this city has ever known be sent quietly into that night to disappear as the treble whispered beneath the booming base of a death knell? The supernova that's handed down so much to us is going to do all the work while Donnie fist-bumps Fish and Carlisle tickles the ivories and Cuban dances with the stars?
Sell the team, Cuban!
Turn in your resignation, Donnie!
Demand a trade, Dirk!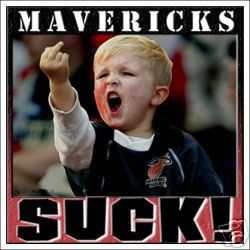 Yeah, we're fans, too. it's "The Mavs Suicide Hotline'' and we're on both ends of the line. We're taking a moment to let this bullshit gnaw at our soul … and maybe eventually, after we bonfire our season tickets and draw-and-quarter Cuban in effigy at Victory Plaza, we'll let Mavs management show us what comes next, because maybe that faint thump in our chests is proof that our hearts haven't fled just yet.
Maybe.
Or maybe after we lure Mavs management to the top of the Reunion Tower ball, we'll push 'em all to their sports deaths. And then we'll dangle ourselves from up there, too, the end of DeronQuest causing us to transform the press-credential lanyards around our necks into nooses.