Let's begin with a where-they-stand look at the
Dallas Mavericks
ledger as it relates to who is on the roster and what their salaries are for the upcoming season:
Now to a skillion bullet points to bring us all up to speed:
*What do we see above? a boring, cupboard-is-empty,
Dirk Nowitzki
-wasting roster? We don't think so, no.
A potential contender ready to continue Dallas' 12-year roll of playoff berths? Well, there is more work to be done.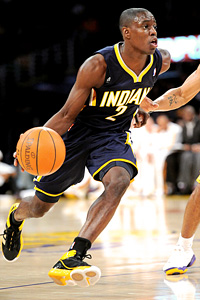 *Certainly this represents some unveiling of the post-Deron plan, which has the Mavs juggling two intentions at once: One is to remain viable as a competitive team; players like Collison, a starting PG on the come, and
Chris Kaman
, a former All-Star center, mean viability. Two is "Plan Powder,'' and you see this in action when you recognize how all three of the newcomers are on one-year deals. ... and how Dirk, Marion and Carter are the only Mavs with firm contractual commitments beyond this coming season.
The "big fish'' line casting will continue.
*No one at Mavs HQ will make much of an issue of this, uncaring as they are about the perception they can't "win free agents.'' But eventually it will be revealed that they did indeed "win'' Kaman from other suitors.
*Another potential win: The amnesty bidding on
Elton Brand
is Dallas' to be won, in part because of the cap room made available by Wednesday's transactions. Our calculations show Dallas with $6 million in available bid room ... that's three times the amount of the "going rate,'' as last year the Clippers won the Chauncey Billups bid at $2 million.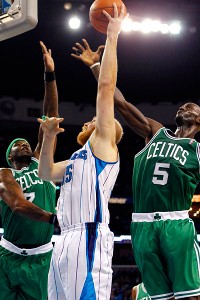 *The Mavs continue to believe that their fiscal responsibility will pay off. In the short term, maybe Ian Mahinmi getting $16 mil for four years (The Ianimal goes to Indy in the Collison/Dahntay deal) is evidence of that.
*After filling up cap with 13 players/player holds, the Mavs will be permitted to fill the roster with players using the Room Mid-Level of 2.575 mil and a minimum salary exception.
*DB.com has been told that the Mavs and Delonte West "have an understanding'' about their future together, and that there will be a decision on his Dallas future possibly as soon as Friday night. There is financial room to fit Delonte in a slot.
*If we can wager a guess at putting the pieces together, it appears the Mavs plan is to spend the remainder of their cap space on Brand Friday evening via their amnesty bid, and then give their Room MLE of $2.575M to West. Though the acquisition of Collison provides another very viable PG, it's West's ability to provide quality minutes at both guard positions, as well as his team-first approach and age (28) that makes him a keeper.
*Brand has a friendly relationship with Kaman (they played five seasons together for the Clippers), and Kaman is buddies with Dirk (they played together for the German national team). Dallas envisions a chemistry-strong and talent-deep front-line rotation featuring Kaman/Marion/Brand/Dirk (with Wright in play as well).
*We can begin to pencil in some lineup possibilities ... Marion, Kaman and Dirk upfront, backed up by Brand at the 4 and 5 ... Collison at the point, with Vince, Roddy, Dahntay and Delonte among the candidates for time at the 2 ... Hopeful thoughts on the rookies ... and continued examination on veterans with one-year deals.
*While chasing more info on the next three moves ... some Team Germany treats: