DONUT 1: Odds and Ends ...
Funny thing. We have our opinions about the ups and downs of the Mavs the last few weeks ... but Las Vegas has remained pretty steady when forecasting the winner of the 2013 NBA title.
For entertainment purposes only:
Heat: 2-1
Thunder: 3-1
Lakers: 8-1
Spurs: 10-1
Bulls: 10-1
Clippers: 15-1
Mavericks: 25-1
Pacers: 25-1
Grizzlies: 30-1
Nets: 30-1
Nuggets: 40-1
Magic: 60-1
76ers: 60-1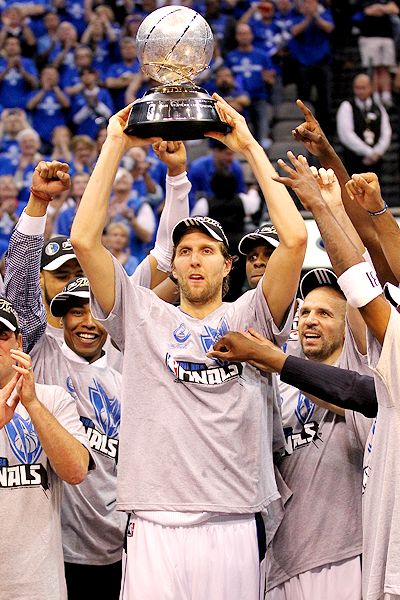 Timberwolves: 60-1
Hawks: 75-1
Rockets: 80-1
Bucks: 100-1
Blazers: 100-1
Jazz: 100-1
Hornets: 100-1
Warriors:100-1
Suns: 200-1
Wizards: 200-1
Am I putting money on the Mavs here? Is Miami at 2-1 still easy money? If Vegas thinks Dallas is destined to be a top-seven team in the NBA this year, is that a sufficient start?
You decide. For entertainment purposes only, of course.
DONUT 2: The Mavs roster update ...
As we write this on Sunday morning, the Mavs have two roster slots left. We're still operating on the belief that Delonte gets one of them. (Delonte is operating on the same belief, by the way).
That leaves the roster looking like this:
C Kaman, Brand, James
PF Dirk, Wright
SF Marion, Carter, Crowder
SG West (assuming he returns), Roddy B, Dahntay Jones
PG Collison, Dominique Jones, Cunningham
With only one slot left, what need would you fill?
Here's DB.com David Lord's interests, in order:
* If placed on the amnesty list, Calderon. He helps as both PG and shooter. Despite his defensive deficiences, I'd like this a lot.
* Courtney Lee is a name floating out there, and he's a good sniper with some athleticism and youth.
* A shooter. Somebody. Anybody. (I haven't found another shooter I like, but I'm still looking. And so are the Mavs.)
* Scola. He comes with some risk due to the minimum bid. But there's no question about the talent he brings. Scola is a scrappy big man who can shoot (mid-range and FTs, not 3s) and as you scan the roster above, even with Brand available as a 4/5, it can be argued that the Mavs are thin at the PF.
The big question is whether it'd be counter-productive to Plan Powder to head into 2013 summer owing Scola more years for a total of about $7 million.
* I have almost no interest in Belinelli, though Fish says he knows Marco ranks somewhere on Dallas' "hmmmm'' list. Nor do I have interest in Darko (I just don't think he can play at a high level) or in Blatche (the sort of knucklehead Dallas generally efforts to avoid).
DONUT 3: Our DB.com Video Visit with Cunningham ...
Today is Summer League start-up day in Vegas. In honor of that, in case you missed it, meet
Jared Cunningham
DONUT 4: Why is Jet still on the tarmac? ...
We were first to bring you the Jet-to-Celts sign-and-trade concept. ... The first to bring you the scoop on Dallas renouncing Jet. ... And the first to te news there would be no Mavs-straight-to-Celts S&T. ... Ready for one more exclusive?
Despite the above machinations, there might be another trick up Dallas' sleeve.
"We're always open to ideas,'' a Mavs exec tells us, and here's a very clever "anything'':
A multi-way, multi-team S&T that brings Calderon to Dallas at a cost of maybe just DoJo. Rwad about it exclusively here on DB.com.
DONUT 5: The Elton Brand Season Highlight Reel
Nicely done by the Sixers people and worth a look:
DONUT 6: Patience is a virtue ...
Patience is a virtue, and being a virtue, it therefore follows that it's a challenge for some of us to achieve. That includes me, too ... In the last week, I've either edited or written myself about 15,000 words on "The Week That Wasn't.''
Now, pieces are coming together. Championship pieces? Hey, with the powerhouse being assembled in Miami, maybe they're on their way to those seven straight times.
Or ... maybe we should remind ourselves of how contenders are built. Homeruns on the first at-bat of the game? That's one way. But remember how the Mavs obtained TY, DeShawn, Caron, Peja, Haywood, Barea, Corey?
Sometimes you hit a homerun to score. Short of that, maybe you score by hitting four singles.
DONUT 7: Our DB.com Video Visit with James ...
In case you missed it, meet
Bernard James
DONUT 8: Hold the Mayo ...
One more name popping up on the Mavs radar: O.J. Mayo.
We know the Mavs' personnel department's long-time issue with Mayo: It's all about the level of player they believe he thinks himself to be versus, you know, reality.
I find it very difficult to imagine Mayo would love what the Mavs might end up offering. ... But his choices may be running dry. Let's see which way the market takes us before we get too excited either way.
DONUT 9: Thanks to our friends at Studio Movie Grill! ...
We're already visiting with Shawn Marion about staging a DB.com party of some sort with our friends at
Studio Movie Grill ...
thanks, y'all, for your support of the Mavs and DB.com!
DONUT 10: We are Penn State ...
An unfortunate oddity on the Penn State campus: Some folks will protect the JoePa statue in ways far more vigorous than anyone ever bothered protecting little boys.
DONUT 11: Today's the day ...
The Mavs' Summer League group goes to work in Vegas with the following schedule: Today against Denver at 5 p.m.; July 16 vs. Toronto at 5; July 18 vs. Atlanta at 7; July 20 vs. New Orleans at 9:30; July 21 vs. San Antonio at 5.
DONUT 12: The Final Word ...
Kobe says this year's Team USA could beat the Dream Team. Is he right? Is he nuts? Is he arrogant? Is he confident?
None of the above.
He is cognizant ... cognizant of the money, fame, publicity and shoe sales that will result in such a claim. That's all this is: a sneakers commercial waiting to be filmed.