When it comes to serious analysis of the schedule,
nobody does it better than DB.com columnist Mark Followill, the TV play-by-play man who breaks it down here.
...
And the full schedule is here, along with Mavs fans talkin' it up
... Here's a companion piece to Followill's serious work: A dozen big home games, a dozen silly promotions ...
DONUT 1: 11/10- vs. Charlotte Bobcats...
The home opener for the
Dallas Mavericks
is special for that reason, but it also marks the night recently amnestied center Brendan Haywood makes his return to Dallas. It wasn't that long ago when Haywood came to Dallas in a trade from the Washington Wizards, showed two ounces of athleticism when compared to ex-Mav Erick Dampier, and was instantly praised as the best center in Mavericks history. Haywood couldn't have had a more dramatic fall from grace in Dallas, triggered by the acquisition of Tyson Chandler before the 2010 season, a move from which Haywood never recovered. Big Wood will need some luck on his side if he seeks revenge against his former team, because the Bobcats franchise has never beaten the Mavericks. Ever.
Suggested Promotion:
"Haywood Headband Night" and free fantasy football advice personally from Haywood for the first 5,000 fans.
DONUT 2: 11/21- vs. New York Knicks ...
Just two years ago Jason Kidd and Tyson Chandler were starters and key members of the Mavs' first championship team. Now instead of playing alongside Dirk Nowitzki, they'll both be visitors in the American Airlines Center while wearing Knickerbocker-blue. Rick Carlisle called Kidd and 'Basketball Savant' on more than one occasion, but for this night the hope will be that nearly 40-year old Kidd won't be up for chasing around the Mavs new point guard, Darren Collison. Remember how the Mavs always had trouble staying in from of "water-bug point guards"? Well, it's the Knicks' problem now.
Suggested Promotion:
"Throwback Night" as the Knicks forfeit the game to the Mavs and the big screens in the AAC just replay Game 6 of the 2011 NBA Finals.
DONUT 3: 11/24- vs. Los Angeles Lakers ...
Steve Nash makes his debut as a Laker for the first time in Dallas and everyone gets to talk about him and Nowitzki are best buds, and stuff. By not-so-quietly bringing in Nash to run the point and partner with Kobe Bryant, Pau Gasol, and Andrew Bynum, at least for now, the Lakers forced their way back into the championship conversation. Also, Dirk and Nash are friends!!
Suggested Promotion:
"Accidently (on Purpose) Announce Andrew Bynum as Dwight Howard Night." At the very least, it should put him into enough of a funk to throw him off his game for an evening.
DONUT 4: 12/20- vs. Miami Heat ...
LeBron James and the Good-Time Buddies return to Dallas for the first time fresh of their championship. The last time Miami made their way to the AAC, a banner was raised and the home team took quite a beating from the 2012 champs. One of these things definitely won't happen this time around. Hopefully, the other thing won't happen either.
Suggested Promotion:
"Finally Admit LeBron James Is Really Good Night." Are we collectively capable of accepting that yet? No? Alright, "Dirk Is Awesome Night" then.
DONUT 5: 12/30- vs. San Antonio Spurs ...
Not much to say here except basically the same thing that could have been said since the beginnings of Nowitzki/Duncan era almost 15 years ago. The current version of this rivalry may be winding down, but the Mavs still hate the Spurs and the Spurs still hate the Mavs. Although I will say this, some of the spice to this game left town when Jason Terry joined the Celtics.


Suggested Promotion:
"Flop Night." Everyone who falls for absolutely no reason gets a free smoothie.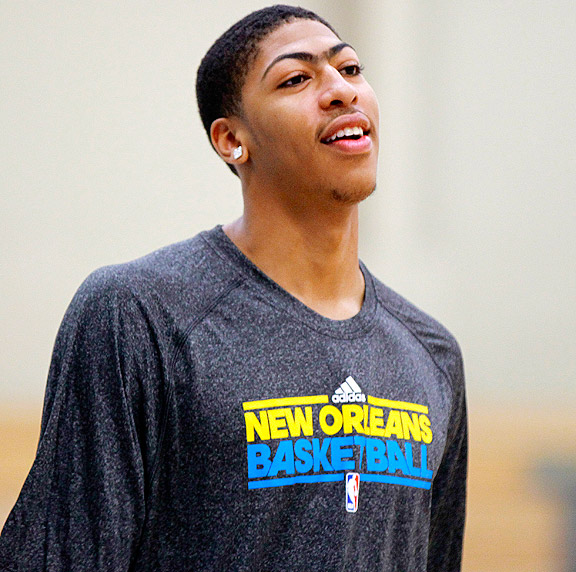 DONUT 6: 1/5- vs. New Orleans Hornets ...
The last time we saw Anthony Davis in legitimate basketball action, he was cutting down the nets after a National Championship with Kentucky. Dallas will get their first look up close at "The Unibrow" on this night and the Mavs better get used to it. If all goes according to plan for the Hornets (who have created quite a solid, young base for themselves), Davis will be making two trips a year to Dallas. That… kinda sucks for the Mavs.
Suggested Promotion: "Chris Kaman Revenge Night." Kaman was a Hornet last year. New Orleans didn't have much use for him, was honest and upfront with him, and they seemed to separate rather amicably. That's boring though, so REVENGE!
DONUT 7: 1/18- vs. Oklahoma City Thunder ...
The new gold standard in the Western Conference, the Thunder will make their first visit to the arena of their 2012 first round playoff victim. Tweaking their roster in hopes of matching up better with OKC, the Mavs will get their first chance in front of the home crowd to take a shot at the conference champs. This game may mean more to Dallas than it does Thunder, as the northern neighbors will no doubt have their thoughts on righting the wrongs of last season. Think 2006-07 Mavs.
Suggested Promotion:
"Russell Westbrook Energy Night." Whatever you do at the game that night, make sure you do it quickly while running around as fast as you can and screaming at things.
DONUT 8: 2/9- vs. Golden State Warriors ...
The Mavs will be out for blood with Baron Davis and Stephen Jackson in town, looking to get that bitter taste of a first round exit out of their mouths. Oh, it's not 2008? Never mind, then.
Suggested Promotion:
"Bob Uecker Sponsorship Night." This game is brought to you by… I can find it. To hell with it.
DONUT 9: 2/20- vs. Orlando Magic ...
You may be tired of hearing it, but Dwight Howard's future will very likely affect your Mavs. There's the slight chance that the league's best center ends up in Dallas, but an even likelier outcome is that he ends up on a Western Conference foe, greatly altering the landscape of the conference.
(We have that angle covered exclusively here on DB.com, with on-the-record quotes from Mavs GM Donnie Nelson discussing Dwight's future.)
It's anyone's guess if Howard will still be on the Magic when the season starts, but this game will be after the trade deadline and his future will be much clearer by then.
Suggested Promotion:
"Hash Tag Night." Everyone who tweets at the AAC that night has to include a #DwightToDallas hash tag. It worked with Deron Williams, right?!
DONUT 10: 3/20- vs. Brooklyn Nets ...
Speaking of D-Will, you know when you really like someone and you try to get them to notice you? You may finally get the courage to ask them out and … you get denied. God forbid you never see them again so you can avoid the weird situation. Of course, that's never the case. Fate makes it so that you see them every so often just to keep it awkward.
That's what this game will be when Williams comes to Dallas. The Mavs' well-publicized pursuit of Williams didn't go according to hopes and left the Mavericks publicly embarrassed. Maybe Deron won't see the Mavericks. Maybe the Mavericks should just pretend they're texting on their cellphone if Deron walks by.
Suggested Promotion:
"We Wanted OJ Mayo Anyway Night." The first 30 offensive possessions go to Mayo who makes all of them, successfully making Deron Williams jealous in the process.
DONUT 11: 3/22- vs. Boston Celtics ...
Jason Eugene Terry will play his first game in the AAC without wearing a Mavs jersey for the first time since the 2003-04 season. Admittedly "angry at first" and visibly shaken all of last season while not received any offers to remain a Maverick, any animosity will surely be put aside for at least a few minutes when the JET returns to his old stomping grounds. Terry will have his number retired some day in the arena where he fought alongside
Dirk Nowitzki
for so many games and he will be showered by cheers from MFFLs when he first steps on the floor.
Still, Terry has already made it clear how much he can't wait to return to Dallas so he can do his patented 'Jet on the Runway' routine. Call me skeptical, but I have a feeling it won't be so charming when he does it for the opposing team.
Suggested Promotion:
"Jason Terry Night." No joke here, just take the night to enjoy watching a player who gave everything he had into helping bring a championship to Dallas.
DONUT 12: 3/26- vs. Los Angeles Clippers ...
You can count the number of things that went wrong for the Mavs last season on ten hands. In fairness, not one particular thing can be pointed to for derailing the season. It was just a mess. Still, the most visible issue for Dallas last year was the refusal of Lamar Odom to give the necessary effort the Mavs needed from him in order to contend. The Mavericks wouldn't have successfully the championship even with a 100% operational Odom, but the dark cloud he cast over the locker room with his poor attitude made it impossible. On March 26th, Odom will make his first visit to Dallas since his unceremonious exit. If he felt bad when he got booed by Mavs fans last year, he may want to come down with a timely illness this time around. It won't be pretty.
Suggested Promotion:
"King Cobra Night." Everyone gets a cobra. Do with it what you will. Definitely DON'T throw it at Odom.
Follow @fishsports
Follow @kevinbrolan