Dallas Mavericks
owner Mark Cuban engaged in a lengthy visit with ESPNDallas' Ben & Skin
(the full 70 minutes of audio is here).
He hit on a handful of major topics, and here ... we decided whether to hit back in "Fish Or Cut Bait'':
Will Jason Kidd's Number Be Retired In Dallas?
"I was more than upset," said Cuban of Kidd's flip-flop decision to spurn Dallas and join the Knicks. "I thought he was coming. I was pissed."
"J-Kidd's a big boy, he can do whatever he wants," Cuban said. "But you don't change your mind like that. I'm sure I'll get over it at some point, but as of right now, I wouldn't put J-Kidd's number in the rafters. ... no chance. ... I like J-Kidd," Cuban added. "He's a good guy. But I just thought that was wrong. You can't put a guy's number in the rafters when he decides he doesn't want to be there."
FISH OR CUT BAIT?
I cut bait on this and let me tell you why: Kidd ranks in Mavs franchise history are as follows: 9th in games played, 8th in minutes, 4th in 3's made, 3rd in assists, 2nd in steals, 1st in BBIQ, tied for 1st in all-time leadership and tied for 1st in Titles.
He served this team, this franchise and this community extremely well in his second term here. He was brought back to Dallas to help Cuban chase the dream of a title ... and by God, the dream came true.
Jason Kidd is a basketball icon. It benefits the Mavs to recognize him as such.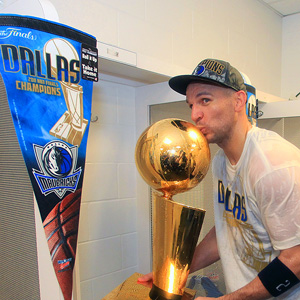 What About Jason Terry?
Jet's name also came up. Cuban seemed more positive about that.
"Jet was 100 percent honest and straight forward about everything," Cuban said. "No problem with what Jet did (signing with Boston) whatsoever."
FISH OR CUT BAIT?
I'm still not with Mark here. What determines who gets their jerseys hung from the rafters? The singular issue of how Mark Cuban feels that player treated him?
Listen to Cuban explain further: "It hurt my feelings, period, because I thought that we had developed a relationship and I thought (Kidd) was committed to the organization. It sure seemed like he was. I mean, J-Kidd was active in going out there and talking to Deron Williams the whole time. I guess it was more shocking and surprising than anything else."
In other words, Jet felt betrayed by the organization at the end of his term here ... and that's OK. But Cuban feels betrayed by Kidd at the end of his term here ... and that's offensive?
My reading of the truth based on my relationship with Cuban: He will cool down.
"I'm sure I'll get over it at some point, but as of right now ...''
is a critical part of his explanation. I understand Cuban's feelings of betrayal; he truly believed that Kidd was on a recruiting mission, when in fact Kidd was a double-agent, working for the Mavs only after doing what he thought was best for himself -- within his rights as a free agent, no matter his assumed ties to Dallas.
Ultimately, Jason Kidd and Jason Terry will have their banners raised. Because Mark Cuban will realize this isn't about his mood. It's about history.
Are The Mavs Better Off Without Deron?
Infamously, Cuban wasn't in attendance at the Deron pitch. The owner was in Los Angeles, filming an episode of his TV show "Shark Tank." For many reasons -- maybe including that one -- Williams eventually chose to remain with the Nets.
Suddenly, this is a "good'' thing.
"In hindsight, I don't know if I would have been happy," said Cuban. "I think we're in better position now then we would've been if we'd gotten him."
Nothing wrong with being glass-is-half-full, but ... what?
"I don't want to pick on Deron Williams because he's a great, great, great, great player, so it's not necessarily him per se," Cuban said. "Obviously the decision was to go for him. But the conversation was, 'OK, once you take $17.1 million in salary to what we have with Dirk and (Marion), then what do you do?' That's your squad. And it's not just your squad for this year, it's your squad for next year, other than the $3.3 million mini mid-level.
"So, that was a challenge that we had because we want to win. Everybody talks about Dirk's window, but not only would it have been difficult to add players, it also would have been difficult to trade players. In reality, that was the same problem that Deron had (with the Mavs' direction). Because he looked and saw the same thing and said, 'Now what are you going to do?'"
FISH OR CUT BAIT?
On the one hand, this almost ranks as an admission of a mistake on Cuban's part. Indeed, he acknowledges that maybe he should've made the meeting because, "You know, because I always think I can close the sale."
But Mark is being disingenous by pretending to "not want'' Deron after Deron decided first he did "not want'' Dallas. And here's how I can prove it:
The Mavs didn't just spend months thinking about DeronQuest. They spend years doing so. And had it worked out the way they planned -- with Williams as a Mav, sharing and then taking the superstar baton from Dirk -- do you believe there would have ever been, in public or in private, a from-the-heart declaration from Cuban that getting Deron was a mistake?
Of course not. This isn't "sour grapes,'' as some are calling it. This is "revisionist history,'' and it paints an inaccurate picture of what the Mavs were doing ... and indeed, what they plan on doing again the very next chance they get.
The Mavs Almost Traded For Kobe!
It almost came true, Cuban says wistfully, in the summer of 2007.
"When I was doing Dancing with the Stars, I was taking breaks because I was talking to Kobe's agent because Kobe wanted to get traded," Cuban says. "Literally, between Dancing with the Stars practices I had thought we traded for Kobe Bryant. I even talked to their owner and thought we were going to have done deal, and Mitch Kupchak changed (Kobe's) mind and brought him back."
Cuban assures that Dirk Nowitzki was not in the deal.
FISH OR CUT BAIT?
Sorry. In this round of "Fish Or Cut Bait,'' Tony Cubes goes 0-for-4. He's overly sensitive and wrong about Kidd, he's letting his feelings of control influence his thoughts on Jet, he's being disingenous on Deron and he is quite possibly exaggerating an old campfire story on Kobe.
DB.com reported on those Mavs-Lakers conversations at the time. It is absolutely true that Dirk's name was not involved. It is fun to think dreamily of Kobe Bryant and Dirk Nowitzki playing on the same team, as Cuban and the Mavs braintrust was wisely doing at the time. But it is an old story made new again, and the issue of how close Cuban was to pulling off this blockbuster? Well, the more the Mavs tell the tale, the closer it seems they got.
It was a helluva radio interview. Ben & Skin handled it well and Mark Cuban handled it in a Mavs-brand-raising way, equal parts frank, disingenous and outrageous.
But he receives four "Cut Baits'' from me.