When you look at Deron as the top alternative it is easy to poo-poo the
Dallas Mavericks
acquisition of
Darren Collison
at point guard. But Darren Collison is certainly not the throw-away point guard that Indiana treated him as and for all the hype
Jeremy Lin
has gotten for joining the Rockets I would argue that there is certainly not definitive evidence that Lin is a better point guard than Collison.
I am not trying to dismiss Lin as a fluke. But it is fair to say that with such a small sample size of games we don't know exactly what type of player he will turn out to be. In fact, his contract pays him a million dollars for every game that he has started in his career thus far (25).
A good bet: Lin will improve in many areas with more experience. He will have to cut down his turnovers as he averaged 3.6 last season with New York. While some claim that his Knicks teammates helped open up the offense for him, the truth is he had some of his most impressive games when both
Amare Stoudemire
and
Carmelo Anthony
were hurt.
Lin's NY success had a fair amount to do with the fact that he was their only option at point guard and the Melo-Amare tandem had yet to show any sustained chemistry or success. The Knicks basically took the mentality of "We don't know that giving complete control to Lin will work, but we know everything else isn't working." Lin received heavy minutes and held the ball for long periods of time.
With the Rockets' complete roster dismantle in hopes of getting
Dwight Howard
, Lin will probably get that same type of control in Houston. ... and given the Asian fanbase created by
Yao Ming
, he will almost certainly be a money-making sensation.
But now on to Darren Collison. Jeremy Lin deserved the media attention that he received last year. However, the difference in fame between the two players doesn't reflect a difference in talent or performance. Collison has been in effective player for all of his young career and I believe is primed to become a breakout player soon enough.
While writing for
EightPointsNineSeconds.com
I had the opportunity to cover Collison a lot last season. Last year's Pacers had the convenient problem of having two young and talented point guards who both deserved playing time. It was a constant debate between writers and fans on whether Collison or
George Hill
should be starting.
Collison started nearly the entire season (leading the team to a great record) but had the misfortune of slightly injuring himself in the last few games of the season. Hill took advantage of the starting job and didn't let go come playoff time. Some agreed with this decision by coach Frank Vogel, some did not.
Full disclosure: I was on Team Collison.
Collison is an extremely quick point guard who can shoot well from mid-range as well as from three and he gets to basket quite often with a great finishing ability. He uses screens terrifically off the dribble and he is a very willing passer. He is also an above-average defender, which is surprising for his size (6'0 and 160 pounds).
Collison came into this league in 2009 out of UCLA and became the backup to
Chris Paul
. As a rookie backing up the probably the best point in basketball at the time he still managed to average 12 points per game and nearly six assists. It became clear that he had value as more than just a backup point guard and Indiana traded for him the following off-season.
Collison played well for Indiana the past two years, but never made the big leap that his rookie season might have implied was coming. It's also fair to point out that despite being moved behind Hill's backup in last year's playoffs and getting his minutes nearly split in half, he was still quite productive in series against the Magic and Heat.
I would argue that he actually outplayed George Hill in more playoff games than not. But it was still Hill was given the five year, $40 million contract and it was Collison who was gift wrapped to the Mavericks in the sign-and-trade involving Mahimni.
DC is still just twenty-four and only one year older than Jeremy Lin (exactly one year, as they have the same birthday). And he might share something else: A Knick-like opportunity similar to the one given Lin.
Although the Mavs are deep with guys who "can'' play point guard with Roddy B, DoJo, Cunningham, Collison has the highest potential for consistency given his experience and potential. Unless Mayo makes the unlikely full-time shift from the 2, this job can be all Darren's ...
Collison was also burdened for the past two years with the responsibility of leading an Indiana team that was trying to find its identity. The team had no clear-cut Dirk-level star. Of course, the Mavericks have numerous scoring options as well -- so there can be Pacers-like balance in the offense -- but Carlisle has shown a willingness to stick to a particular pick-and-roll or two-man set if it shows success.
With his mid-range game and ability to take it to the basket, Collison may prove to be a compelling pick-and-pop partner with Dirk ... though in a much different way than Jet was. We will have to see if Collison can manage to be a successful passer in those situations as well. (That wasn't a Jet strength, either, of course.)
Collison is 24 and yet I'll make no call "to be patient" here. Patience is for Cunningham. Patience is running out on Roddy B requires. DC has been productive for three years now and I believe if the Mavs require him to be an 18 points/8 assists guy, he can be in that range.
I also have my own personal "Third Team Theory." I believe that certain players bordering between "role player'' and "impact player'' become most successful when playing for their third team. Their ego is put in check. They want to be part of a winner. They want to be considered more than just an asset. They begin to put trust in their head coach (something Carlisle obviously merits).
This deserves more study, but being much-traveled can sometimes pay off, as we see with some Mavs names ... Odom's perfect contributions for the Lakers. ... Humphries in New Jersey (his fourth team if you count the 25 games he played as a Mav). ... Chandler in Dallas (as long as we agree that his year in Charlotte doesn't count as a fourth because the Bobcats don't count as a team).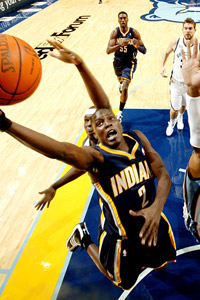 If you buy into this theory at all then you will be happy to remember that the Mavericks will also be the third team for Kaman, Brand and Dahntay.
We all know this offseason didn't exactly go as hoped for. Collison playing at a level that most casual fans do not realize he was capable of is a legitimate hope.
Lin's performance is relevant to the Mavericks, and not just because he was once Dallas' summer-league property. The whole world will be watching him, but Lin-vs.-Collison is in-conference, in-state, in-division and in the middle of Dallas' march to keep itself separated from lower-tier teams like the Rockets.
I've seen enough of Darren Collison to believe he can match the performance of Linsanity, even if he can't sell as many jerseys.