DONUT 1: Carlisle the teacher ...
Wanna learn to be a head coach? Work for Rick Carlisle.
Carlisle has now had four assistants vault from his staffs to head-coaching positions: get head jobs: Kevin O'Neill (to the Raptors in 2003), Mike Brown (now with the Lakers), Dwane Casey (the Raptors boss) and
Dallas Mavericks
assistant Terry Stotts (now in charge in Portland).
So when Rick tells the Portland paper, "Terry is as an important staff member as I've ever had to lose,'' he's saying something.
DONUT 2: Covering the Dwight-to-LA angles ...
Dig into Donuts.
Yes, we know you're sick of the Lakers, sick of Dwightmare and sick of "Dry Powder.''
But at the risk of Dry Powder giving you Dry Heaves ... dig in.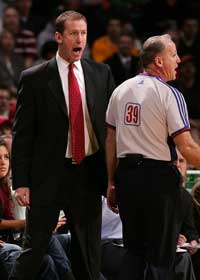 DONUT 3: Dirk whispers ...
The UberMan has been talking to Portland power forward Lamarcus Aldridge about his new coach Terry Stotts. The Oregonian reports that, according to Aldridge, "Dirk said (Stotts is) an offensive genius. He played a very big part of the offense changing the year they won the championship."
As noted often, we're Stotts guys. So we don't mean to take anything away from the creativity of Terry's offense and we don't mean to disagree with DFW native son Aldridge. But we're quite sure having
Dirk Nowitzki
in his arsenal of offensive options helped Stotts in becoming an "offensive genius." And we know Terry would be the first to say so.
We're not established as being geniuses when we sit along press row during crunch time and mumble, "Just give it to Dirk!"
But it doesn't make us idiots, either.
DONUT 4: International Thunder ...
Though their scoring numbers don't necessarily always show it, the young Oklahoma City Thunder trio of James Harden, Russell Westbrook, and Kevin Durant all have had their moments of exquisite play over the last couple of weeks in London. In addition to just flat-out being good, each of the three seems to have one or two absolutely jaw-dropping, insanely athletic plays per game.
The more we watch these three dudes run the court like gazelles after eating a dozen of those giant Pixie Sticks, the more we understand the Mavs' blossoming belief that they needed to find a way to get younger, more athletic and more explosive than what they were going to be when led by 39-year old Jason Kidd.
No revisionist history allowed here; Kidd wasn't exactly deemed "expendable'' until
after
he said "no thanks'' to Dallas' three-year contract offer. But if the idea is to keep up with OKC ... well, maybe younger, more athletic and more explosive will work out to be a more suitable way than to have a 42-year-old Jason Kidd trying to do it.
DONUT 5: A non-sports sports argument ...
If you believe that non-sports issues have no place being discussed on a sports website ... please skip Donut 5. ...
We noted the other day that maybe a pro sports team is a public trust and should therefore
stay out of sensitive issues involving politics, religion, sexuality and the like.
David Lord presents another perspective in a note:
Tuesday Donuts took to task the DeVos family (and Chick-Fil-A) for their willingness to have a stance against gay marriage, with the idea that it's simply about being sensitive to a 15-year-old "basketball-loving kid who happens to also be a homosexual."

Fish, I agree that we should be considerate toward everyone, and that includes not only your hypothetical 15-year-old kid, but also the 30-, 50-, or 70-year-olds of various persuasions as well.

But if we start to make it about the sensitivities of one type of kid (or person), what about the others? What about those 15-year-olds who love basketball but who believe deeply that homosexuality is sinful and immoral behavior - shouldn't we care about their feelings too? Yet if all they are allowed to see is public discourse where homosexuality is condoned and even glorified, don't they get an uncomfortable (and false) sense that they are alone in their views, making them feel ostracized, when instead there are many who believe as they do?

But that being noted, I think the real issue is not about about innocent kids, who are too young to even be engaging in sex, much less marriage. It's really about the right to have and express opinions on a hot-button topic.

I'm bothered by our inconsistency in Donuts. Its concern was that the DeVos family's opinion on gay marriage was going to a basketball-related audience. Yet isn't Tuesday Donuts committing EXACTLY the same sin it criticizes? Ours is a basketball-related audience, and expressing our political views can offend and even make uncomfortable those among us who feel differently (including teenagers) ...yet it was done anyhow. If it makes sense for us to weigh in, using our basketball venue to do so, then shouldn't the DeVos family be afforded the same latitude to express theirs?

In addition, did you realize that you called to task a family whose sole "crime" was to privately support what they believe in? They didn't go on a soapbox to express their views (although they certainly should have that right). Instead, without fanfare they gave money to an organization that works for something they believe in. Subsequently those who disagreed with their beliefs chose to try to demonize that silent donation, accompanied by threats of boycotts and demands for money to support pro-homosexual-lobby causes.

Whose rights are being trampled in that? I say it's not some mythical kid.

Rather than be censured, in my opinion both DeVos and Chick-Fil-A should be applauded for having the courage to take a stand for what they believe in. And I daresay that the 15-year-olds of our country will benefit far more from witnessing courage than from seeing people of conviction kowtowing to those who don't want dissenting opinions to be heard.
Maybe David and Fish don't see eye-to-eye on this issue, so much so that Fish doesn't even agree that his original Donut was "took the DeVos family to task.'' But we are glad we can all discuss this matter -- which is, in a sense, tied to the pro sports world -- with a level of maturity and respect for one another's thoughts.
DONUT 6: Fish on The Fan ...
The same focus that we provide on the Mavs here on DB.com? We apply it to
the Mavs and the Cowboys on 105.3 The Fan. Listen live here for some Fish on Football and for breaking Mavs stuff, too
... throughout today and every day ... and we'll take you inside the teams in every possible way!
DONUT 7: Finally? Finally! ...
It looks like it's officially official for Dirk Nowitzki, as we've got our hands on the actual wedding portrait of Mr. and Mrs. UberMan. Congrats, kids!
DONUT 8: Follow Fish and the Mavs on Twitter ...
Follow @fishsports
Follow @kevinbrolan
DONUT 9: Want more Mavs? ...
We've got
the best and deepest coverage of the Mavs available anywhere
... take our free seven-day trial and then get your Mavs gold for pennies! Go Mavs and Go Premium!
DONUT 10: LeBronination ...
We took notes on Team USA Men's Basketball beating Australia 119-86 in the quarterfinals. Despite being led in scoring by Kobe Bryant with 20 points, LeBron James was the star as he dropped the first ever triple double for Team USA. Though they're dominating opponents just like they did at the last Olympics, this team is different from the 2008 version in that James is clearly running the show so far instead of Bryant. With opposing teams so clearly worried about the wealth of weapons Team USA has offensively, James basically has free reign to use his athleticism to make things happen wherever he pleases.
And whatever your feelings about ours -- and inasmuch as we are DallasBasketball.com, you know our feelings -- we have to admit, it's amazing to watch.
DONUT 11: The French don't always surrender ...
Contrary to historical wisdom, France doesn't always surrender. Sometimes, France has Nic Batum punch the opponent in the balls.
DONUT 12: The Final Word ...
Oh, and for all of the American fans who are outraged beyond outrage ...