Dallas Mavericks
owner Mark Cuban engaged in a lengthy visit with ESPNDallas' Ben & Skin
(the full 70 minutes of audio is here).
He hit on a handful of major topics, including a bombshell: Will Jason Kidd's Number Be Retired In Dallas?
"I was more than upset," says Cuban of Kidd's flip-flop decision to spurn Dallas and join the
New York Knicks
. "I thought he was coming. I was pissed."
I asked
Jason Kidd
if he understands the owner's position.
"I totally understand his side,'' says Kidd. "Does Mark understand my side?''
Cuban's position is that Kidd betrayed him and the Mavs organization, presumably headquartering in The Hamptons to recruit Deron Williams to the Mavs ... joining the Mavs in failing to do that ... and then, after the club all but announced the 39-year-old veteran's return to Dallas under the terms of a three-year contract -- Kidd's decision to instead join the Knicks.
"J-Kidd's a big boy, he can do whatever he wants," Cuban says. "But you don't change your mind like that. I'm sure I'll get over it at some point, but as of right now, I wouldn't put J-Kidd's number in the rafters. ... no chance. ... I like J-Kidd. He's a good guy. But I just thought that was wrong. You can't put a guy's number in the rafters when he decides he doesn't want to be there."
Ah, but as Kidd tells me, he wants very much to be recognized as a Mavs all-timer.
"I would be honored,'' Kidd tells me, "if I made the rafters there.''
Up until Kidd's "betrayal,'' everything pointed to that likelihood. Kidd's ranks in Mavs franchise history are as follows: Ninth in games played, eighth in minutes, fourth in 3's made, third in assists, second in steals, first in all-time BBIQ, tied for first in all-time leadership and tied for first in Titles.
He served this team, this franchise and this community extremely well in his second term here, after having been drafted in 1994 and winning co-Rookie of the Year before being dumped to Phoenix when his agent got crossways with then-Mavs management. He was brought back to Dallas to help Cuban chase the dream of a title ... and by God, the dream came true.
Jason Kidd is a basketball icon. As much as Kidd wants that recognition, it benefits the Mavs even more to recognize him as such.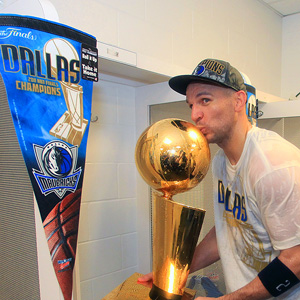 In the present and emotional moment, Kidd is wise to understand Cuban's feelings -- which are bruised. This owner puts everything into the franchise and expects his lieutenants to do the same ... and he is crushed to find out one of his assumed lieutenants was a "double-agent.''
Listen to Cuban explain further: "It hurt my feelings, period, because I thought that we had developed a relationship and I thought (Kidd) was committed to the organization. It sure seemed like he was. I mean, J-Kidd was active in going out there and talking to Deron Williams the whole time. I guess it was more shocking and surprising than anything else."
My reading of the truth based on my relationship with Cuban: He will cool down.
"I'm sure I'll get over it at some point, but as of right now ...''
is a critical part of his explanation. At some point, these two friends will reach out to one another and reconnect. Cuban is bullheaded, but he's not selfish; former standout Michael Finley, who left Dallas under trying circumstances, has begin his post-playing career as a special assistant with the Mavs.
I suggested to Kidd that his dream of becoming a front-office exec with the Mavs -- he wishes to someday be an NBA general manager -- might be slowed by this conflict.
"Fish,'' he says, laughing, "did I ask for that job?''
Kidd will eventually explain to Cuban that he was trying to juggle his representation of the Mavs with what was best for him and his family, no matter his assumed ties to Dallas. Cuban will eventually listen. ... and while it might not mean a reunion with Kidd working for the Mavs when he retires, it hopefully will still mean rafters consideration. Because Mark Cuban will realize this isn't about his mood. It's about Jason Kidd's contributions to Mavs history.

We play "Fish Or Cut Bait'' as we analyze the rest of Cuban's comments here.

The world's most passionate Mavs fans discuss the team's issues of the day here on DB.com!