What if
Chris Kaman
comes to the
Dallas Mavericks
with something to prove?
Emotion and fit.
That is the first part of the equation that has Mavs bosses believing the veteran center is priming for a big year in his first season with the Mavs.
Kaman was an All-Star two years ago at the event here in Dallas. He is now, I joke, the embodiment of "I wasn't born a Texan but I became one as soon as I could.'' He fits. ... with Dirk Nowitzki as a friend, with fans as a lovable eccentric ... and most of all, as a worker.
Kaman arrived in Dallas immediately after his summer acquisition (under the terms of a one-year, $8 mil contract) and wasted no time getting to work. A source who is close to Kaman tells me, "He's in there every day working hard. He wants to be a good player on a good team and prove everyone wrong.''
The magic number of 20.
Mavs coaches are already designing ways to convert this offense into one that is more low-post-friendly. Envisioned on more than a few nights: Kaman scoring 20 (along with a bushel of other new Mavs who are capable of the same) in order to take the burden off Dirk's aging shoulders.
One Mavs official tells me, "Even in his limited season last year (in New Orleans), I bet he had more 20-point games than any of our guys besides Dirk.''
Almost true. Kaman had 10 games of 20-plus points last year. Meanwhile, the Mavs last year had 62 games of a player scoring 20-plus.

The breakdown:

Dirk had 39, Jet 11, Vince four, Marion and Delonte had three each, and Roddy had two. So Kaman was a more effective 20-point guy than everybody on this roster outside of Dirk and Jet.

Which takes us to prong No. 3 ...

Kaman as a full-timer. Last year, when he started last year for the Hornets in March and April -- after that organization quit messing around with him and put him back on the floor -- Kaman was an impact guy, as a scorer and a rebounder.

It was around January 28 when the Hornets sat Kaman while looking for a trade (his last game played to that time was 1/23/12). He came back at the club's invitation (never grousing about the jerk-around, by the way) on Feb. 6. From that point on he had the following stats:

A total of 30 games played, around 33 minutes per game, 15.3 points, 44.9 FG percent, 8.4 rebounds and 1.9 blocks

Kaman hit another groove from March 7 through the end of the year (his final 17 games) when he was at 14.8 points and 7.4 rebounds while upping his shooting to 50.7 percent and his blocks to 2.3.

That is the player, statistically speaking, the Mavs believe they are getting at center.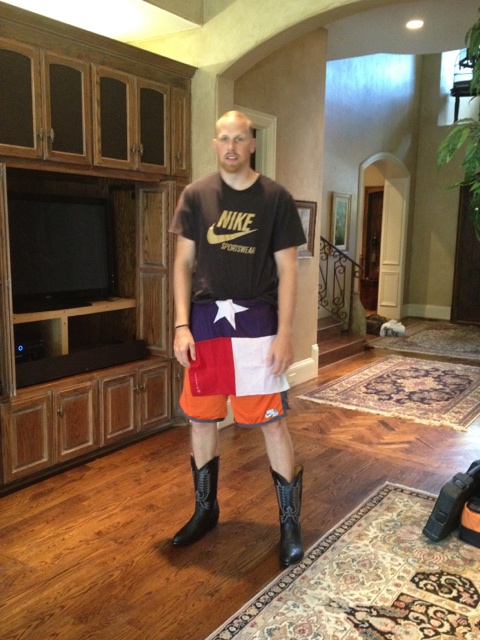 And bouncing back to the 20-point theme one more time: After returning to the club, in those 40 games, Kaman had six games of 20 points/10 rebounds. All season long, the Mavs benefitted from just 10 20/10 games. ... all of them coming from from Dirk.

A chance to be twice the 20-point scorer of any Mavs teammate Dirk had a year ago. A chance to be infinitely better as a 20/10 guy than any Mav in recent memory, maybe Dirk included. And an emotionally-driven good fit as he joins a team that believes it specializes in career re-igniting.

"What's the first thing you buy when you move to Texas?!,'' tweeted Kaman recently. "Size 17 Cowboy Boots!''

Yes, we may need to reinvent an old slogan to fit Kaman: He wasn't born a Dallas Maverick. But he became once as soon as he could.