DONUT 1: Wounds Heal ...
Late August is usually the slowest of times for the NBA. The NFL is getting ready to fire up and Major League Baseball teams are positioning themselves for the stretch run. There usually isn't much room for the NBA… until Mark Cuban decides otherwise. As covered all week by DallasBasketball.com, it's been no secret that Cuban had choice words for the way
Jason Kidd
handled his offseason free agency.
"I like J-Kidd. He's a good guy," Cuban said to Ben Rogers and Jeff Wade regarding Kidd's number being retired in the AAC. "But I just thought that was wrong. You can't put a guy's number in the rafters when he decides he doesn't want to be there."
Cuban had previously said in the interview that he no longer had any ill will with Don Nelson despite their extensive history of legal issues and that he was not one to hang on to a grudge for too long. If that is true, perhaps the same will happen with Kidd and Cuban will eventually become more open to the idea of retiring the meaningful number.
Plus, he's Mark Cuban. I wouldn't put it past him just wanting to stir up the Mavericks pot. He misses Mavericks basketball just as much as we do.
Also for the record,
note Kidd's quote to Fish last week: "I would be honored if I made the rafters there.''
DONUT 2: Kobe and Dirk vs. ...
Cuban touched on a variety of subjects the other day including a scenario that presented itself back in 2007 in which Kobe was apparently available for a package from the Mavericks that did NOT include Dirk. Just to continue the theme of stirring up the pot, I ask you this: Even knowing that the Mavs would go on to win the 2011 NBA Championship in the fashion that they did, would you go back in time and make that trade to team-up the two all-time greats? Or would you rather stick with the way history played out?
There's a lot to think about here. Don't forget to factor in how history will shine upon Dirk for winning a ring as the main option vs. potentially winning more as a second banana.
Feel free to discuss on DB.com Boards!
DONUT 3: Quickly Becoming A Favorite...
Bernard James
isn't your typical rookie. His journey as an Air Force sergeant, into the Middle East as a part of the military, all around ACC basketball courts, and now as a member of the Dallas Mavericks is well documented. You may also have heard that when he makes a quality defensive play, the player whom felt the wrath of James was officially labeled as "Bernarded."
When the NBA tweeted a photo of every incoming rookie, I did some hard-hitting investigative reporting by asking James why he hadn't yet 'Bernarded' every rookie yet.
Bernard's response via Twitter? "In due time!''
It's safe to say I'm already a big fan of Sarge.
Follow Bernard on Twitter here.
DONUT 4: Thunderstruck ...
Finally, KD makes his long-awaited (I guess) film debut this weekend as his movie "Thunderstruck'' premiers in Oklahoma City and a few other towns around that attic state north of Texas. It's a basketball film about a star trading hoop skills with a small child, turning the child into the star and Durant a laughing stock in the process. The plot doesn't require a Ph.D, but for a second let's not get into whether or not the film looks terrible, whether or not I'm a sucker for terrible movies, or whether or not I will see "Thunderstruck.'' (It does, I am, and I definitely will).
It's simply a harmless way for a standup guy/superstar to spend his time off. Make fun of it if you must, but if you vilify players for getting into trouble off the court, how about you cut some slack for the guy who makes basketball movies during his down time?
Even better is those who somehow feel that Durant making a movie means he secretly wants to be in Los Angeles so he can be a movie star in addition to a basketball player. Yeah, right. That's why he is conducting the debut of his first movie in OKLAHOMA.
DONUT 5: Squashing Hearsay ...
Also, there is some breaking news regarding "Thunderstruck.'' Despite his unbelievable acting chops alongside his buds in 2002's "Like Mike,'' we hear
Dirk Nowitzki
sat this one out.
DONUT 6: Here's some advice, kid ...
It's been over a week now since the conclusion of the London Games and Team USA Basketball's gold medal win, but a few stories are still swirling from the experience. According to Sports Illustrated, the best advice N.O. rookie Anthony Davis received from LeBron during the Olympics was to "watch your money and watch out for women."
That's reasonably sound advice, especially for the young professional athlete and it's surely something that could have applied to our favorite German-born, Dallas-adopted superstar a few years back. Actually, come to think of it, that's the exact word-for-word advice Fish gave me on my first day with DallasBasketball.com.
Good thing I'm broke.
DONUT 7: These are a few of Dirk's favorite things ...
Folks who don't follow the Mavs near closely enough are reacting to the wrong news from Dirk's Twitter Q-and-A this weekend.
Nowitzki will play "two (more seasons) for sure and then see how I feel"? This is old news, often remarked on by The UberMan and others in the organization, from Cuban on down.
But Dirk thinking that had he not gone into basketball that his chosen profession would be "rock star''? Now that's news!
Other tidbits
from Dirk's Twitter feed:
*He prefers dogs to cats. ... loves the Stones and Led Zeppelin. ... prefers red wine to beer ... Says his favorite TV show is "Eastbound and Down'' and his favorite movie is "Braveheart'' and seems to fear cockroaches.
*On some of his former teammates: "Yep. (Jason Terry is) Fam for life. We won chip together. Wish him well in Boston." ... On Nash and Fin, he called them "my homeboys."
*Why not ask for a trade a jump ship to a SuperTeam? Because, Dirk said, "I bleed blue."
And yeah, maybe this is the vote against the Kobe/Dirk Mavs. Maybe it was, and is, fine ... just the way it was and is.
DONUT 8: The Enforcer ...
In amongst about the dozen or so headline-grabbing statements made by Cuban in his interview this week, he also noted that guard Roddy B has been taking boxing lessons.
"I told Roddy and the folks around him, I said he's got to learn to throw a punch and take a punch," Cuban said of his frail French guard. "So he's been taking some boxing classes, he's been working out, he's bigger, he's stronger. He's going to have a chance to compete, just like everybody."
Indeed, Premium Mavs fans now have the exclusive info on where Roddy B is penciled-in on the Dallas depth chart ...
and straight from Mavs HQ, what that entire depth chart looks like. Check it out here.
DONUT 9: Follow Fish and Kevin and the Mavs on Twitter ...
Follow @fishsports
Follow @kevinbrolan
Follow @thechuckperry
Follow @mdug
Follow @DLord_DBdotcom
DONUT 10: Presti on the Brink ...
OKC boss Sam Presti has done a magnificent job in assembling the Thunder's current Western Conference Finals worthy roster of young talent, albeit with favorable draft picks. Granted those picks are never slam dunks, but Presti has certainly not started from complete scratch. All that being said, Presti is an elite GM and can take the next step toward being one of the top two or three roster-builders in the league by managing the upcoming salary cap situations with Ibaka's and Harden's contracts. Ibaka's seemingly has worked out well, but
Harden's may be a bit trickier. ... as our David Lord details in this terrific CBA-smart breakdown.
If Mark Cuban is correct with his predictions about the new CBA, the Thunder front office has a very difficult task on its hands.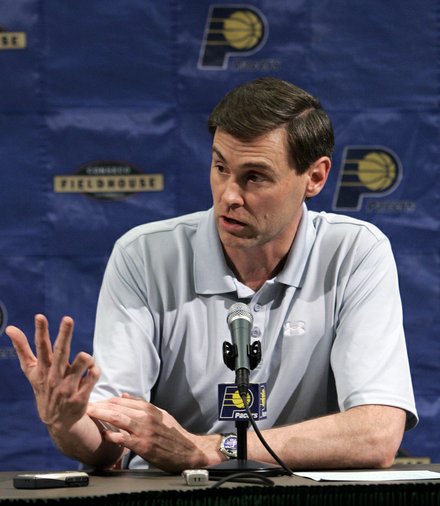 If Presti successfully pulls it off, he will deserve every accolade he gets, which likely includes a long period of dominance over the Mavs and the rest of the Western Conference.
DONUT 11: The best in the business ...
We've got
the best and deepest coverage of the Mavs available anywhere
... take our free seven-day trial and then get your Mavs gold for pennies! Go Mavs and Go Premium!
DONUT 12: The Final Word ...
With the hiring of former Pacers boss Jim O'Brien, he joins former Indy guys Collison, Dahntay and Carlisle, as well as long-time Indiana trade target Mayo. The apparent master plan to turn the Mavs into The Pacers-Plus-Dirk is nearly complete.