DONUT 1: Lovin' Uncle Nellie ...
Don Nelson will be inducted into the Basketball Hall of Fame tonight. He will have three presenters: Bob Lanier, Satch Sanders and Chris Mullin.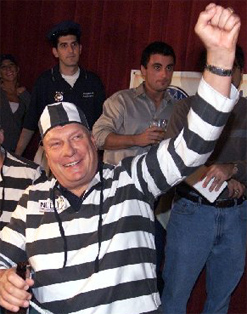 But wait: Didn't Nellie and Mullin experience a difficult breakup a few years ago when Nelson took a steam roller to the Warriors front office?
Yeah, but Nellie was there for Mullin the player, through his issues with alcohol and more. And mostly, when it comes to Nellie -- as the Mavs certainly knows -- if you want to love him, you sometimes have to do it on his terms.
This is Nellie's night. So all is forgiven.
Well, maybe except ...
"I haven't heard from Dallas (regarding the HOF)," Nelson tells Yahoo. "But that's Cuban. He's not going to do anything. I don't blame him."
And here we go again ... Nellie hasn't heard from "Dallas'' ... but I bet he's heard from Dallas' second in command, who happens to be his own son.
To love Nellie -- which we do -- you gotta put up with Nellie.
DONUT 2: Rick's Mix ...
I guess
Dallas Mavericks
watchers like to ask the question, "Is 2012-13 going to be Rick Carlisle's greatest coaching challenge ever?''
Well, I would also guess that if you Google'd that sort of thing, you'd find this is the third straight year that question has been posed that way (with only the dates changed). I would also guess a similar question was repeated asked when Rick was in Detroit and Indy.
And in all those years, the answer is the same.
"Yes.''
DONUT 3: Cuban and advanced stats, pro and con ...
Care to be involved in a deep-thinking argument
about the Mavs, advanced stats and Mark Cuban's belief that they are sometimes misapplied, especially as it relates to Dirk? Dig in.
DONUT 4: Just because it's Bristol ...
Jason Witten received medical clearance to play Wednesday against the Giants the day before, on Tuesday, after visiting with spleen specialists in New York. But the Cowboys involved themselves in some gamesmanship with the rival Giants and in some espionage with the media, which was so frustrated by the lack of information that one national media outlet created a silly story about Witten's willingness to sign an injury waiver to participate against doctor's orders.
The silly story came from Bristol. It was therefore considered gospel. I made note on Tuesday and Wednesday in print and on the radio that the preposterous notion would mean an unprecedented and illogical move featuring Witten's willingness to forfeit his $3.5 million salary in case of injury … and featuring the Cowboys' willingness to forfeit Witten.
It simply doesn't work that way -- cannot work that way, really. Then, Cowboys VP Stephen Jones came on the radio and reiterated that it was nonsense.
And finally, late Wednesday night, after Witten played (as the team knew he would), Jerry Jones himself worked to put the Bristol toothpaste back in the tube.
"I want to be clear,'' Jones said. "Never at one time did anybody in the club or me talk about a waiver.''
Listen, I love ESPN. It's a helluva brand. It's Coke. It's Kleenex. And today happens to be its 33rd anniversary! It's almost impossible to beat ... but it's not infallible. It's not gospel. I had a few people take me to task this week because I dared challenge the behemoth and what those people don't understand is that the very best sports reporters in this business are not gods to me. They are my peers. They are my friends. One outstanding one, Ed Werder, is somebody I've worked shoulder-to-shoulder with for 25 years. We attended college together. He's recommended me for jobs. Ed, and the rest of the guys in Bristol, bleed and sweat and make typos ... just like me.
I've also worked FOR Bristol. And then, just as now, as I work with FOX Sports and with CBS Radio, hey, if somebody at FOX or CBS bobbles a grounder that involves the team I cover, I'm going to point out that they committed an error. No hard feelings. Just an E-6 in the boxscore.
Meanwhile, if I goof, call me on it. I'll work to fix it. And if Bristol goofs? By gosh, somebody should call them on it, too. ... even with the 33 wonderful years and even though once the behemoth stomps on the tube, it sure is hard to shove the toothpaste back in there.
DONUT 5: Thanks, Esparza's! ...
The gang at
Esparza's in Grapevine
loves that it's Cowboys season and the Cowboys love Esparza's, too! Let me put it this way: You never know who you'll see out on Esparza's famous front porch! Thanks for your sponsorship, Esparza's!
DONUT 6: Front-runnin' LeBron ...
LeBron James is a Heat player, a Yankees fan and a Cowboys fan. Makes all the sense in the world for a kid from Akron, Ohio, right?
DONUT 7: Want more Mavs? ...
We've got
the best and deepest coverage of the Mavs available anywhere
... take our free seven-day trial and then get your Mavs gold for pennies! Go Mavs and Go Premium!
By the way, we take that same focus that we provide on the Mavs here on DB.com and apply it to
the Mavs and the Cowboys on 105.3 The Fan. Listen live here for some Fish on Football and for breaking Mavs stuff, too
... throughout today and every day ... and we'll take you inside the teams in every possible way!
DONUT 8: Follow Fish and the Mavs on Twitter ...
Follow @fishsports
DONUT 9: NBA for Women ...
The Mavs 12th annual NBA 101 for Women will be held on Monday, Sept. 24th from 6 to 10 p.m. inside the Mavs practice facility at American Airlines Center. The event, hosted by Mavs players, coaches and staff, is an opportunity for women to learn and understand the fundamentals of basketball in a fun, light and interactive atmosphere.
For $75, attendees will receive an interactive course providing basic instruction on topics including offensive and defensive sets, rules and referee signals, as well as a question and answer session with a player and behind the scenes information about workouts and life on the road. Each station will be located in an exclusive location of the Mavs locker room and practice facility at the AAC.
All attendees will receive dinner, two tickets to a pre-selected Mavs game, an NBA 101 for Women t-shirt, and a goodie bag. The clinic will be limited to the first 200 registrants. To register, women of all ages can visit mavs.com or call 214-747-MAVS.
DONUT 10: Mavs and Childress? ...
Are the Mavs interested in Josh Childress? I'm not seeing the fit at first glance at the rumor. Give me a sec to investigate ... I'll get back to you.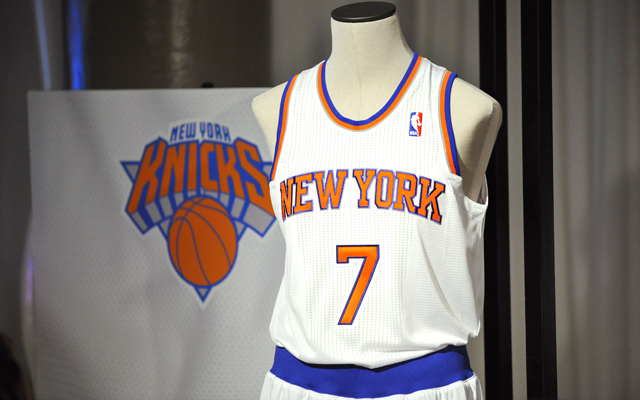 DONUT 11: Tanks for nutin' ...
So, just as we predicted, SMU assistant coach Jerrance Howard is a Deron guy ... and CJ Miles is a Deron guy ... and they all were working to hook up in Dallas.
Yeah. Sure. Just as we predicted.
They did hook up, though. Deron and Miles are in Dallas this week helping Jerrance, who is working under coach Larry Brown. They're visiting with the Ponies, giving them tips, that sort of stuff.
Thanks, fellas. For nothin'.
DONUT 12: The Final Word ...
So the Knicks are all proud due to the unveiling of their "new look'' and as near as I can tell, the only big change is this year's Knickerbockers will play without arms?!