DONUT 1: Is there 'pressure' in Dallas? ...
Where does "expectation'' end and "pressure'' begin?
The Mavs have raised the bar on themselves to the point where you can read all about how this year's club is destined to "disappoint'' by "only getting a sixth seed'' and stuff like that.
In a conference with the Thunder, Lakers, Spurs and more, a top-tier seed would be an accomplishment, as always. So where is your "bar'' after that? Is No. 5 a bad thing? No. 6? Is making the playoffs a "something''?
Is there "pressure'' on this team to do something more than that?
DONUT 2: Organizational pressure ...
By now, we know how this works inside the
Dallas Mavericks
: The external pressure -- from fans who want to taste another title, from media members who want to taste more free popcorn in the press room -- does not exceed what goes on inside Mavs HQ. To name just one example: Carlisle's declaration ...
"This is Dallas. We play for championships here.''
When new guys like Mayo and Collison are asked about "pressure'' -- as it relates to replacing Kidd and Terry or otherwise -- they sound properly conditioned mentally.
Mayo: "I really don't believe in pressure. It's all about going out there and getting the job done.''
Collison: "I don't even know what pressure means. Once you play hard, people are going to respect that.''
Well, yeah. That. And qualifying for the playoffs. And doing some damage once you've gotten there. That, too, is part of the "pressure'' of the raised bar.
DONUT 3: Collison's "chip'' ...
'I have a chip on my shoulder,' says Darren Collison, who rolls into Dallas also harboring great respect for predecessor Jason Kidd. But eventually, the Kidd ghost fades. The Indy chip lessens. And it comes down to 'quarterbacking' - and
that's what DB.com discusses with DC in this 1-on-1 Video Visit with the new Mavs point guard. Premium stuff for Premium Mavs fans!
DONUT 4: Mavtoberfest! ...
The Mavs arent staging a Fan Jam this year ... but it's a Mavtoberfest! And I've got the details:
The date will be Saturday, Oct. 13. The event -- featuring live music, food and games -- will begin on the AT&T Plaza at 3, and then the AAC doors will open at 4 p.m. for fans to watch the Mavs practice!
DallasBasketball.com will see you there!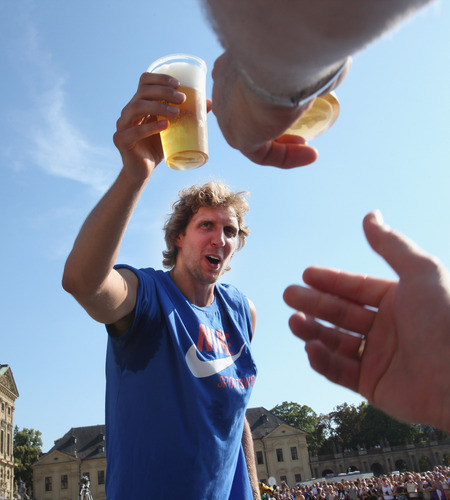 DONUT 5: Thanks, Esparza's! ...
The gang at
Esparza's in Grapevine
loves that it's Cowboys season and the Cowboys love Esparza's, too! Let me put it this way: You never know who you'll see out on Esparza's famous front porch! Thanks for your sponsorship, Esparza's!
DONUT 6: Stack in Brooklyn ...
Old friend Jerry Stackhouse choose jersey No. 42 at North Carolina as a tribute to Jackie Robinson. In a cool twist, with Stack joining Avery's Nets, Jerry will now be the first pro athlete in Brooklyn to wear No. 42 since Robinson himself.
DONUT 7: Want more Mavs? ...
We've got
the best and deepest coverage of the Mavs available anywhere
... take our free seven-day trial and then get your Mavs gold for pennies! Go Mavs and Go Premium!
By the way, we take that same focus that we provide on the Mavs here on DB.com and apply it to
the Mavs and the Cowboys on 105.3 The Fan. Listen live here for some Fish on Football and for breaking Mavs stuff, too
... throughout today and every day ... and we'll take you inside the teams in every possible way!
DONUT 8: Follow Fish and the Mavs on Twitter ...
Follow @fishsports
DONUT 9: Waiting on Harden ...
James Harden talks of his OKC club as being "like a family." And maybe a "family'' includes members who will settle for less than the max to stay bonded.
But surely the Mavs' ears perked up when Thunder GM Sam Presti noted that signing the free-agent-to-be comes with "inherent challenges.''
"We've been very upfront and transparent with everybody that we have some inherent challenges that we face as an organization as a result of the new collective bargaining agreement," Presti said. "I know we'd love to have him here. I think James would like to be here as well. But at the end of the day … you have to find a way to make it work for everybody."
Kendrick Perkins contradicts that, saying, "We're getting close with James, and we're getting close to keeping our unit together.''
I tend to believe Presti, and doubt that anything is "close'' unless the money is "close'' to max. That's my belief, and of course it also represents the Mavs' hope.
DONUT 10: Marion hip-hops ...
More than a dozen NBA players and rap stars have created
an album called "Full Court Press Vol. 1. You can see the video here
and move to the 2:00 mark to check out Shawn Marion's "bananas'' involvement.
Also part of the project: Baron Davis, Stephen Jackson, Carlos Boozer, Glen Davis, Josh Smith and rappers Rick Ross, Trina, Snoop Dogg, Birdman, The Game, T-Pain, Bun B, Twista and Soulja Boy.
The promo material says it's "clean and intended to send a positive and motivating message to young kids.'' The only flaw I see is at the 3:00 mark, which notes the involvement of Lamar Odom, something short of a good thing in terms of sending a positive message to young kids.
DONUT 11: This would be weird ...
Josh Howard is reportedly scheduled to visit the Spurs today and ... well, that would be weird.
DONUT 12: The Final Word ...
Former Mavs center Sean Williams quote: "I'm one of the best athletes in the game.''
And I say with full respect to Sean, who if the Legends have their wish fulfilled will have him land back in Frisco, that it is true. Sean Williams is one of the best athletes in the game -- one of the best 450 or so.