DONUT 1: The Mavs Masters ...
It's an annual treat for
Dallas Mavericks
sponsors: The "Mavs Masters'' at Hackberry Creek.
It's
Dirk Nowitzki
good-naturedly clowning around with the folks (and showing off his "other'' ring), coach Rick Carlisle touring the course on his own hitting a (brilliant) tee shot for every group and GM Donnie Nelson serving as the bartender ("If you want a light beer, a cookie or a banana, I'm all stocked up!'' he keeps announcing).
It's also an annual treat for me to sneak an invite to the event, where we get to see the Mavs letting their hair down ... showing the different sides of their personalities, some guys unable to turn off their natural competitiveness, others realizing that maybe a 6-10 guy who has never before picked up a golf club is unable to avoid embarrassment.
So he might as well embrace it.
DONUT 2: Jelly Jam ...
Tucked inside the fun is, of course, basketball talk. And with the Berlin/Barcelona trip coming (the team leaves today after a short morning workout), Carlisle is especially focused on achieving more "jelling'' and "chemistry.''
"Even though it's a group of guys that are in large part new to each other, there's some chemistry there,'' Rick says. "There's a lot of mutual respect and guys are jelling. It's very competitive. There's a lot of conditioning, so it gets a little (ragged) out there, because we know what we're doing playing against each other and stuff. But the competitiveness and the camaraderie has been really good."
Ah, but there is nothing "ragged'' about Rick's golf game. He swears he plays no more than "six or eight'' times a year. But his swing is smooth and confident. I tell him that between basketball and table tennis and golf and whatever else, he's a regular Jack Armstrong, All-American Boy.
"Naw, I can't play. I'm terrible,'' he says.
"You're a dang liar and a sandbagger,'' I reply.
DONUT 3: A quick look at Delonte/Brother Redd Bush/Bon Jovi ...
Want to see the full "Brother Redd Bush'' video? Want even more Mavs Premium Coverage? Take our free 7-day trial and get to know us ... and the Mavs ... and Delonte ... and all his friends!
DONUT 4: Dirk's Ryder Cup ...
Nowitzki is playing in sneakers, using a tiny (for him) club and hardly bothering to brush his golden locks from his eyes before he swings. He is among those who cannot bother to take himself seriously on the golf course.
"Oh, no,'' he insists, noting that he's gotten inspiration from a fellow German. "I saw Kaymer at the Ryder Cup. I picked up some tips. I've got it down now.''
I note that Kaymer is something short of legendary ... maybe in the top 200 all-time German sports stars. Dirk uses my comment as social fuel, then engaging the sponsors in a game in which guys are trying to name the most iconic German athletes.
Boris Becker, Steffi Graf, Franz Beckenbauer, Bernhard Langer and Max Schmeling
Then somebody mentions Katarina Witt. Dirk's wink says that name is a game-winner.
DONUT 5: Go say hello at Studio Movie Grill! ...
The gang at
Studio Movie Grill is ready to show Mavs fans a good time!
Go check 'em out and stay tuned for some fun projects DB.com is working on in coordination with Studio Movie Grill!
DONUT 6: In case you missed it ...
We've got inside practice reports, DB.com Video Visits, exclusive stat studies and much more
here in DB.com Archives ... featuring our 28 years of journalism experience and DB.com's 13 years on the scene ...
It's good stuff, and exclusive stuff ... dig through the Archives for the gold!
DONUT 7: The curse of Roddy B ...
Naw, the Mavs don't exactly look at it that way. but as they discuss a potential break-out year for Beaubois, they do acknowledge what could be called "The Curse of Athleticism.''
"One of the curses of having his kind of athletic ability is you show these flashes of brilliance,'' Carlisle says. "That can be difficult to sustain on a consistent basis. He's just got to play his game and he's got to stay healthy."
Carlisle is praising Beaubois' promise as a PG and as a combo guard in part because Roddy is stronger and better-conditioned than ever before. That work, the coach believes is "going to bear fruit for him."
To Roddy B's credit, he's consistently been the last man off the floor in the opening days of camp. Here's hoping the effort translates to him being effective once he's among the men on the floor when games start.
One place it does not translate: Hackberry Creek. Roddy tells me he's committed to someday being able to play golf.
"I would like to practice to become good, for sure,'' he says.
Hmm. Let's go to the video. And listen for a "clanging'' noise:
Of course -- I know what you're thinking: One sport, Roddy B. That's all you need to master. One sport. Oh, and that clang? The sound of Roddy B's sideways ball finding a neighbor's house.
DONUT 8: DoJo as Barkley ...
I take a poke at DoJo's Barkleyesque swing on Twitter.
"Regardless of what you may have heard, my golf swing is on point,'' he responds.
Well, as is befitting a guy who has added even more muscle and dropped his body-fat percentage, the linebacker-like DoJo swings HARD, if that counts for anything.
(Which, you know, it does not.)
DONUT 9: Now to the kids ...
Assistant GM Keith Grant points out a constant for Jared Cunningham and Bernard James. "They're young and they're athletes and they're confident, so they insist they can play.'' he says.
I note that Bernard needs four swipes at a tee shot before connecting. A "strikeout,'' I call it. "It wasn't a strikeout,'' Sarge responds to me via Twitter. "Wasn't a strike out! I actually hit it on the third try!''
DONUT 10: D.A.'s toenail ...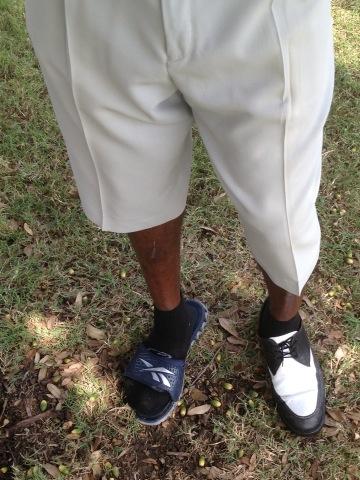 Mavs assistant coach Darrell Armstrong can play. And he looks the part, too ... except for a missing shoe.
"I tore a toenail off last night, so I'm on the injured list,'' Armstrong says, explaining why he's wearing the cleats on one foot and the shower slippers on the other.
DONUT 11: Al Czervik II ...
Chris Kaman is the loudest and most obnoxious visitor in Hackberry Creek history. In a good way.
He's almost as funny as Al Czervik - just taller.
Kaman is under specific instructions to not swing a club. So he only snuck in a few ilicit strokes, a sign that his back is going to be OK.
DONUT 12: The Final Word ...
As I'm following Carlisle around the course, he motions for me to join him on the putting green. ... and he hands me his putter.
"Let's see what you've got,'' he says.
I've got a big bag o' nothing on my first two long putt attempts. At which point Carlisle starts giving me putting tips. Move my hands. Steady this. Steady that. Focus here. Focus there.
Once a coach, always a coach.