DONUT 1: If You Join the Mavs You're Playing For A Title ...
Coach Rick Carlisle has a
Dallas Mavericks
roster with eight new faces on it. Normally, in sports parlance, we term that a "rebuild.''
Not for this coach. Not for this team.
Carlisle explained that the new guys come here knowing that this organization has a very high bar set for itself.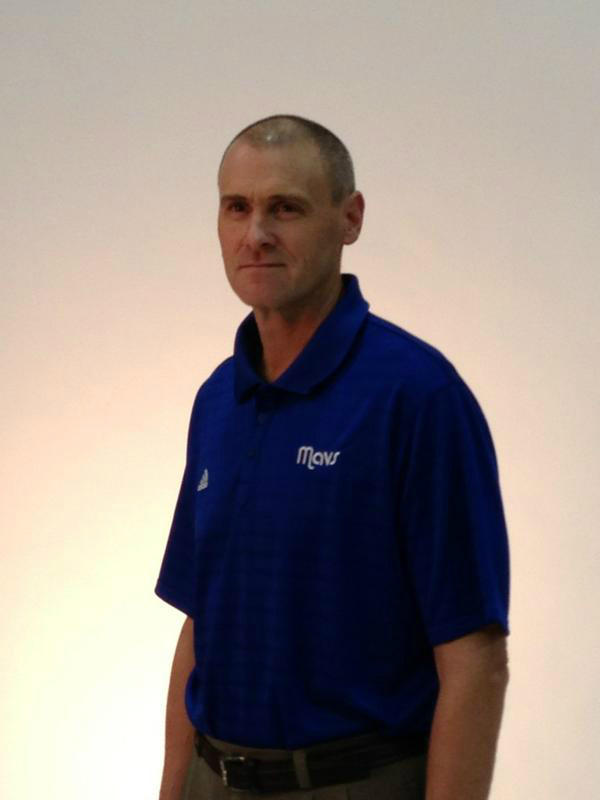 "They're going to find it out if they don't know it already," Carlisle said. "My feeling is that people know what we're about as an organization and what our city is about. You show up you're playing for a title."
It's an optimistic approach, as always. Of course, a year-and-a-half removed from having actually done it, when Carlisle speaks, basketball players listen.
He's got those three rings in that box in that drawer, you know.
DONUT 2: Make Plays, Don't Call Plays ...
Darren Collison speaks with no malice as he responds to (lots of) questions about replacing J-Kidd.
"No disrespect (to Kidd),'' said Collison, "but I'm in my younger days.''
Carlisle is known for being an excellent coach when it comes to drawing up executable plays for his team. ... and more, for letting go of the steering wheel when appropriate. He has also been blessed for the past couple years of having an on-floor general in Jason Kidd who was the master of what Dallas calls "flow'' offense; that is, decision-making made on the floor, as part of the flow of the game, with options built in that are executed by the instincts of those involved.
But Rick explains that he wants to run the type of offense where there will be very little play calling ... there will simply be reacting and executing.
"My ongoing goal is to call less or no plays if we can," Carlisle said. "We want our guys to make plays, not call plays. Philosophically and categorically that where I stand with it … I want our system to based on simplicity and counters and guys knowing which counters are there and how to respond appropriately.''
That starts with DC. And it can result in "flow.''
DONUT 3: Collison and Roddy B part of a Select Group. ...
The Mavericks have the type of finishers that will be great for the fast break, but once again, they are losing Jason Kidd who Carlisle called the best outlet passer in the history of the league.
While new point guard Darren Collison may not be able to match Kidd in that category his foot speed and ability to push the ball with his dribble might nearly make up for it. Carlisle rated Collison, as well as Roddy Beaubois, as two of the fastest players in the NBA.
"I think (Collison) is in a group of about five, six, seven or eight guys in the league that can really do it with phenomenal pace," Carlisle said. "I think Beaubois is in that category too."
We'll tell you another category Roddy B is in: The "Likes Dumb Sitcoms'' Category.'' He swears his all-time favorite sitcom is "My Wife And Kids,'' starring one of those Wayans guys.
DONUT 4: Kaman's Dead Animal Fascination ...
Carlisle spoke very highly of
Chris Kaman
and the interactions he's had with him so far. But he did admit that Kaman's obsession with shooting animals was a little peculiar. The head coach summed it up pretty clearly:
"Some people like shooting things,'' Rick said. "I asked him what the attraction to it is. He said 'Usually in those situations you're in a pretty peaceful, beautiful place.'"
Well, until you shoot the animal, at which point the place becomes loud and bloody.
But you ain't heard nothin' yet. Kaman sits down with DB.com and talks politics, George W. Bush and Texas seceding from the Union ... coming up this week!
DONUT 5: Thanks, Esparza's! ...
The gang at
Esparza's in Grapevine
loves that it's Cowboys season and the Cowboys love Esparza's, too! Let me put it this way: You never know who you'll see out on Esparza's famous front porch! Thanks for your sponsorship, Esparza's!
DONUT 6: J-Kidd's Flip-Flop ...
Dirk Nowitzki explained to the media-at-large that he did not receive a phone call from Jason Kidd informing him that Kidd was leaving the team and joining the Knicks. However, Dirk also said that he was in Africa where there was no reception.
But Dirk mentioned that the day before Kidd signed his contract he gave the Mavericks the impression that he would be resigning with the team.
"He didn't call me," Nowitzki said. "I had no reception in Africa where I was … The day before he said he was coming and I think that's what Mark (Cuban) was upset about. He basically said that he was coming back and then later he said that he wasn't coming. It was frustrating."
Ah, but there is more to the story. Dirk explains the inside details to us in this exclusive story,
"A Fired-Up Dirk: I Think We're Gonna Be Tough To Beat.''
Only at DB.com.
DONUT 7: Want more Mavs? ...
We've got
the best and deepest coverage of the Mavs available anywhere
... take our free seven-day trial and then get your Mavs gold for pennies! Go Mavs and Go Premium!
By the way, we take that same focus that we provide on the Mavs here on DB.com and apply it to
the Mavs and the Cowboys on 105.3 The Fan. Listen live here for some Fish on Football and for breaking Mavs stuff, too
... throughout today and every day ... and we'll take you inside the teams in every possible way!
DONUT 8: Follow Fish and the Mavs on Twitter ...
Follow @fishsports
Follow @jonathanauping
DONUT 9: Lakers Have Dirk's Attention ...
Dirk isn't under any false pretenses concerning the talent accumulated by the Lakers. On Friday he came out and explained how good they will be and the challenge they will pose for the rest of the West.
"On paper, they're really good," Nowitzki said. If you look at their starting lineup that's almost an All-Star game. They're stacked. They're going to be great. We'll see how they mesh together. They're going to be tough if they stay injury free. Nobody knows how Dwight's feeling after his back surgery."
So where do the Mavs stand, Dirk?
"Where we're going to end, I have no idea," Nowitzki said. "I think the West is stacked, especially on the top. It's going to be tough to crack those top two or three up there, but we're sure going to try."
DONUT 10: More Dwightmare ...
"Individually, I'm not Dwight Howard any more."
That's what Elton Brand said in reference to being a former MVP candidate who is now part of a gang of new Mavs who will try to do collectively what one "big fish'' might've done for Dallas.
"Those guys are two very big names, superstar players," Brand said. "I don't think one player can match what they're doing. Maybe we'll have to do it by committee and be solid all-around team and play our roles, these new guys. You say Dwight Howard and Deron Williams, I know we as a team, with the pieces we've put together, I feel we could match or get close to matching what they would've brought.''
DONUT 11: Training Days ...
The Mavericks will begin camp with two practices today. Sunday will be a single workout. They will stage a pair of workouts on Monday. The AAC will be home to single practices Tuesday and Wednesday morning before the club departs for Germany and then Barcelona.
"We will spend all that time on a plane together,'' Roddy B said. "We'll definitely get to know each other.''
DONUT 12: The Final Word ...
Elton Brand's been very polite and friendly with the media during his time in town. He's talking glowingly about Rick Carlisle and all of his new teammates on the roster, particularly one
Dirk Nowitzki
. While Brand went out of his way to praise Dirk he also noted that he can already tell that the Big German likes to joke around. He also pointed out that he doesn't like to be the butt of jokes.
"He's a great guy," Brand said. "He's got a lot of jokes. I don't really like to get joked on so, yeah. He's funny though, good guy to be around."
Oh-oh. You know how this works: The less you like the jokes, the more you're the butt of them.
Brace yourself, EB.