DONUT 1: We're spoiled. ...
Newy Scruggs of NBC5 is an accomplished sports anchor, a good friend of DallasBasketball.com, and a long-time
Dallas Mavericks
season-ticket owner. He loves the Mavs, is loyal to the Mavs, puts his money where his mouth is. And the other day, my buddy Newy was explaining to me why he's so underwhelmed by the prospects of this year's Dallas squad.
"What's the best-case scenario?'' he asked. "Fifth-seed and maybe advancing to the second round in the playoffs?''
There was exasperation in his voice.
I know it's blasphemous to suggest that the 2011-12 version of
Dirk Nowitzki
wasn't The UberMan. But it's the truth. Or was, for the first half of that season.
DONUT 2: Grandmama! ...
I asked Newy about the team he grew up loving, the Larry Johnson-led Charlotte Hornets. He loved his Grandmama Hornets. Still does; he's the proud owner of a pristine autographed pair of Larry's shoes. Hey, Newy, what's the most your beloved Hornets ever accomplished?
"Oh, it was great!'' he said. "They beat the Celtics in the first round of the playoffs!'' In other words, his beloved Hornets' high mark matches exactly his disappointed, exasperated prognostication for the 2012-13 Mavs.
DONUT 3: What are your expectations? ...
See, it's all about expectations. Dallas is a perennial contender with a decade-plus of 50-win seasons now the norm. So some of us don't allow ourselves to get excited about "meaningless'' things like the playoffs.
DONUT 4: But I do. ...
I let myself get excited about
O.J. Mayo
telling us that he "doesn't even know what pressure means.'' That he's just 24. That he says he's "handed over'' his game to Rick Carlisle.
I'm so silly, if that's the right word, that I even am excited because O.J. seems like a cool guy and a good guy. (Forget what we used to think when he was a Grizz; he's "ours'' now, and I admit that completely alters my outlook.)
Mayo, to pick just one guy, is also an established NBA "name.'' He truly was a budding star in those first two years at Memphis before settling into the sixth-man job ... all the while maybe committing the crime of "inefficiency'' because of the fact he looked in the mirror and saw "superstar.''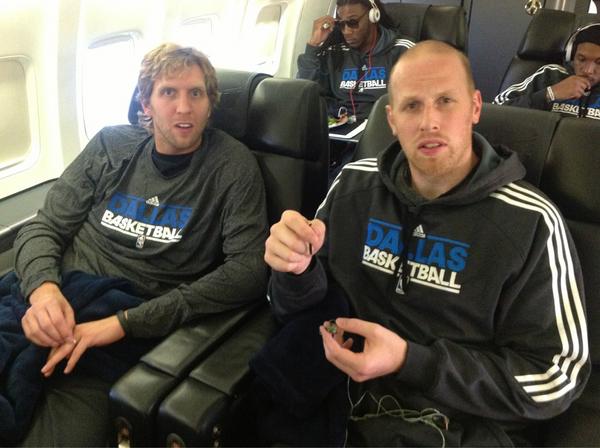 We know who plays "Batman.'' Maybe O.J. is the "Robin.'' Or maybe it takes four or five Robins, which is how Dallas finally won that elusive title, you know.
DONUT 5: Wheels down in Berlin ...
Likewise, I allow myself to be interested in the fact that Dirk and Kaman sat next to each other on the plane, that they stopped in Newfoundland on the way for a refueling, that seven Mavs Dancers are also on the flight along with Champ, and that assistant GM Keith Grant worked with the NBA to make sure the social/PR schedule is completely full in Berlin, starting right now, so the team can "power through'' the time change.
(The Mavs won in Berlin as Roddy B sprained an ankle. He'll be OK but apparently won't play Tuesday in Barcelona.)
DONUT 6: Want more Mavs? ...
We've got
the best and deepest coverage of the Mavs available anywhere
... take our free seven-day trial and then get your Mavs gold for pennies! Go Mavs and Go Premium!
By the way, we take that same focus that we provide on the Mavs here on DB.com and apply it to
the Mavs and the Cowboys on 105.3 The Fan. Listen live here for some Fish on Football and for breaking Mavs stuff, too
... throughout today and every day ... and we'll take you inside the teams in every possible way!
DONUT 7: Dirk's Homecoming ...
And yes, Cash, I am interested in seeing The UberMan's home gym from when he was just The UberBoy, the place where Holger first showed the kid how to deal with wooden backboards:
DONUT 8: Stop the Flop ...
Your new
NBA Anti-Flopping Bylaws,
whether Billy Hunter likes 'em or not.
DONUT 10: Explaning the roster moves ...
Carlisle (and, interestly, Cowboys coach Jason Garrett, too) like to use the word "process'' to explain ... well, to explain everything. Part of the process is roster moves and minor-league development. So, let me explain what's going on inside Mavs HQ regarding DJ Mbenga and Tu Holloway.
The plan all along was to use Mbenga in the D-League. The Mavs will let him out of that commitment to go to Frisco now, I'm told, if an overseas team wants to pay him. DJ is about at the end of his basketball earning power. There isn't money to be made in Frisco. There are still dollars available overseas. DJ's decision is coming.
It's the same with Tu in the sense that Dallas would release him to an overseas team if he wishes. But I'm told he doesn't want that. Tu, a point guard who needs development, says he doesn't want to be overseas, preferring to be in Frisco and be one tick away from getting a call-up.
So Najera and Del and company will coach Tu up in Frisco. ... and maybe he gets his shot, someday, to be a bigger part of the Mavs' "process.''
DONUT 11: Computers are hosing the Mavs! ...
Not everybody is on board with positivism. I get that. Hey,
Dirk Nowitzki
and the Mavs are even getting hosed in NBA2K13!
DONUT 12: The Final Word ...
So anyway, I'm going to try to avoid being spoiled. I'm going to enjoy camp,
enjoy the "Mavs Masters'' fun,
, enjoy the preseason all the way to Berlin and Barcelona, and then I'm going to allow myself to enjoy the 82-game process, to hope for a solid seed, to pray for some playoff success.
"I feel good,'' Dirk said. "And that's already a big chunk. If I feel good, we're going to be OK.''
Who are we, at this early stage, to argue with that? To argue with him?