Roddy Beaubois is coming off a season during which he averaged career-highs in points (8.9), assists (2.9) and minutes (21.7). And we all cling to what was accomplished in his rookie season, when he was the rare 50/50/80-percent shooter and in the middle of it, expoloded down "Interstate-40'' in Golden State:
That performance justified DB.com's season-long "FREE RODDY B'' movement and raised expectations ...
Yet it remains all about "potential,'' the 25th overall pick in the 2009 draft having experienced just enough "up'' moments to earn a "trade-untouchable'' label from the
Dallas Mavericks
at one point ... but now maybe viewed as a fourth-year prospect without a true position and with an army of talented guards lined up ahead of him on the depth chart.
On the eve of the start of a very important training camp for him, DallasBasketball.com goes one-on-one with
Rodrigue Beaubois
On the competition in the AAC basement, which for the last month has included work against new veterans O.J. Mayo and Darren Collison for Roddy B, who at 24 is in the final year of his contract:
"Yeah, I'm down there all the time. It's good. The competition is part of basketball. It's pretty good talent. But that's basketball. We're going to compete. We're friends, but we're competing and also trying to make each other better. The competition ... basketball is what I love.''
On his budding relationship with the new guys:
"I didn't know them personally before, no. The first time I met Darren was during the Mavericks' (2009 pre-draft) workouts. (Collison was drafted 21st, a few slots ahead of Roddy B). But we didn't really know each other. They're cool, Darren and O.J.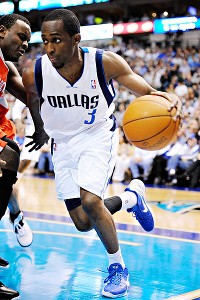 "It's important (to have relationships). You're with the same guys for six months. It's important for us to communicate and be friends. So far it's so good. (The preseason games in Germany and Barcelona make for a) long flight, so you better be with people you like!''
On last February's passing of his father, which caused his family to meet back in Guadaloupe -- his sisters coming from their homes in Martinique and France, and Roddy B missing five Mavs games before hurring back to Dallas:
"It's tough to lose someone you love. It is still tough. My family got together and we were strong together ... My mom is great, but it's still tough.
"But at the end of the day, life goes on. Life continues on. And I have a job and I love it. It was good to get back into (a routine) and be with the guys. So I had to come back to my team.''
On his sports idols and his basketball origins -- featuring the myth that he didn't pick up a basketball until age 17:
"My football team is AC Milan. That was my first team I pulled for and when you pick a team, you have to stick with them. Even when they're not good, they're still my team.
"I was 7 when I first (noticed) basketball. I watched and I was curious. One of my neighbors asked me if I wanted to play. I went to France to play (seriously, at a late age), when I was 17. But I started playing at 7.
"I looked up to a lot of players. At one point it was Allen Inverson. Small like myself, but he was so great.''
On his injury history and the tales of Roddy B having picked up boxing as a way of "toughening up'':
"The boxing is great. Mark (Cuban) told me maybe to try it and it's been a good experience. I never did it before, so I said, 'Why not?' Even when you play basketball, what's the word ... the 'movement,' the 'footwork,' -- 'footwork,' that's it. It's very helpful. My foot (broken in 2010, a major setback in his development) is fine. This boxing is more about exercise (than toughness or rehabbing). It is interesting. I box against a trainer (not an actual opponent). I don't want to get punched in the face!''