DONUT 1: O.J. and water ...
So
O.J. Mayo
is hanging out at the club in Dallas a few days ago with boxer Floyd Merriweather.
Hey, they're drinking water! What's the worst that could happen, am I right?
DONUT 2: We're a day away from Mavs Media Day ...
And that means we're a day away from the public getting to meet new Mavs assistant Jim O'Brien.
But if you know the NBA you know O'Brien, who replaces Terry Stotts, now the head coach of the Portland Trail Blazers. O'Brien, 60, posted a 303-327 record as the coach of the Celtics (2000-'04), 76ers ('04-'05) and Pacers ('07-'11). O'Brien's best season was 2001-'02 when he led the Celtics to a 49-33 record and a berth in the Eastern Conference Finals.
But guess who didn't really know Jim until a few weeks ago, when the hiring was made official and the new guy needed a place to office? That would be Monte Mathis, who will serve as the "defensive coordinator'' to O'Brien's "offensive coordinator.''
"Yeah, we're sharing an office,'' Monte tells me. "So we're getting to know each other well, and fast.''
DONUT 3: Mavstoberfest! ...
"Fan Jam'' is now "Mavstoberfest''!
The date will be Saturday, Oct. 13. The event -- an upgrading of Fan Jam and featuring live music, food and games -- will begin on the AT&T Plaza at 3, and then the AAC doors will open at 4 p.m. for fans to watch the Mavs practice!
DallasBasketball.com will see you there ... especially, if, in the Octoberfest tradition, somebody serves us beer.
DONUT 4: Roddy B - Revealed ...
Roddy Beaubois is coming off a season during which he averaged career-highs in points (8.9), assists (2.9) and minutes (21.7). And we all cling to what was accomplished in his rookie season, when he was the rare 50/50/80-percent shooter and in the middle of it, expoloded down "Interstate-40'' in Golden State:
That performance fortified DB.com's 2010-11 season-long "FREE RODDY B'' movement and raised expectations ...
Yet it remains all about "potential,'' the 25th overall pick in the 2009 draft having experienced just enough "up'' moments to earn a "trade-untouchable'' label from the
Dallas Mavericks
at one point ... but now maybe viewed as a fourth-year prospect without a true position and with an army of talented guards lined up ahead of him on the depth chart.
On the eve of the start of a very important training camp for him, DallasBasketball.com goes one-on-one with
Rodrigue Beaubois
.
Read all about it here "Roddy B Revealed'' -- only on DB.com.
DONUT 5: In case you missed it ...
I've got DB.com
here in DB.com Archives ...
It's good stuff, and exclusive stuff ... dig through the Archives for the gold ... And through
DB.com Boards as well ...
including photos, notes and quotes from inside the AAC on Monday, when we snuck into "Basketball 101 For Women'' and hung out with the coaches and players!
DONUT 6: Hispanic Heritage Month, si? ...
In the NFL, it's Hispanic Heritage Month. And the NBA has the same thing (thus, "Los Mavs'' and such.) It's fine by me; some of my favorite ex-wives are Hispanic. But how has this slipped under the radar to other proud cultural groups? The NFL doesn't celebrate an "African-American Heritage Month.'' The NBA has no "Asian-American Heritage Month.''
Is that just because no one has demanded it yet? Or because it's been determined that there's no money in it?
DONUT 7: Want more Mavs? ...
We've got
the best and deepest coverage of the Mavs available anywhere
... take our free seven-day trial and then get your Mavs gold for pennies! Go Mavs and Go Premium!
By the way, we take that same focus that we provide on the Mavs here on DB.com and apply it to
the Mavs and the Cowboys on 105.3 The Fan. Listen live here for some Fish on Football and for breaking Mavs stuff, too
... throughout today and every day ... and we'll take you inside the teams in every possible way!
DONUT 8: From Russia, With Love ...
Russian basketballers will soon be making their homes in Brooklyn, said Nets czar Mikhail Prokhorov.
"I'm thinking about recruiting Russian players to our lineup in the nearest future," Prokhorov said. "I really want this to happen."
Go for it, big fella. I'm sure when you tell them you've got max money committed to Joe Johnson, they'll love filling out the bottom of your roster for minimum wage ... oh, and for the pride of the Motherland, of course.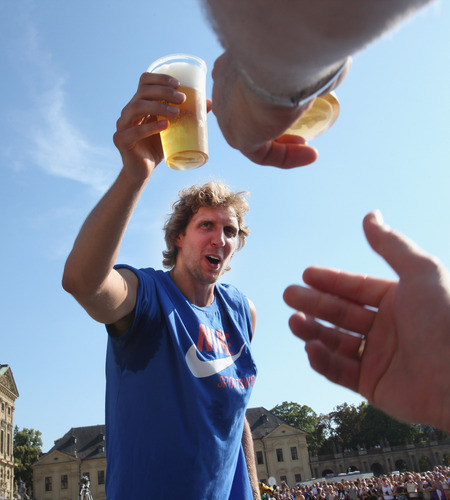 DONUT 9: Dirk's rolled into town ...
The UberMan has rolled into town for camp, which starts with Mavs Media Day on Friday. He said something to an Sefko in an email interview in which Dirk says, "It's an honor to represent the Mavericks.'' And then I'm talking to Dahntay a couple of nights ago and he says, "I'm star-struck by getting to play with Dirk Nowitzki.''
Rub off on 'em,
Dirk Nowitzki
. Rub off on 'em.
DONUT 10: The ol' gang is getting back together ...
Coach Ortegel and yours truly will be in studio on FOX Sports Southwest (guided by Dana and Emily and Ric) ... and it all starts in October ... here's your TV schedule for the preseason as DB.com has pieced it together:
*Oct. 6, Mavs in Berlin on TXA21
*Oct. 9, Mavs in Barcelona on TXA21
*Oct. 15 home vs. Houston on FSSW
*Oct. 17 home vs. Phoenix on TXA21
*Oct. 20 at Atlanta on TXA21
*Oct.22 home vs. New Orleans on TXA21
*Oct. 24 at OKC in Wichita 24 on FSSW
*Oct. 26 home vs. Charlotte on TXA21
More details to come ... but know that the bulk of the games are on FSSW, which means lots of Dana and Emily, and my partner Bob Ortegel (and yes, me, too).
DONUT 11: "Flowers For Akognon'' ...
We've dug into the Josh Akognon story, working to confirm that he's escaped his Chinese contract to camp with the Mavs ... and that the deal allows him to return to China if he doesn't make the Dallas roster.
We break the story here, with Donnie Nelson admitting that he doesn't know how to pronounce the name but does know "the kid can shoot the lights out.''
The 75-Member Staff thinks the 5-11 shooting PG's name is pronounced "A-COIN-in,'' thus ruining our "Flowers For Akognon'' headline plans.
DONUT 12: The Final Word ...
You made a pledge to God that if he'd just bring back the regular refs you'd never gripe about an NFL call again.
So do you break your vow tonight, or wait all the way until Sunday?