BACK FROM EUROPE:
In the at-large media session, Rick Carlisle did nothing but rave about the Mavs' "European Vacation.''
"It was a great experience,'' the Mavs coach said on Friday as the club returned to work at the AAC. "It was an opportunity for the guys to spend a lot of time together and get to know each other. With eight new guys, that's a great thing for us. And the competition was very, very good. You know, we got some things done.''
That's the sort of quote the NBA wants to hear from a leader of this squad's trip to Berlin and Barcelona. But when I spoke to Rick one-on-one on the subject, he was a bit more frank.
"Would I like to do it again next year? No,'' Carlisle told me. "It's true that it's beneficial. It's true that bonding helps. And hey, after the Celtics went in 2008, they made a request to be the team that goes back. So there are benefits. ... I don't get a vote, but I wouldn't want this to be an annual thing.''
Dirk Nowitzki, for his part, was able to play in front of his countrymen in Germany. He said he wished Dallas could've made this trip a decade ago, he enjoyed it so much.
But it didn't happen then. It might happen again in the future. But Carlisle would be just fine with it not happening again next fall.
PRAISE FOR COLLISON:
Even as the Mavs make adjustments in their offense, Darren Collison is catching on quickly.
Collison put up numbers in Europe (14 points and 6.5 assists per in the two games). But more importantly, he seemed to find a way to fit into Dallas' needs as a distributor and still not lose his strength, which is as a scoring point guard.
"He can score and he has a good feel for being a set-up guy,'' Rick said of DC. "He's been a score-first point guard, and I don't want him to lose that mentality, because that's a weapon for us."
There are adjustments to be made. Dallas' offense is changing. "Flow''? Yeah, maybe. Uptempo? Probably. But look for fewer pick-and-rolls and more designed movement that is a branch of the "flow'' tree but will certainly include some opportunities for Collison and others to break down defenses individually.
"Collison's going to be great for us," Carlisle said.
DELONTE'S GAME WITHIN A GAME:
While other Mavs were working on their 3-point shooting, Delonte West invented a training technique all his own: As the shots came, fast as furious from either corner of the floor, the 6-2 West attempted to goaltend each and every shot.
"Get that shit outta here!'' Delonte screamed in mock anger. "This is my court! This is my game!''
He probably didn't block more than two of, say, 20 shots. But he had fun trying.
KAMAN'S SEARCH:
Chris Kaman has some German ancestry, I guess, which is the reason he was a German National teammate of Dirk's. When asked how he enjoyed the Europe trip, Kaman said, "I think I was adopted. I tried to find my real parents in Berlin. With no luck.''
I think he was joking. But with Kaman, it's very difficult to tell.
THE DIRK KNEE UPDATE:
The
Dallas Mavericks
aren't yet able to breathe a sigh of relief regarding Dirk and his troublesome knee. But fingers are crossed on Friday as Nowitzki -- who is considering arthroscopic surgery -- participated in the team's practice at the AAC after having his swollen right knee drained.
"Hopefully" and "day-by-day'' are the two descriptive quotes of the day as the perennial All-Star explains that he's had the knee drained twice this month (and did the same over the course of last season).
"Hopefully it (the swelling) won't come back," said Dirk, talking to the media while wearing a practice uniform covered in sweat. "If it does, then we have to think about something else. ... If the swelling keeps coming back, I'm not going to play on a swollen knee all season.''
That's where the "day-by-day'' comes in. Nowitzki recited the team's practice schedule for the next few days, which includes the team's "Mavstoberfest'' event on Saturday evening, an open scrimmage that fans can attend. Dirk plans on participating while also monitoring the knee -- with plans to make a decision on the surgery well before the season-opener on Oct. 30 at the Lakers.
"Sooner the better if we decide that," Nowitzki said. "I don't want to wait until the 30th and then have a scope – that's pretty obvious. I never liked missing games. ... In my career I always try to be there for the boys.''
Need to get caught up on the issue of Dirk's knee?
Get started by understanding the inside stuff on Nowitzki's health history and the nature of the proposed procedure
and then get comfortable -- if that's the right word -- with
the idea of a Dirk-less Mavs unit, at least for a short period of time.
FLOATING?:
Dirk Nowitzki
has a question/theory on the knee.
"Maybe there's something floating in there that shouldn't be floating in there,'' the Dallas Mavericks' forward said after Friday's practice. "We'll only know that for sure if we do a scope.''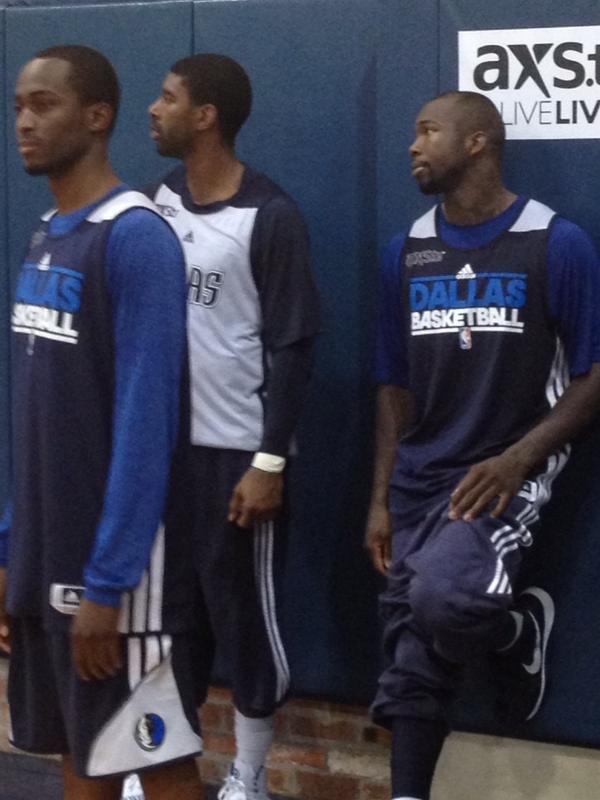 MAVSELLANEOUS:
Rodrigue Beaubois (sprained left ankle) participated in "non-contact'' work … Brandan Wright (strained quad) isn't 100 percent but he "gutted it out,'' as Carlisle put it. ... Saturday the Mavs host the first annual "Mavstoberfest" at the AAC (replacing "Fan Jam''), which will feature an open practice. Doors for the free event will open at 4 p.m. before the 5:30 p.m. scrimmage, with parking available for $5 to $10. … Said coach Rick Carlisle: "We're hoping to ride this thing out." … (Video courtesy of d210) ...
O.J. Mayo
and Josh Akognon – the non-guaranteed guard who continues to shoot terrifically from the perimeter – were among the last Mavs on the floor. … Nowitzki on Collison: "Obviously, he's got to use that speed to our advantage. He's got to push the ball off makes, misses, it doesn't really matter. He's got to fly up the court and get the wings running with him. He's got to penetrate for us, make some stuff happen, collapse the defense, kick it out to shooters. We expect him to be our motor every night. … He's one of the fastest guards I've ever played with.'' ... Dirk on Kaman: "The problem with him is his injuries. But when he's healthy, I'll take him with any center.''