DONUT 1: What's Jae's ceiling (and cellar)? ...
The
Dallas Mavericks
have themselves a find in Jae Crowder.
A legit starting-lineup find? An Artest-like find? A bullish-rebounding find?
No. No. No. Not yet.
Wanna know why Crowder didn't start on Wednesday? Maybe rebounding.
Crowder entered Wednesday's game ranked 12th on the Mavs in Rebounding Rate (a stat that tells you the percentage of available rebounds a player grabs while on the court) at 6.3 percent (according to HoopData), with only a trio of guards rating worse (OJ Mayo at 6.2, Darren Collison at 4.1, and Jared Cunningham at 3.4).
In those four starts he had a total of one steal and never handed out more than a single assist.
He bounced back nicely against the Wizards, contributing to the 107-101 victory that has Dallas at 5-4. He totaled a season-high 12 points and earned praise from his coach.
"Crowder stepped up off the bench in a key way,'' said Rick Carlisle.
Ah, but wait: Jae contributed just two rebounds in 20:31 of action. That'll figure to keep him in the cellar of Rebounding Rate and it puts a ceiling on how much he can/should play. (By the way, if you are looking for reasons why B-Wright has slipped down to the doghouse ... same issue.)
There's a tale to be told here about Jae The Shooter vs. Jae The Rebounder. DB.com is working on that project with both Crowder and Carlisle. Stay tuned!
DONUT 2: Fish and Ortegel on FSSW tonight! ...
Early start - 5:30 p.m. on FoxSports Southwest -- as Coach Ortegel leads you through the pregame show, then hands it off to Followill and Harp in Indianapolis for Mavs at Pacers, and then I'll be back in the studio for the postgame show!
Before that? I'm on 105.3 The Fan co-hosting RAGE with Richie Whitt from 2-to-7. Stick with 105.3 The Fan, FSSW and DB.com all day and night and we'll have your Mavs covered!
DONUT 3: The DB.com Podcast ...
It's 40 minutes of radio. All Mavs. No commercials.
Good stuff. Pull up an ottoman and give it a listen.
DONUT 4: Happy Thanksgiving from Frisco Party Station! ...
Planning a Thanksgiving party, a football-watching party, a Mavs-watching party?
Frisco Party Station
has everything you need ... including Mavs-themed plates and balloons! Check 'em out!
DONUT 5: The Glamorous Life Of Troy Murphy ...
I know, I know. You don't love Troy Murphy. But can I help you in your quest to understand why he plays so much?
Taken straight from the scrap heap to the Mavs rotation, Murphy is now backing up the power forward spot and on Wednesday had his most productive scoring night of the season with 10 points, adding two rebounds, two assists and two steals in 18:17.
What he does right: He is a stretch-the-defense threat (I say "threat'' because while he is a career 39-percent 3-point shooter, he's at just 20 percent so far in Dallas); he is a big body that scraps for boards; and he fully understands pick-and-roll defense and is an active participant in it.
Murphy's understanding of how to please Coach is key here. He's not exactly a great pick-and-roll defender. But he gets it intellectually and he does his best physically. That keeps him in the mix ... at least until people like Dirk and Trix are ready to play their roles.
DONUT 6: DC consistency ...
First four games of the year? Darren Collison scored at least 16 points in all of 'em.
Lately?
Well, consider Wednesday, when Collison finished with nine points on 2-of-10 shooting with five assists (none in the fourth quarter), three rebounds and three turnovers.
"Collison had his ups and downs, but he's our guy,'' said Rick, as he must, because what, exactly, are the other options?
We're still in DC's corner here. And we still support handing him the keys, as we see the possible long-term rewards of doing so. But let's be frank: If on a given night Uncle Ricky decided that DC wasn't "our guy,'' exactly which other "our guy'' would start at the point?
DONUT 7: Kaman a TV star?! ...
Carlisle commented the other day on Kaman the hunter and Kaman the character, and how both aspects of Chris' persona make him a perfect fit for a certain TV show.
"If he does a cameo on 'Homeland,' I guarantee you there's going to be two scenes,'' Rick said. "There'll be one secluded hunting scene in the woods. There's going to be another interrogation scene where he folds under questioning."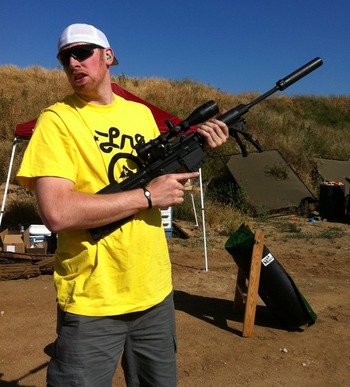 DONUT 8: The importance of Brand being right ...
An eye-popping number from Wednesday over the Wiz (which you can read all about here in our Premium report): Elton Brand had four offensive rebounds in the fourth quarter alone. For the game he totaled eight. To put that in perspective, the Mavs as a team have grabbed eight-or-less offensive rebounds in five games this season.
This is not a good rebounding team. It's not going to be a good rebounding team, either.
Elton Brand, though, doing what he's paid to do here, can make this a less-than-embarrassing rebounding team.
DONUT 9: Hot Mayo ...
With seven consecutive games of 18-or-more points, OJ Mayo has the longest such streak of his career. Meanwhile, the last Mavs player not named Nowitzki to have seven or more straight games with 18 points was Jason Terry from Jan. 24 through Feb. 8, 2008.
In what is quickly becoming a common sight in Dirk's absence, Mayo led the Mavs in scoring with 25 points, joining Kaman with uber-efficiency by getting those points on 9-of-15 field goals. Mayo has now led the Mavs, or tied for the lead, in scoring in six of the last seven games.
And, in some ways, Wednesday may have been his most impressive scoring performance as Washington tried to run him off the 3-point line, forcing him to find his points in other ways.
"I've been pretty hot from three and obviously the defenses are going to make adjustments to run me off the three-point line,'' he said. "So I was trying to get my defender in the air and make some pull up jumpers."
Mayo wouldn't attempt a three until 4:06 remained in the third quarter, but found his points by attacking the interior of the defense or finding teammates for easy baskets, doling out four assists.
What we're seeing here, just maybe, is the maturation of a gunner.
DONUT 10: Cuban's two cents ...
"I was just talking to Dirk,'' the Mavs owner said on Wednesday morning, and said, 'If someone said 4-4, a couple of disappointing losses without Dirk and Shawn Marion, would you take it?' Yeah, we'd take it. We're not happy about it, but we've got a long ways to go.''
And now it's 5-4. I suppose you have to take the good (winning at LA) with the bad (losing to Minny) and then you eventually get to take the good (Dirk) with the more good (Trix), eh?
DONUT 11: Previewing Indy ...
What do the Pacers have up their sleeves?
Check that out here.
And how are they surviving at the point without Collison?
DB.com has an inside take on that angle here.
DONUT 12: The Final Word ...
This is a homecoming for DC, Murphy and Dahntay Jones as the Mavs -- who once upon a time had won nine of 10 against Indy but have lost two of the past three. but more important that that, tonight marks the potential return of Shawn Marion.
"If it feels like I can fight through some stuff, I'm gonna give it a shot," Marion said.