DONUT 1: Yes, Dallas needs to run more, but ...
The
Dallas Mavericks
' best way of Dirk-free survival? Run. Set the pace. Get Collison using his quicks. Let Mayo out-athlete people. Here comes Trix and B-Wright filling the lane. Find a way for Roddy B to turn the corner on people (because that seems to be about the only time he ever shakes free).
Problem: Chris Kaman, and maybe Elton Brand, too, can't score that way.
DONUT 2: Calling for Chris ...
Focusing on Kaman for just the moment:
So far, people inside the organization concede to me that Kaman and running are not a match and that Kaman and "Flow'' aren't exactly tongue-and-groove, either. Kaman can be at his very best when he is posting up or facing up with a clear-out. Those can happen in Flow, but they are more likely to occur and more likely to work when set plays are called. ... when set plays are called for Kaman.
Believe me, this concept is not lost on Rick Carlisle; far from it. The challenge for the coaching staff is to continue to attempt to meld two distinct "factions of style'' -- because if it's going to be all about "uptempo,'' the notion of Kaman as "the best offensive center in franchise history'' is buried.
When did the Mavs truly take charge of that 103-95 win Saturday in Cleveland? With about five minutes left, following a botched inbounds of the ball after a made Cavs basket, Rick Carlisle called a timeout. The next four possessions were in the halfcourt. There was a rhyme and a reason to them. ... a structure, if you will. And Chris Kaman, in the halfcourt with an offense seemingly running plays, was instrumental in Dallas scoring four straight baskets for nine big points.
Kaman in the halfcourt, with plays being run for him, is going to have to be a compromise to the uptempo that gives everybody such an entertaining charge and gives some the false sense of "only-choice'' security.
DONUT 3: 'The Vince Carter Dilemma' ...
As of last week, only 35 players had taken more shots this season than Vince Carter. All 35 of them had a higher scoring average than Carter. All 35 of them are starters. Only six of them were shooting a lower percentage. Thus, accentuated in Saturday's Mavs win at Cleveland, 'The Vince Carter Dilemma.'
Read all about it here.
DONUT 4: Invisible Men ...
Three Donuts in and I've already mentioned Elton Brand and Roddy Beaubois and yet ... based on Mavericks 103, Cavaliers 95, neither of them deserve a mention.
Elton started. Played 10 minutes. Failed to score.
Roddy B musical-chaired down to the end of the bench, switching spots with DoJo, who was very effective in his 17 minutes taking part in The Great Backup Point Guard Experiment.
Roddy B problems? We've been down this road before. Elton Brand looking sluggish on the second night of a b-2-b? We've seen that all too often in this early season, too.
ts four-game road losing streak. "The key to [the run] was we quit doing certifiably insane things with the basketball," quipped Mavericks coach Rick Carlisle, whose squad made 22 turnovers. "The guys got it done together."
DONUT 5: Will we ever see it again? ...
The Kaveman recorded six blocks in the win at Cleveland. That's the same number Chris has recorded in all previous games.
DONUT 6: The Mavericks host Golden State ...
And the theme of the night is whether Dallas can take advantage of a silver-platter opportunity. Dallas will be trying to secure an 11th victory in the last 12 home matchups with Golden State tonight. Now, at 6-5, it's not like the Mavericks are on another level separate from GS, which is 5-5. But this matchup has usually worked well for the Mavs at the AAC. Furthermore, the Mavs are 4-1 at home and are averaging 107.6 points per game at the AAC. (Only Miami's 116.5 is better.)
Additionally, Dallas has won 10 of the last 11 home matchups - including the Warriors are coming off a 119-109 loss at Oklahoma City on Sunday.
So, see? Silver platter.
DONUT 7: Why Rick has us wearing our purple bracelets ...
DONUT 8: Tired Trix? ...
There was some thought after the Indy loss that Trix, making his return after missing previous five contests with a sprained left knee, might not be able to bounce back on Saturday.
The 34-year-old Marion instead played 33 minutes in the second game of the b-2-b and joined Kaman (six blocks!?) as a critical interior defender.
"I didn't want to play Marion 32 minutes, but he was so good in the fourth quarter that I didn't want to take him off the floor," Carlisle said.
The Mavs took Sunday off. Marion no doubt kept his feet up on the ottoman and watched some football. ... and prepped for tonight against GS.
"I'm feeling it right now,'' Trix said, "but sometimes you do what you've got to do because we needed this win," he said.
DONUT 9: Congrats from Carlisle ...
After the Cleveland game, Rick Carlisle made it a point to greet each and every player at the locker room door to offer a personal "atta-boy.'' It was symbolic, and reflects a sentiment expressed verbally by Darren Collison.
"These are the wins that make you feel good because we all did it together,'' DC said.
DONUT 10: Hats off to Dahntay ...
Lost in the weekend split -- and in the fact that on Saturday, terrific young Cavaliers point guard Kyrie Irving scored a game-high 26 points -- is the emergence of Dahntay Jones as a waterbug defender.
Because of his size, we've always considered Jones as an heir to the roles once held here by the Buckners A-Wrights and the DeShawns and those guys: Big 2's who can defend other big 2's.
But Dahntay was highly effective during his time against Irving -- which didn't come until the second half. Jones wasn't apparently in the original gameplan; he was the 12th man to enter the contest and didn't do so until there was 2:27 left in the third. Jones wound up playing the final 14:27.
But here we go again with "Be Ready'': Where the numbers show it Jones' work is Kyrie totaling zero assists.
"I think this was the first time in my life that I didn't have an assist -- I mean ever," Irving said.
Props to Dahntay for that.
DONUT 11: Why DoJo? ...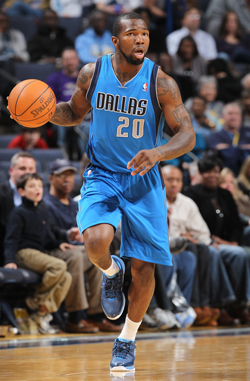 Dominique Jones had a season-high 10 points in Cleveland, along with four rebounds, five assists and two steals in 18 minutes. His coast-to-coast teardrop to close the first half provided the Mavs some needed momentum. ... but he was a DNP in the three previous games.
What gives?
"(Mark Cuban) gets an assist on that one," Carlisle said. "He talked to me last night and told me he thought Do-Jo could give us a lift."
Hey, who does Cuban think he is, Jerry Jones?
DONUT 12: The Final Word ...
"We're going to start calling people out and challenging them. We're going to make guys accountable on this team. If they buckle, they'll buckle. But if they don't buckle, you'll see what happens." - Shawn Marion.