DONUT 1: "Don't leave your best leaders at home." ...
That was Rick Carlisle's response to the first pregame question he was asked on Friday regarding team chemistry. What exactly he meant was unclear. Carlisle did not elaborate on the comment.
There is the possibility that he was referring to the fact that veterans Vince Carter and Shawn Marion did not travel with the team to Oklahoma City last Wednesday when the supposed altercation took place that led to the second suspension of Delonte West. Carter has been a supporter and friend of West since both joined the team last season. One might go as far as to say he played the role of 'big brother' to West at times.
The
Dallas Mavericks
leader -- Carlisle -- is left to being cryptic on the subject of leadership.
Carlisle did not shed any light on the situation between West and the Mavericks. In fact he claimed, "I'm not authorized to talk about it."
Carlisle has been one of West's biggest supporters since becoming his coach. He has often complimented West's dedication to the team and intensity on the basketball court.
"My feelings about Delonte are no secret," Carlisle said.
Nor are the trickle-down effects of Delonte's departure (which include a demand for sudden production from Roddy B and maybe from Cunningham, too) ... and in a sense, the trickle-down effects of Lamar Odom's troubled times in Dallas.
DONUT 2: Cuban speaks ...
Could we still see Delonte in a Dallas uniform? Incredibly, Mark Cuban says maybe.
If Carlisle isn't authorized to talk about something it would make sense to go to the guy who does the authorizing.
Cuban said that he will make the final decision regarding West's status on the team. He also said prior to Friday's game against the Bobcats that West still has a roster spot on the Mavericks and a decision has not yet been made that has changed that.
"Yep, there's a chance (of West in a Mavs' uniform),'' he said. "It's just a process that comes down to me making a decision."
When reminded that the opening day rosters must be set by this upcoming Monday; Cuban claimed that was "plenty of time" to make a decision.
Cuban also made a point to say that, "He's a great guy … Like I told you many times Delonte is a unique guy and we'll deal with it and I'll make a decision."
DONUT 3: Is Lamar Odom still affecting this team? ...
So, as you might be gathering as The 75-Member Staff was scrambling around the AAC for info on Friday, on the one hand listening to the suits talk nice about Delonte over here while watching Eddy Curry do his offensive thing on the floor over there ... things are in a state of seesawing flux.
One minute Cuban and the Mavericks seem to be West's biggest supporter. The next minute his future with the team is in serious jeopardy. Behind the scenes, though, the patience is gone. And where did all the patience go?
Well, Lamar Odom may have sucked it all out of Cuban last season.
Cuban never directly mentioned Odom's name, but when talking about handling West's presence on the team he stated, "We're not going to be in a situation like we were with a player last year."
Odom's lack of focus and effort last season was not only unproductive, but actually became such a distraction that he was asked to stay away from the team for the latter parts of the season.
Cuban said on Friday that last season he was "too forgiving when everybody told me not to be … so I learned my lesson."
The lesson that Cuban learned from the experience does not bode well for West -- even as the situations are very different.
DONUT 4: Am I drunk off preseason basketball or is Eddy Curry pretty good? ...
And yet, as we consider how the Odom experience blends into the Delonte experience, we watch as the Mavs are willing to delve into the Curry experience.
Less than a minute into the game, from street-to-starter Eddy Curry had won the tip off against former Mav Brendan Haywood, gotten a defensive rebound and scored two points off of free throws.
Curry -- as Fish has noted, 100 pounds lighter than when the NBA last paid attention to him, seemingly down below 300 pounds on his 7-foot frame -- finished with 11 points, seven rebounds and three blocked shots.
I know it is just preseason, but Curry did not look like the man who had become a running punch line in NBA circles. He looked in shape and was in constant motion. Curry looks like a player that belongs in an NBA rotation, which has not always been said of him over the past five years.
However, Carlisle didn't exactly go overboard with optimism concerning Curry.
"I thought he did OK," Carlisle said. "He's a really good offensive player around the basket. Defensively there's some things we got to work with him on."
And what did Eddy himself think?
"New situation,'' he said. "Tough situation for anyone to be in, to be starting. Eventually, this is something I've been doing a long time, so it's was just like riding a bike."
DONUT 5: It's Halloween! Time to check out Frisco Party Station! ...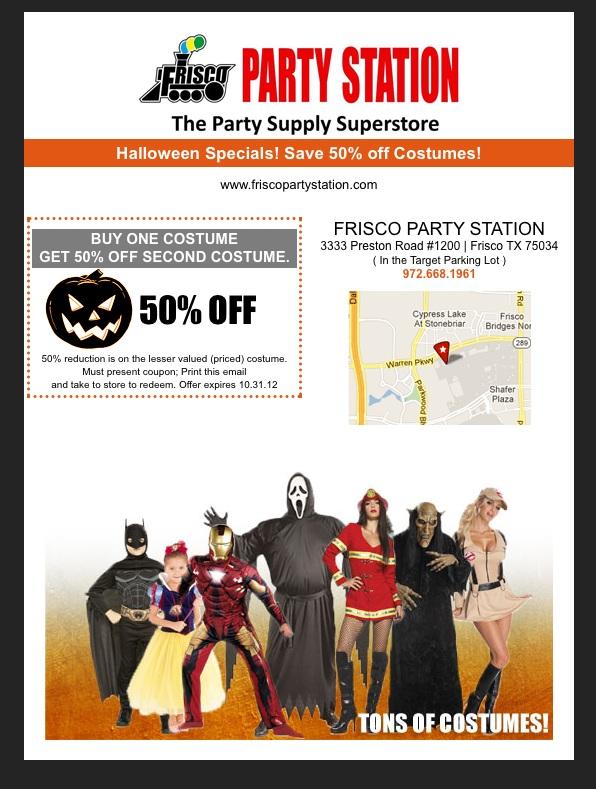 Robert and his family-owned
Frisco Party Station
has long been the go-to place for Halloween, for celebrations and now, even for Mavs-themed parties! They are the best in the business, are long-time DB.com readers, Mavs season-ticket holders and excited to help you with your Halloween!
DONUT 6: Preseason MVP Crowder leaves game with hamstring injury ...
If there's anything to learn from the preseason it's that the Dallas Mavericks found a gem with second-round pick Jae Crowder. Throughout the preseason Crowder has found ways to stuff the stat sheets and impress fans with his constant motor and ability to find the ball.
Crowder finished Friday's game against the Bobcats with 11 points, five rebounds, blocked shots and three assists.
Unfortunately, Crowder left the game late in the fourth quarter. After finishing a fast-break dunk to extend the Mavericks' lead he grabbed his hamstring and seemed to have a slight limp.
Though Crowder himself said, "I'll be fine,'' Carlisle talked about the injury after the game and said his status was unknown going forward.
"Crowder got hurt,'' Rick said. "He pulled a hamstring so we'll see how bad it is."
Prior to the game Cuban claimed that he was the one urging the scouts and coaches that Crowder was their guy. The Mavs hit on one here. Now they need to ice him up for Tuesday, when Dallas is going to need a second-round rookie to help it stay competitive against the Lakers.
DONUT 7: If Delonte's gone then who's backup point guard? ...
With all of the drama involving West, little has been said about who will fill his role as backup point guard behind Darren Collison. When asked about the subject Carlisle did not have pretend to have that figured out quite yet.
"Somebody that's playing good," Carlisle said. "I have no (expletive) idea. It's going to be Beaubois, DoJo, Cunningham, one of those three."
Carlisle then added the possibility of someone else joining the roster.
"Based on today,'' he said, "that's possible. There's a lot of stuff going on … All of a sudden Curry's here, he's practiced one hour and he's going to start. I'd call that eventful."
After the game Carlisle, was not pleased about what he had seen from his backup 1's. It seemed that the absence of West was felt almost immediately.
"Our backup guard position struggled tonight,'' he said, maybe feigning optimism, "but we just got to stay at it."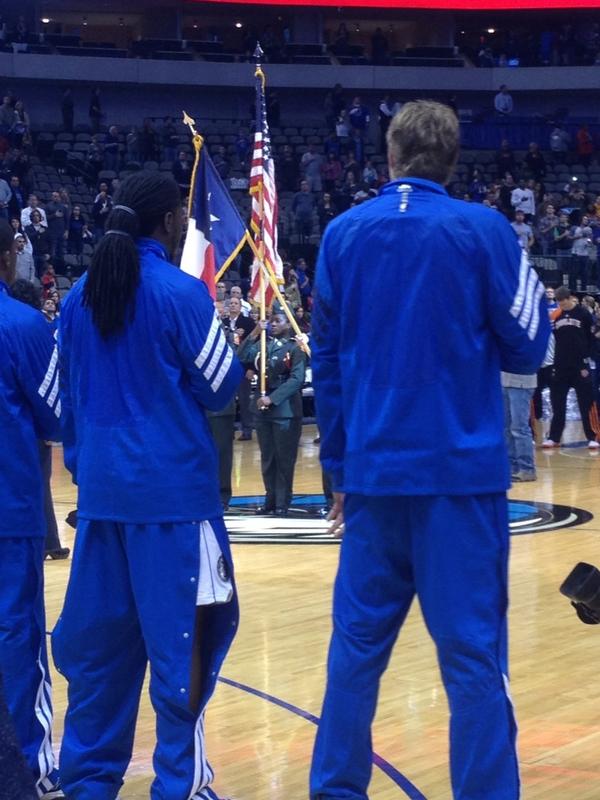 DONUT 8: What's Dirk doing? ...
Under the watchful eye of trainer Casey Smith, Dirk actually took part in pregame warmups ... kind of.
He didn't run or jump. He wasn't in the layup line or anything. But he did wear his game warmups while tossing the ball around among teammates.
Including standing for the National Anthem and sitting on the bench throughout the game, the man just can't resist being a part of His Team.
DONUT 9: High praise for David Stern...
Cuban and David Stern may not have always seen eye-to-eye, but after hearing that Stern would be stepping down as commissioner in 2014 Cuban had positive words to say about the man he has often butted heads with.
"It won't be the same without David," Cuban said. "The NBA is in the entertainment business and it's a global product. Whatever platform that took us to, he was ready to go."
Cuban also joked that the NBA would have to figure out which trophy they would name after Stern. Cuban said that he nominated the "most fined player/team award" to be the David Stern award.
Carlisle also voiced his admiration.
"I'm continually amazed at what he's done and the presence he's continued to have, not only in our league but in the sports world," Rick said.
DONUT 10: Against the Bobcats ...
O.J. Mayo was another boxscore stuffer as he nearly had a triple-doubl with 13 points, 10 rebounds and nine assists. In addition to Crowder reaching double-digits, the Mavs got 12 points (and six assists) from Collison and the late charge featuring Vince, with his and 10 points.
Dallas had a huge lead in the third (63-43), let the Cats back in it with four minutes left (just a three-point lead) and then, as noted above, the Mavs scored the game's final 14 points.
DONUT 11: DB.com Mavs Get-Together is Tuesday, Oct. 30! ...
We're all going to hang out at
Red Rock Bar & Grill at Frankford and Midway (just off the Tollway and also just off George Bush) on Tuesday night for the Mavs-at-Lakers opener.
We'll have drink specials and we're giving away prizes that include lower-bowl seats to a future Mavs game. C'mon by and meet The Fish and talk a little Mavs basketball with DB.com and The 75-Member Staff!
DONUT 12: The Final Word ...
Shawn Marion was in regular-season form on Friday night. On a team with suspensions, a new point guard, rookie reliance, an off-the-street starter and an injured superstar, Marion proved an old basketball adage true: moving without the ball leads to points.
Marion led the team in scoring with 24 points and chipped in 11 rebounds. The Mavericks also played a three-forward lineup that featured him playing the center position. Marion may not be the most talked-about Maverick, but there is no question that they will rely heavily on him in many ways at the start of the season without Dirk Nowitzki.
"It's time to buckle down,'' Marion said after the preseason finale. "Time to get serious, real serious."