DONUT 1: Starting with the starting center ...
The issues keep stacking up for the
Dallas Mavericks
. Which issue shall we place on top of the stack?
Let's start with center Chris Kaman and the increasing questions about his availability to play in Tuesday's regular season opener against the Los Angeles Lakers.
Kaman has an injury history. And the Dallas newcomer has missed the last three games while nursing a strained right calf. The 7-footer also missed a few days of practice earlier in camp due to a sprained back.
"I don't know how realistic it is,'' coach Rick Carlisle said of Kaman playing in LA. "I know he mentioned the other day that he thought he could do it, but we're going to have to evaluate him each day ... He's working at it and he's made some mild progress. He's not there yet, and so we'll just working with him.''
Kaman didn't practice on Thursday. Another center B-Wright (ankle), was also limited.
OK. Next problem on the stack of chips.
DONUT 2: 'I'm just sittin here across from the arena wit tear in my eyes.' ...
What we're discussing here between teardrops, of course, is the
Dallas Mavericks
' Thursday morning suspension of
Delonte West
.
"We have suspended Delonte for conduct detrimental to the team," GM Donnie Nelson said. "The suspension is effective immediately and no other statements will be issued."
Since then, Delonte's activity has been restricted to Twitter, where on Thursday he was active and emotional.
He tweeted: "Just ask u to talk with me....I'm a grown man...that's not above logic and reason...Before u go to the papers wit false information.''
According to a quote given to ESPN, though, it was not (at the time) a leak to the media but rather a locker-room misunderstanding that is at the root of this suspension.
"There was an argument between two teammates in the locker room last night that didn't involve me,"
said West.
"Somehow I'm being blamed for it. I had nothing to do with it. I don't know what's going on."
Since then, there have been multiple whispers about Delonte's "negative influence'' on young teammates. In this regard, West is prescient; he predicted accusations that have indeed, eventually, been made.
A week ago, West worked through another team suspension that was quickly resolved. At that time, Delonte playfully referred to his coach as "Uncle Ricky'' and compared his one-day suspension to a dispute as a "family barbecue.'' Rick Carlisle playfully referred to West as a player with a personality so "different'' that while most NBA players "run on gas, Delonte runs on diesel.'' And the coach also poked back at nosy media wishing to know the details of the incident that led to the player's punishment for Monday's conduct detrimental to the team.
The coach cited a song called "King of Anything'': "It's a song about people who should mind their own ------- business,'' Carlisle said.
So we've got Uncle Ricky, barbecue, gas pumps and a Sara Bareilles song. Oh, and a FishToon:
And now we've got another problem.
"Uncle Ricky handled the situation, you know what I mean?" West said last week. "We went and had a talk, and we came right back to the barbecue."
Now it's raining on the BBQ, though West says it has nothing to do with his dealings with bipolar disorder. "No, I'm not off my meds,'' he wrote. "No I ain't on no bipolar trip.''
"I've got to help him,'' Carlisle said last week, "and our organization is going to help him, too.''
Suddenly, though,
as we noted in our Thursday coverage, Delonte seems to feel unloved.
"I love the city of Dallas, I love playin in the NBA,'' he writes. If I'm not what u lookin 4, that's fine. Just dont kick me in my ass on the way out the door. I didn't do anything to deserve that ...
"I'm just sittin here across from the arena wit tear in my eyes.''
And Delonte is on his way out the door. I'm told that decision was made privately in conjunction with the suspension.
DONUT 3: Delonte's buddies react ...
The Mavs practiced Thursday without West, and as Darren Collison said, "You've got to get over it. It's a tough business. As a team we've got to look forward to moving on, and I think we're ready to move on.'
That does not exactly sound like an endorsement of endless patience for Delonte. ... and you knew we were seeing proof that the organization felt the same way when Eddy Curry was invited to roll into town. (More on Curry below.)
"We're losing a competitor," said Vince Carter, who considers himself close to Delonte. "That's just plain and simple. He's a competitor.''
Added Shawn Marion: "It is what it is. It's between them upstairs, and they're going to handle that problem. I wish him the best.''
DONUT 4: What makes it necessary ...
The Delonte issue is part of this. Chris Kaman's nagging injury issue is, too. And of course, the Mavs are without Dirk Nowitzki for a month. It's not ridiculous to consider Eddy Curry -- expected to be at shootaround on Friday morning as the Mavs prepare for their final preseason game, a Bobcats visit -- as a second-unit scorer. That's especially so if Elton Brand is called upon to be a starter.
Heck, at this moment -- with Dirk, Kaman and B-Wright all hurting, Curry might have to be a FIRST-team scorer.
DONUT 5: It's Halloween! Time to check out Frisco Party Station! ...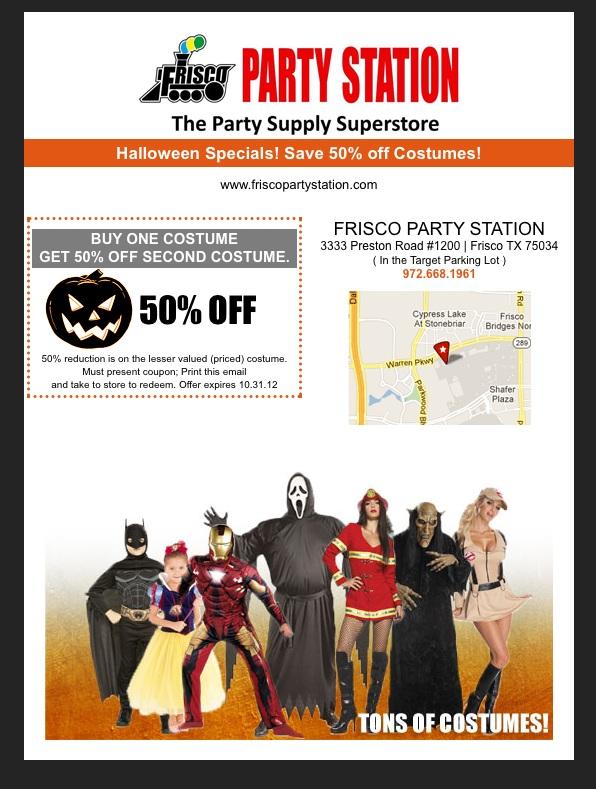 Robert and his family-owned
Frisco Party Station
has long been the go-to place for Halloween, for celebrations and now, even for Mavs-themed parties! They are the best in the business, are long-time DB.com readers, Mavs season-ticket holders and excited to help you with your Halloween!
DONUT 6: More bodies ...
GM Donnie Nelson is overseeing some other turning cogs here. As Sefko notes, the Mavs might look at center Melvin Ely and swingman Chris Douglas-Roberts in the coming days.
Amid the dishevelment, did I mention the Mavs have a regular-season opener within, like, hours?
DONUT 7: But this is about Curry now ...
Should Dallas be concerned about Curry's troubled past? Well, of course it should. Consider:
*
Curry has squandered a fortune, a man who's made over $60 mil in his career
handling his money so poorly that in 2008 he took out a personal loan and borrowed $580,000 at 85 percent interest,
*
In 2009 he was accused of sexual harassment by his male chauffeur.
the driver also alleged racial discrimination and intimidation using a loaded gun.
*And most tragically is the case
of Curry's former girlfriend, Nova Henry, and their nine-month-old daughter, both of whom were murdered in late January 2009 in Chicago. Curry and Henry's three-year-old son, Noah, was found unharmed at the scene.
DONUT 8: Eddy Curry -- The Tragic King of Second Chances ...
The weight can be lost. The money can be found. The accusations can be false. But yes, the tragedy can be enough to derail a career that was already wobbling down the tracks.
In his final days in San Antonio, Curry was upbeat about his chances.
I feel I'm in a good situation," Curry told the San Antonio Express-News. "I worked hard this summer. Every game it's just about showing everybody what I can do. I'm trying to focus on defense and rebounding, trying to play in the system and soak up as much as I can. I think I'm going to make it. Until they tell me I'm not, I feel like I'm part of this team."
Now, he's a part of the Mavs ...
and DB.com takes you inside the Mavs thinking as only we can on Eddy Curry -- the reigning Tragic King of Second Chances.
DONUT 9: Goodbye, Chancellor Stern ...
Most employees give two-weeks notice before they quit. Chancellor Stern is given close to a two-year notice of his planned February 2014 retirement.
Until I hear otherwise, I'm going on the assumption that Stern leaving the NBA exactly 30 years after starting on the job is financially lucrative to him. That is to say, leaving after 29 years doesn't reward him as handsomely as leaving after 30 years does.
But seriously, he will be heralded as a great ... and he will pretend that isn't as important to him as it assuredly is.
"I'm not a big believer in the L word, 'legacy,'" Stern said Thursday. "I just want people to say that he steered the Good Ship NBA through all kinds of interesting times, some choppy waters, some extraordinary opportunities, and on his watch the league grew in popularity, became a global phenomenon and the owners and the players and the fans did very well."
Yeah. But BESIDES THAT, he doesn't care about his legacy.
DONUT 10: The best way to catch up on the weekend in Mavs news ...
Did you miss something?
Click into DB.com Mavs Archives and get caught up!
DONUT 11: DB.com Mavs Get-Together is Tuesday, Oct. 30! ...
We're all going to hang out at Red Rock Bar & Grill at Frankford and Midway (just off the Tollway and also just off George Bush) on Tuesday night for the Mavs-at-Lakers opener. We'll have drink specials and we're giving away prizes that include lower-bowl seats to a future Mavs game. C'mon by and meet The Fish and talk a little Mavs basketball with DB.com and The 75-Member Staff!
DONUT 12: The Final Word ...
Word comes from Brooklyn that Deron Williams actually signed a contingency contract to purchase a house in DFW last summer. ... and then of course, pulled out of the real-estate deal. And with all the other things stacking up around here in the negative column, I don't know if I can stand to unpeel anymore of this particular onion, OK?