DONUT 1: Who talks about 'Plan Powder'? ...
We talk about "Plan Powder.'' Behind closed doors, the people who run the
Dallas Mavericks
talk about it, too.
But Mark Cuban on the Stairmaster? He doesn't much talk about "Plan Powder,'' finding it to be more productive to encourage positive thoughts about present Mavs and not future ones.
Makes sense, right? Last year's club was quite possibly all-too-aware of its short-term status. And maybe it wasn't a positive. Oh, you'd like everybody to handle everything professionally, and you'd like to think that guys on the final years of their deals would give their optimal effort ... but ... Well, you can see why Cuban would ask himself, 'Why broadcast anybody's short-term status?'
DONUT 2: The coming stripdown ...
So this week, Cuban was asked about the fact that the bulk of this roster -- everybody but Dirk, Trix and the rookie class -- could become free agents next summer. It's a legit story, obviously, and how Dallas handles the situation will become a hugely important story.
Cuban responded by wisely noting that expiring contracts don't necessarily mean he'll be stripping down and restructuring come July 1 (or come the February trade deadline, for that matter).
"I'll tell you exactly what I told them,'' Cuban told reporters. "The best situation is everybody kills it, and they're all back.''
There is no doubt. That's ideal. The Brands and the Kamans and the Collisons and the Mayos prove to be so worthwhile, so bonded, so competitive, that their great 2012-13 success leads to an argument in favor of continuity, and they get to continue working alongside Dirk ...
Except for the ones who are dealt away in a bargain sign-and-trade for next summer's "big fish,'' right? I mean, who are we kidding here?
DONUT 3: Us and our 'idiot questions' ...
But yes. Competitive continuity. That has value.
"Then,'' Cuban said, speaking of the above scenario, "I don't have to deal with all the idiot questions over the summer and we've got a great team to build on. That's what I want.''
Whoa.
Frequently in this space, we have discussed "Idiot Questions And The Idiots Who Ask Them.'' When, for instance, the fans (represented by the media) have a question about the salary cap or somesuch, it is of great benefit at DB.com that those fans can be represented by somebody like David Lord, who literally knows the cap, the CBA and the rules well enough to exist on the same lofty intellectual perch as Cuban.
(One of the greatest aspects of our Premium Mavs Coverage is DB.com Premium Boards, where David Lord camps out and answers your questions on these subjects.
It's as valuable as informative as if you were sitting down at the dinner table with an NBA GM. Try it!)
On the other hand ... Is every credentialed DFW media guy or gal mandated to
be
David Lord?
I know that Cuban was funnin' (kind of) with the "idiot'' remark. I also think that it helps reporting and discourse when the questioner attempts to be as educated as the interview subject. At the same time ... we are are not as educated, and cannot be. If I conduct an interview with a nuclear physicist, or a film director, or an astronaut, I will certainly due all the research I can in order to avoid asking "idiot questions.''
But I will also be asking some of those questions, in part, BECAUSE I DON'T KNOW THE ANSWERS. So I am therefore POSING THEM TO AN EXPERT WHO DOES.
Some gentle and unsolicited advice to my man Tony Cubes, with whom I've had a genial and valued relationship for almost 20 years now: Be careful with the "idiots.'' While sometimes they ask questions to be combative or even to muck-rake in an attempt to gain themselves career attention, there are other times when they ask questions of people who are smarter than they as a way of representing their contingency (fans) and in order to get smarter themselves.
DONUT 4: 'Five guys pulling on a string' ...
Love O.J. Mayo's old-school description of Dallas' defensive work and needs.
"I don't know, we've just gotta get better,'' he said. "You can point fingers at any individual, but any good team that gets after it defensively it's five guys, all pulling on a string.''
"Five guys pulling on a string'' or "five guys attached on a string.'' That is an old-school, traditional-teaching, zone-defense basketball notion ... and it does my heart good to hear a younger generation talk like that.
Now get off my lawn.
DONUT 5: It's Halloween! Time to check out Frisco Party Station! ...
Robert and his family-owned
Frisco Party Station
has long been the go-to place for Halloween, for celebrations and now, even for Mavs-themed parties! They are the best in the business, are long-time DB.com readers, Mavs season-ticket holders and excited to help you with your Halloween!
DONUT 6: What's in Rick 'King of Anything' Carlisle's iPod this morning? ...
DONUT 7: A move with Josh ...
His camp was good. His games? Josh Akognon wasn't a factor. His improved rep? Hopefully on the come.
The Mavs make a roster move ... and here's a look at the roster now.
DONUT 8: The fool Odom ...
Fool me once, shame on you.
Fool the NBA twice, shame on Lamar Odom.
Honestly, the more Odom's scam is revealed to be a chronic issue, the more I am embarrassed for the Clippers now, embarrassed for the Mavs at this time last year, and embarrassed for myself for the better part of last season, too, because I repeatedly worked to understand Lamar and was repeatedly duped by him.
DONUT 9: Meet DB.com! ...
Here's an introduction to what DB.com does and how we do it! Big fun down in the Mavs basement!
DONUT 10: The Mavs like their fried chicken ...
It's "hazing,'' but it's harmless -- a time-worn NBA way of making rookies feel like they're the "little brothers'' -- in all the senses of that phrase.
So before the Euro trip, rookie Jae Crowder was reponsible, he said, "for $250 worth of chicken for the whole team.''
And when they returned? Bernard James' turn. More chicken.
Explained Crowder: "We have to do little stuff. We get the towels ready for the older guys. We have to get the wet jerseys and stuff and take them to the cleaners. Little stuff like that, but it's all fun and games. We have to respect those older guys.''
And by the kids dutifully following NBA tradition, the older guys end up respecting the rookies.
DONUT 11: Rebounding Roddy B ...
Rodrigue Beaubois returned to practice Thursday, having been sidelined since spraining his left ankle in Europe on Oct. 6. The Mavs are hopeful that he wiill play in Saturday's exhibition game at Atlanta.
"Roddy did good today," Rick Carlisle said. "I expect him to practice (Friday). If he can get through practice tomorrow, I expect him to play Saturday."
DONUT 12: The Final Word ...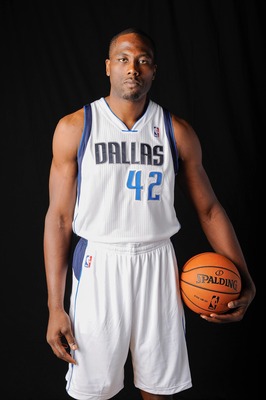 Elton Brand on Dallas team defense:
"We have to be on the same page. We've got a lot of new guys coming from different teams with different sets. OJ Mayo might be used to setting a screen down. Darren Collison might be used to fighting over the screen. I'm used to denying the wing. We just need to get on the same page and work in practice - which we do. Coaches work tirelessly to figure it out."
And there you see a smart, detailed answer in which Brand is offering an X-and-O sampling ... and leaving it to the audience to do its best to stick with him intellectually.
Which I think we all greatly prefer to being referred to as "idiots.''