DONUT 1: Shut It Down, Let's Go Home? ...
Is
Dirk Nowitzki
coming back from arthroscopic knee surgery in under six weeks, even if not rushed, a good idea?
No, we're not talking about the rush of three weeks. Or the realistic whisper we get of five weeks. Or even the acceptance that six weeks oughta do it.
Hurry to rehab, yes. But hurry to the court? No.
DONUT 2: Uncharted waters ...
The
Dallas Mavericks
find themselves in some uncharted water right now. Uncharted at least, over the course of the last 14 years or so. All of a sudden, their franchise linchpin is on the shelf more often than they are used to seeing and Rick Carlisle is forced to put the team in the hands of some unfamiliar faces.
Opening night in Los Angeles won't include Dirk Nowitzki, Jason Terry, or Jason Kidd.
How's that for some unfamiliarity?
It also might not include Chris Kaman or Delonte West or Brendan Wright.
Are you ready to get familiar with Eddy Curry?
DONUT 3: Beyond the Triangle of Trust ...
The trust Carlisle places in his Nowitzki-less roster will be greatly tested and apparently is already affecting the pace Nowitzki is choosing to take with his recovery. As thoroughly covered by DallasBasketball.com, Nowitzki made it known before undergoing the procedure that he was going to try to return to basketball activity from his arthroscopic knee surgery closer to three weeks rather than the initial six.
Throughout his career, Dirk has developed an Ironman-like reputation for fighting through injuries and healing amazingly quickly from endless amounts of ankle sprains and various other ailments. The amount of games Dirk has missed throughout his career is staggeringly low. Over his career, Nowitzki has only missed 46 total games over his 14-year career, right behind his former teammate Jason Terry and Andre Miller with fewest missed games for 10+ year veterans.
That being said, it's knee surgery for Nowitzki. Something he's never had before, but is confident he can return quicker than the expected timetable. History says he is capable of such a feat, but there is one problem: Dirk is 34 and his health track record is trending downward.
We can refer to his absurdly low number of missed games throughout his career, but that overall low numbers hides that fact that 13 of his missed games have come in just the past two seasons. That even includes last year's shortened 66-game schedule.
What's even more is that Dirk's mid-30's body just doesn't react or get in shape the same way it used to. It's nothing that Dirk is doing, that's just what happens when you get older and try to push through the grind of an NBA season. After international duty last summer, Dirk wasn't able to recover quickly enough for the start of the NBA season and had to take a week off in order to work himself into playing shape. Sure some of that was due to extended championship partying and the uncertainty of a lockout, but seemed so out of character for Nowitzki's career that has seen only freakish recovery times and preparedness. He doesn't need to be a warrior right now just so the Mavs will have him for a game against Golden State (pun intended) in November. Dirk getting right and avoiding any setbacks needs to be the priority right now.
We freaked just a little on Friday night, knowing full well that Dirk is sidelined ... and still there he was, on the floor for pregame warmups, moving like ... well, like a guy who just had knee surgery a week before shouldn't be moving.
The reason for this plea isn't to make an argument pointing out the regression of Dirk Nowitzki, but rather to voice the support and hope that the Mavericks staff makes the right decision to completely wait out Dirk's healthy return until the knee is fully prepared to carry the load of a full season. Nowitzki was going to be largely useless if he tried to fight through the balky knee without surgery and he'll be just that if he comes back too soon and his knee flares up again.
DONUT 4: Panic justification ...
We are seeing events unfold that do not seem favorable for the Mavs. Counting on Curry? Hmmm. Issues in the locker room that may or may not be curtailed simply by jettisoning Delonte? Yikes. More transactions to come, as voiced by Rick Carlisle at practice and
by David Lord on DB.com Premium Boards?
Unsettling.
Meanwhile, we're about to see the loaded Lakers. (By the way, DB.com's Mike Piellucci will be live in LA to provide coverage from courtside and in the locker room.) And just when we are celebrating the premature breakup of OKC (see, the Thunder have to play by the same CBA rules the Mavs play by) we hear that James Harden might just sign an extension with his new employers in Houston ... and thus another "big fish'' might be swimming away from Dallas.
With the help of David Lord, later today we will take you inside practice (with the transactions that are brewing) and we will take you inside "What Harden Means To The Mavs'' as well.
DONUT 5: It's Halloween! Time to check out Frisco Party Station! ...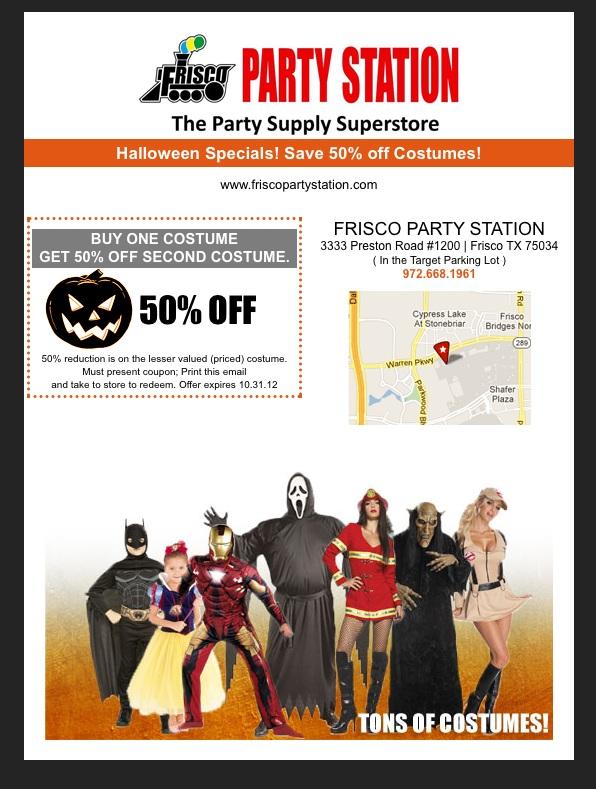 Robert and his family-owned
Frisco Party Station
has long been the go-to place for Halloween, for celebrations and now, even for Mavs-themed parties! They are the best in the business, are long-time DB.com readers, Mavs season-ticket holders and excited to help you with your Halloween! ... Tell 'em we sent you and get 50 percent off your second costume!
DONUT 6: And on top of all of this ...
In the last two seasons, Dallas is just 5-8 without Nowitzki in the lineup, including one of the more brutal stretches (2-7) in recent Mavericks history during the 2011 championship campaign.
There's no way around it; the numbers are not pretty without Nowitzki.
Still, happenings in LA, OKC and Houston must be ignored. As it relates to Dirk (if not to Asset Management), the Mavs would be much better off taking the conservative method in order to get the most out of 2012-2013. This isn't the 2007 version of Dirk. Number 41 as currently constructed need to have his injury situations handled with as much care as ever, even if that works against Dirk's own opinion.
DONUT 7: The precedents ...
The Detroit Tigers, riding momentum, great pitching and hot hitting, qualified for the World Series after dispatching the New York Yankees in one of the easiest 4-0 sweeps we have ever seen. By the way, they had just the seventh best record in the American League. Last year's New York Giants were a mediocre 9-7 regular-season team that didn't have the look of a champ (from Eli's "look'' on town) but one that blossomed in time to win the Super Bowl. Mark Cuban has long preached about the notion of "getting into the tournament and then getting hot'' and that makes more sense now than ever.
Maybe because it's logical. Or maybe hecause it's among the few available options.
DONUT 8: Take your lumps ...
So ...
Take the lumps without Dirk for as long as they need to. Get him healthy. Play for April, May, and June.
And maybe they don't have to be early-on lumps, at least. The Dallas schedule, to start, is cushy enough that even Dirk himself has noted it.
Find a way to survive to Thanksgiving. If Curry can help you do so ... survive. If DoJo can't help you do so ... find where he fits in regard to Asset Management, do what is needed ... and survive.
DONUT 9: DB.com's Mavs-Lakers Watching Party is Tuesday! ...
We're all going to hang out at
Red Rock Bar & Grill at Frankford and Midway (just off the Tollway and also just off George Bush) on Tuesday night for the Mavs-at-Lakers opener.
We'll have drink specials and we're giving away prizes that include lower-bowl seats to a future Mavs game. C'mon by and meet The Fish and talk a little Mavs basketball with DB.com and The 75-Member Staff!
DONUT 10: Get caught up on all your Mavs news ...
Did you miss something? 'God is Great, Beer is Good, Fans Are Crazy' ... Mavs Q-&-A With Eddy Curry ... Friday Morning's LOADED Mavs Donuts ... Our Premium story in Curry, "The Tragic King Of Second Chances'' ... Mavs Suspend Delonte Again: 'I'm Sittin Across From The Arena Wit Tears In My Eyes' ... The Mavs Season Preview For Smart People ... Dirk Speaks: Hopeful, Humorous, Defiant. ...
We've got you covered ...
Click into DB.com Mavs Archives and get caught up!
DONUT 12: The Final Word ...
So, Dirk: "Shut It Down. Let's Go Home.'' For as long as it takes. Or, better said, shut it down and of Casey Smith and Dr. Souryal think it's OK, shut it down and still go on the road, where your value as an iconic figure and a keep-it-loose leader is needed.
Consider tanking? Yes, we hear those cancerous whispers. That's not a valid discussion when the team is 0-0. Let's hope it's one that doesn't need to be argued about anytime soon.